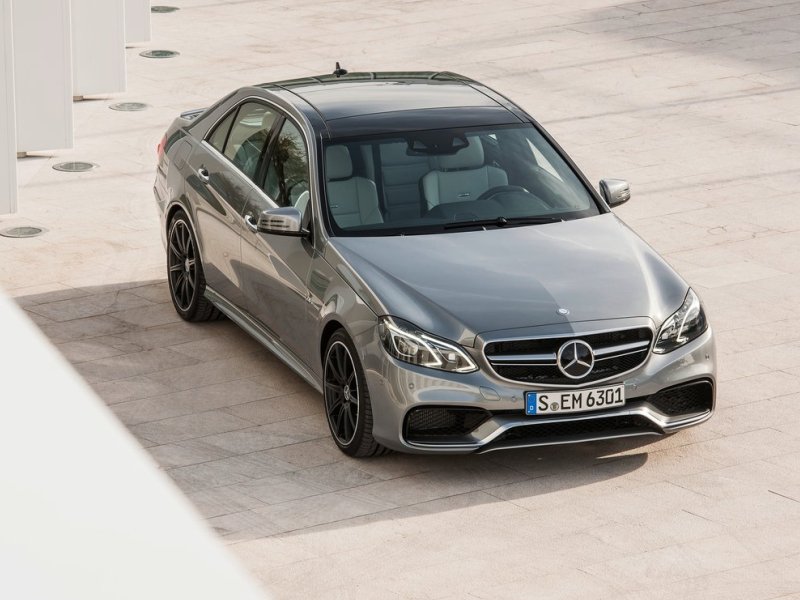 The last time we saw this much blue smoke… OK, well actually, we're probably better off not recounting that story. However the "scientific research" required to accurately report this piece on modern muscle cars generated gigantic cumulus clouds of blue tire smoke. Here, we must state we do not—in any way—advocate engaging in such shenanigans on public streets. We do all of our "methodical investigations" on closed courses under proper adult supervision. (OK, that should satisfy legal—now let's get to it.) Way back when, such shenanigans were the muscle car's primary role in life. Times have changed somewhat though; in addition to being capable of shaving the tread off of a new pair of Goodyear Eagle F1s in one sitting, modern muscle cars must also deliver superior cornering, braking, and (ideally) comfort too.
Cadillac ATS-V
All-new for the 2016 model year, the first ever Cadillac ATS-V is a perfect example of the modern muscle car. Rather than a big honking V8, the ATS-V runs a turbocharged 3.6-liter V6 good for 464 horsepower and 445 ft-lbs of torque. This is routed to the rear wheels through either a six-speed manual, or an eight-speed automatic transmission. Screamingly fast in a straight line (Cadillac says 3.8 seconds to 60mph), the ATS-V is also well balanced and delivers tons of grip in the corners, thanks in part to the magnetic dampers in its suspension system. This modern American muscle car is fully competitive with anything the Europeans can bring, including those highly vaunted "ultimate driving machines" from brand 'B". Further, being a Cadillac, the ATS-V packs a host of cutting edge luxury and tech appointments. Pricing starts at $60,465.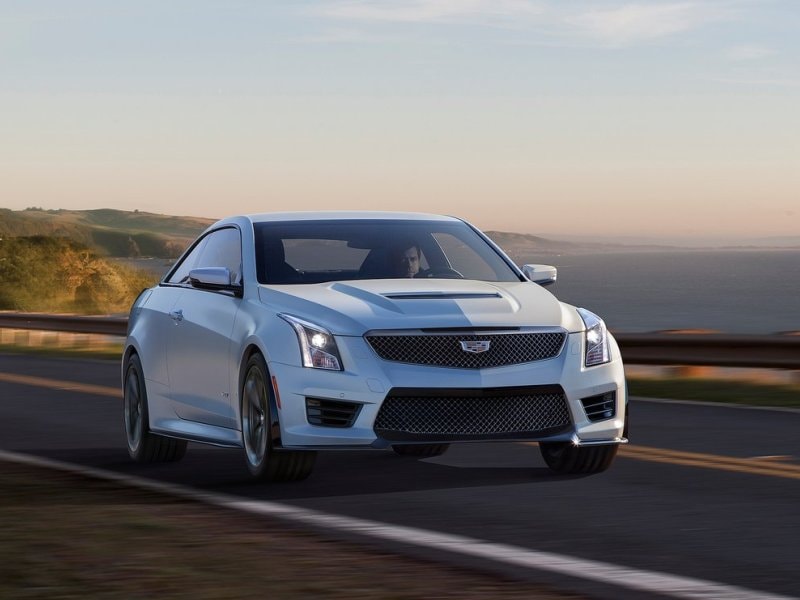 Cadillac CTS-V
After a hiatus for the 2015 model year, the 2016 Cadillac CTS-V comes roaring back with even more performance and sophistication—just as a modern muscle car should. Available only in sedan form for 2016, the CTS-V is on par with the best of the best from around the world. The CTS-V's supercharged 6.2-liter V8 delivers 640 horsepower and 630 ft-lbs of torque, making this the most powerful Cadillac sedan ever offered. For those of you prone to keeping score, this is 84 horsepower and 79 ft-lbs of torque more than the 2014 CTS-V's engine was capable of generating. The rear drive powertrain is fed by an eight-speed automatic transmission with paddle shifters on the steering wheel. A true 200-mph automobile, Cadillac estimates the CTS-V's zero to 60 at 3.7 seconds. Pricing starts at $83,995.
Chevrolet Camaro
One of the most hotly anticipated debuts for the 2016 model year is the all-new Chevrolet Camaro (in both coupe and convertible formats). Measuring two inches shorter and approximately one-inch narrower than the 2015 Camaro, the new model is about 200 pounds lighter and even more curvaceous than the current iteration of the storied Chevy. While many are skeptical of the fact this will be the first Camaro ever to harbor a four-cylinder engine, we're talking modern muscle cars here - power won't be skimpy. At launch, the top-performing version of the new Camaro is the Super Sport. With 455 horsepower and 455 ft-lbs of torque emanating from GM's venerable 6.2-liter V8, it's the most powerful Camaro SS ever offered. Naturally, we're talking rear-wheel drive and a six-speed manual transmission. And yes, there's an eight-speed automatic on offer too. Pricing has yet to be announced.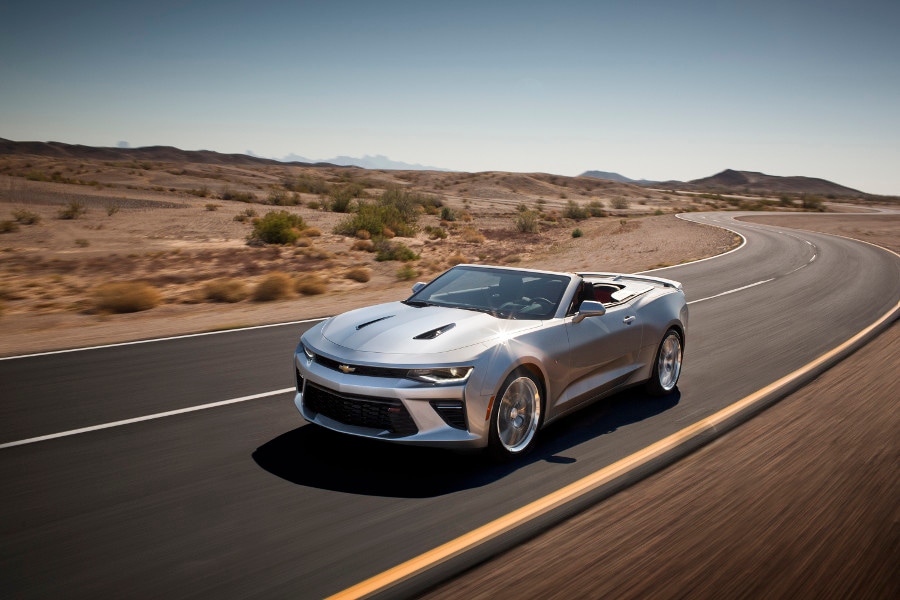 Photo by Chevrolet
Chevrolet SS
If it's starting to look like General Motors has a pretty solid lock on modern muscle cars, it's true; the company does have a pretty broad collection. GM has even imported some offshore hardware to further bolster its position. Yes, the rarely seen Chevrolet SS is actually a wonder from down under—the Australian Holden Commodore VF—in disguise. While the sedan's styling may be a bit on the sedate side (which, in our book, ain't necessarily a bad thing) its performance is anything but. Brembo brakes, a magnetic suspension system, and a 415-horsepower version of the GM 6.2-liter V8, good for 415 ft-lbs of torque, ensure the sedative qualities of the SS are purely esthetic. To feed the rear wheels, the Chevrolet SS modern muscle car is offered with a choice of a six-speed automatic transmission or a six-speed automatic. Pricing starts at $45,745.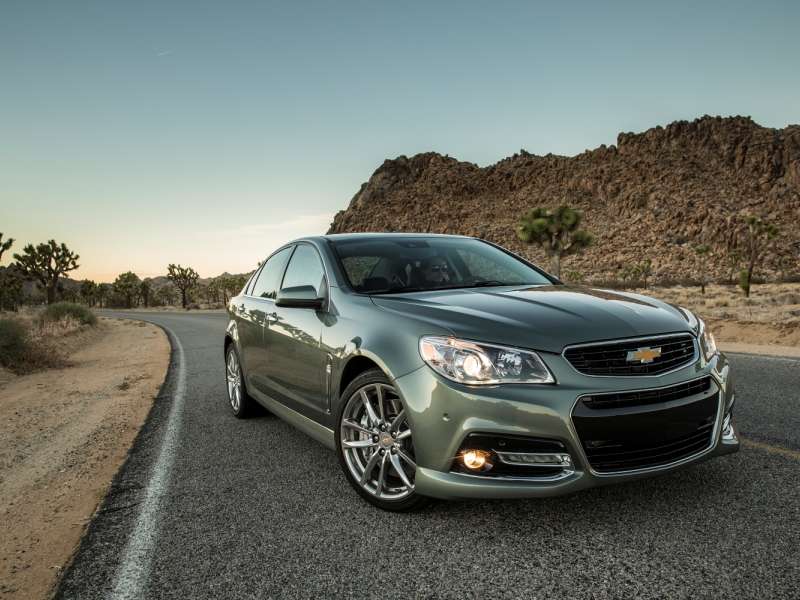 Chrysler 300C
Today's Chrysler 300C is the modern version of Chrysler's "Letter Series" cars. Offered from 1955 to 1965, they are considered among the earliest American muscle cars. These were top of the line models with just as much style as performance (and they had huge performance). To qualify, 300 horsepower was mandatory. Thus the nomenclature designations; 1955 C-300, 1956 300B, 1957 300C, and so on—all the way through the 1965 300L (skipping only the letter I because it could be confused for the numeral 1). When the 300C returned for the 2005 model year, it too featured a 300-horsepower iteration. The contemporary 300C boasts 363 horsepower and 394 ft-lbs of torque from its traditional 5.7-liter V8. An eight-speed automatic and rear-drive configuration complete the powertrain. Pricing starts at $41,070.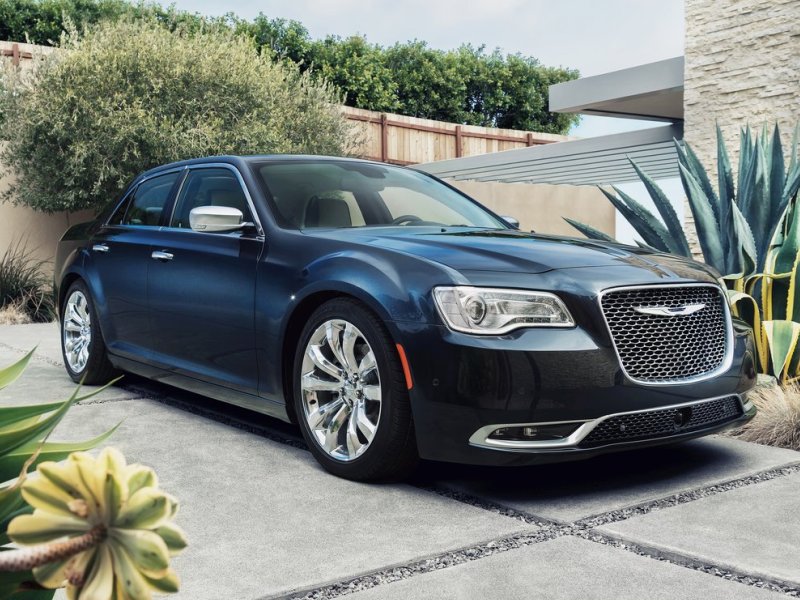 Dodge Viper
Okay, this one is arguably as much sports car as it is one of today's modern muscle cars, but one thing is undeniable; the Dodge Viper is uniquely American. A maverick from the word go, the Viper's 8.4-liter V10 was lifted from the engine bay of one of Chrysler's pickup trucks and modified to serve as the powerplant for the charismatic two-seater. While many consider the Viper about as sophisticated as a Harley, one thing is irrefutable—it goes, BIG TIME! With a curb weight of just under 3400 pounds, the Viper enjoys 645 horsepower and 640 ft-lbs of torque streaming to its rear wheels through a six-speed manual transmission. This is good for a zero to 60 time of 3.7 seconds, and a top speed just north of 200 miles per hour. Pricing starts at $87,095.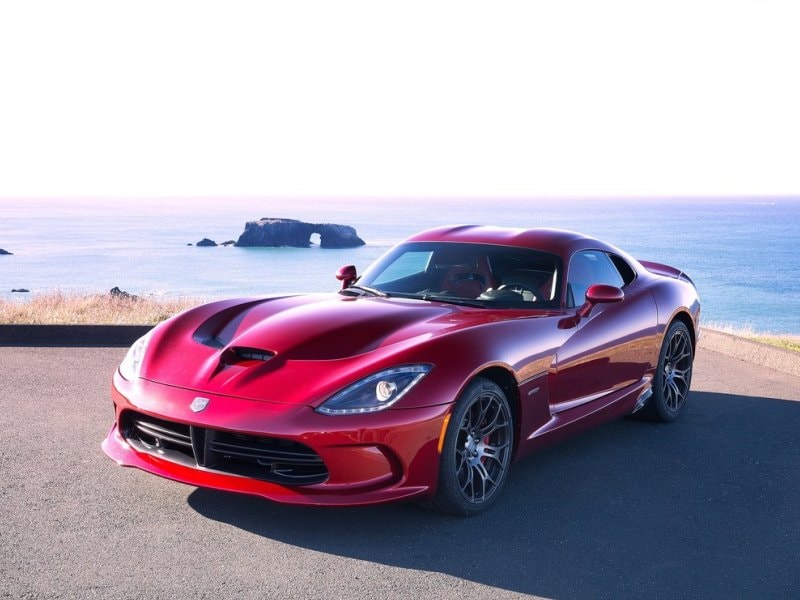 Dodge Challenger
Dodge introduced its astoundingly powerful 707-horsepower supercharged V8 in 2014 as the 2015 Dodge Challenger Hellcat—instantly making it the fastest, quickest, and most powerful of the modern muscle cars. Well actually, all of those adjectives applied to pretty much every genre of series production automobile from a mainstream manufacturer out there. Sitting quite comfortably atop the muscle car heap, the Challenger Hellcat was buoyed by a selection of other engines, all delivering in excess of 300 horsepower (even the base model's 3.6-liter V6 is good for 305). The Challenger's 5.7-lter V8 makes 375 horsepower, while its 6.4-lter V8 delivers 485. All Challenger models are rear-wheel drive and can be had with a choice of an eight-speed automatic, or a six-speed manual transmission. Pricing starts at $26,995.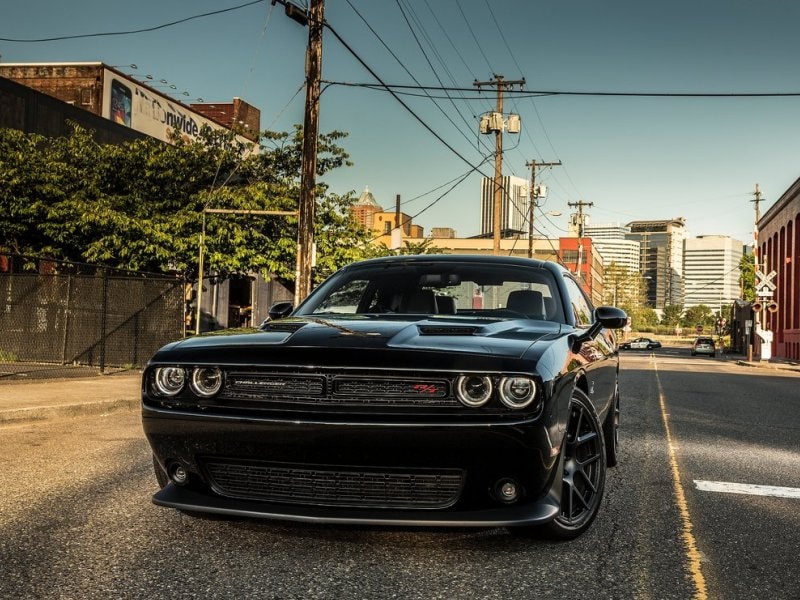 Dodge Charger
You've by now heard the Dodge Boys have gone absolutely horsepower crazy with their 707-horsepower supercharged 6.2-liter V8 "Hellcat" engine. With 650 ft-lbs of torque erupting from the powerplant like Vesuvius, anything it's bolted into instantly becomes the most powerful whatever it is on the road today. In this case we're talking about the heavily-revised-for-2015 Dodge Charger. Capable of running to 60 in 4.1 seconds, the Charger Hellcat is one seriously quick four-door sedan. Of course, with so much attention paid to the Hellcat, the Charger's other V8s have been pretty much languishing in the shade. It's a shame too, because the normally aspirated powerplants range from 370 horsepower for the 5.7-liter, to 485 for the 6.4-liter. Charger V8 pricing starts at $33,595.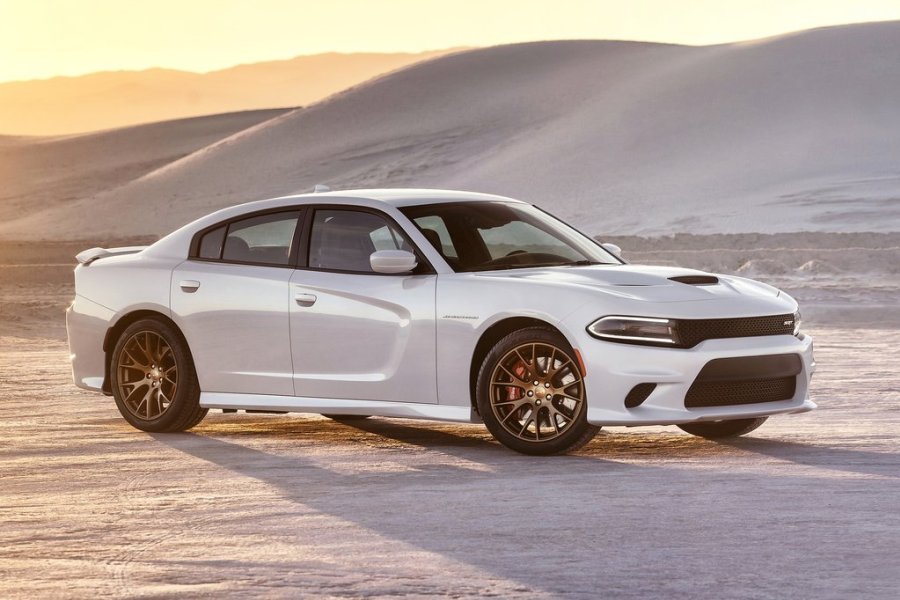 Ford Mustang
For the 2015 model year, Ford debuted an all-new version of its venerable Mustang in both coupe and convertible forms. With a bloodline going all the way back to 1964, the Mustang is both the oldest and only continuous running example of its genre. An immediate sensation when it was launched, the Mustang's combination of sporty good looks and youthful swagger did a lot to propel it out of dealer's showrooms. Today's Mustang remains an exceptionally capable automobile. While there are undoubtedly obscenely powerful Shelby versions just over the horizon, today's most potent iteration (Mustang GT) conjures 435 horsepower and 400 ft-lbs of torque from the now-traditional 5.0-liter V8. The rear-wheel drive contemporary muscle car can be had with a six-speed manual, or a six-speed automatic transmission. Mustang GT pricing starts at $32,300.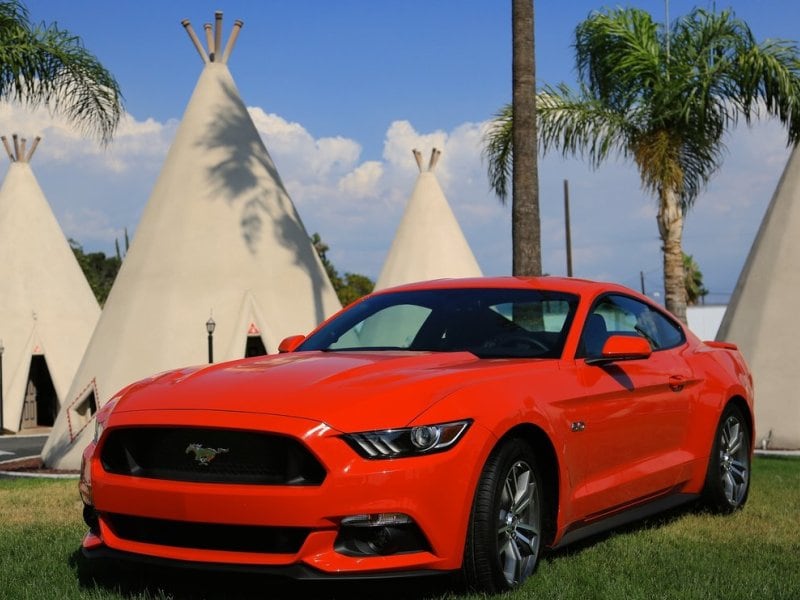 Mercedes-AMG E63 S 4MATIC
Yeah, we know this seems to be about as far away from a muscle car as you can get at first glance. Or is it? After all, when you think about it, the muscle car formula applies here quite well. By placing the most powerful engine capable of fitting into the engine bay of one of your mainline models you can readily create something altogether more exciting. And, if you can keep it looking as much like the model upon which it is based as possible, with few hints of its true performance potential—well, that's even better. All of which concisely describes the Mercedes-AMG E63 S 4MATIC. A twin-turbocharged 5.5-liter V8 sends up to 577 horsepower and 590 ft-lbs of torque to the all-wheel drive powertrain through a seven-speed automated manual transmission. Zero to 60 is estimated at 3.5 seconds. Pricing starts at $101,700.