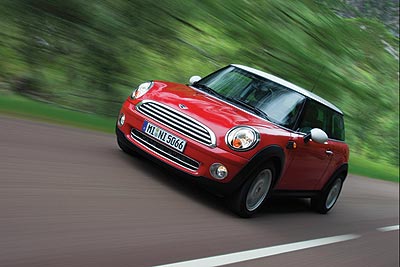 Mini Cooper: Preview Jack up the cost of crude, and all of a sudden little cars are big news. It seems that every brand portends to or legitimately does cover this fast-growing segment, but no company does it quite the same way as the aptly-named Mini. Just a few short years ago, BMW-owned Mini made a splash on these shores with the reintroduction of the 1960's iconic two-door Cooper, a thoroughly modern interpretation of the original. Ever since its launch, this contemporary iteration has been a sales success because of its cute factor, unique design, unrivaled character, and kart-like handling. That being said, even the Mini Cooper can grow a bit long in the tooth if not updated every now and then. And so it is that a slightly larger, more powerful, and slightly massaged 2007 Cooper arrives in February. Exterior changes are so subtle that it'll require actually stopping at the dealer for a close look rather than glancing over at the Mini lot during a 50-mph drive-by on the way home from work. Even then, it might be hard to notice the front end that's been extended by 1.5 inches and the belt line that sits 0.71 inches higher than on the 2006 model. Mini suggests that these increased dimensions, coupled with larger wheels, add "muscularity" and "maturity" to the list of Cooper attributes (or maybe someone has tired of being the cute, girly, effeminate ride?) There may be something that looks askew about the lights, a point which will bother you until comparing the 2006 and 2007 Mini side by side. You'll notice that the 2007 headlight assemblies incorporate the signal lights, as well as mildly tweaked taillights, above which are thin vertical panels mounted to the pillars for aerodynamic purposes. The grille has also been worked over, but again, position and vertical bar placement are hard to notice unless you're making a point to hunt down the changes. In the end, the overall appearance remains unmistakably Mini Cooper with just enough stretching here and bulking up there to make a second look and brief investigation worthwhile. Pricing has not been announced, though Mini will say that buyers of the 2007 Cooper may choose from a variety of additional exterior colors – Mellow Yellow, Oxygen Blue, Sparking Silver metallic, Lightning Blue metallic, and Nightfire Red metallic. A Chromeline Package adds – surprise, surprise – chrome exterior accents, while an interior lighting package allows the driver to adjust backlighting anywhere from orange to blue.
Why it matters
It seems that every auto show in 2005 was sure to include a new version of a Mini concept wagon. They were fun to look at and made for a quick story, but until such a vehicle is slated for production, Mini dealers' livelihoods rely completely on the two-door, front-drive Cooper. No need to start a collection plate quite yet, as this one-man show continues to sell very well, thanks in part to being available in base and supercharged S versions as well as hatchback and convertible body styles. Even so, every model needs to remain fresh in prospective buyers' eyes. It was no doubt a difficult task for Mini designers to maintain a package that continues to spur sales while simultaneously blending in contemporary tweaks. But it had to be done, especially considering all of the new and redesigned competitors on the market. Think Honda Civic Si and Volkswagen GTI, for example – neither may offer the exclusivity of the Mini, though each boasts more power at similarly affordable base prices.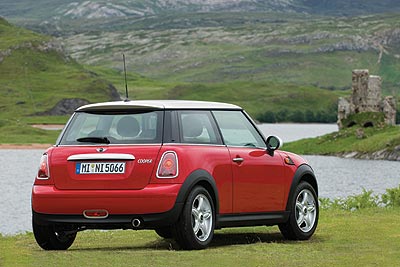 What's under the hood
Just like the rest of us, the Mini Cooper seems to be growing with age. When it arrives in February, the 2007 base model will be nearly three inches longer, with the S version offering 2.36 inches more than the model it replaces. Befitting its expanded dimensions, the front-wheel-drive 2007 Cooper will debut with more powerful engines. Replacing 2006's 115-horsepower base unit is a 1.6-liter four-banger pushing 120 horses at 6,000 rpm, using Valvetronic technology borrowed from BMW. Torque measuring 103 lb.-ft. is made available at only 2,000 rpm, a figure that jumps to 118 lb.-ft. at 4,250 rpm. Peak torque maxed out at 111 lb.-ft. in the outgoing model. Despite the gains, Mini suggests the base Cooper owner will see a 20 percent jump in fuel economy. Cooper S models drop the supercharger in favor of a turbocharger and intercooler setup mated to the 1.6-liter aluminum engine. Horsepower is increased to 175, up from the outgoing model's 168. When the tachometer needle falls between 1,600 and 5,000 rpm, torque registers 177 lb.-ft., a figure that jumps to 192 lb.-ft. when the pedal is matted to the floorboard, a situation better known as overboost. Mini claims that the powerplant has been engineered in such a way as to make turbo lag a non-issue. Base and Cooper S models feature a standard six-speed manual transmission, while a six-speed automatic with paddle shifters is optional. S versions of the 2007 MINI Cooper may also be fitted with a limited-slip differential. Under the 2007 Mini Cooper's new skin is a MacPherson strut front suspension working with rear aluminum track control arms to manage the ride. As one may expect, front and rear stabilizer bars are standard. For sportier (read: harsher) road manners, an optional suspension includes firmer shocks and springs. Speed-sensitive steering makes for low-effort guidance around town while dialing in a heavier, more responsive feel at speed on the highway or on twisty switchbacks. For those who want the Mini to react before they even touch the steering wheel, a sports button ponies up even more steering response (for the more gullible among us, that's a slight exaggeration). A four-wheel antilock brake system features vented rotors in front, solid rotors in back, as well as electronic brake force distribution, and Cornering Brake Control (CBC). Also included are Brake Assistant, which adds braking pressure in emergency situations, and Hill Assist, technology that briefly prevents manual transmission-equipped Mini Coopers from rolling back on start up. The whole package sits on 15-inch alloys wrapped in 175/65 tires, or in the case of the Cooper S, 16-inch alloys fitted with 195/55 rubber. Buyers may go one further by opting for 17s and 205/45 tires. Run-flat road grabbers are available, while a tire pressure monitor, stability control, and traction control systems are standard fare.
What's inside
Drive a current Mini Cooper, especially an S model, and you might find yourself praising the handling, the supercharged engine, the unique style, or if you're behind the wheel of a hatch version, maybe even the usefulness of the cargo area. Chances are quality interior materials will not make that same list. A cheap interior is one of the things that continues to stick out in our minds when thoughts drift back to the 2005 MINI Cooper S convertible we tested. For 2007, Mini claims that the freshened Cooper will feature the quality interior bits it so desperately needs. In addition, the cabin offers its share of design changes, including a larger center speedometer incorporating radio and navigation system functions (if equipped), and wider footwells availed thanks to a slimmer center instrument stack. There's also a start/stop push-button ignition along with standard front-side and side-curtain airbags.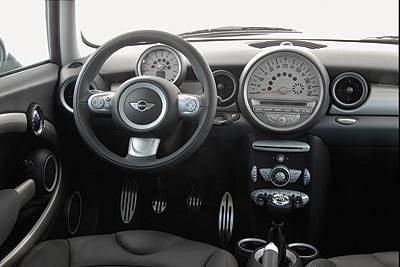 What Mini says
It seems there's some compensatin' going on here. Take Mini Chief Engineer Gert Hildebrand's comments, for example: "Looking at the interior, we decided to revolutionize the design of the Mini inside the car in order to give greater emphasis to the Mini's strong and masculine character." There's that masculine thing again. Maybe we're missing something, yet despite attractive updating, we just can't put our minds around a Mini Cooper being a manly car. And revolutionize? That's hard to rationalize when the before and after pics exhibit a large speedometer smack dab in the middle of the dash. Maybe a better approach is to guess what the 2007 Mini Cooper is saying to potential buyers. Our guess goes something like this: "I'm still possibly the cutest car you can buy, only now I'm a little bigger, kind of like the back side of the North American buyer I'm trying to lure into showrooms. Plus, I've got more available power under my bonnet, and added interior features to make day-to-day life a bit more pleasant and safe." And in an effort to support Mini officials' whole masculine push, make sure to read the Cooper's comments in your best Dirty Harry voice.
Photos courtesy of Mini