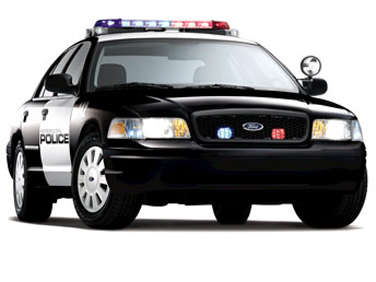 The Michigan State Police cop car shootout is an annual rite of passage for automakers hoping to impress those holding the purse strings at law enforcement agencies across the country whose eyes are turned to the results generated by the nationally-publicized trial. With the retirement of the Ford Crown Victoria from active duty - a police force stalwart for decades that was prized for its inexpensive maintenance and repair costs as well as its body-on-frame durability - the market is essentially up for grabs as a varied list of newcomers and past contenders converge on Grattan Raceway in Michigan in order to be put through their paces.
Law enforcement fleet buyers focus on several different criteria when making the decision as to which vehicle would make the most effective cruiser. Officer safety is of course very important. Not only do would-be police cars need to protect their occupants in the event of a high speed crash or impact from another vehicle, but they are also required to offer enough separation between those in the front seat and perps riding out back in order to prevent any unwanted interaction between officers and criminals.
Interior room is another a crucial consideration when it comes to cramming in all of the tools of the trade that are associated with modern police work. Laptop computers, weapons storage, seats that can accommodate utility belts and side arms as well as how many people can be squeezed into the rear seat all play a role in determining the appeal of a potential police vehicle.
Finally, mechanical reliability, cost and on-road performance must all converge into one effective package. Top speed and acceleration times need to be impressive, but not at the expense of durability - a police car that spends most of its life up on a lift isn't out on the streets preventing crime. Since most law enforcement vehicles are large and loaded up with cargo and passengers, handling is also a concern. Finally, not all departments can afford to purchase and maintain ultra high performance automobiles, which means that a happy medium between parts and repair costs and acceleration and cornering ability must be achieved.
According to an article published by Autoweek, the main contenders at the Michigan State Police evaluation for 2011 included the Ford Taurus, the Chevrolet Caprice and the Dodge Charger.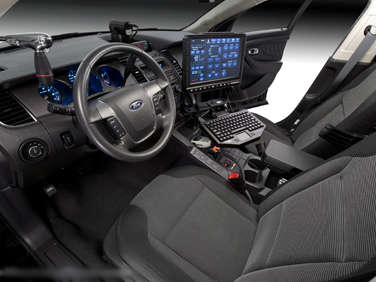 The Ford Taurus Police Interceptor is offered in three editions, including the 365 horsepower, twin-turbo EcoBoost model with all-wheel drive that hit 60-mph in 5.92 seconds as tested at the event. The vehicle offered a top speed of 148-mph and was able to brake from 60-to-zero-mph in 128.4 feet. 120 cubic feet of interior volume are available within the four-door sedan's passenger compartment.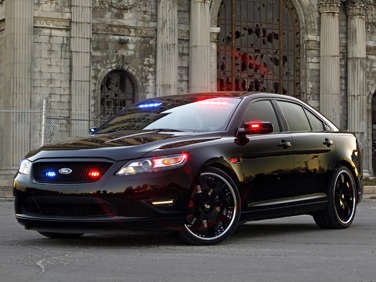 The Chevrolet Caprice Police Patrol Vehicle is a unique entry into the competition, as it is not offered for civilian sale in North America and is based on a Holden-designed, rear-wheel drive sedan platform. Although a V-6 version is offered, the Michigan State Police achieved the most impressive performance from the 355 horsepower, 6.0-liter V-8 model that was able to sprint to 60-mph in a quick 5.83 seconds on its way to a top speed of 154-mph. Braking from 60-mph to a complete stop was accomplished in a scant 125.8 feet, and interior volume measured up at 129.4 cubic feet - not surprising given the sedan's long wheelbase.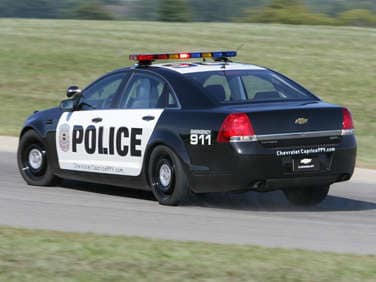 The Dodge Charger Pursuit can be had in six and eight-cylinder editions, but the quickest of the two provides Hemi V-8 power to the tune of 370 ponies from a 5.7-liter unit. Formerly, the Hemi Charger Pursuit offered the best performance of all available options, but with introduction of the purpose-built Chevrolet and the newly-available EcoBoost Taurus the Dodge is no longer the king of the hill. The Dodge Charger managed to win the race to 60-mph by posting a 5.83 second time, but its top speed of 152 miles per hour and its 127 foot braking distance from 60-mph placed it in the middle of the pack. Like the Taurus, the Charger boasts 120 cubic feet of interior volume.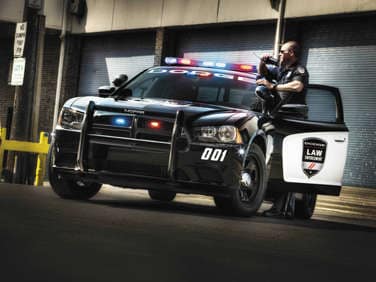 The main takeaway from the Michigan State Police vehicle shootout is just how evenly matched the current crop of cop car contenders really is. In addition to their remarkably close performance numbers - save for the remarkable braking score of the Chevrolet Caprice PPV - each of these three sedans turned in lap times within one second of each other. It would seem that law enforcement agencies across the country are facing an embarrassment of riches when it comes to choosing their next fleet mainstay, and that scofflaws blasting down American highways will have to double-check their rearview mirrors to make sure that they aren't being followed by any member of this trio of high end pursuit vehicles.