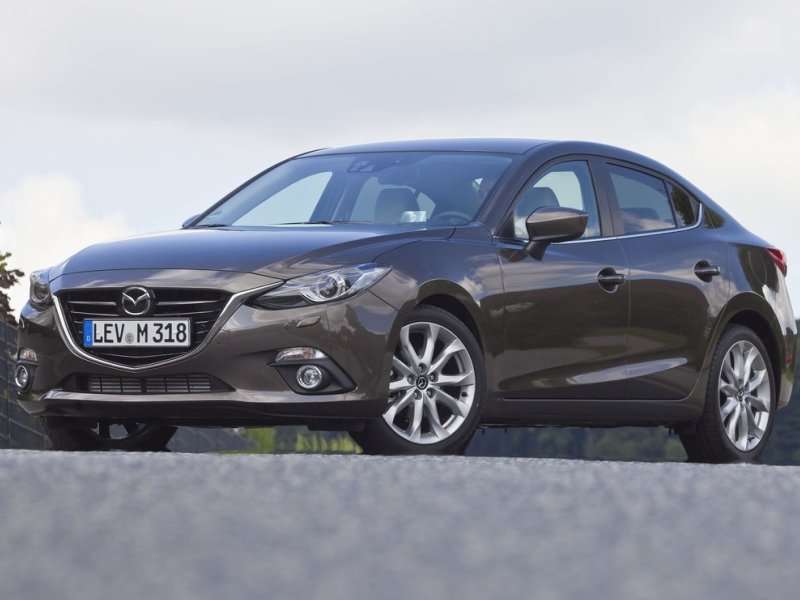 There's a lot going on with the brand-new 2014 Mazda Mazda3, but one of the more sales-friendly moves is this: The five-door hatchback version of Mazda's long-time bestseller will be available this fall for as low as $18,945, and that's a price reduction of $1,055 (5.3 percent) as compared to the least expensive 2013 Mazda3 hatchback. Now, it's true that, overall, the price of admission to the 2014 Mazda Mazda3 lineup will increase by a bit, rising $245 to $16,945 in the sedan, but there's at least that much value added in as well.
In fact, some would say the car's new KODO "Soul of Motion" design language alone is worth that price premium for the 2014 Mazda Mazda3. The distinctive, flowing look is a nice complement for the KODO-fied 2014 Mazda Mazda6, yet it's also just the most obvious of the extensive changes to the vehicle. The short story here is that the entire Mazda3 roster gets the full SKYACTIV treatment for improved driving dynamics, more power and better fuel efficiency performance.
Here's the new tale of the tape for the entry-level powertrains in the 2014 Mazda Mazda3 entries, featuring a 2.0-liter, 4-cylinder gas engine mated to either a six-speed automatic or manual transmission, with increases over 2013 levels in parentheses:
2014 Mazda3 Sedan, automatic: 30 mpg city (+2)/41 mpg highway (+1)
2014 Mazda3 Sedan, manual: 29 mpg (+2)/41 mpg (+2)
2014 Mazda3 5-Door, automatic: 30 mpg (+2)/40 mpg (+1)
2014 Mazda3 5-Door, manual: 29 mpg (+2)/40 mpg (+2)
At the same time, engineers also managed to squeeze an additional 2 lb.-ft. of torque from the engine, for a new total of 150, while its 155 hp remain unchanged. The numbers for the 2014 Mazda Mazda3 with its up-level engine, however, have changed pretty drastically. Thanks to its new SKYACTIV 2.5-liter 4-cylinder engine—which replaces a traditional 4-cylinder engine of the same displacement—drivers will be able to tap into 184 hp and 185 lb.-ft. of twisting power. Those marks are both more than 9 percent higher than in comparable 2013 models, and are backed by EPA grades expected to reach up to 29 mpg city (+7)/40 mpg highway (+11) when also configured with Mazda's I-ELOOP capacitor-based regenerative braking system.
But that's not all!
2014 Mazda Mazda3: Content Highlights
Cost-conscious consumers will probably have noticed that, regardless of what's happened to the MSRP of the 2014 Mazda Mazda3, the car is still stickered near the top of the compact price rankings. The only mainstream rivals more expensive than the Mazda3 are the Hyundai Elantra, Chevrolet Cruze and the Honda Civic, and the Elantra's premium over the Mazda is just a $20 bill as of this writing. But that's primarily because the automaker really doesn't offer a model aimed at budget shoppers, instead choosing to offer the 2014 Mazda Mazda3 with standard features that include push-button start, air conditioning with pollen filter, trim-specific sport-cloth seats, fully covered 16-inch steel wheels, and an audio system with both USB port and auxiliary jack.
That package can then be upgraded well into lux territory, with the 2014 Mazda Mazda3 s Grand Touring 5-Door requiring an outlay of $28,095 but coddling drivers with:
Heated leatherette seating, including a six-way power-adjustable driver's seat with manual lumbar adjustment
Premium exterior lighting, such as auto-leveling bi-xenon headlights integrated into an adaptive front lighting system, as well as LED accent taillights and daytime running lamps
Leading-edge safety tech, ranging from a rearview camera to blind-spot monitoring to rear cross-traffic alert to Mazda's latest Smart City Brake Support feature to provide collision-mitigation braking at city speeds (from 2 to 19 mph)
State-of-the-art media and connectivity capabilities, all controlled by the company's Human Machine Interface (HMI) with a seven-inch color touchscreen and voice recognition
The party line from Jim O'Sullivan, president and CEO of Mazda's North American Operations: "The compact car segment is one that is competitively cutthroat, meaning there is little room for error when launching an all-new vehicle like the 2014 Mazda3. But our best-selling vehicle has only gotten better, winning over the industry critics that were recently offered a behind-the-wheel experience. Yet our most important judges remain the consumers and I am confident that our third-generation Mazda3 will not disappoint."