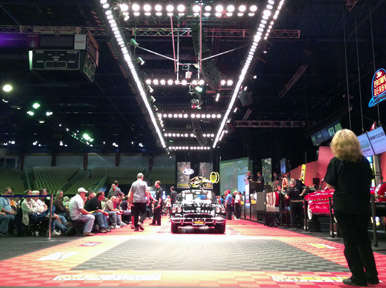 Sure, the bright lights of Scottsdale, Arizona lure in high-dollar muscle machines for the Barrett-Jackson auction. The beautiful seaside town of Monterey attracts the ultra-rich as they down champagne alongside the stages of the RM and Gooding auctions. In the town of Kissimmee, Florida, however, we were in attendance for a different auction. Yes, there were plenty of mighty machines on display, and a bit of booze flowed forth from the VIP section just off the stage. But it's a different experience to take in a Mecum auction event, thanks to the quality crowd and varied machines.
Mecum plays host to a long-running, well-choreographed auction affair that unfolds in various cities across the country. You've probably caught one of their auctions on the Velocity network, and taking one in live is far more fun than doing so from the comfort of your couch.
It's certainly a muscle car-centric crowd. Everything from the GTO Judge and Plymouth Superbird mingling in the aisles alongside more modern muscle such as tuned Fox-Body Mustangs and brand-new (albeit very hopped-up with go-fast parts) Challengers and Camaros. Still, a few other makes and models make appearances, which only lend a bit more uncertainty and excitement into the air. What will someone pay for an E30 BMW M3? Does a vintage Morgan Three-Wheeler have a fan in the audience? Anyone will go gaga for a Cab-Over-Engine truck, right?
Actually, yes!
All of those vehicles were sold, and all of the buyers looked extremely pleased with their purchases. We weren't there alone either, as we attended the auction with a close friend that likes to put old cars into his rather large garages.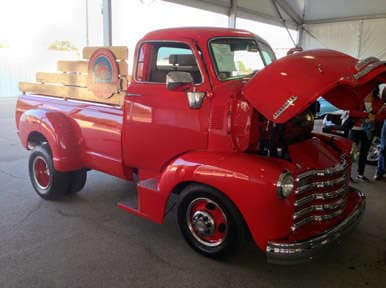 We had some targets, a plan, and a spending limit. The two main cars we needed to secure? A 1954 Chevrolet Corvette and a 1967 Corvette Convertible with a 427. How'd we fair? Well, the first 1967 427 we bid on went for far too much. It was clear the other bidder didn't care what the car was going to cost, and we backed out at a number we already felt uncomfortable paying. Still, there were more examples coming up, and the '54 we were eying was around the corner.
This time we didn't have too much trouble, and we feel we underpaid for our 1954 Chevrolet convertible. This is a first generation example of one of the most iconic vehicles on the planet, and we wound up securing it for less than we were ready to spend. That's a great feeling, which left us ready to go to war over another '67.
We didn't have to wait long either, as the next object of our affection rolled up to the auction block. The action began, and the bids starting flying in a bit faster and more furious than we'd hoped. Still, we weren't going to let this one get away again. We whittled the room down to just one other bidder, and there was a bit of back and forth as the price climbed a few ticks above where we wanted to be. Having underpaid for the first car, we threw caution to the wind and went after this lovely dark Green Corvette and its oversized engine. Our final bid given, we waited… and waited.
Hammer down, the car was ours!
It was a successful weekend in Kissimmee, Florida. Not just for us, but for the auction house as well. Nearly two weeks of pushing cars across the block leads to serious dollars flowing back and forth. Mecum runs a tight ship, and it remains one of my favorite auctions to attend in the country.
See you in Florida next year…