Discovering what a driver can – and would rather not – live without.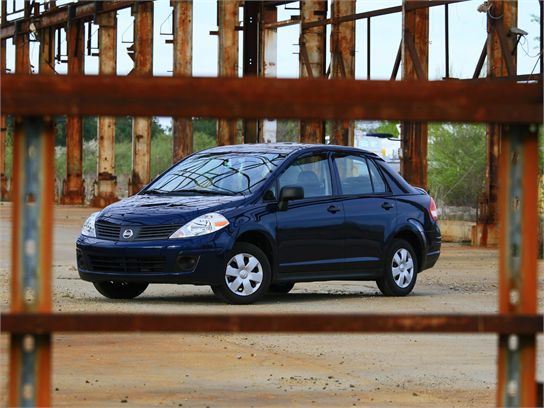 Introduction
Growing up, few punishments were as harsh as being sent to a corner to endure a "time out." In what seemed like a lifetime, we were left alone with our thoughts, the sounds of our cries, and nothing to distract us like a colorful toy or favorite television cartoon. In a word, it was misery.
As grownups, many of us view economy cars in the same light. Affordable, yes, but what these feature-deprived, motorized punishment chambers do to protect our financial well-being is inversely proportional to how they eviscerate our souls.
Or so I thought before spending a week living with the 2010 Nissan Versa 1.6 Base Sedan. As it turns out, life without creature comforts is bearable when you're dealing with a fundamentally good car.
Photos by Thom Blackett.
Page 2
A/C? What A/C?
Spend a few minutes perusing this site and you'll soon realize that there are several models of various shapes and sizes available to budget-conscious shoppers. What makes the 2010 Nissan Versa 1.6 Base Sedan stand out is its $9,990 starting price (not including a $740 destination charge). As expected, that sub-$10,000 sticker comes with a few catches, including the absence of a/c. Air conditioning and extravagances like an automatic transmission aren't even available on the 1.6 Base.
Nevertheless, that's the model I wanted to evaluate, but since it wasn't available, I got my hands on the next best thing: A 2010 Nissan Versa 1.6 Sedan, with air conditioning, floor mats and a sticker price of $12,235 (including destination). To get a true sense of what it's like to live with the $9,990 model, I ignored the $155 floor mats and left the air conditioning off (admittedly easy to do in Maine in April).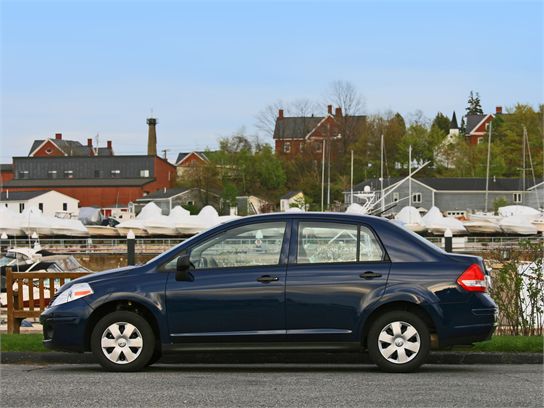 Page 2
Inexpensive = old school
When cars are delivered for me to evaluate, I often have no idea of what's coming. Walking around the Versa 1.6 Base for the first time, I quickly noticed the hubcaps, as well as the single key in my hand without an accompanying remote. Ah, manual locks. The next week would be as fun as a barrel of monkeys.
Among the other back-to-basic goods on the 1.6 Base's list are manual windows, a single interior dome light, an unlined trunk lid that lacks an opening latch, manual mirrors, a wide open space where front center armrests often reside, and most anything that could be considered a luxury by 1970's standards.
That's not entirely true, as power steering and power brakes are included in the $9,990 price. And, there's even a passenger-side exterior rearview mirror.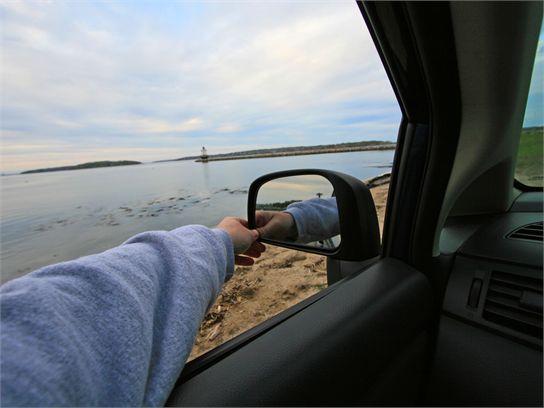 Page 2
A week without conveniences
Seven days spent with an utter lack of modern automotive conveniences results in a number of interesting scenarios, many reminiscent of those I experienced with my high-school car, a '79 Datsun B210.
I discovered that this Versa could be unlocked with a key inserted into the driver's door lock, and that was it. No handy remote to get you out of the rain quickly, and no unlocking your date's door first. It might be a good idea to get her a couple extra roses or spring for the fancy Angus burger at Mickey D's.
Manual locks and windows I could live with, but the trunk was another issue. Like the driver's door, it can only be unlocked by using the ignition key. There is no handy latch. As a result, drivers must turn off the Versa and then use the key if they want to grab something they may have placed in the trunk, like a wallet or sunglasses.
Another old-school touch that put a genuine look of surprise on my face was the driver's manual exterior rearview mirror. After looking for an internal knob or joystick, I realized that, as with my old Datsun, I had to roll down the window and adjust the mirror by hand.
Modern conveniences, it seems, have left me spoiled.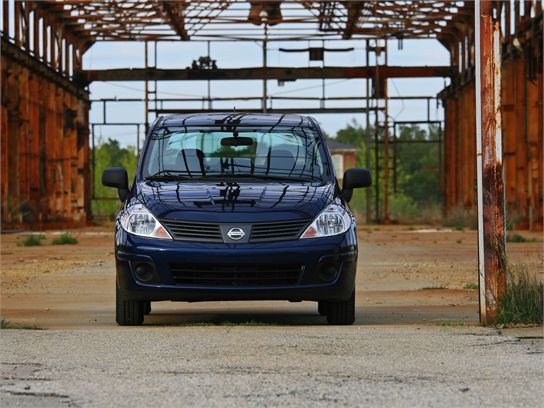 Page 2
Baby's got back
A small car with a small price can have big capacity, as indicated by the 2010 Nissan Versa 1.6 Base Sedan's 13.8-cubic-foot trunk. While I've added only a backpack in the accompanying image for perspective, I was actually able to stuff a large suitcase back there with room for a couple of carry-ons. Certainly, there are larger trunks out there, though the Versa does offer more room than the Toyota Yaris Sedan.
One thing not found on this oh-so-basic version of the Versa is a 60/40-split back seat. If you want that kind of versatility, including the ability to transport long items on occasion, you'll need to consider the pricier Versa 1.8 SL Sedan or, better yet, the Versa Hatchback.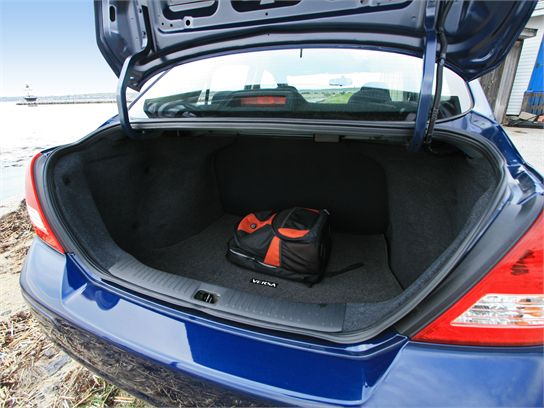 Page 2
The little engine that could
In addition to fewer electronic features, there's one other area where the Versa 1.6 Base Sedan comes up short compared to its pricier siblings. As its name suggests, the Base model is powered by a 1.6-liter engine, a little mill that pumps out 107 horsepower and 111 lb.-ft. of torque. For a bit more money, shoppers can get the Versa 1.8 S or 1.8 SL, models that use a slightly larger four-cylinder engine that generates 122 horses and 127 lb.-ft. of torque.
You'd think that robbing an economy car of a few ponies would be analogous to the straw that broke the camel's back. That's actually not the case, as what little power the 1.6 Base has revs willingly and does a decent job of keeping the Versa up to pace. Merging with quick-moving traffic or getting anywhere with briskness requires liberal use of the throttle, but, for those of us who like to listen to an engine work and manhandle our way through a five-speed gearbox, that ain't all bad.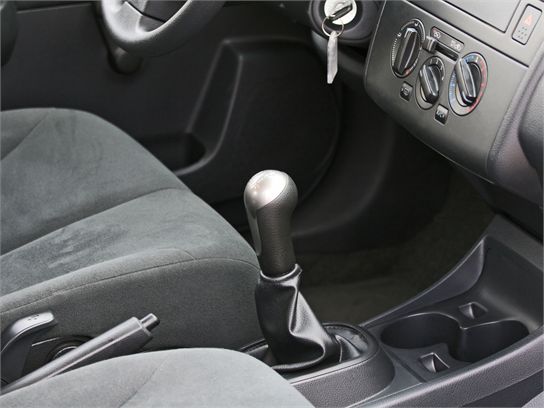 Page 2
Can you sing?
Finally, we come to what scared me most about the 2010 Nissan Versa 1.6 Base Sedan that arrived in my driveway. Where there should've been a radio was, instead, a blank plastic plate. Ahead of me were seven days without scanning the airwaves for something better than the current song, becoming stupefied by the opinions of various talk-radio hosts, or realizing that I, too, could make millions spewing jumbles of nonsensical lyrics.
And, as expected, the absence of a radio also meant the absence of any type of USB or auxiliary port, though even the most-basic Versa does come with four speakers and audio pre-wiring. With that, you can run down to your nearest installer, such as Best Buy, pick out a decent head unit for as little as $100, and shell out about $50 for installation.
For the record, I made it through the week sans tunes, but with another few days I would've been knocking on Best Buy's door.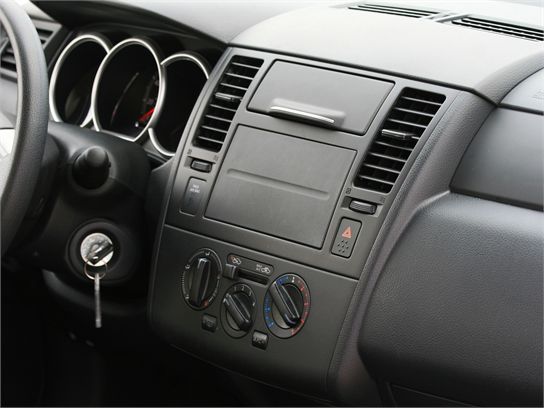 Page 2
Nissan hasn't scrimped on comfort with its most affordable model.
Cutting costs and saving money can be a comforting experience. Inside the 2010 Nissan Versa 1.6 Base Sedan are spacious, well-padded seats with wide cushions and ample thigh support. There's even a bit of side bolstering, and the seat fabric is soft. Frankly, they're more inviting than I expected in such a bare-bones ride. Like other Versas, those front chairs are positioned extremely close to the inner door panels, so Nissan engineers moved the recline levers to the inside edges of the seats, closer to the center console and emergency-brake handle. This odd placement does take some getting used to.
Out back is a bench seat that will make passengers applaud your choice of economy car. Three seatbelts are provided, though only two head restraints. Head, leg and foot room are generous, and the seat itself is set at a comfortable angle. Cars costing thousands more could take a few cues from the Versa. However, when it comes to rear-seat amenities, the 1.6 Base is woefully deficient. My test car included one lonely cupholder for back-seat drivers but lacked any type of additional storage.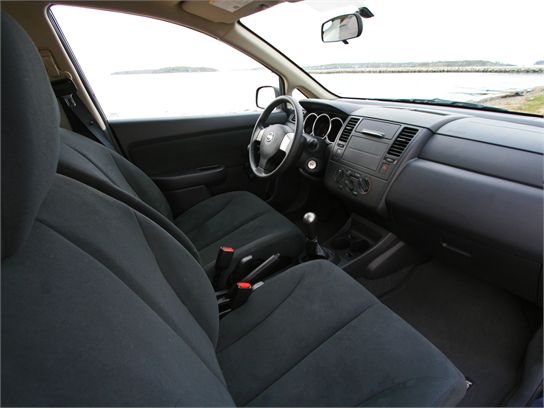 Page 2
Cutting prices isn't all about cutting content.
Curious about what little features might've been saved from cost-cutting measures, I spent some time perusing my Versa 1.6 Base test car looking for items one wouldn't expect to find on such an inexpensive car. One of my finds was the tachometer, a handy gauge that you're not guaranteed to find on the market's more expensive models. Other touches included exterior B-pillars and bumpers that were painted body-color instead of matte black or bare plastic. And those hubcaps, while not a shining example of automotive design, were a step up from simple steel.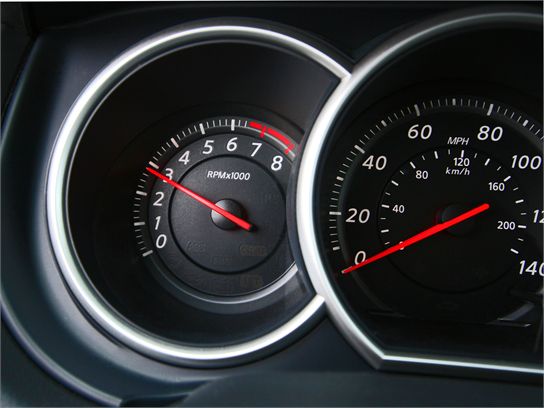 Page 2
A better deal than a used Civic?
As I mentioned earlier, my test car featured air conditioning and optional floor mats, which, with a $740 destination charge, brought the total price to $12,235. However, for the sake of discussion, let's focus on the 1.6 Base without a/c or mats and a delivered price of $10,730.
I was curious to discover if shoppers could get more used car for the same money, so I headed online and zeroed in on the Honda Civic Sedan. Excluding salvaged examples, a nationwide search resulted in one legitimate contender. One. Priced at $10,995, it was a 2008 Civic EX Sedan with goodies like a power moonroof, an automatic transmission and air conditioning. But unlike the brand-new Versa, with a few miles and a three-year/36,000-mile basic warranty, this Civic already had 27,000 miles on the clock and only one year or 8,500 miles of basic coverage remaining.
If warranty trumps features, that single Civic would be out. But what about a certified-used Versa? That's where things got interesting. With powertrain coverage up to seven years or 100,000 miles, several of the certified Versas scattered around the country not only offered more features than a brand-new 1.6 Base, they also surpassed that car's five-year/60,000-mile powertrain coverage.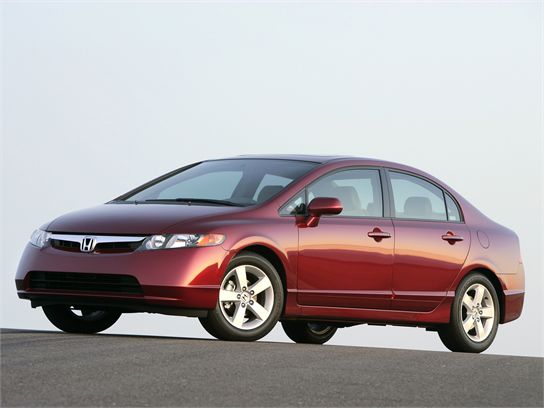 Page 2
Perfect for a specific type of buyer
After the driving and comparison research had been done, it was time to reflect on my week with the ultra-affordable 2010 Nissan 1.6 Base Sedan. I'd been surprised by its comfort and roominess, not to mention what it'd done with only 107 horsepower under its hood. I'd found that the radio issue could be resolved with a bit of time and less than $200, but stretching to reach window cranks and manually adjusting mirrors was an increasingly aggravating hassle. For those reasons, and the option of getting a longer powertrain warranty, I'd suggest checking online for a barely-used certified Versa with a few more creature comforts.
With that said, there are cash-strapped buyers out there who have been burned one too many times by used vehicles, and others who simply seek the most affordable way to get that new-car smell. For them, a shiny 2010 Nissan Versa 1.6 Base Sedan could be automotive bliss.