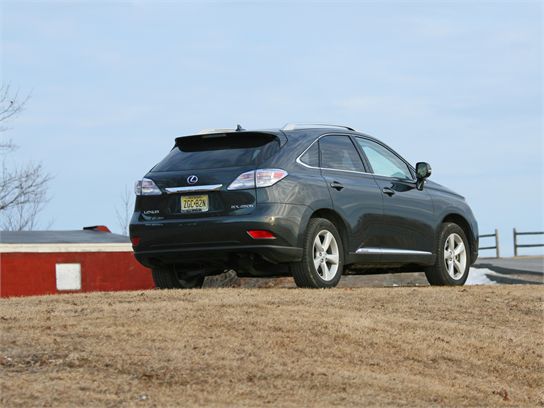 Conservation and luxury. In grade school, these two terms might've been paired up and included in a lesson about antonyms. Conservation usually means using less, whereas luxury conjures up images of excess. But times are a changin', as they say, bringing us to an environment where these seemingly divergent concepts are working together in products like the 2010 Lexus RX 450h, the model being covered in this installment of Autobytel's "Living With…" series. Unlike a traditional automotive review, the following pages detail what it's like to actually use the RX 450h day in and day out, offering the opportunity to examine features and nuances not explored during a routine test drive. So, if you're interested in how Lexus has designed a friendlier navigation system, among other things, you're in the right place.
Photos by Thom Blackett.
Page 2
Based on EPA figures, I could've expected to average about 29 mpg in my all-wheel-drive 2010 Lexus RX 450h test car, but because the majority of miles I traveled were at highway speeds (where hybrids are actually less efficient), I envisioned a figure that was slightly lower. When all was said and done, my RX returned 24.2 mpg, which was quite a bit lower than what I'd hoped for. It was especially disappointing as I stood next to the pump refilling my 17.2-gallon tank with pricey premium fuel. On the plus side, I was able to travel 344 miles before the gas light came on.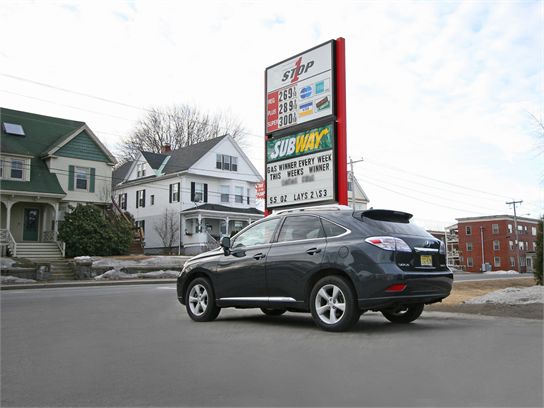 Page 2
Is it just me, or does it seem ironic that the 2010 Lexus RX 450h can travel about 350 miles between fill-ups (based on my experience) and offers the driver four – count 'em, four – cupholders? On one hand, you have a road-trip rig that will travel several hours without requiring a stop for fuel, yet on the other hand there's ready access to enough liquid to make a camel cross its legs. Regardless of whether your chosen beverage is Mountain Dew or water, chances are you'll need to empty your tank long before the RX 450h requires a refill.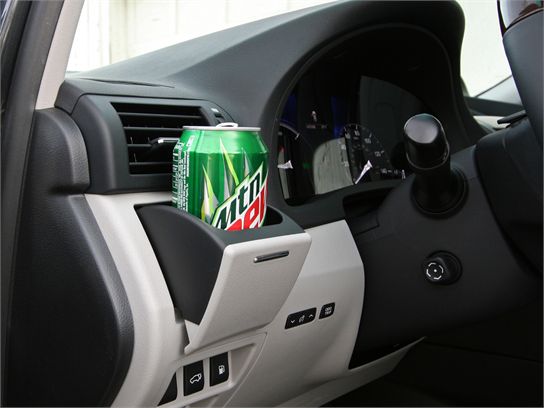 Page 2
As the owner of at least three consecutive Highlanders and the catalyst to getting several family members into similarly-badged models, my uncle is what you'd consider a Toyota fan. Part of the appeal is based on a positive ownership experience, while the rest is due to trusted third-party rankings and a well-established dealer relationship. Would he consider moving up to the Lexus brand? It's a question I posed when showing him around my 2010 RX 450h test car, and coincidentally, one he's been asked by his dealer. After a few minutes familiarizing him with the vehicle, the answer was a definite maybe. This Highlander driver applauded the RX's style and luxurious touches, but didn't find differences in comfort or overall feel to justify a significant price bump.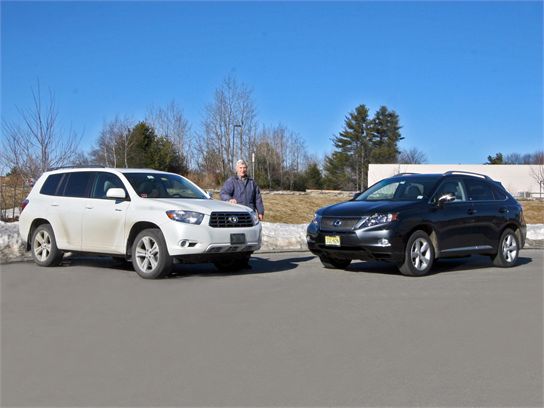 Page 2
As one of the few people left who has yet to jump on the smart-phone bandwagon, I'm what some folks would consider a little slow on the technology uptake. That may be true, but my antiquated flip phone does have a Bluetooth feature, which is all I needed to talk hands-free in the 2010 Lexus RX 450h. Pairing was as simple as activating the feature on my phone and directing the RX to search for my device. After that, I uploaded my contact list and made and received calls with ease.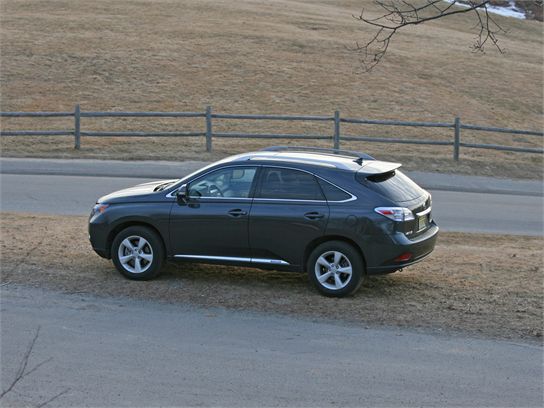 Page 2
Not content with curling up and enjoying the ride, and too short to easily see out of the window, my dog has become a center armrest connoisseur of sorts. Should this vital bit of hardware be absent or too narrow, she'll sit quietly in the passenger seat, staring me down with eyes that say, "Fix this. Now." It's not a pleasant situation. Thankfully, the 2010 Lexus RX 450h features a wide, padded center armrest that offers canines of diminutive stature a commanding view of the road, and keeps owners like me out of the dog house.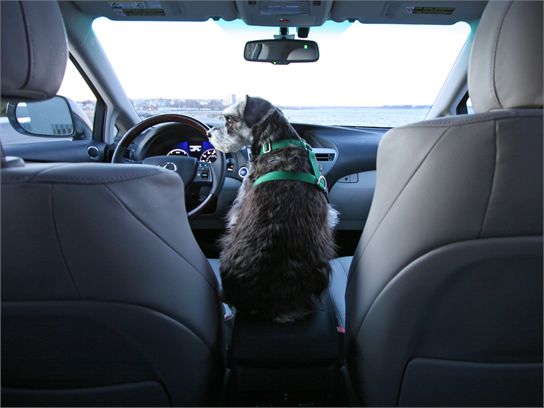 Page 2
When not testing built-in units, I use an aftermarket navigation system on a regular basis. While helpful, the "lady" who directs me takes no time in voicing her irritation when I've missed a turn. Honestly, you've never heard "Recalculating" spoken with such disgust. By comparison, the 2010 Lexus RX 450h's navigation system's computer-generated guide exhibits a kind and gentle disposition; after missing a turn, a friendly voice simply offered revised directions. What a nice change. The RX's nav system also gets kudos for its Hansel and Gretel approach to mapping – a series of red dots illustrates the route you've traveled to your current position.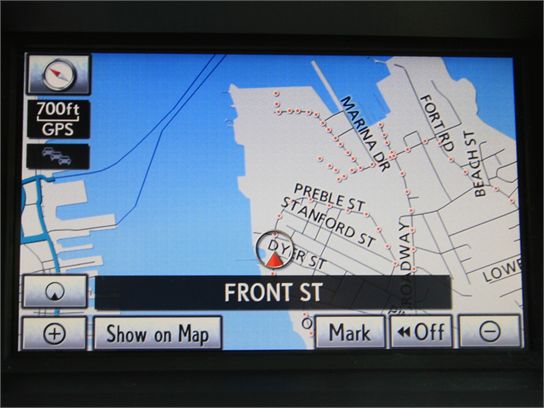 Page 2
You'd think that I'd get my heavy-footed self into trouble with cars like the Audi R8 or Dodge Challenger SRT8. No, I get busted for speeding in the 2010 Lexus RX 450h hybrid SUV. Of course, my trusty radar detector was stored in a cubby at the time, serving absolutely no good. However, just one day prior I'd hooked up that ticket-avoidance technology, noting that the nearest power outlet was located in the bottom of the center console. That's a handy location for powering up iPods and such, but requires hanging a cord over the dash if you're affixing something like a radar detector to the windshield or top of the dash. It's a minor quibble, but I'd opt for placing a power source on the instrument panel with the radio and climate control system.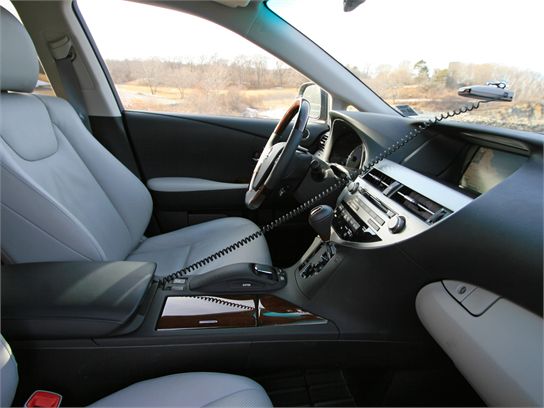 Page 2
It's been said before, but it bears repeating here: Hybrids are not the slugs they once were. During my week with the 2010 Lexus RX 450h, there was one evening that required a trip from Portland (Maine) to Boston and back (about 225 miles total). With a few hours behind the wheel, I had time to find the heated/cooled seats dial hidden under the center armrest, to use the Bluetooth feature, and to enjoy the comfortable driving position. Helping in that effort were a power tilting and telescoping steering wheel wrapped with leather and wood, plenty of padded surfaces for resting arms, and very inviting bucket seats with multiple power adjustments. A smooth ride and plenty of cruising and passing power were welcome touches, too. The only notable detractions were fuel economy that averaged about 24 mpg during the trip, and more road noise than expected from a luxury vehicle.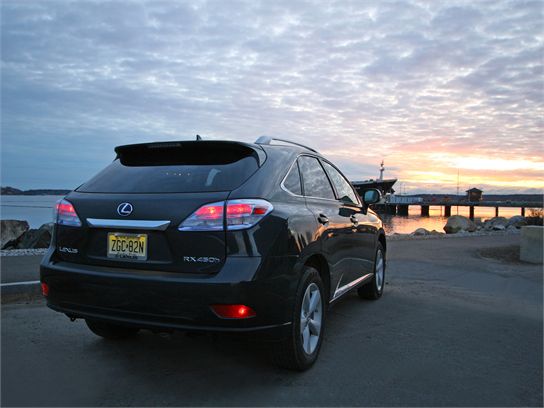 Page 2
That odd hump and knob on the center console of the 2010 Lexus RX 450h is a mouse…the computer variety. Placement is ideal, as the driver's hand falls right on top of the unit when the forearm is placed on the center armrest. Unlike more complicated systems including BMW's iDrive or Audi's MMI, my tester's setup didn't incorporate all of the climate and audio controls. A simple menu button brings up a limited array of options; I focused on basic navigation. This piece of Lexus hardware works much like your computer's mouse, but I found that a fairly delicate touch was needed while scrolling through the alphabet to spell a destination's address.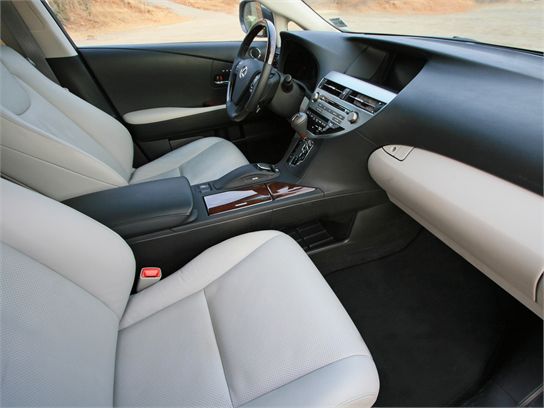 Page 2
With the exception of the much less powerful hybrid versions of the Ford Escape and Mercury Mariner, the 295-horsepower 2010 Lexus RX 450h is rated by the EPA as the most fuel-efficient SUV on the road. That's definitely something to be proud of, but real-world fuel economy is disappointing. Granted, 24.2 mpg sounds impressive for an SUV pushing nearly 300 horses, but that figure loses its luster when you paid an extra $5,000 for something you thought would be closer to 30 mpg. As is the case with hybrids in general, the redesigned Lexus RX 450h best serves drivers who spend the majority of their time traveling at slow speeds and in stop-and-go traffic, where the gas engine is used sparingly and fuel economy is maximized. For others, the added expense that comes with the 450h badge is hard to justify.