Seven days, lots of errands, and Ted Nugent.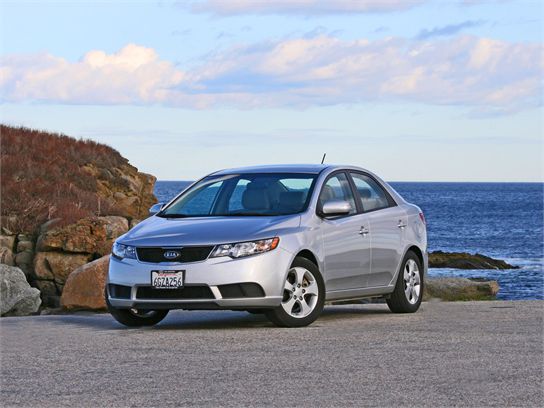 For many of us, daily life isn't always exciting. Unless, that is, your blood starts pumping when you think about running errands, moving some stuff out of storage, and other such mundane activities. No, it's not enough to even cause a blip on a heart rate monitor, but it's the reality faced by the majority of American drivers and their cars. So, it's fitting that I spent my week with the 2010 Kia Forte, the subject of this installment of Autobytel's "Living With" series, examining what it was like to go about my everyday routine with Korea's version of the Honda Civic.
In the end, my reactions should only surprise those who aren't familiar with the progress Kia has made in recent years.
Photos by Thom Blackett.
Page 2
During my week with the 2010 Kia Forte, I drove around much of northern New England, and even took my mom out to lunch at her favorite seafood restaurant. To say that I observed onlookers gushing or had people constantly asking me for details about this Korean four-door, well, that'd be stretching the truth quite a bit. In reality, the Forte blended seamlessly into its paved environment and allowed passengers to feel as though they were traveling in any one of many economy sedans. When asked, folks did compliment the Forte's styling, but more importantly, the subtle mocking that once coincided with driving a Kia had disappeared. Rightfully so.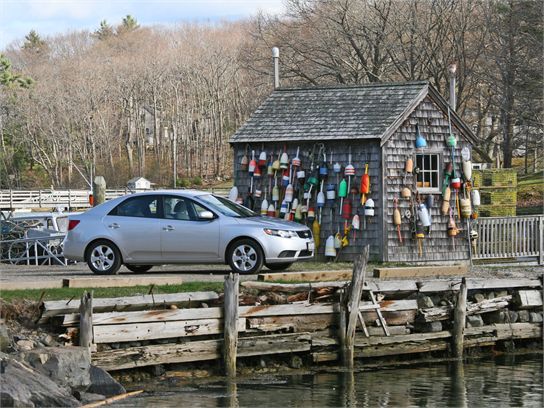 Page 2
Being a child of the '80s and a fan of really bad music is never a good thing. As such, you're apt to bring up songs like Run-D.M.C's "It's Tricky" when discussing the 2010 Kia Forte's four-speed automatic transmission. Before I go any further, please let me apologize for putting that tune in your head for the rest of the day.
The connection between song and gearbox came to me after I found myself repeatedly searching for Park when piloting the Forte. The shift gate is a bit like a maze, requiring little moves to the right and left to get from Park to Drive; once in Drive, a tap to the right puts you in manual mode, where you can move the shifter forward or backward to change gears. That part is all pretty simple, but when I was done driving and wanted to place the gear lever back in Park, a little kick-out above the Reverse gear always surprised me. Yes, it's minor, but its frequency – or my inability to remember something so simple – became annoying.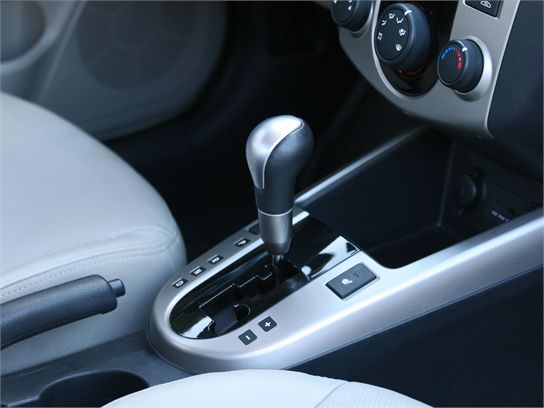 Page 2
"Your mileage may vary." I dare say that the majority of drivers would agree that this phrase has historically been infinitely more accurate than fuel-economy figures published by the EPA. However, the EPA modified its calculating method for the 2008 model year, with the result being more accurate estimates. Case in point: My 2010 Kia Forte, equipped with a four-speed automatic transmission, was expected to achieve 25 mpg in the city, 34 mpg on the highway, and 28 mpg overall. I put several hundred miles on the car, including multiple trips around town and a long haul to Boston to catch a Celtics game, and recorded an average of 28.3 mpg.
That figure puts the Forte about one mile-per-gallon behind its primary competitors, though it should be noted that comparably equipped rivals from Honda and Toyota don't match this Kia's 156-horsepower rating.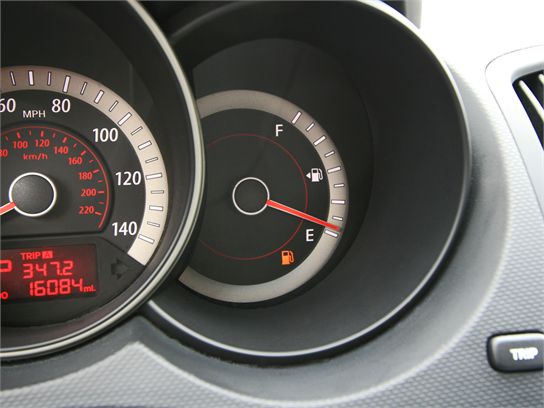 Page 2
Try as we might, some of us were simply not born to be technophiles. Sure, we're attracted to shiny new gadgets just as much as the next person, especially when they promise to put the world in the palm of your hand, but things get ugly when we have to push all of the correct buttons and scroll through a sea of menus.
With that said, technophobes like me can breathe easy with the Kia Forte. Those of us who have tasted the modern world via an iPod will appreciate how easy it is to enjoy our own portable music library. Simply plug your iPod into the outlet located below the instrument panel, tap the AUX button on your stereo, and you're in business.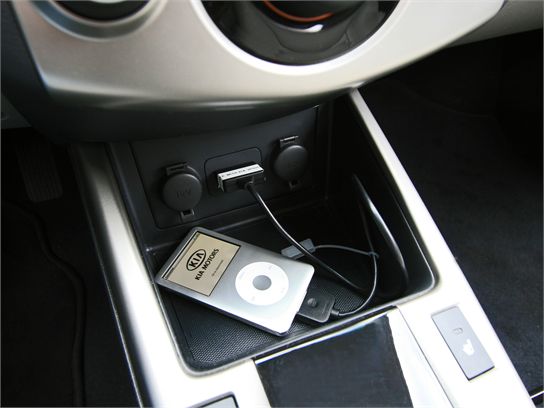 Page 2
In this modern age, what someone chooses to put on his iPod is often a well-protected secret. It's like handling our social security number, which is most often released on a strict need-to-know basis.
So, against my better judgment, I'll tell you that my iPod is home to Ted Nugent's "Stranglehold." Make this apology number two for filling your brain with not-quite-Top-10 material. In any case, I'm not proud of the fact that I shelled out a whole 99 cents for the right to take that tune with me around the globe, but I have to say it does sound pretty darn good on the 2010 Kia Forte EX's standard audio unit. I'm not talking about a high-end Bang & Olufsen or Bose system, but four speakers and two tweeters do a commendable job of drowning out the daily clatter with plenty of guitar riffs and booming bass.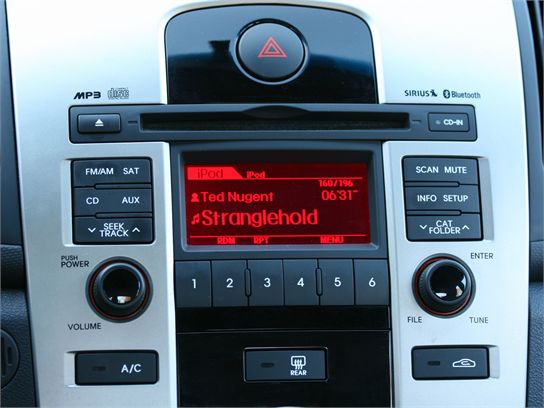 Page 2
Kia is continuing to prove that it can build affordable vehicles with competitive fuel economy, a great warranty, and increasingly impressive styling. But none of that matters if the interior's layout makes drivers want to pull their hair out. Thankfully, that's not a worry for those who find themselves in the 2010 Forte, especially versions like the EX I tested. From the primary controls, like power window and mirror switches on the door, to large and well-labeled radio and heated seat buttons on the instrument panel and center console, finding your way around the Forte's cabin is mind-numbingly simple. Large, illuminated audio controls on the steering wheel are another handy touch.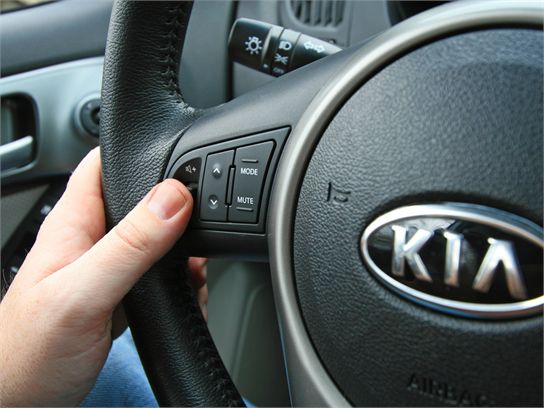 Page 2
Though it's billed as a five-passenger ride, the 2010 Kia Forte works best with four adults. The rear bench seat is a bit too narrow for a third person, and the center hump isn't all that hospitable. Leg and head room are adequate but not what anyone over average height would call abundant.
Those characteristics are common among economy sedans, yet I was pleased to find generous trunk space under the rear deck lid. Inside, there was enough room to pack in a large suitcase along with a couple of carry-ons. A quick check of the specs showed that the Kia Forte actually provides more cargo space than competing models like the Honda Civic, Toyota Corolla and Nissan Sentra.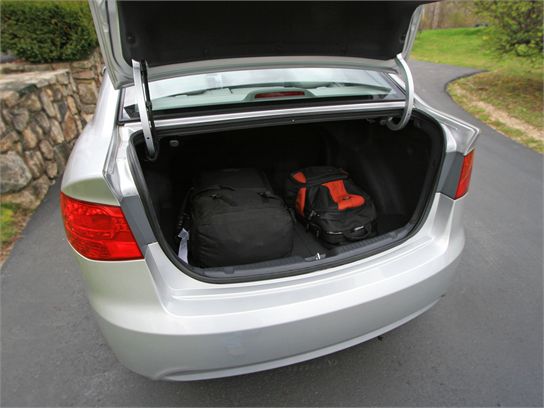 Page 2
As someone who has too many belongings in family basements and not enough in my own apartment, I often find myself stuffing test cars with boxes or everyday items that I want or need. In those instances, it's handy to have a car like the Kia Forte, which not only offers generous trunk space but also allows users to drop the split-back rear seat. With that done, you can extend the cargo area, something that proves especially helpful when you need to accommodate a mountain bike or anything long and flat.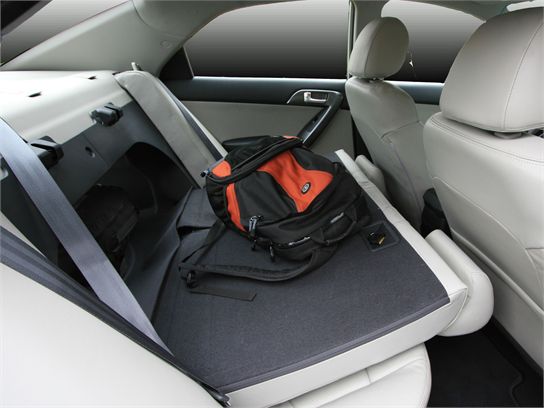 Page 2
Despite offering heated seats wrapped in cowhides, a decent sound system with easy auxiliary hook-ups, sufficient response from its 156-horsepower four-cylinder engine, and other amenities like a power sunroof and alloy wheels, there were cues that reminded me that I was behind the wheel of an economy car. Examples included doors that sounded tinny and hollow when they were shut, a dearth of rear-seat amenities, hard plastic bits and pieces aplenty, and a leather-wrapped steering wheel that felt surprisingly similar to the lower-grade urethane units found in less expensive models.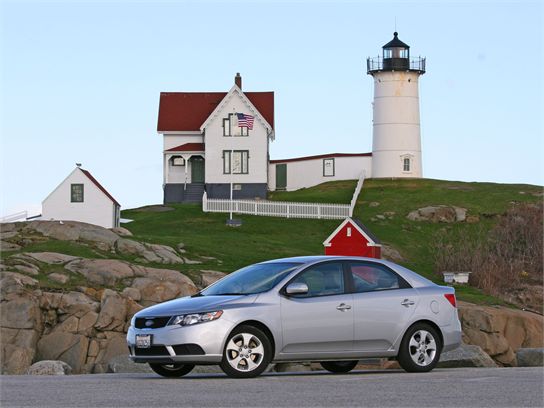 Page 2
After seven days and lots of miles, the time came to bid adieu to Kia's newest sedan. We hadn't shared any truly noteworthy experiences (unfortunately for the Forte, it sat buried in a Boston parking garage while I enjoyed a box seat at a Celtics game), though I had traveled enough distance in this little four-door to determine that the Sorento SUV I'd driven a few weeks prior was, in fact, not a fluke. As is the case with most any vehicle, there are aspects of the Forte that could be improved, such as interior materials and the deletion of an antiquated four-speed automatic transmission option, yet the overall impression I was left with was this: Kia builds a stylish, comfortable, and well-equipped sedan worthy of serious consideration by anyone shopping the uber-competitive compact sedan market.
And, yeah, there's that 10-year warranty, too.