One week, 500 miles, and mixed impressions.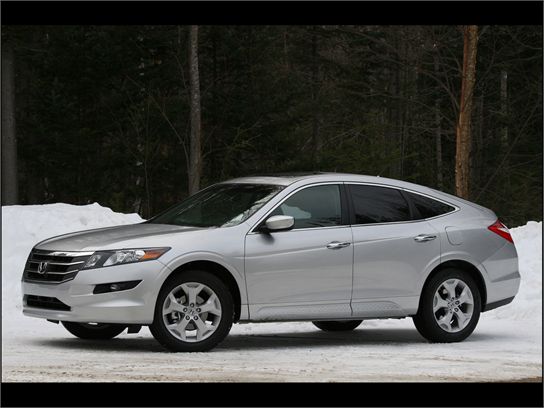 As any cohabitating couple will tell you, the dirt doesn't usually show its face until you move in together. During the courting phase, the best foot is always forward and any unique characteristics are considered adorable. And then you decide to live under the same roof, sharing what seems to be ever-shrinking space and discovering all of each other's habits and idiosyncrasies. Some fall under that cute and adorable heading…others, not so much. We go through the same process with our cars, gaining appreciation for certain aspects over time and developing a genuine hatred for less desirable features. With this in mind, we've followed up our original coverage of the 2010 Honda Accord Crosstour by spending a week with this new crossover, testing it for everything from grabbing groceries to plowing through snow.
Page 2
Imagine getting into a new car for the first time on a cold winter's night, when all you're thinking about is getting the engine cranked, the lights on, and the heat blasting. Now picture an instrument panel that has buttons for fan speed placed in one spot, buttons for the fan direction placed in another spot, and just to make things fun, a slew of radio buttons tossed into the mix. During daylight hours, the Crosstour's heating and radio controls are distinguished by gray and black plastic panels, but at night the setup appears as a dizzying array of buttons that will leave numb fingertips searching. We gradually become familiar with the layout, but even after a full week longed for something simpler.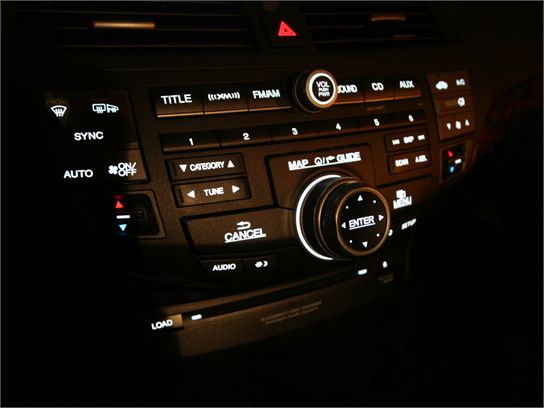 Page 2
As luck would have it, our 2010 Honda Accord Crosstour test car arrived just in time for moving day. So, given this rig's utilitarian crossover status, we dropped the rear seatbacks and loaded up the cargo area. On one run, we managed to squeeze in a large bookcase, a few 18-gallon storage totes, several plastic bags full of odds and ends (call it multi-purpose luggage), and a generous assortment of framed photos. Our second trip included two overstuffed suitcases, another selection of totes, a small table, a guitar and stand, and a couple of bags. Thanks to the flat load floor, getting all of these items into the Crosstour was a cinch, though we were disappointed by the intrusive wheel wells and the sloping rear glass that, collectively, robbed us of valuable space.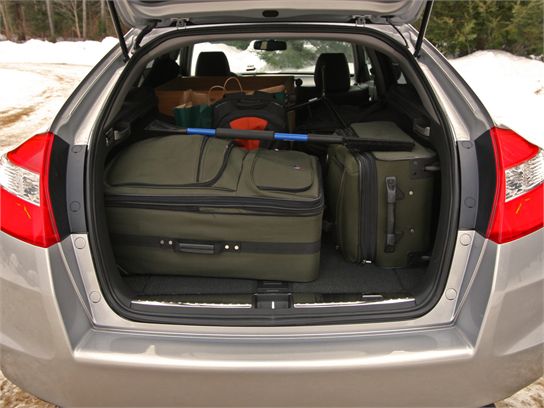 Page 2
Since moving was on the agenda during our week with the Crosstour, and since we had a small enclosed trailer at our disposal, we considered using our test car as a tow vehicle. Unfortunately, our rig was delivered minus a dealer-installed tow package, but that got us thinking about the pulling capability of this crossover vehicle, one that goes up against rides such as the Toyota Venza, Ford Edge, and many others. The Accord Crosstour's tow rating maxes out at 1,500 pounds, whereas you'll be able to tug up to 3,500 pounds with models such as the Venza, Edge, and Nissan Murano. If you're looking for a crossover that can occasionally do some heavy lifting, the Honda Crosstour might not be your best choice.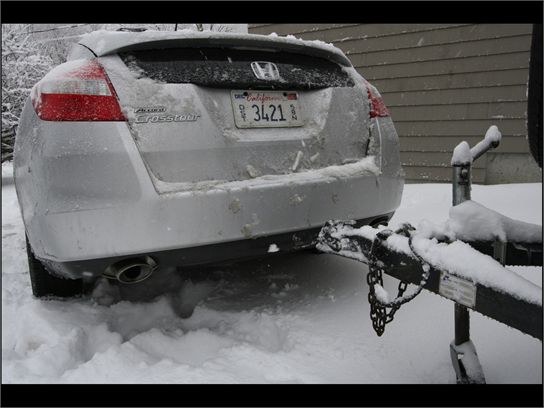 Page 2
It may not be very sexy, but serving as the go-to Grocery Getter is critical to the success of any family car. Extra points are rewarded if you can strap in a couple of kids and still have room in the trunk for a week's worth of wares. Behind the Accord Crosstour's rear seat you'll find space for several eco-friendly shopping bags, with extra cubic-footage around the edges to squeeze in a gallon or two of milk and a large container of dog food or cat litter.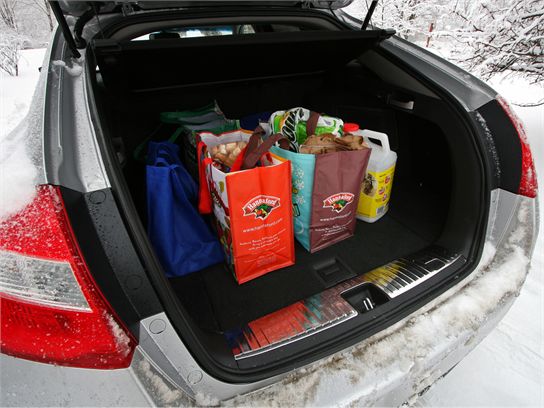 Page 2
Honda has designed the 2010 Accord Crosstour to accept two outboard child seats, or a single child seat placed in middle of the second-row split bench. LATCH points are provided for the outboard positions, while an upper tether allows for use of the center position. Thanks to the Crosstour's height, and despite its sloping rear roofline, accessing the outboard seats from outside the vehicle is a simple task.
Page 2
With its 110.1-inch wheelbase and 196.8-inch length, the Crosstour fits into any conventional garage with expected ease. Once inside, we were able to fully open the liftgate with a few inches to spare without butting up against the raised garage door. Backing out wasn't quite as pleasant, thanks to the split rear glass that serves to limit visibility (especially when the rear seats are up and the cargo shelf is in place). Thick rear pillars make parallel parking somewhat of a hassle, though the rear quarter windows do help somewhat.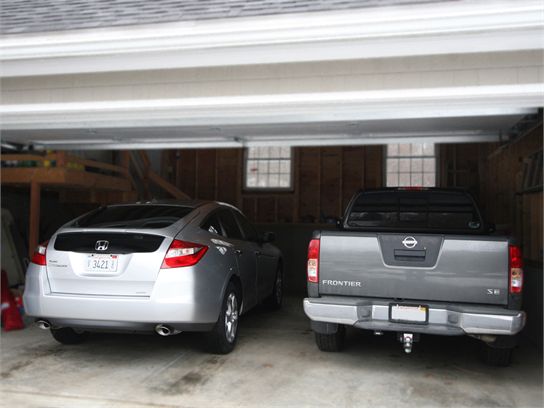 Page 2
Mother Nature understood that we couldn't do a real-world test of the only all-wheel-drive Accord without a little help, so she showered us with several inches of wet snow. With 8.1 inches of ground clearance, the Honda Crosstour easily tackled areas that had yet to be plowed, but we did notice more initial tire slip than in other all-wheel-drive vehicles we've tested. Even so, we were able to drive over and through small snow banks without concern, and cruised in the highway's slushy passing lane with confidence.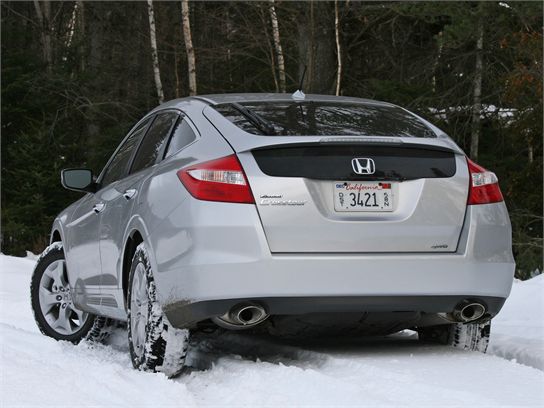 Page 2
During a regular test drive, you can quickly gauge how comfortable a car will be, but it takes a long stint behind the wheel to truly get a good feel. We did just that, logging almost 300 miles in one day while traveling all over Maine and New Hampshire, from the coast to the mountains and back. During it all, the 2010 Honda Accord Crosstour provided a comfy spot to sit, due in part to a spacious and firm driver's bucket as well as plenty of power adjustments and a dual-setting heated seat feature. There were no problems with back fatigue or general discomfort. Over the course of the long day, we came to appreciate the padded center and door armrests, the easily-accessible primary controls, and a suspension setup designed to deliver confident handling without a harsh ride.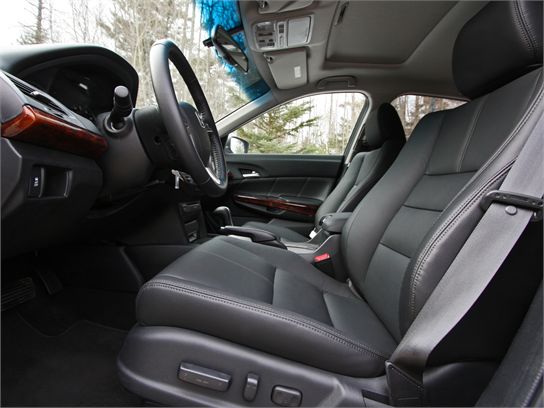 Page 10
Here in the Northeast, our 2010 Honda Accord Crosstour was the only example we saw on the road, and as a result, it garnered lots of attention. Friends and family were the first to speak up with impressions, which ranged from "Is that a Prius? Or a hybrid?" to various comments about what was perceived as awkward rear styling. Later in the week, we stopped by our veterinarian's office to get some dog food and recorded thumbs-up for the Crosstour's front-end design; a park ranger we spoke with put his hand on his chin and simply stated, "It looks big for a Honda." Take that how you will. Finally, we talked with the owner of a convenience store/gas station who sees all sorts of vehicles pass through each day, and learned that he was less than pleased with what he called a "wedge-like" rear design. No word on whether his wife, who bases her impressions solely on headlight styling, could be considered a Crosstour fan.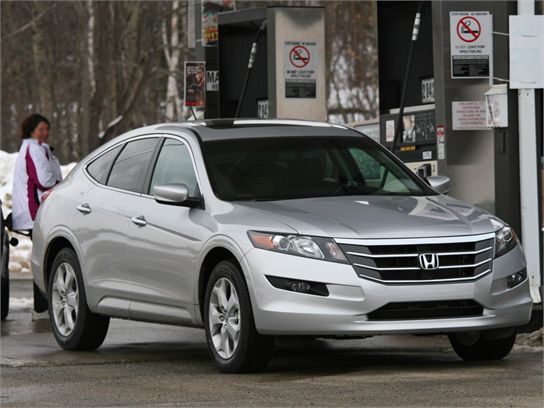 Page 2
When our week was up and we'd fully experienced all the 2010 Honda Accord Crosstour had to offer, we were left with one question: Why does this vehicle exist? To its credit, the Crosstour offers all that you get in the impressive Accord sedan with the added benefit of all-wheel-drive, more ground clearance, and added trunk space. Indeed, it's a very comfortable car that's a pleasure to drive and is easy to live with. Yet as a crossover, one would expect the Crosstour to deliver more capability in terms of cargo and towing capacities, putting it in line with competitors like the Venza and Murano. Without such improvements, we'd suggest considering an equally capable but more affordable Honda crossover known as the CR-V.