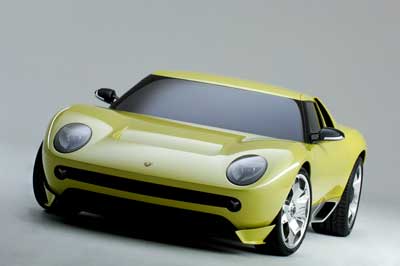 She stood like a statue beside the car and smiled the most perfect smile I had ever seen, in the most glamorously impeccable black dress ever worn. It was dazzling, she was dazzling, and yet somehow, in a crowded room of men, no one even noticed her. She was just another beautiful person in a sea of coifs and collars, an Island of Lamborghini in the sea of chaos called the 2006 North American International Auto Show. They were the beautiful people, and they were safe from it all, safe and serene, while all around them the harried hustle and bustle of the car business went on. Lamborghini, after all, is not in the car business. They are in the beautiful people business, and they happen to make cars, super cars, for super beautiful humans. And the one my dear model stood beside happened to be perhaps the most beautiful of all the Lamborghini creations on display: the reprised, revisited and regaled Miura Concept. Done to celebrate the original Miura's 40th anniversary, the concept is only a design study, but will probably become real, judging from the enthusiastic reception it received, and because, well, beautiful people love beautiful things.
Lime cream masterpiece
A lime cream masterpiece with tough-guy haunches and a broad back that has power written all over it, the Lamborghini Miura concept was created by a team led by Audi Group chief of design, Walter de' Silva, and is a remake of Lamborghini's most legendary car of the sixties. In production from 1966 – 1972, the original Miura celebrated its 40th anniversary last year, but will likely get new life by the end of 2007. If made into a production car, the Miura will likely ride on the chassis of the Audi R8. Concept specs call for an all-wheel-drive setup, a base price of around $800,000, and a powertrain driven by a 6.5-liter, 700-horsepower V12 engine with a sequential 7-speed automatic transmission. As such, the Miura will do battle with the likes of the Ferrari Enzo.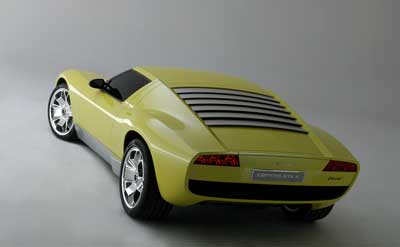 Retro beautiful
Are you beautiful? Or so wealthy that your hideously ugly mug doesn't really matter anymore? If so, the Miura is what you want, if/when it goes from concept to production form. Should that happen, expect all-wheel-drive setup, a base price of around $800,000, and a powertrain featuring a 6.5-liter, 700-horsepower V12 engine with a sequential seven-speed automatic transmission. That matters a bunch, if you like beautiful power. But all in all, what the Lamborghini Miura really stands for is a celebration of the things beautiful people covet, and yet another example of the spreading retro design trend in today's car world. When exotics such as Lamborghini are going back to past giants in order to build a retro-ish muscle recreation of a much-loved car, it's time to come up with some new ideas. There are beautiful children, right now, wondering what kind of Lamborghini they will aspire to own when they join the club. If it's the Miura, will it be the 1966 model – or the 2008 version of the 1966 model?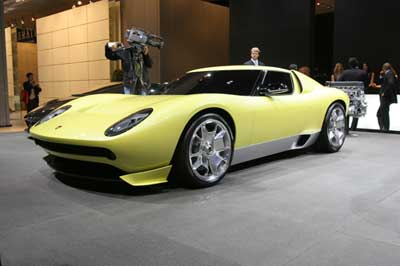 Miura power
The Miura is strictly a design concept, but experts think that specs for a Lamborghini Miura could include a 6.5-liter, 700-horsepower V12 engine with a sequential 7-speed automatic transmission. Reports indicate that Lamborghini will adapt the upcoming Audi LeMans coupe, and will make at most 400 Miuras.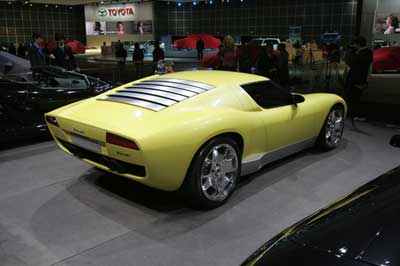 Interior pleather
Think minimalist, if the concept is any indication of a possible production version, an interior that harkens back to the sixties in control design, layout and seating. Judging from appearances and reports, any production Lamborghini Miura would eschews such modern conveniences as navigation screens.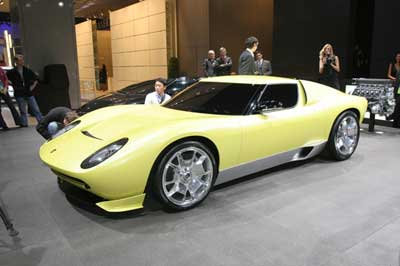 Snub back beauty
J. Mays is moonlighting for Lamborghini? Well, of course not, but then it does look a bit like a Mays-inspired retro design, a GT-ish take on a classic Lamborghini, one close to the original but with a few modern touches. The haunches are big and strong, the sides smoothly edged with graceful lines and an emphasis on headlamps ringed in black on either side of a flat, gently sloping hood. The snub back is strikingly aggressive while the rest of the car is a study of subtle design. The Miura is a darn attractive car, to be sure. Unlike the hit-you-in-the-face designs so popular of late, the Miura is more subtle than that, sneaking up on you when you don't expect it – and leaving a wonderful impression.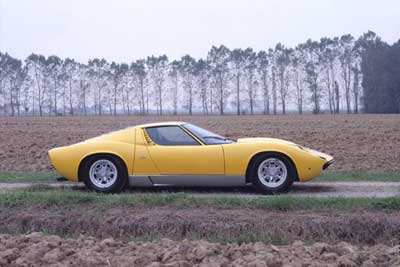 Future plans
Lamborghini is tight-lipped on whether or not the Miura concept will become production, but they and their corporate parent, Audi, would have to be loopy not to have it already inked as a production model. As a chart-topper to do battle with the Ferrari Enzo, Lamborghini is laying down a fairly large and beautiful challenge.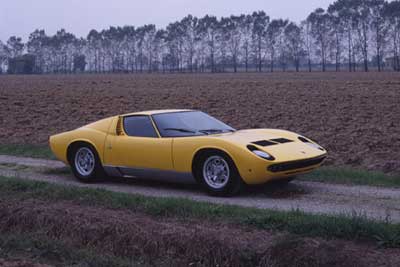 Miura envy
We only have pretensions of beauty, so the Miura concept one of those vehicles we may get to drive once but will never actually own. Or even pretend that we could own. From afar, however, it makes us wish we could also be a beautiful person, with a slinky model on each arm, a Miura in the drive and the knowledge that the brutish force of its 6.5-liter, 700-horsepower V12 engine is but a foot twitch away.
Photos by Ron Perry and courtesy of Lamborghini