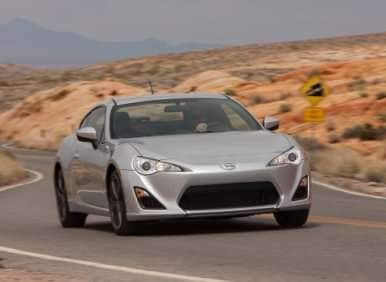 Toyota was the fastest-growing mainstream automaker in the country last month, achieving a 26.6 percent increase in sales that nearly doubled the industry's 14.2 percent improvement. And that stellar growth rate was backed by plenty of volume, too, with the company delivering 157,725 units to claim third place on the sales podium behind only Ford and General Motors. The Toyota and Lexus brands did much of the heavy lifting, however, as Scion—except for the 2013 Scion FR-S—continues to underperform the marketplace by a fairly large margin.
Still, in a selling environment in which Honda and Nissan were limited to January gains of 12.8 percent and 2 percent, respectively, Toyota clearly showed an early advantage out of the gate—and particularly high demand for its freshest faces.
"The sales pace we saw in the fourth quarter of last year rolled into January, exceeding our expectations for the industry," said Bill Fay, Toyota Division group vice president and general manager, Toyota Motor Sales, U.S.A., Inc. "With the 2013 Avalon and 2013 RAV4 off to a great start, our focus remains firmly on new products and taking care of our customers."
January Auto Sales: Toyota's Top Performers
Toyota had 16 different nameplates that outperformed the industry in January, and one that didn't—the 2013 Toyota Camry—delivered 31,897 units last month to outsell every other car in America. Plus, it's not like the Camry lost ground last month: Sales for the recently redesigned mid-size sedan climbed 12.7 percent in one of the most competitive segments in the country.
Other Toyota sales highlights from last month included: 
2013 Toyota Corolla—No. 5 on the overall January sales list and the best-selling compact for the month, the Corolla enjoyed a 32.4 percent advance on 23,822 deliveries.
2013 Toyota Prius (and family)—Combined Prii sales reached 15,772 units for a 36.5 percent increase over the same month in 2012.
2013 Toyota Avalon—Thanks to a nice surge of interest in the all-new model, the Avalon was good for 4,840 sales and a 50.4 percent jump in the right direction.
2013 Lexus ES—The ES also was fully redesigned for the new model year and also saw a big gain in both sales (5,186 units) and volume (up 115.2 percent).
2013 Lexus GS—The next-gen GS leveraged its high-tech, high-performance packaging to attract 1,077 new customers in January, marking an increase north of 1,000 percent.
2013 Toyota RAV4—Sales of the all-new compact crossover kicked off just last month and immediately boosted sales 18.2 percent on the strength of 11,610 deliveries.
2013 Toyota Tundra—Toyota's full-size pickup is slated to premiere an all-new model at the 2013 Chicago Auto Show, but the current one continues to do well with buyers, benefiting from a 27.1 percent January sales jump and 7,004 deliveries.
2013 Toyota Tacoma—The Tundra's little brother put up even bigger results, with 11,622 sales and a 30.6 percent volume advance.