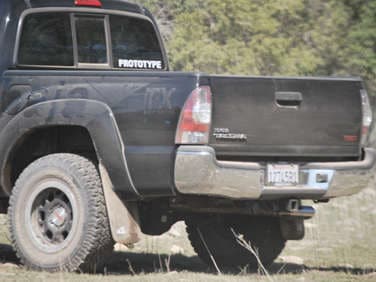 With more and more truck customers giving compact pickups a try, Toyota is trying to catch the wave of growing sales with the 2012 Toyota Tacoma TRD T|X Baja Series—offering better-than-expected off-road capabilities at a lower-than-expected MSRP. The new model, available in both Access and Double Cab configurations, is set to launch this May with an entry point of $32,990. Yes, that's almost double the cost of a base Tacoma, but it still represents savings of $845 as compared to the new equipment's "true" MSRP.    
It's also worth reminding potential buyers that this is much more than just an appearance package. Toyota has an extensive track record of success in Baja-style desert racing, and—backed by that expertise—engineers have definitely brought their "A game" to setting up the new Toyota Tacoma TRD T|X Baja Series.
2012 Toyota Tacoma TRD T|X Baja Series—Highlights
The 2012 Toyota Tacoma TRD T|X Baja Series starts life as a Tacoma Access or Double Cab with standard four-wheel drive and a big 4.0-liter V6 engine with "intelligent" variable valve timing, capable of a healthy 236 hp and 266 lb.-ft. of torque. Drivers can choose between a five-speed automatic transmission or a six-speed DIY gearbox, and then the fun really starts.
First up, the truck gets the full TRD T|X Off-road package that was first introduced in 2011. This brings an aggressive style enhancement along with a wealth of off-road vehicle-control technologies like Active Traction Control, Hill-Start Assist Control and Downhill Assist Control, as well as an electronically controlled locking rear differential. And while this package normally adds $3,765 to the bottom line of a Tacoma Access Cab 4X4 V6 with a manual transmission, Baja Series buyers pay just $3,570 for these goodies with similar savings on other models.
Next, Toyota deploys a major suspension upgrade for radical rock-crawling abilities: The front setup gains racing-style shock absorbers from Bilstein, boasting 66-mm pistons and TRD coil springs with a protective zinc-plated body for an additional inch of wheel travel. The rear suspension also packs Bilstein shocks—with 50-mm pistons—and zinc plating, which here enable an extra 1.5 inches of wheel travel. Also standard is increased oil capacity for the shock absorbers, courtesy of a new remote reservoir. As a result, the suspension can dissipate heat more effectively and offer notably better damping sensitivity. Other notable content includes BF Goodrich T/A KO tires (LT265/70R16), bead-lock off-road wheels with an exclusive Gun-Metal Gray finish, a TRD cat-back exhaust, Baja Series graphics and a ride height that's been raised almost two inches.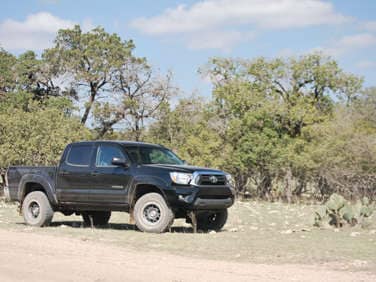 2012 Toyota Tacoma TRD T|X Baja Series—Pricing
All told, the new 2012 Toyota Tacoma TRD T|X Baja Series benefits from some $5,015 worth of further enhancements, but Toyota is providing a $650 "factory credit" for all trucks.
Full pricing details on the pickup:
Access Cab with manual transmission—$32,990
Access Cab with automatic transmission—$33,975
Double Cab with manual transmission—$34,275
Double Cab with automatic transmission—$35,255
(Note MSRPs do not include Toyota charges for delivery, processing and handling, which can vary slightly by region.)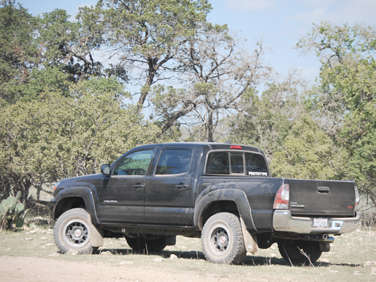 Compact Pickups on the Rise
Toyota also has restyled the full Tacoma family for the new model year, and if all this attention seems a bit extravagant in a segment not known for high volumes, it might be time to reset some expectations.
Consider: Tacoma deliveries are already up 27.6 percent this year, with March sales coming in at 12,547 units. For a sort of random comparison, the entire Lexus car lineup moved 11,477 vehicles last month. And the rest of the small pickup contenders are seeing the same kind of growth. The Nissan Frontier, Chevy Colorado and GMC Canyon expanded their first-quarter sales by 29 percent, 36.4 percent and 37.8 percent, respectively.
And remember, all of these entries are running old-school powertrains that really leave a lot on the table, efficiency-wise; just imagine the kind of sales a 30-mpg Tacoma could rake in … and hope that one day, with some help from (at least) one of the automakers, drivers will be able to do more than just imagine it.
Photos courtesy of JeffreyN. Ross