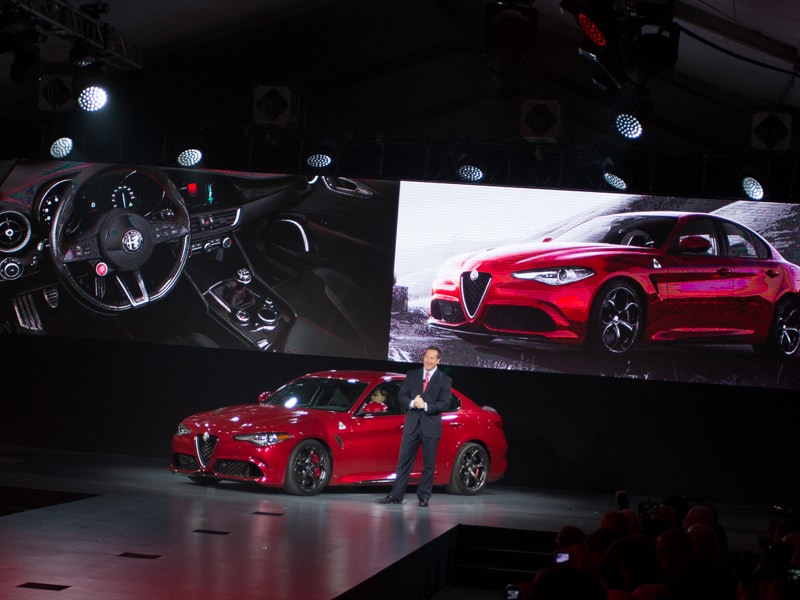 2016 Alfa Romeo Giulia Quadrafoglio at the 2015 LA Auto Show ・ Photo by Rex Torres
2016 is shaping up to be one of the best years in recent memory for anyone in the market for a brand new car. Practical SUVs, gorgeous sedans, and ultra-quick sports cars are just the tip of the iceberg for 2016, with brand new designs joining long-awaited refreshes to create a fun and dynamic line-up of options at almost every price point.
We've combed through the best of what's out there to give you a taste of what's waiting for you at your local showrooms. Check out our picks for the hottest new cars for 2016, and see what you think of our editors' choices.
2017 Mercedes-Benz S-Class Cabriolet
The 2017 Mercedes-Benz S-Class Cabriolet is an open-topped four-seater based on the excellent S-Class sedan. That car is the company's flagship and a technological powerhouse. This cabriolet enjoys many of those features, along with a few tricks of its own. Like Airscarf, where vents in the front seats direct warm air to their occupants' necks, pyrotechnic roll bars, and a special climate control system with automatic control of each vent. That's how much detail this car goes into. The S550 has air suspension as standard and uses a 449-hp turbocharged V8 connected to a nine-speed automatic transmission. The Mercedes-AMG S63 4Matic Cabriolet is endowed with 577 hp which it sends to all four wheels.
 It's an all-new model.
 Summer 2016.
 To be announced.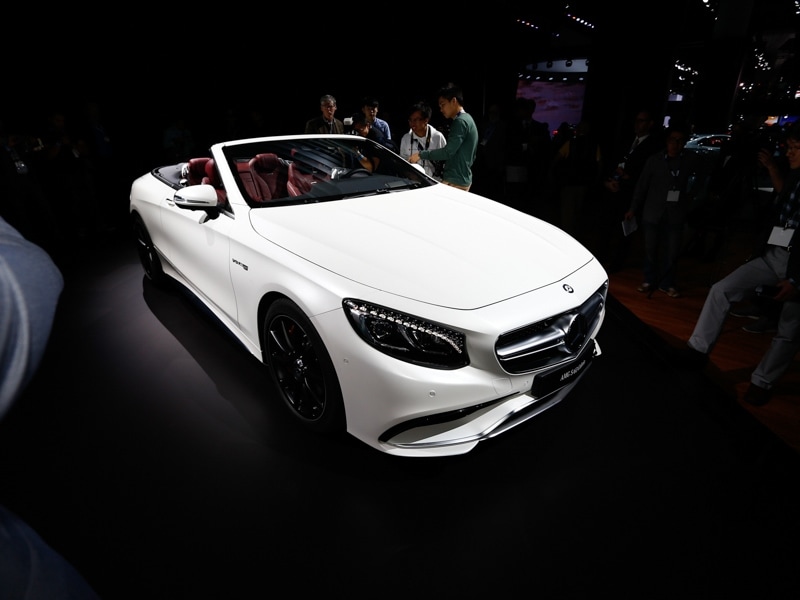 Photo by Rex Torres
2017 Mercedes-AMG C63 Coupe
The 2017 Mercedes-AMG C63 Coupe has the glorious distinction of being the fastest C-Class. It does this by developing 469 hp and 479 lb-ft of torque from a 4.0-liter turbocharged V8. In the grand scheme of things, this would rival the BMW M4 (which has 425 hp). But here's the twist: there's an over-and-above S version with 503 hp and 516 lb-ft. It costs another $10,000, give or take a few hundred, but some people just have to have the absolute best and hit 60 mph from a standstill in 3.8 seconds instead of 3.9. Both versions use a seven-speed automatic transmission that sends all the muscle to the rear wheels.
 It's an all-new model.
 Summer 2016.
 To be announced, but Mercedes-Benz says from "low $70,000s" to "low $80,000s."
Photo by Rex Torres
2017 Fiat 124 Spider
If the 2017 Fiat 124 Spider looks vaguely familiar, that's because it's based on the current Mazda MX-5 Miata roadster. It's principally the front and rear ends that have their own designs, created in Turin. But it's also good to know that under the skin is an excellent set of bones. This car launches with a 160-hp, 1.4-liter turbocharged engine. However, excitable rumor-mongering types anticipate a range-topping Abarth version that could have the same turbocharged 1.75-liter engine found in the glorious Alfa Romeo 4C. And the MX-5/124 Spider chassis can easily deal with that unit's 240 hp. This model and the Mazda are expected to be built in the same Japanese facility.
 This is an all-new car for Fiat, reviving a badge not seen for decades.
 Mid-2016.
 Nothing official yet. Somewhere around $26,000, perhaps.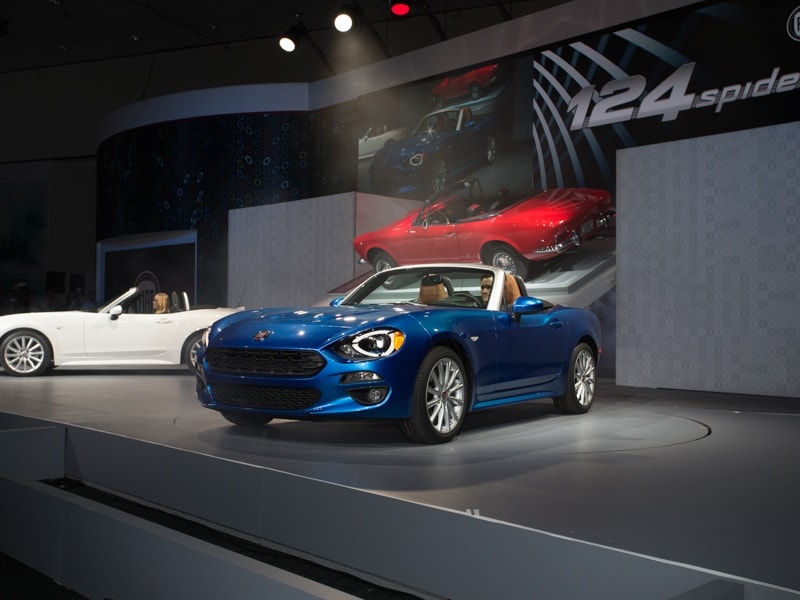 Photo by Rex Torres
2017 Jaguar F-Pace
Leave it to the motorsport-obsessed engineers at Jaguar to build a stylish SUV that also happens to be fun to drive right off the bat. The 2017 Jaguar F-PACE (which comes out early in 2016) leans heavily on its XE sport sedan platform-mate to provide an engaging experience behind the wheel that matches its muscular looks and available supercharged V-6 performance. The 340 horsepower version of the car isn't the only F-Pace on the menu, however, as there's also a turbodiesel edition coming that promises substantial fuel efficiency to go with its luxurious practicality.
The 2017 Jaguar F-Pace is all-new.
Second quarter of 2016.
The Jaguar F-Pace starts at an MSRP of $40,990.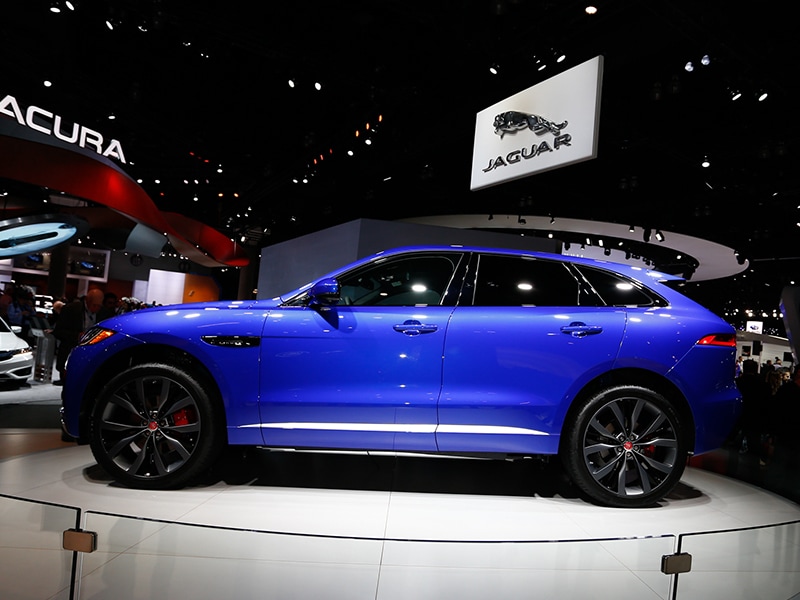 Photo by Rex Torres
2016 Lamborghini Huracan LP 580-2
Ready to take a walk on the wild side? The 2016 Lamborghini Huracan LP 580-2 loses a few horsepower compared to the AWD model, but gains the dynamic fury of rear-wheel drive (as denoted by the '2' appended to its name). Sporting a retuned version of the 5.2-liter V-10 found in its all-wheel drive predecessor, the Huracan LP 580-2 is aimed at those brave enough to harness its fury without the traction wizardry promised by the car's electronic nannies. With a top speed of 198-mph and 580 horsepower on tap, this is one Lamborghini that should have traditional sports car fans smiling.
Lighter than before, with rear-wheel drive in place of all-wheel drive and slightly less horsepower, the Huracan remains incredibly quick.
You can buy one now.
Be ready to shell out $199,800, which makes the 580-2 the most affordable Lamborghini.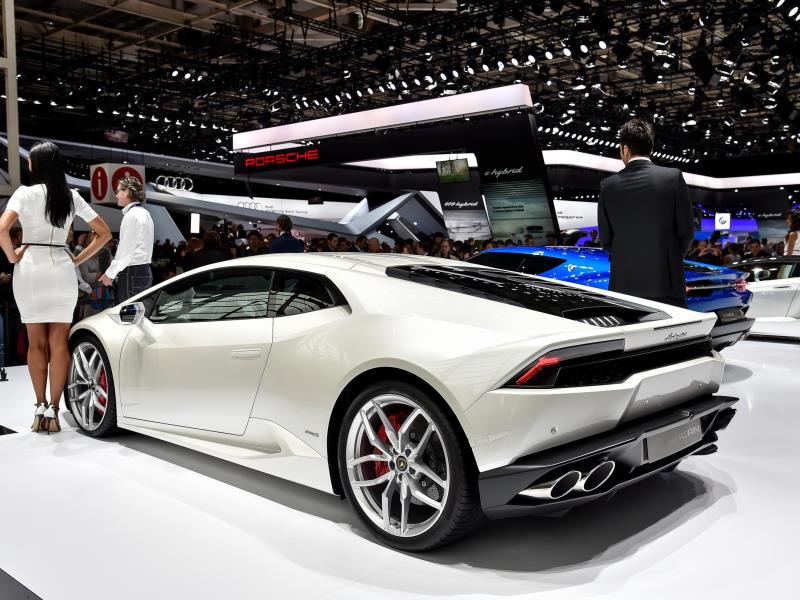 Photo by Newspress USA
2016 Alfa Romeo Giulia Quadrafoglio
The 2016 Alfa Romeo Giulia Quadrafoglio is aimed squarely at shaking up the established sport sedan order, what with its turbocharged 2.9-liter V-6 churning out over 500 horsepower and 440 lb-ft of torque. This Italian interloper also plans to steal your soul by way of its stunning sheet metal, giving it an edge in a segment where aggression often overpowers aesthetics in the design process. For those who love the looks of the Giulia but don't necessarily want to the heart-stopping horsepower, Alfa Romeo will also eventually build a more modest four-cylinder turbo model producing in the neighborhood of 275 ponies.
The Alfa Romeo Giulia is all-new
Alfa Romeo is playing coy with the Giulia's release date, but late 2016 / early 2017 seems likely.
The Giulia will start at $40,000, with the Quadrafoglio jumping to $70,000.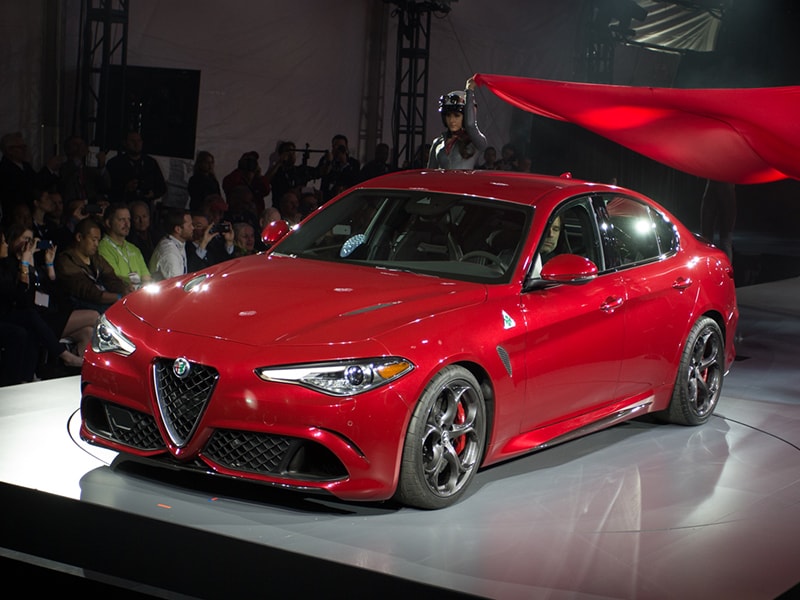 Photo by Rex Torres
Porsche Cayman GT4 Clubsport
You won't see the Porsche Cayman GT4 Clubsport on the road - it's meant to terrorize the track as part of Porsche's official racing program - but it's still one of the hottest cars on the show floor at the L.A. Auto Show. Featuring a 385 horsepower version of Porsche's 3.8-liter flat-six, a seven-speed dual-clutch automated manual transmission, a full FIA-approved roll cage, and substantial weight reduction compared to the street model, the Cayman GT4 Clubsport is perfect for weekend warriors and seasoned professionals alike.
The Porsche Cayman GT4 Clubsport is a full-fledged race platform based on the GT4 street car.
You can buy one right now.
Depending on how you configure it, the GT4 Clubsport retails in the neighborhood of $150,000.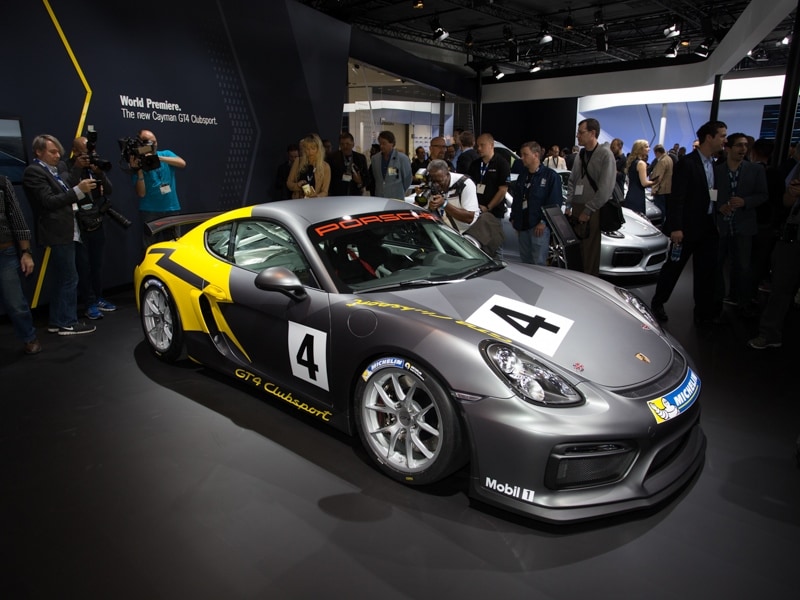 Photo by Rex Torres
2016 BMW 330e
The 2016 BMW 330e packs new technology into a well-known and well-loved package. The 3 Series in general is one the great sports sedans. But time moves on and emission regulations become ever more stringent. The 330e addresses these issues. It's a plug-in hybrid, which means an electric motor and, in this case, a turbocharged four-cylinder engine. BMW still manages to retain the ideal 50/50 weight distribution for neutral and enjoyable handling — because it's a BMW. And not even luggage space is affected by the extra hardware. The system makes a total of 252 hp and 310 lb-ft of torque, has a range of 22 miles in electric-only mode, and can stretch to maximum range of around 370 miles.
 The inclusion of plug-in hybrid hardware.
 Spring 2016.
 From $44,695 (including $995 destination charges).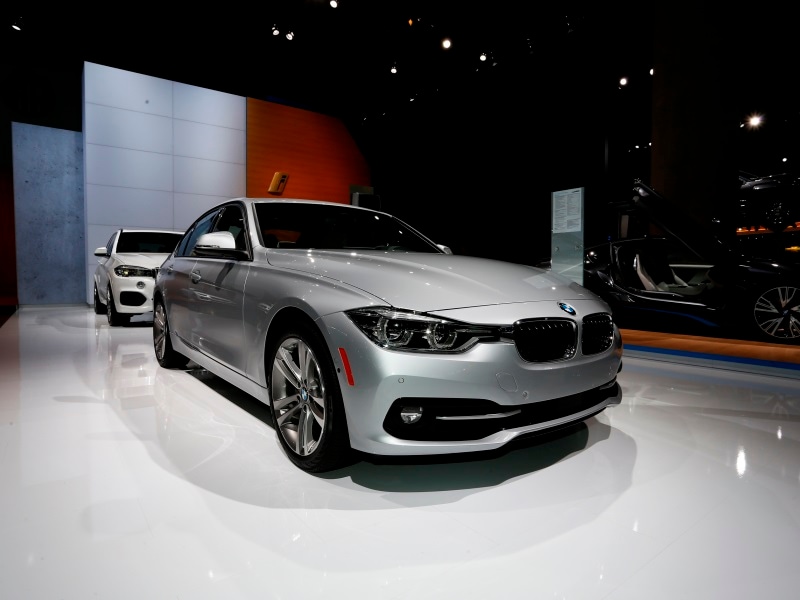 Photo by Rex Torres
2017 Land Rover Range Rover Evoque Convertible
A topless SUV? You better believe it's an eye-catcher. The 2017 Land Rover Range Rover Evoque convertible combines turbocharged four-cylinder power with legitimate off-road capability, wrapped up in an open package that is unique to the industry. Although not the first topless Range Rover - that honor falls to some of the brand's original, hardcore models - it's the only one to feature an easy-to-use folding cloth roof instead of a removable roof panel. What better way to see and be seen the next time your cruising down Rodeo Drive?
The Range Rover Evoque convertible is brand new for 2017.
Mid-way through 2016.
The Evoque convertible starts at an MSRP of $50,475.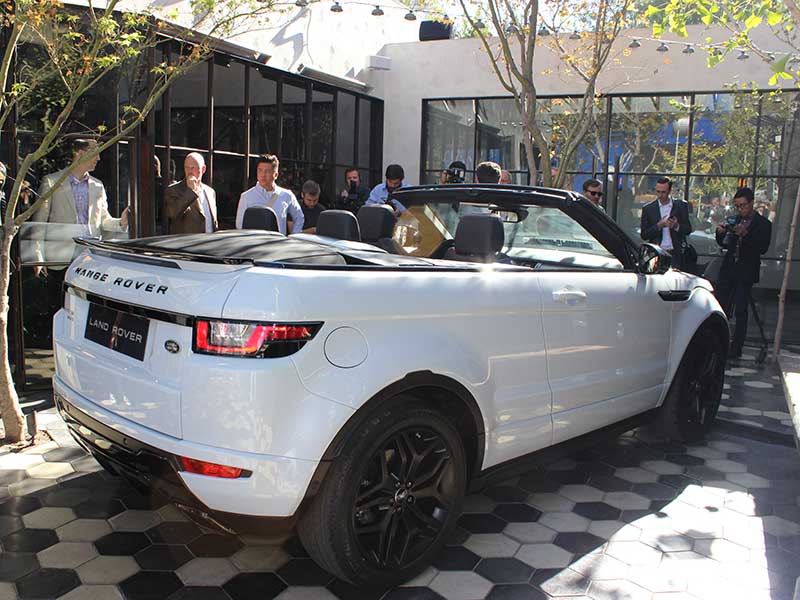 2016 BMW M4 GTS
More than just a sticker package and some carbon fiber, the 2016 BMW M4 GTS steps up the Bavarian automaker's game in the world of high-end performance coupes. Featuring the same 3.0-liter turbocharged six-cylinder engine as the standard M4, the GTS turns up the boost and makes a host of go-fast changes to the drivetrain to squeeze out 493 horsepower, a substantial improvement over stock. Also along for the ride are an adjustable suspension system, a dual-clutch transmission, and available ceramic brakes. The BMW M4 GTS can hit 60-mph in a stunningly quick 3.8 seconds, but you'll have to move equally fast to snag one - only 700 will be built, with almost half of those destined for American shores.
The BMW M4 GTS adds speed and race-oriented style to the M4 coupe.
Spring of 2016
The M4 GTS features an MSRP of $133,205.