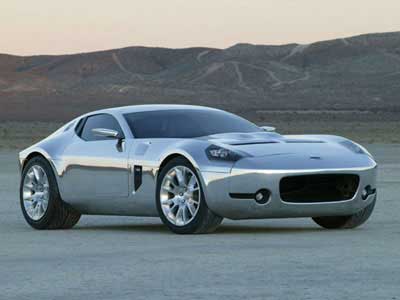 Ford spent millions developing the GT supercar, which will be discontinued at the end of its short two-year production cycle. Rather than toss the engineering that forms the foundation of that spectacular performance machine, Ford is trying to find a way to create a new sports car that can be sold at a lower price and for a longer period of time. The voluptuous Shelby GR-1 Concept strongly points in the direction that Ford plans to go, replacing the homely Ford Shelby Cobra roadster that the company originally explored. When the Ford Shelby GR-1 Concept first debuted to the public last summer at the Pebble Beach Concours d'Elegance in California, J Mays, Ford Motor Company group vice president of Global Design, admitted that "the Ford Shelby Cobra concept was a small step in our plans for the Ford GT architecture and our relationship with Carroll Shelby, and the Ford Shelby GR-1 is a giant leap toward the future." A sleek and muscular fastback design, the Ford Shelby GR-1 Concept rolled onto the stage at the 2005 North American International Auto Show wearing a new suit of polished aluminum on the outside and a cabin constructed of leather, Alcantara and gunmetal finishes.
Performance
A front-engined two-seater, the Ford Shelby GR-1 Concept is powered by a huge 6.4-liter V-10 engine that develops 605 horsepower at 6,750 rpm and 501 lb.-ft. of torque at 5,550 rpm, plenty to motivate an estimated 3,900-pound curb weight. All that thrust goes to the rear BBS one-piece wheels through a rear-mounted, six-speed manual transmission equipped with a limited slip differential. According to Ford, performance is on par with others in this class, with zero-to-60 times under four seconds and a theoretical 200-mph top speed. Aluminum Brembo brake calipers clamp down on cross-drilled, vented four-wheel disc brakes. Goodyear racing slicks, sized 275/40ZR19 in front and 345/35ZR19 in back, keep the Shelby GR-1 glued to the ground in combination with the front and rear double wishbone suspension design from the Ford GT supercar. A Tire IQ system provides the driver with tire temperature and pressure data, as well as cornering g-forces.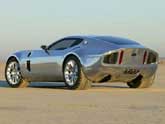 Wrap-Up
What are the chances that the Ford Shelby GR-1 will actually be available to consumers in 2007 or 2008? We'd say that this new Shelby, or something very close to it, will be offered to give Ford a true sports car to battle such performance machines as the Chevrolet Corvette Z06 and Dodge Viper SRT-10 Coupe. Just don't count on the polished aluminum exterior finish.
Photos Courtesy of Ford Motor Company