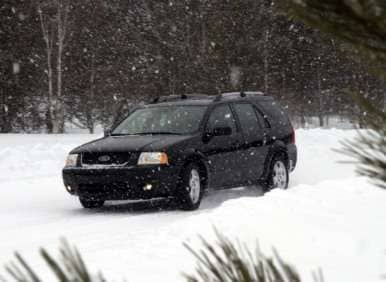 Going into the last decade of the 20th century, Ford came to realize it couldn't compete in the minivan arena. Looking to break the mold, and aware of the fact crossover SUV sales were pretty strong, Ford's product planners came up with a bombastically original idea. After all, Ford's known for having a better idea—right?
They decided to build the most versatile vehicle ever seen by mankind, it would have the capacity of a minivan, be shaped like a compact SUV, and drive exactly like a car. Ford's product planners came up with —wait for it—a station wagon. Of course in 2003, they couldn't call it a station wagon, as the then still heavily market influencing Baby Boomers had a thorough disgust for anything their parents coveted.
And, their parents coveted station wagons—big time.
Ford however, like so many other manufacturers of the time, went ahead and built a station wagon anyway. They knew it was the best solution for their contemporary customer base, despite being a concept dating all the way back to 1923, when the manufacturer Star produced the first factory-built station wagon. While we're on the subject, the term "station wagon" arose from the days of train travel. Also known as depot hacks, carryalls and suburbans, they hauled people, their luggage, and/or their cargo to and from train stations.
As passenger cars sold to the general public, the American station wagon thrived well into the 1970's. However, the Arab fuel crises of that decade took a toll on the full-size wagon. Shortly after that, the minivan came into vogue, and hot on the minivan's heels was the SUV boom. These factors, plus the ancestral disdain we spoke of earlier conspired to all but eradicate the market for station wagons in the U.S.
However, just because people didn't want station wagons didn't mean Ford couldn't sell them one anyway. They just wouldn't call it a station wagon. Instead, they called it a crossover utility vehicle, and yes, people went for it.
Replacing the Ford Taurus station wagon in the company's lineup, the Freestyle was announced at the 2002 Chicago Auto Show, introduced at the 2003 Detroit Auto Show and went on sale in 2005. Sold under the Freestyle name from 2005 to 2007, Ford renamed the model Taurus X for the 2008 model year and sold it through 2009; before replacing it with basically an updated version of the exact same concept called Ford Flex.
2005 – 2007
Based on a platform Ford commandeered from its then Swedish subsidiary Volvo, the Freestyle had three rows of seats with seating for either six or seven (depending upon the configuration of the second row), just like most of the large suvs and minivans of the time. The Freestyle also featured what Ford termed as "command seating," with a higher H-point (hip point).
By raising the roof of the Freestyle station wagon, uh, crossover utility vehicle and raising the floor to create a platform upon which to mount the seats, Ford's engineers found they could maintain the relatively low-slung car profile, while still increasing driver visibility as well as easing entry and exit in comparison with an SUV. This gave them the ability to offer buyers the forward visibility they got from an SUV, coupled with the convenient ingress and egress of a passenger car.
The Freestyle's power came from a 203-horsepower, 3.0 liter V6, which generated 207 ft.-lbs. of torque. Sounds pretty reasonable, until you learn the Freestyle weighed just under 4,000 pounds in its two-wheel drive configuration. Buyers who opted for the all-wheel drive setup (which some 55 percent of Freestyle buyers did) rather than the front-drive standard arrangement, saddled the V6 with 4,100 pounds of curb weight. To say the engine was taxed is being generous.
Freestyle, along with its platform mates, Ford Five Hundred and Mercury Montego, were the first Ford products to employ continuously variable transmissions to route power from the engine to the drive wheels.
2005
Ford's Freestyle was offered in three levels of trim for model year '05; SE, SEL and Limited.
The base SE model came equipped with seventeen-inch painted alloy wheels, intermittent wipers, privacy glass, a rear window wiper and defogger, a roof rack, cargo tie downs, and an all-independent suspension system. All-wheel drive models got a center limited-slip differential.
Creature comforts consisted of a height adjustable six-way power driver's seat with manual lumbar support, reclining and folding Captain's chairs for the second row, cloth upholstery, front bucket seats, a manually folding third row bench seat, and a full complement of power accessories—including windows, mirrors and door-locks. The doors also featured remote locking and unlocking.
Cruise control, cupholders (totaling an amazing 14) for all three rows of seating, an overhead console with storage, retained accessory power, front seatback storage and 12v front and rear power outlets were fitted to the Freestyle as well. The steering wheel was adjustable for tilt and also hosted switches for the cruise control system.
Rounding out the SE model were air conditioning, a light in the cargo area, front and rear reading lights, floor mats for all seating positions, dual illuminating vanity mirrors for the occupants of the front seats, and an AM/FM in-dash CD player based audio system.
Safety gear included ABS, disc brakes all around, front seatbelt pre-tensioners and electronic brakeforce distribution.
Moving up to the SEL added polished seventeen-inch alloy wheels, heated mirrors, audio controls on the leather wrapped steering wheel, leather trim for the shift knob, an auto-dimming electrochromic inside rear-view mirror, and compact disc MP3 capability was added to the audio system.
Freestyle Limited buyers got eighteen-inch wheels, heated fronts seats with four-way adjustability for the passenger and eight way adjustability for the driver, leather upholstery (for the first two rows), a split folding third row seat, dual zone climate controls, and an external temperature display. A subwoofer was added to the Limited's audio system and a DVD-based video system was offered as an option for SEL and Limited.
To the SE's roster of safety gear, the SEL and Limited models added foglights and an auto delay feature for the automatic headlights. Traction control was optional for all three trims, as was side and curtain airbags.
Options for all three trim levels included all-wheel drive, a 50/50 split-folding third row, a sunroof, a middle-row bench for seven-passenger capacity (replacing the Captain's chairs), and an object-sensing backup alarm system.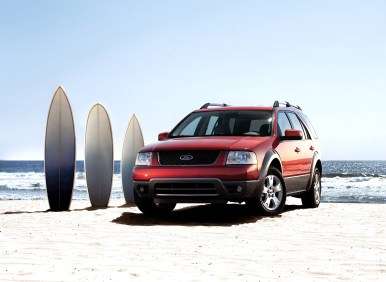 2006
Navigation was offered as an option for Freestyle Limited and traction control was made standard equipment for all Freestyle models.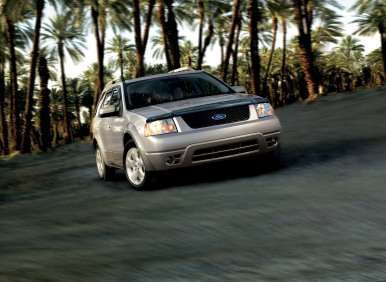 2007
The SE trim line was dropped, causing the feature set to be redistributed. For 2007, the Freestyle SEL came with seventeen-inch alloy wheels, two-tone paint, automatic headlights, privacy glass, air-conditioning, a six-way power-operated driver's seat, an in-dash CD changer, a leather-wrapped steering wheel with audio and cruise controls, full power accessories (windows, mirrors, and door locks), cruise control, a trip computer, and heated exterior mirrors.
Freestyle Limited was fitted with eighteen-inch wheels, a monochromatic paint job, leather upholstery in the first and second rows, wood grain interior trim, dual-zone automatic climate control, power adjustments for both front seats (along with memory for the driver), front-seat heaters, an upgraded sound system, a second-row console, 50/50-split capability for the third-row bench, and a cargo net.
The 2007 options list contained a navigation system, a rear-seat DVD entertainment system, rear-seat climate controls, and a moonroof. Sirius satellite radio was also available, but ordering it required foregoing the rear-seat DVD-based video system.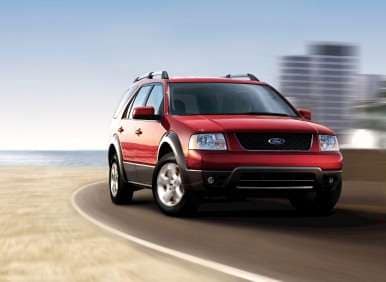 2008 – 2009
Renamed Taurus X for the 2008 model year, Freestyle finally got the engine upgrade it so desperately needed, as well as a six-speed automatic transmission. Other than that, Taurus X was configured mechanically largely as the Freestyle had been, with a choice of either front- or all-wheel drive. The three-row seating scheme returned as well. Exterior- wise, the only real difference between the two is the grille treatment with Taurus X adopting the three-blade (plastic) chrome-plated grille most Ford models wear to this day.
Power was supplied via a 263-horsepower, 3.5-liter V6 capable of generating 249 ft.-lbs. of torque. This, in conjunction with the six-speed automatic, finally gave the Freestyle, uh, Taurus X, the power and refinement it needed to be more competitive.
The Taurus X's complement of safety kit was comprised of four-wheel antilock disc brakes, traction control, stability control, front side-impact airbags, full-length side curtain airbags (with a rollover sensor), and rear parking sensors. Adjustable pedals were optional for all three trim lines of the model.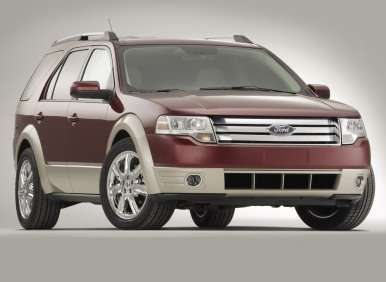 2008
For 2008, Taurus X offered three trim lines, SEL, Eddie Bauer and Limited.
The default seating capacity was six when fitted with the second-row Captain's chairs, however the optional second-row split bench seat increased that capacity to seven with any trim.
The SEL featured seventeen-inch alloy wheels, automatic headlights, two-tone exterior paint, privacy glass, air-conditioning, a six-way power driver's seat, an in-dash CD changer, a leather-wrapped steering wheel with audio controls, full power accessories, cruise control, a trip computer, and heated mirrors.
The Eddie Bauer Freestyle upped the ante to eighteen-inch wheels, gold side body cladding, and two-tone leather for the first and second row seats—vinyl was designated for the third row, just as it had been with Freestyle. Wood-grain interior trim and a dual-zone automatic climate control system added touches of luxury. Both front seats were power adjustable and the driver's seat was equipped with memory. To accommodate a broad range of drivers, power adjustable pedals were fitted as well. The center console offered two tiers of storage and a six-disc CD changer with MP3 compatibility was fitted. Rounding out the package, the Eddie Bauer's third row seats featured 50/50-split folding capability.
The top-line Freestyle Limited punctuated all of the above with front seat heaters, a center console for the second-row—when equipped with Captain's chairs, a premium stereo system, and rear parking sensors. Just as with Freestyle, the Limited used a monochromatic color scheme both inside and out—rather than the two-tone treatment of the Eddie Bauer and SEL models.
Options included a navigation system, a rear-seat DVD-based video entertainment system, rear-seat climate controls, second-row automatic flip-forward seats, a moonroof, and a power-actuated liftgate. Satellite radio was available, but again required buyers to forego the rear-seat DVD system.
Ford's Sync multimedia system, which enabled voice-command operation of the audio system, Bluetooth phones and portable music players (read iPods), was also offered as an option. Developed in conjunction with Microsoft, Sync was also configured to read incoming text messages through the Taurus X's audio system.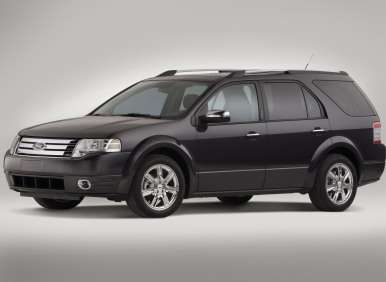 2009
With Ford's Flex poised to usurp Taurus X's role in the Ford lineup, no significant changes were made to Taurus X for the last year of its production.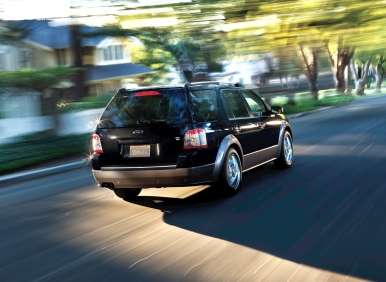 Summary
With Freestyle/Taurus X, Ford realized it could sell station wagons—as long as it disguised them as pseudo-SUVs. More than anything else, Freestyle and Taurus X set the stage for Ford's quite successful Flex model, which, not coincidentally, was equipped with remarkable similarity to the Freestyle/Taurus X.
However, if you're thinking of getting a bargain Flex in the guise of a Freestyle, you might want to think twice, as Ford had significant quality issues with the Freestyle's powertrain. Underpowered by its engine and underserved by the continuously variable transmission, the Freestyle also suffered from barely adequate performance. There have also been a considerable number of recalls for the Freestyle. Were we shopping in this category we'd more likely focus our search on the Taurus X, with its more powerful engine and conventional transmission.
Even then though, we'd still run a vehicle history report against its VIN, an Internet search for Taurus X recalls (there have been a few), and to ensure the updates were performed we'd leave the example we were seriously considering purchasing for some quality time with a trusted professional Ford mechanic.