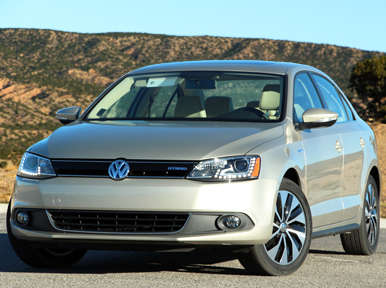 Volkswagen is intent on taking over the world, one car at a time, and the automaker is well on its way to doing just that if we're talking about dollars. Year to date, VW has seen its sales rise 37.2 percent compared to the year prior. Of that, 34 percent of sales belong to the Jetta, which means we're talking about a rather important member of the Volkswagen family.
There are a few flavors of Jetta currently available, yet Volkswagen is looking to diversify the number of ponies in its stable just a bit more. The German automaker is bringing a bit of spunk to the hybrid landscape with the introduction of the Jetta Turbo Hybrid, and we're happy to see a bit of interesting in a landscape that's traditionally filled with bland.
Can a hybrid actually be sporty though? It's time to jump behind the forced-induction, electrically-assisted wheel to find out.
Pricing and Trim Levels: 2013 Volkswagen Jetta Hybrid
Volkswagen has priced the Jetta Turbo Hybrid quite competitively. There are just four simple trim designations, which climb from a tick under $25,000 to a hair over $31,000. The base model starts at $24,995, and is outfitted with Bluetooth connectivity, dual-zone climate control, and a leather-trimmed steering wheel. From there, the Jetta Hybrid SE costs $26,990 and the SEL will run you $29,325. At the top of the line sits the SEL Premium with a $31,180 starting price. Volkswagen crams in a whole lot more of its premium amenities so that the SEL Premium sports LED daytime running lights, a Fender premium audio system, a navigation unit and rearview camera, and a few other chance to toss around the word "premium".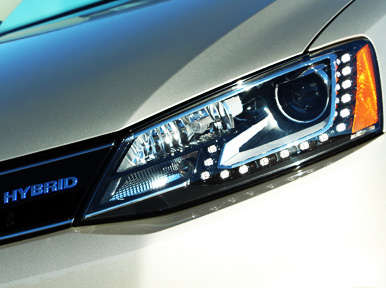 Competition: 2013 Volkswagen Jetta Hybrid
If you're talking about a compact hybrid four-door sedan or hatchback, the discussion obviously includes the Toyota Prius. From there you can begin to look at the Toyota Camry Hybrid and Honda Civic Hybrid. All of these vehicles start at nearly the same price point, and utilize a gasoline-electric powertrain combination to try and eek out impressive fuel economy.
It is, of course, the Toyota Prius that wins the fuel economy battle royale, with a very impressive 51 miles per gallon in the city (per EPA estimates). The Jetta Hybrid is no slouch, however, and packs a 45 mile per gallon combined driving efficiency punch. That beats the Camry and the Civic, and the Jetta beats all three when it comes to fit, finish, and premium feel inside.
Once you add in driving dynamics, the division further presents itself. If you take any joy in the act of driving yet you have to have a hybrid, it seems Volkswagen has built the car for you.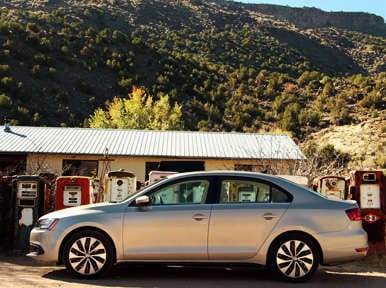 Exterior: 2013 Volkswagen Jetta Hybrid
If you're a fan of the standard Jetta, the Turbo Hybrid should be just as easy on the eyes. In fact, you'll be happy to know that Volkswagen designers and engineers worked together to streamline the car just a bit more over the standard machine. The coefficient of drag drops from 0.30 down to 0.28 Cd. That dip is part of the reason that fuel economy figures can rise to the over-40 mark.
The 2013 Volkswagen Jetta Turbo Hybrid is a subtly handsome machine that only boasts of its fuel-sipping nature by way of three small "HYBRID" badges. The available wheel choices are stylish, and the color palette offers a bit of something for everyone.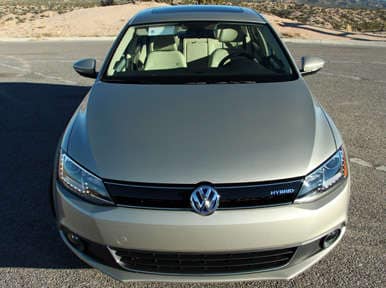 Interior: 2013 Volkswagen Jetta Hybrid
Every vehicle in the automaker's lineup manages to offer a premium interior space that feels as if it belongs in a class above. The Jetta Hybrid is no exception. All of the materials are soft to the touch, and everything falls within easy reach. Up front, the two main thrones provide ample levels of both support and comfort. In the back, rear seat passengers enjoy best-in-class legroom, while you don't have to suffer with a small trunk to get that. The Jetta Turbo Hybrid also boasts the largest in-class trunk.
Available amenities include a crisp display screen that shows you where you want to go. The Fender audio system provides a clean listening experience regardless of whether you're flipping through FM stations or streaming audio from your Bluetooth device. It's a clean layout in the center stack that helps you control all of the action internally, and keep the cabin space a pleasant one.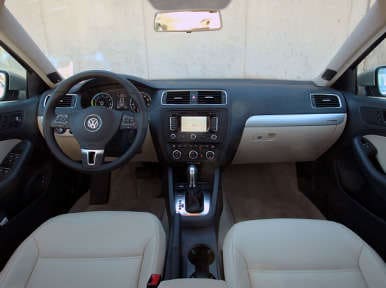 Powertrain and Fuel Economy: 2013 Volkswagen Jetta Hybrid
The big feature of the 2013 Jetta Hybrid is, undoubtedly, the way in which it gets its forward motivation. Under the hood sits a 1.4-liter inline four-cylinder engine that benefits from direct injection and a turbocharger. This unit is good for 150 horsepower. It's paired with a 27-horsepower electric motor, which receives its energy from a Lithium-Ion battery pack located underneath the trunk. Total output for the Jetta Hybrid is 170 horsepower and 184 pound-feet of torque.
Controlling the action is a seven-speed DSG dual-clutch automatic gearbox. No paddles on the wheel in this application, but you can select gears manually with the shift lever, if you so desire. There's not much of a need though, unless you're really caning the car. Shifts are smooth, and happen when appropriate. If you're cruising calmly, you push into the higher gears quickly and are rewarded with stellar fuel economy. Hammer the throttle down, and you'll stay in the necessary cog needed to necessitate proper acceleration.
Working in concert, the gas engine, electric motor, and seven-speed gearbox help the Jetta Hybrid achieve a combined fuel economy rating of 45 miles per gallon.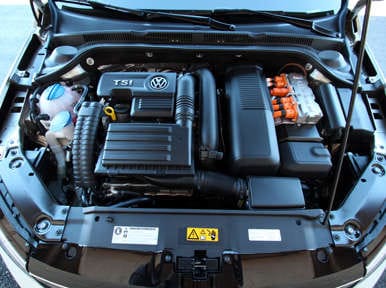 Driving Impressions: 2013 Volkswagen Jetta Hybrid
Anytime you get into a vehicle with a hybrid badge, it's nearly guaranteed that the driving experience will be akin to having soup for dinner. Sure, it's tasty enough but there's no excitement staring you in the face. There are a few exceptions, of course, thanks to the likes of the Infiniti M Hybrid and the Lexus GS450h. Now it's time to add a third vehicle to that list; the 2013 Volkswagen Jetta Turbo Hybrid. The German automaker has managed to find a wonderful balance between providing driving enjoyment and returning good fuel economy.
Push the Jetta Hybrid into a corner, and it remains flat through the duration of the twisted road. This is because the suspension setup was plucked from the Jetta GLI, which is a hoot in its own right. Corners are eaten up in a surprisingly fun manner thanks to this running gear. The brakes aren't quite as happy-go-lucky though, because they're the standard regenerative units found on all hybrids. The initial pedal application is odd, and the brakes become rather grabby. It takes some getting used to, but eventually we figured it out and things became smooth again.
Step on the throttle and the Jetta Hybrid provides solid acceleration for a vehicle saddled with a hefty battery pack (not to mention a hefty automotive journalist). Volkswagen estimates that the not-so-thirsty sedan runs from 0-60 miles per hour in just 8.6 seconds. That may sound like a lot in these days of high-horsepower rocket ships, but it's a strong showing when compared to the rest of the hybrid hierarchy.
Ease back off the throttle and the hybrid system will return excellent information with regards to your fuel gauge. We weren't trying very hard, yet we easily hit 50 miles per gallon out on the highway. We were seeing fuel economy as low as in the 30 mile per gallon range as we were pushing the car hard through a twisting mountain road.
Once we descended into the city, we were able to sample E-Mode. This puts the car into a state where it makes greater use of the available battery power. At speeds of up to 44 miles, the Jetta Hybrid can run as a pure EV. This won't last long, of course, but it's a great option when you're stuck in traffic or driving through an urban area.
There's also a drive mode that is the opposite of E-Mode. If you absolutely mash the throttle, it sends the car into Boost mode. This is almost like having an F1-style KERS equipped on the car, and passing becomes a breeze. It's very Knight Rider, and it's very cool.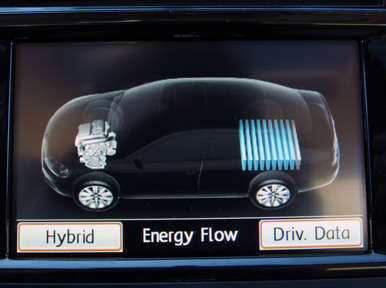 Safety: 2013 Volkswagen Jetta Hybrid
The Volkswagen Jetta is typically at the tops of every safety test thrown at it. We expect the hybrid to perform just the same. In the event of an accident, the battery pack disconnects itself from the rest of the car and shuts down. There are airbags everywhere you look, and the optional rear view camera makes sure you can see what's going on outside the vehicle when you're backing up.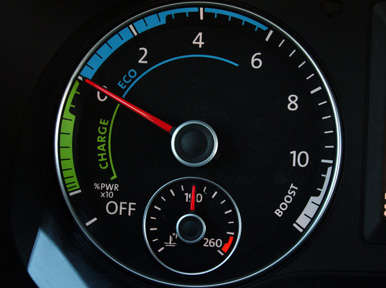 Final Thoughts: 2013 Volkswagen Jetta Hybrid
Volkswagen has a plan to rise up and become the world's largest automaker. Cars like the Jetta figure heavily into that plan, and now there is a Jetta for nearly all types of car buyer out there. The standard Jetta is just that, a standard machine with solid fit and finish for its class. Enthusiasts can opt for the GLI, which is pretty much a GTI sedan, while diesel fans have the TDI version. There's also a version for lovers of the long roof in the wagon version. Now, those who desire Hybrid fuel economy have an option too.
The 2013 Jetta Turbo Hybrid proves that earning strong fuel economy doesn't have to force you into a boring appliance. It's fun to drive and even more fun to soar past gas stations because you still have plenty of fuel on the tank.
Pros:
-Enjoyable driving experience coupled with strong fuel economy. -Interior fit and finish is class-leading. -Rear set legroom will make tall adults happy.
Cons:
-LED daytime running lights only available on top trims. -No plans for a wagon version.