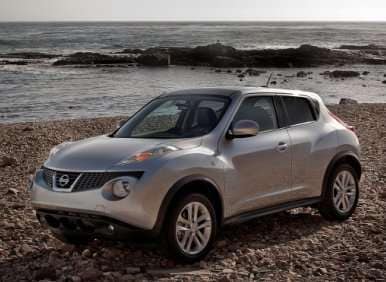 Tracking down the best small SUVs of 2012 is no easy task, as there's an increasingly large number of high-quality entries from which to choose. That makes sense, of course, seeing as how U.S. customers are continuing to migrate to smaller vehicles for their improved fuel efficiency, but still prefer the more commanding presence—and added versatility—generally found in sport utilities. In fact, strong demand in this segment has pushed three veteran players to record-breaking sales in recent months, provided a notable boost to a new contender from outside of the mainstream and enabled the (extremely limited) production of one of the wildest wonders yet from the segment.
And all five are on Autobytel's recommended list of small SUVs for 2012—which includes crossovers, too.
Best Small SUVs of 2012: Nissan Juke
The Nissan Juke isn't just one of the best small sport utility vehicles for 2012, it's also one of the best-performing entries in the segment, thanks to its nimble proportions and potent 1.6-liter turbocharged engine. That powerplant offers up 188 hp and 177 lb.-ft. of torque, yet, by leveraging technologies like gasoline direct injection, also enables EPA marks of up to 27 mpg city/32 mpg highway/29 mpg combined; those are the highest city/combined ratings among this year's best small SUVs.
Inside, owners can enjoy almost 36 cubic feet of storage space with the Juke's rear seats folded, as well as a driver-focused cabin that blends the ergonomics of a sports car with the clever capabilities of a crossover.
Nissan also launched the Juke-R in 2012, bringing the original show concept to life by fitting a modified Juke with the running gear—and 545-hp engine—more often found in the Nissan GT-R high-performance sports coupe. The automaker is building just a handful of these hotted-up Jukes, and with an MSRP of about $600,000, they're certainly the priciest members of this year's Autobytel-approved list of small SUVs.
But don't let that scare you away: the Juke itself currently starts at a more manageable $19,900.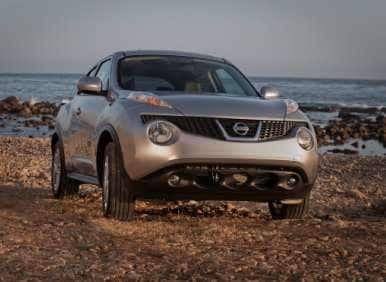 Best Small SUVs of 2012: Mazda CX-5
The Mazda CX-5 became an instant hit for its maker during the vehicle's first year on the market, capturing both Autobytel honors as Crossover of the Year and thousands of new customers each month. After firmly establishing itself as the second-best seller in the Mazda lineup—behind only the Mazda3—the CX-5 also has surpassed the sales of rivals from Hyundai and Kia.
Now earning its place among the best small sport utility vehicles of 2012, the CX-5 leverages the first full SKYACTIV powertrain to debut in this country, including a choice of two SKYACTIV transmissions: a six-speed manual and an equally cogged and sport-tuned automatic. The result? EPA grades of up to 26 mpg city/35 mpg highway/29 mpg combined—that's the segment's high-water mark for highway fuel economy.
Impressive as well are the CX-5's available 40/20/40 split-folding rear seats, which provide a highly usable cabin and more than 65 square feet of space when they're all folded flat. And a long list of standard and available amenities can be had, too, including a Bluetooth system for hands-free phone and audio-streaming capabilities, an integrated nav system from Tom-Tom, and a nine-speaker Bose Centerpoint audio setup with Surround Sound.
This member of Autobytel's 2012 small sport-utility vehicle list is priced from $20,995.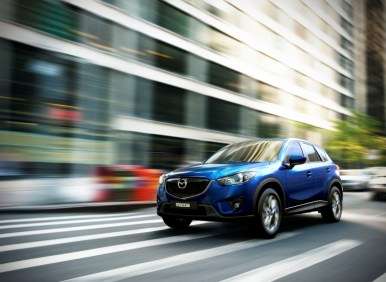 Best Small SUVs of 2012: Ford Escape
Yes, the all-new Ford Escape already has endured a pair of recalls since debuting to record-setting sales in June, but its wide range of engine choices and full slate of tech features make it an obvious pick as one of the best small sport-utility vehicles of 2012. The 2013 Escape is currently on sale with an MSRP that opens at $22,470 for models with the standard 2.5-liter I4, and then also offers two EcoBoosted four-cylinder powerplants for either enhanced fuel-economy ratings or a significant performance upgrade: The Escape's 1.6-liter EcoBoost I4 is capable of 23 mpg city/33 mpg highway, but still makes a plenty peppy 178 hp and 184 lb.-ft. of torque; the Blue Oval's 2.0-liter EcoBoost engine ups the ante to 240 hp and 270 lb.-ft. of torque, but remains able to reach 22 mpg city/30 mpg highway.
The Escape also boasts the latest iteration of the Ford Sync connectivity and infotainment system, along with its much-publicized hands-free power liftgate. But remember, while those goodies get most of the press, Ford actually claims the Escape offers a full 11 features that can't be found on any other member of Autobytel's 2012 small sport-utility vehicle list, also including Curve Control, which automatically reduces the Escape's speed when cornering too quickly, and Torque Vectoring Control, designed to help Escape drivers smoothly accelerate through those corners.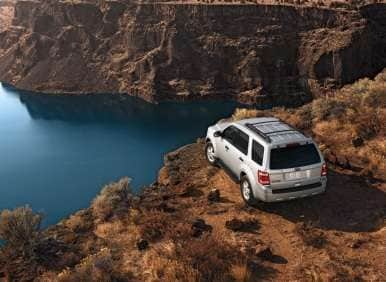 2012 Best Small SUVs: Honda CR-V
The Honda CR-V actually shares a couple of interesting similarities with the Ford Escape: They're both very fresh vehicles, they both have been scoring record sales volumes, they've both been the subject of recent recalls, and, obviously, they've both found a place on Autobytel's preferred list of small SUVs for 2012.
For the CR-V, Honda stuck to its proven formula and simply took everything about the previous-generation model and made it all (at least) a little bit better: It's simpler than ever to take advantage of the CR-V's capacious cargo hold, courtesy of a lowered load floor and new easy-fold split rear seats; drivers enjoy both improved power and increased fuel efficiency, with EPA ratings that can reach 23 mpg city/31 mpg highway/26 mpg combined; and the CR-V's first rear-seat DVD entertainment system is a major boon for families—and a rarity among the best small sport-utility vehicles for 2012.
The CR-V's MSRP of $22,495 also includes standard features like:
An expanded-view driver's mirror for improved on-the-road visibility
Motion-adaptive electric power steering that automatically adjust steering efforts based on vehicle speed
Honda's i-MID intelligent multi-information display, as well as an interface for Pandora internet radio and SMS texting functionality
An enhanced Real-Time AWD system with Intelligent Control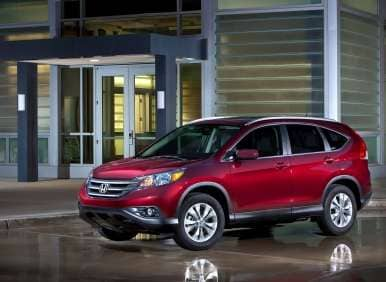 Best Small SUVs of 2012: Jeep Wrangler
It only seems fair to have one actual SUV on this 2012 small sport-utility vehicle list, and the Jeep Wrangler—wearing a price tag that starts at $22,045—is it. Not that the iconic rock-crawler needs any special pleading, though. It's one of the most capable off-road machines of any size, drawing on Jeep's long history of expertise with four-wheel-drive vehicles and a 285-hp Pentastar V6 engine with 260 lb.-ft. of torque on tap. The Wrangler also has become a surprisingly competent on-road performer, with a comfortable cabin that offers the Chrysler Group's award-winning Uconnect infotainment and connectivity setup, a 365-watt Infinity sound system with seven speakers (including a subwoofer and an overhead "sound bar" with two 6.5-inch mid-range speakers), and some recent improvements in sound insulation for a quieter environment.
And the same tidy dimensions that help it squeeze through some of the toughest trails in the world make the Wrangler equally at home on city streets. As a reminder, the Wrangler proper is just over 152 inches long, which is almost 10 inches shorter than the Nissan Juke. Even the four-door Wrangler Unlimited, with plenty of room for families, is noticeably smaller on the outside than rivals from Honda, Ford and Mazda—although, just to be clear, the Jeep provides more passenger and cargo volume than any other entry on this year's list of best small SUVs.