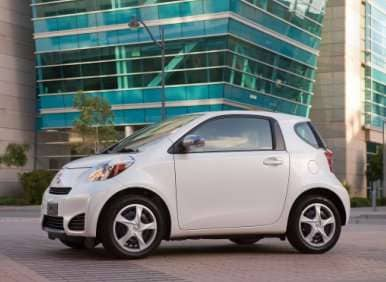 If you think the most important factor in buying a new vehicle is its fuel-economy performance, you're not alone: According to a recent study from Consumer Reports, that's the No. 1 consideration for today's vehicle shoppers, and it's not even close: Some 37 percent of those surveyed by CR put fuel-efficiency at the top of their list, followed by quality (17 percent), safety (16 percent), value (14 percent) and performance (6 percent).
That makes it a perfect time for Autobytel to introduce its list of top new green cars for 2012, all of which made their dealership debuts the current calendar year.
New Green Cars 2012: Scion iQ
Yes, the 2012 Scion iQ is a small car. It's only about 10 feet long, and Scion touts it as the "world's smallest four-seater." But as urban drivers are well aware, small can be good, especially when it comes with big-time EPA numbers of 36 mpg city/37 mpg highway/37 mpg combined. And because of iQ's tidy proportions and low curb weight, its 94-hp I4 engine still provides a peppy driving experience, too.
Further, thanks to some unique design features, like a flat fuel tank and compact a/c unit, the iQ's cabin is surprisingly comfortable. There's actually a bit more front shoulder room than in a Ford Fiesta, and more front leg room than in a Toyota Yaris. The interior also has space to fit in a standard 160-watt Pioneer sound system, Bluetooth technology for hands-free calling and streaming audio, an industry-leading 11 airbags, and a full complement of advanced safety measures, including traction control, stability control, brake override and electronic brake-force distribution.
The MSRP? A mere $15,995, which means the Scion iQ isn't just one of 2012's top new green cars, it's also the most fuel-efficient gas-only car under $20K.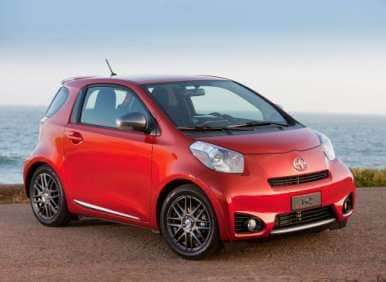 New Green Cars 2012: Ford Focus Electric
No roster of the best new green cars of 2012 would be complete without the hotly anticipated Ford Focus Electric. The Blue Oval's first modern-day EV, the Focus Electric has all the style, versatility and technology of the gas-powered Focus—but without the need for gas. Instead, it relies on an advanced all-electric propulsion system, featuring Ford-designed lithium-ion batteries, to deliver an EPA line of 110 MPGe city/99 MPGe highway/105 MPGe combined. That makes it the most efficient five-seat vehicle in America.
The Focus Electric also has bragging rights over the four-seat Nissan LEAF when it comes to efficiency. And electric driving range. And charging time. And size. According to Ford, "the Focus Electric can be driven up to 100 miles on a single charge depending on driving habits"—although its EPA-rated range is 76 miles, three more than the LEAF's—while it can be charged in about four hours—twice as fast as the Nissan.
The price of admission is $39,200, but the Focus Electric qualifies for a $7,500 federal tax credit and numerous state and local incentives, and it can help the typical driver save some $9,700 in fuel costs after 5 years of driving.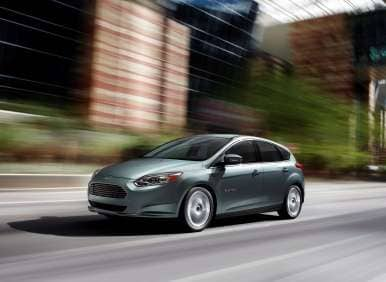 New Green Cars 2012: Toyota Prius v
Toyota has introduced a number of new green cars for 2012, from the Toyota Camry Hybrid to a pair of new Prii, and it's one of the latter—the Toyota Prius v—that gets the nod here; something else it gets? EPA ratings of 44 mpg city/40 mpg highway/42 mpg combined.
But drivers already knew they could count on the Prius family for fuel-economy. What the Prius v brings to the table with its $26,500 MSRP is a healthy appetite for extra gear, with 34.3 cubic feet of cargo space behind the rear seats, 40.2 cubic feet with the second row pulled forward and a healthy 67.3 cubic feet with the 60/40 split rear seats folded. To put that into perspective, the Chevy Equinox only supplies up to 63.7 cubic feet of cargo volume.
The Prius v also can score green points with its available SofTex seat material. It's rugged, easy to clean and comfortable, and manufacturing it creates about 99 percent fewer volatile organic compounds than traditional synthetic leathers.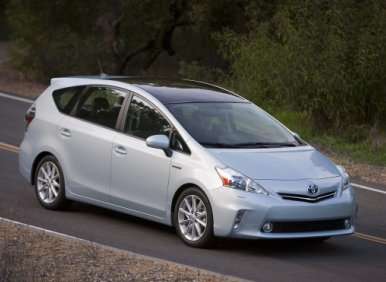 New Green Cars 2012: Chevrolet Malibu Eco
One of the industry's most important new green cars for 2012 is actually a 2013 model that made an early premiere: The Chevrolet Malibu Eco, priced at $25,235. It's the first member of the all-new Malibu family that's been completely overhauled for the new model year, and showcases a notably up-level twin-cockpit cabin and an exterior that distinguishes itself with smooth, flowing lines.
But it also hosts GM's innovative eAssist light-electrification system under its hood, and that technology helps the Malibu Eco achieve EPA marks of up to 25 mpg city/37 mpg highway/29 mpg combined. In other words, it's a sophisticated mid-size sedan that delivers the same kind of fuel efficiency as the compact Toyota Corolla (rated at 26/34/29).
The system works through a high-tech regenerative braking setup that feeds captured energy into the Malibu Eco's lithium-ion battery pack. Then, during certain driving scenarios, that power is routed through a 15-kW electric motor that adds a little extra motivation to the car's efficient gas-powered I4 engine.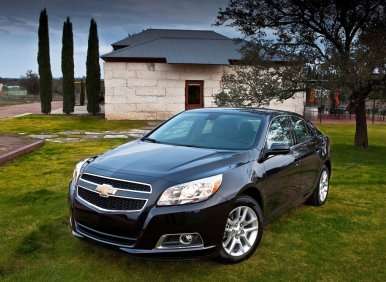 New Green Cars 2012: Volkswagen Passat TDI
When VW overhauled the VW Passat for 2012, the automaker custom tailored it for U.S. buyers. But while its new design brief was originally meant to cater to shoppers' demand for more vehicle at a lower price, the Passat also has a feature that zeroes in on American's newfound interest in fuel economy—a highly efficient 2.0-liter TDI engine that allows Passat drivers to enjoy EPA grades of up to 31 mpg city/43 mpg highway/35 mpg combined. And while individual results may vary, sometimes they vary in a very good way: A pair of U.S. drivers recently teamed up to set a new world record for miles traveled on a single tank of fuel, traveling more than 1,600 miles in a 2012 Passat without filling up once. That works out to an average of 84.1 mpg.
The clean-diesel technology in the Passat also reduces emissions. Consider: According to the EPA, the 2012 VW Passat mid-size sedan emits fewer grams per mile of CO2 than cars like the subcompact Honda Fit.
This one of 2012's new green cars has a price tag of $25,995.