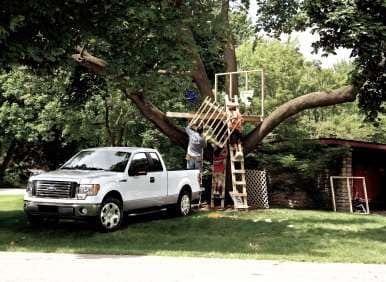 It's taken a while, but all those new technologies that have boosted fuel economy in today's cars and crossovers are now beginning to find their way into high-mpg trucks for 2012. Advanced automatic transmissions, forced-induction and even hybrid systems are available from mainstream truckmakers, which also offer a growing range of CNG-powered options for fleet customers. Of course, Autobytel's Fast Five list of best-mpg trucks for 2012 is limited to retail products, and we're also sticking solely with pickups, to avoid any controversy over whether vehicles like the 32-mpg Nissan Juke are "real" trucks.
That leaves us with …
Best-MPG Trucks of 2012: Ram 1500
Until recently, V6-powered full-size pickups were still making do with old-school powertrain technologies that actually left some of them with worse EPA marks than their eight-cylindered siblings. That's begun to change—thanks in large part to the success of the EcoBoosted Ford F-150—and now the 2013 RAM 1500 will take ye olde next step by introducing the segment's first eight-speed automatic transmission.
The TorqueFlite 8 transmission is standard with the pickup's 3.6-liter Pentastar V6, establishing the Ram as the most fuel-efficient full-sizer on our list of high-mpg trucks for 2012. The tale of the tape: 17 mpg city/25 mpg highway/20 mpg combined; those grades represent advantages of 2 mpg/5 mpg/3 mpg against trucks like the Chevy Silverado V6. And remember, that Pentastar engine is no lightweight. It delivers a healthy 305 hp and 269 lb.-ft. of torque, enough to provide this best-mpg truck of 2012 with a best-in-class standard towing maximum of 6,500 lbs.
The Ram's new transmission also showcases a rotary-style e-shift dial that's similar to the setup on Class 6-8 trucks, allowing for "intuitive operation with a direct and confident feel, even with gloves on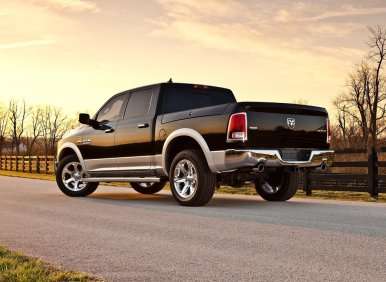 Best-MPG Trucks of 2012: Chevrolet Silverado
The next pickup on our list of best-mpg trucks for 2012 is the Chevy Silverado, with what may be a surprising achievement: Teaming a 4.8-liter V8 to a six-speed automatic transmission, the Silverado delivers the highest fuel-economy mark of any V8-only full-size pickup on the road. The big boy from the Bowtie brand is rated at 15 mpg city/22 mpg highway/18 mpg combined with Chevy's SFE package, while corralling 302 horses and 305 lb.-ft. of torque.
That power is good for a 7,200-lb. max tow rating (with the Silverado's 3.73 rear axle), along with an 1,800-lb. payload gross vehicle weight rating (GVWR) of 6,400 lbs.
Then, as a further bonus for the 2013 model year, Chevy has added standard powertrain grade braking to one of the best-mpg trucks of 2012. The technology automatically downshifts on long downhill runs to reduce brake wear—and temperatures. In fact, in Chevy testing, the Silverado's new powertrain grade braking feature kept brake rotors some 200 degrees cooler than in trucks without the system.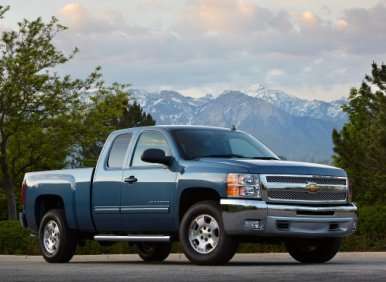 Best-MPG Trucks of 2012: Ford F-150
The Blue Oval's "best of both worlds" approach to its full-size pickup means the Ford F-150, even with its EcoBoost V6, isn't literally the most fuel-efficient full-size pickup on the market, nor is it the most powerful—instead, it delivers the best combination of both green and grunt of any of our best-mpg trucks of 2012. Consider: The F-150's 3.5-liter EcoBoost V6 is capable of "only" 16 mpg city/22 mpg highway/18 mpg combined, which leaves it a bit off the pace set by the Ram with its eight-speed transmission. But the Ford delivers 365 hp and 420 lb.-ft. of torque, representing advantages of 60 hp and a whopping 151 lb.-ft. of torque.
Conversely, while a rival like the Toyota Tundra can offer a little more in the way of horsepower, with up to 381 on tap in its 5.7-liter V8, the EcoBoosted F-150 still offers 19 more lb.-ft. of torque and fuel-efficiency benefits of 3 mpg/4 mpg/3 mpg. (It's also worth pointing out that the F-150 with its twin-turbocharged V6 supplies more torque than any full-size pickup, period, even those with big-time V8 engines like the Ram's available HEMI.)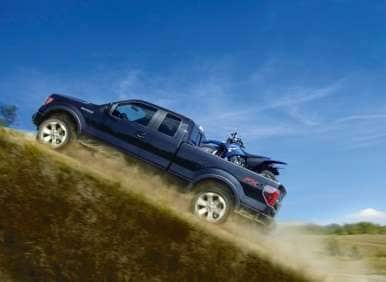 Best-MPG Trucks of 2012: GMC Sierra Hybrid
Although the future of GM's full-sized hybrid pickups is uncertain, they'll be here for at least one more model year, and they earn a spot among Autobytel's best-mpg trucks of 2012 with the GMC Sierra Hybrid.
The Professional Grade hybrid adds a single mpg to the Sierra SFE's highway mark, but increases its efficiency by an impressive 33.3 percent in the city and a notable 16.7 percent in combined driving. The EPA ratings here: 20 mpg city/23 mpg highway/21 mpg combined, and that's in both rear- and four-wheel-drive configurations. On the other hand, since the Sierra Hybrid also stocks a 6.2-liter V8 under the hood in addition to its two 60-kW electric motors, drivers can rely on 332 hp and 367 lb.-ft. of torque to produce true truck capabilities—like a 6,100-lb. towing maximum, a payload of 1,527 lbs., and a GVWR of 7,100 lbs.
Other key advantages of the only hybrid on the 2012 best-mpg trucks team include the ability to drive up to 30 mph using electricity alone, along with active fuel management that allows the Sierra Hybrid's V8 to run on just four cylinders in certain driving scenarios for further efficiency gains.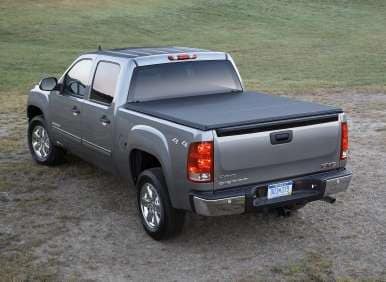 Best-MPG Trucks of 2012: Toyota Tacoma
As readers may have noticed, the first four of Autobytel's five best-mpg trucks of 2012 have been of the full-size variety, and that's mostly a reflection of the sad state of affairs in the compact pickup segment—at least for now. The Nissan Frontier, for example, posts an EPA line of 19 mpg city/23 mpg highway/21 mpg combined with an I4 engine, and while that is 1 mpg better than the full-size, eight-speed Ram, the latter also comes with more than twice as much horsepower and nearly 100 more lb.-ft. of torque.
That leaves us with the Toyota Tacoma as the smallest of our high-mpg trucks for 2012, and the Toyota does provide a fairly economical setup for pickup customers. It can be had for as little as $17,525 in its regular-cab configuration, while the EPA certifies it as capable of up to 21 mpg city/25 mpg highway/23 mpg combined. True, that package holsters a 2.7-liter I4 that makes a mere 159 hp and 180 lb.-ft. of twist, but it does come with the highest combined mpg mark of any player on our team of best-mpg trucks for 2012.