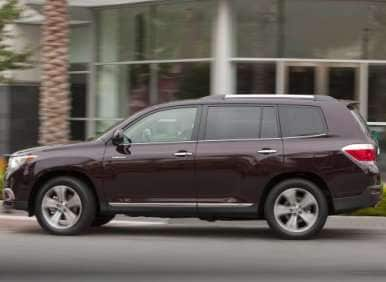 The best mid-size SUVs of 2012 are right in the sweet spot of the marketplace. They offer more room for growing families and gear than their smaller siblings, as well as increasingly robust tow ratings, yet they aren't so large that parking or driving in traffic—or filling the tank—is a struggle. What was a struggle, however, was picking just five for Autobytel's recommended list of mid-size SUVs of 2012. We started by limiting the choices to those vehicles between 190 and 195 inches or so in length, but then had to expand a little in each direction to align with automakers' lineups.
Read on to see if they align with yours.
Best Mid-Size SUVs for 2012: Ford Explorer
Rebooting the Ford Explorer as a kinder, gentler version of the iconic body-on-frame original was no sure thing, but it's sure paid off for the Blue Oval. The new Explorer is the top seller among the best mid-size SUVs for 2012, and it also happens to be the biggest and one of the most fuel-efficient, too. The Explorer is 197.1 inches long, yet can achieve EcoBoosted EPA grades of up to 20 mpg city/28 mpg highway/23 mpg combined. That's the same highway performance as the Toyota Highlander Hybrid (which does get 28 mpg across the board).
The Explorer also retains a strong mix of capabilities, too, with seating for seven, more than 80 cubic feet of cargo space, a 5,000-lb. tow rating and the technologically advanced Terrain Management System for all-wheel-drive needs. In fact, a high-tech approach to transportation is a chief advantage of the Explorer. Beyond that AWD setup, this member of our 2012 mid-size sport-utility vehicle list also offers a rear-seat entertainment system, the latest Sync with MyFord Touch system, a power-folding third row and power liftgate, Ford's Blind Spot Information System, adaptive cruise control, and lane-departure warning.
Capping off the Explorer family—and coming later this year—will be the Explorer Sport, packing a 350-hp EcoBoost V6, all-wheel drive and an athletically tuned suspension that make it "our highest-performance, most capable Ford Explorer ever," according to Bill Gubing, the vehicle's chief engineer.
The MSRP of the 2013 Ford Explorer is $28,870.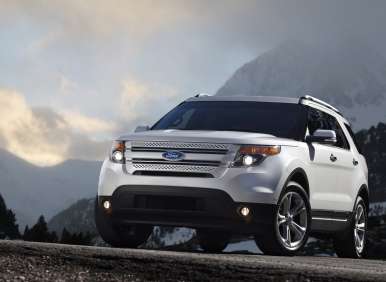 Best Mid-Sized SUVs for 2012: Toyota Highlander
The Toyota Highlander—which opens at $28,240—is the smallest entry on our list of mid-size SUVs for 2012, but credit Toyota engineers with squeezing in the most available cargo room: 95.4 cubic feet with all rows folded down. The Highlander also can be configured to tow up to 5,000 lbs. and delivers a Ford-matching three powertrain choices, including an efficient I4 as the starting point, an available V6 for more oomph, and a high-efficiency hybrid setup that is capable of 28 mpg in all EPA driving measures. The Most Ideal Hybrid/EV Truck in this year's Autobytel/AutoPacific Ideal vehicle awards, the Highlander Hybrid can still tow up to 3,500 lbs. and features standard all-wheel drive as well, so drivers don't have to forgo functionality for fuel savings.
As you'd expect from any of the leading mid-size sport-utility vehicles of 2012, the Highlander can be configured with a wide range of family-friendly entertainment options, from a rear-seat DVD entertainment system to a JBL premium audio setup, and touchscreen/voice-activated navigation also is in the mix here. But as you might not expect, the Highlander also gets complimentary routine maintenance—including oil changes and tire rotations—along with 24-hour roadside assistance that covers lockouts, flat-tire changes, jump starts, fluid deliveries and towing.
Best Mid-size SUVs for 2012: Honda Pilot
For an upscale choice from the 2012 mid-size sport-utility vehicle list, you might want to choose the Honda Pilot: The team from Autobytel and AutoPacific did, naming the Pilot the Most Ideal Premium Mid-Size crossover suv. Just remember, though, you don't have to pay a premium price to get it. The Pilot is stickered from $28,620, and that includes a wholesale upgrade for the 2012 model year. 
Honda restyled the Pilot inside and out, starting with a new grille and revised front lighting that delivers a sleeker, more sophisticated appearance. The cabin also is more refined, showcasing a new instrument panel and improved switchgear, while the Pilot's checklist of amenities has been fine-tuned to better appeal to owners: The EX and EX-L trims add a 2-gig CD-Library, as well as standard Bluetooth for hands-free calling and audio streaming; the Pilot EX-L welcomes Honda's full-color, eight-inch "intelligent Multi-Information Display" (i-MID); the automaker's Satellite-Linked Navigation System now brings subscription-free FM Traffic, a 15-gig hard disk drive memory and a higher-resolution display; and there are improved EPA ratings. Extensive incremental upgrades have moved the Pilot to EPA marks of 18 mpg city/25 mph highway/21 mpg combined, representing improvements of 1 mpg/2 mpg/2 mpg.
The Honda Pilot also provides more passenger room—a total of 153.7 cubic feet—than any other entry on our team of best mid-sized SUVs for 2012.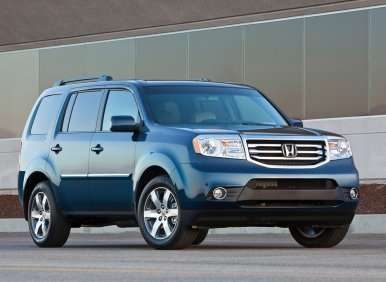 Best Mid-Size SUVs for 2012: Dodge Journey
The Dodge Journey is billed as "America's most affordable crossover," and it's certainly the high-value pick on Autobytel's recommended list of mid-size SUVs for 2012. The Journey begins at $18,995 when configured with two rows, but a third row is available for $995, and that still leaves the Dodge with a pricing advantage of thousands of dollars as compared to most segment rivals. Plus, even that American Value Package nets owners a livable vehicle complete with a dual-zone climate system and cabin air filter, a six-speaker Uconnect Touch audio system with 4.3-inch screen and steering-wheel-mounted controls, a soft-touch interior, seven air bags, remote keyless/illuminated entry, and electronic stability control with electronic roll mitigation and trailer-sway damping. Dodge also offers two increasingly well-equipped trim levels for under $23,000, as well as a pair of premium choices that culminates in the Journey R/T, priced from $29,995 and loaded to the brim with creature comforts.
The most powerful crossover-style player among the best mid-sized SUVs for 2012, the Journey offers up an available Pentastar V6 engine that makes 280 hp and 260 lb.-ft. of torque while also enabling a 6,000-lb. max tow rating; alternatively, Journey owners can select a 2.4-liter I4 capable of lifting the vehicle's EPA scores to 19 mpg city/26 mpg highway/22 mpg combined.
Best Mid-Sized SUVs for 2012: Nissan Pathfinder
The final pick on our approved list of mid-size SUVs for 2012 is actually two vehicles: The 2012 Nissan Pathfinder and the 2013 Nissan Pathfinder. But don't let their names fool you, these are two totally different models. The first is an old-school body-on-frame truck that can supply up to 5.6 liters worth of V8 engine, along with 310 hp, 388 lb.-ft. of torque and the ability to pull 7,000 lbs. That's more horsepower and more pulling power than available from any other vehicle on this list of mid-size SUVs for 2012. As an added bonus, the 2012 Pathfinder—which starts at $29,290—also can be configured with a four-wheel-drive system with a two-speed transfer case and true "4LO" capabilities.
However, when the 2013 Pathfinder starts arriving in dealerships later this year, it will be a completely different kind of beast, with smooth-riding, lightweight unibody construction that allowed Nissan engineers to reduce its curb weight by 500 lbs. as compared to the 2012 version. The result? Best-in-class fuel economy marks of up to 20 mpg city/26 mpg highway/22 mpg combined, complemented by a 5,000-lb. maximum tow rating and new technologies like Nissan's AroundView monitor, "Zero Gravity" front seats and a next-gen Xtronic continuously variable transmission. More information about the new Nissan Pathfinder will be released in the near-term future.