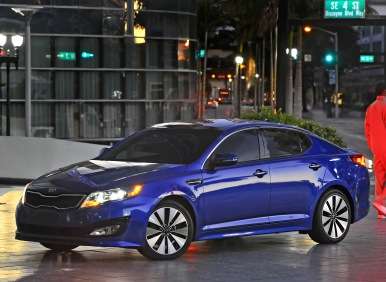 Mid-size sedans in 2012 continue to make up the highest-volume segment of the U.S. auto industry, and with good reason: They're big enough for families, small enough to achieve increasingly impressive fuel-economy ratings, and offer both high levels of technology and surprisingly sharp designs. And today's automakers are just as focused on the segment as buyers, which means we've seen a steady stream of all-new entries that have continued to raise ye olde bar in terms of what folks can expect from the best mid-size sedans of 2012. As a result, even fresh choices like the all-new Chevy Malibu and Honda Accord didn't quite make the cut here, and nor did the strong-selling Hyundai Sonata; instead, Autobytel's recommended roster of top mid-size sedans for 2012 includes:
Best Mid-Size Sedans for 2012: Nissan Altima
The previous-generation Nissan Altima has been a very successful car, routinely reaching the overall top-10 list for sales and occasionally leading the mid-size sedan segment itself. But in its first full month at dealerships, the all-new 2013 model jumped out to an all-time July sales record that should be just a taste of things to come for the redesigned Altima. That's primarily because the car doesn't have much of a taste for gasoline and can post a segment-busting EPA line of 27 mpg city/38 mpg highway/31 mpg combined. Not only are those the highest marks for any traditional mid-size sedan from 2012, but they're also better than those of the Chevy Malibu Eco mild hybrid, rated at 25/37/29—and the Altima is almost $4,000 less expensive, too.
The 2013 Nissan Altima also brings other unique advantages to our roster of best mid-size sedans for 2012, including "Zero-Gravity" front seats that leverage NASA advances for a more comfortable fit; standard Bluetooth tech for hands-free calling and audio streaming, as well as an available touchscreen nav and connectivity system; an industry-first multi-link rear suspension with connect bushings and Sachs damping for world-class handling; and Nissan's Easy-Fill Tire Alert, which signals when an inflating tire reaches its proper pressure—no gauges required.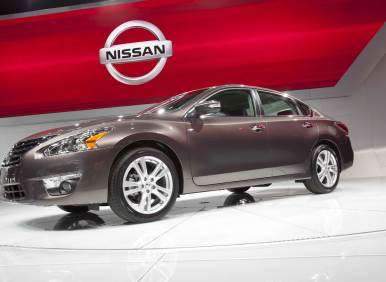 Best Mid-Size Sedans for 2012: Ford Fusion
There may not be a better-looking entry among America's best mid-size sedans for 2012 than the 2013 Ford Fusion, and the all-new vehicle provides many benefits beneath the skin as well—particularly when it comes to technology. The fresh-faced Fusion offers the same kind of tech treats as cars like the BMW 7 Series—e.g., adaptive cruise control, Ford's Blind Spot Information System, a Lane-Keeping System and Sync with MyFord Touch—but the Blue Oval product undercuts the cost of the BMW by more than $100,000.
The Fusion also offers a choice of five different powerplants, including a standard 2.5-liter I4, EcoBoost I4 engines of 1.6 and 2.0 liters, a hybrid system and, in the Fusion Energi, a plug-in hybrid setup. Notably, the smaller EcoBoost motivator is projected to deliver 26 mpg city/37 mpg highway, with the hybrid enabling 47 mpg city/44 mpg highway and the plug-in version capable of all-electric, zero-emissions travel at an estimated 100 MPGe. To put that last performance in context, the Chevy Volt is rated at 92 MPGe during electric driving, with the Toyota Prius Plug-in coming in at 95 MPGe.
The 2013 Ford Fusion will begin its run as one of the best mid-size sedans for 2012 with a late-summer launch and a price tag that starts at $21,700.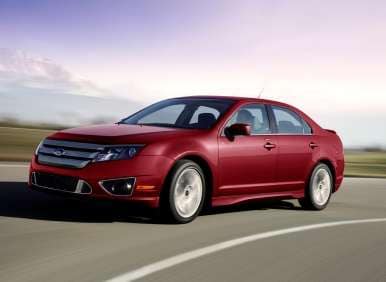 Best Mid-Size Sedans for 2012: Subaru Legacy
The Subaru Legacy is the only one of the best mid-size sedans of 2012 to be available only with full-time all-wheel drive, and it also brings a wealth of upgrades for the new model year. The 2013 Legacy—in dealerships now with an MSRP of $20,295—starts things off with a new 2.5-liter boxer engine as its standard choice, providing a usable bump in both power and efficiency. The bottom line: 173 hp (+3), 174 lb.-ft. of torque (+4) and EPA marks of 24 mpg city/32 mpg highway/27 mpg combined (+1 mpg in all measures).  And FYI, those EPA ratings are high enough to give the Legacy the crown as the most fuel-efficient AWD mid-size sedan in America.
Like other premier mid-size sedans in 2012, the refreshed Legacy also provides a ton of technology. It's new EyeSight system, for example, leverages a Subaru-developed stereo camera to deliver pre-collision braking, adaptive cruise control, lane-departure and sway warnings, and pedestrian- and object-detection capabilities that can help avoid mishaps. Also, Bluetooth functionality has been added to the Legacy's entry-level audio setup to allow hands-free calling and audio streaming, while its up-level harmon/kardon sound system will be available with touchscreen/voice-control navigation.
So it's no coincidence that the Subaru Legacy also was named the Most Ideal Mid-Size Car in the 2012 Autobytel/AutoPacific Idea vehicle awards.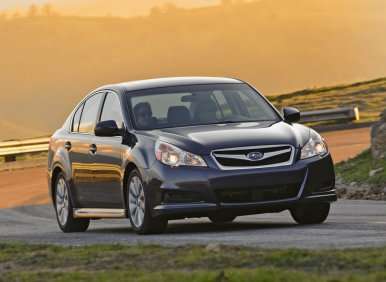 Best Mid-Size Sedans of 2012: Kia Optima
Like many an overnight success, the current Kia Optima really isn't one. Oh, it's certainly a success, but the dramatically designed Optima actually was overhauled for the 2011 model year, and—thanks in part to a welcome display of continuous improvement—is just now finding its place with customers. On a more positive note, that place does happen to be as the best-rated mid-size sedan of 2012 in the J.D. Power and Associates Automotive Performance Execution and Layout (APEAL) Study (in a tie with the VW Passat).
Regardless, that hot pace should continue with the 2013 Optima lineup recently debuting at dealerships, especially since the new model year also brings a new model: The 2013 Kia Optima SX Limited. Planting its flag firmly among the most sophisticated of the mainstream mid-size sedans for 2012, the Optima SX Limited spoils its occupants with Nappa leather seats and trim, real wood cabin accents, and all the up-scale accoutrements provided by the brand's Premium Touring and Technology packages.
Yet Kia also can optimize an Optima to attract a wide variety of customers who are shopping for a high-quality mid-size sedan in 2012, by offering the car with an MSRP that starts at $21,200 and three engine choices, including a potent 274-hp 2.0-liter turbo I4 and a high-efficiency hybrid system that provides 37 mpg in combined driving.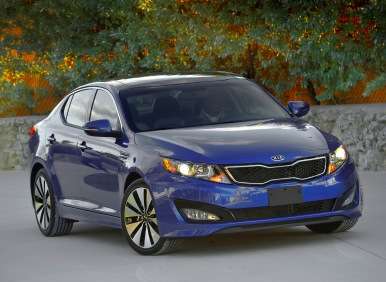 Best Mid-Size Sedans for 2012: Volkswagen Passat
Those who want to add a dash of premium German engineering to one of the most acclaimed mid-size sedans of 2012 can be confident in the Volkswagen Passat; it was named the Ideal Premium Mid-Size Car of the year in the recent Autobytel/AutoPacific Ideal Vehicle Awards, and also tied the Kia Optima for the No. 1 spot in the Mid-Size Car segment in the J.D. Power and Associates Automotive Performance, Execution and Layout (APEAL) Study. For good measure, the Passat is this year's Motor Trend Car of the Year, too.
The Passat also stands out from the crowd as offering the only diesel powertrain among the Fast Five Best Mid-Size Sedans for 2012. Relying on VW's much-lauded clean-diesel technologies, the Passat TDI rings up EPA grades of 31 mpg city/43 mpg highway/35 mpg combined with a six-speed manual transmission and can reach 30/40/34 with a six-speed automatic. Drivers also can choose from a peppy 170-hp I5 that is rated at 31 mpg highway or a performance-oriented VR6 that makes 280 hp while still delivering up to 28 mpg on the highway.
Needless to say, if that sounds good, keep in mind that those engines are offered in concert with a Fender Premium Audio System that's been custom-tailored to the Passat's cabin by the same experts who are known for their classic guitars and amps.
The 2013 VW Passat is currently available with a starting price of $20,845.