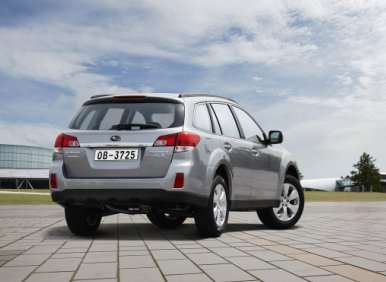 In picking the best all-wheel-drive crossovers for 2012, Autobytel used a very specific approach: Rather than looking for high-quality crossover-style vehicles that offer AWD—which would include just about all of them—we've focused on those in which the technology is an essential—and standard—part of the package. But these aren't just wannabe SUVs; the best AWD crossovers of 2012 get right to the essence of the crossover experience, fully embracing their more car-like attributes while still providing additional versatility as compared to traditional sedans.
Best AWD Crossovers for 2012: BMW X3
First up on our list of the leading AWD crossover vehicles for 2012 is the BMW X3, priced from $38,500 and featuring the brand's third-generation xDrive intelligent all-wheel-drive technology. The setup integrates with Dynamic Stability Control and the vehicle's Chassis Management system for quick reflexes and accomplished handling, and defaults in normal conditions to a 40/60 front/rear torque distribution. However, thanks to a multi-disc clutch, X3 drivers can rely on the system to provide steplessly variable torque distribution between that point and having up to 100 percent of the vehicle's power go to the rear wheels. The result: Superior performance in a particularly wide variety of driving scenarios.
Also helping to elevate the X3 to the ranks of the best AWD crossovers for 2012 are its two turbocharged TwinPower engines. In the BMW X3 xDrive28i, motivation comes from a new-for-2013 2.0-liter I4 that serves up 240 hp, 260 lb.-ft. of torque, 28 mpg highway and 0-60 times of 6.6 seconds. Moving up to the X3 xDrive35i nets drivers a 3.0-liter I6 that ups the ante to 300 hp and 300 lb.-ft. of torque, while reducing the 0-60 dash to just 5.5 seconds—and still scoring 19/26/21 with the EPA.
Both provide 27.6 cubic feet of rear cargo space with their rear seats up, and 63.3 cubic feet with the second row folded, and each also comes standard with a robust list of standard features, from a 12-speaker sound system to Bluetooth tech to an eight-speed Steptronic automatic transmission.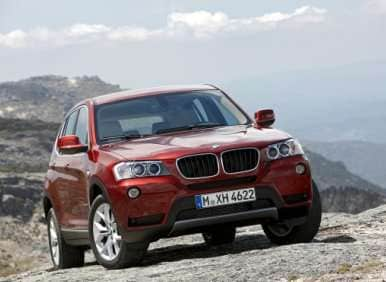 Best AWD Crossovers for 2012: Subaru Outback
The company with an (almost) all all-wheel-drive lineup contributes the Subaru Outback to our roster of best AWD crossovers for 2012—the Subaru Forester and Subaru Crosstrek are a tad too SUV-ish for the list, while the Subaru Tribeca falls a little short in the "best" department.
But the Outback, with its starting price of $23,495, showcases a notably car-like profile along with Subaru's Symmetrical All-Wheel Drive. Here, power is distributed equally to all four wheels all of the time, in a balanced package designed specifically for AWD vehicles. Per the automaker, the result is a more efficient, less complicated system that doesn't wait until the vehicle starts losing traction to re-distribute torque; many "AWD" rivals that didn't make the cut as one of the best all-wheel-drive crossovers for 2012 rely on systems tacked onto either front- or rear-wheel-drive platforms—and often default to front- or rear-biased torque distribution until or unless there's a traction issue.
Outback owners can choose from either a standard, boxer-style four-cylinder engine that displaces 2.5 liters, can make 173 hp and 174 lb.-ft. of torque, and posts an EPA line of 24/30/26. The more powerful choice is a 3.6-liter six-cylinder boxer engine, worth 256 hp and 247 lb.-ft. of torque, with EPA marks of 18/25/20.
Versatility-wise, the Outback has 34.3 cubic feet of gear space in the way back, and can hold 71.3 cubic feet of stuff with its rear seats lowered.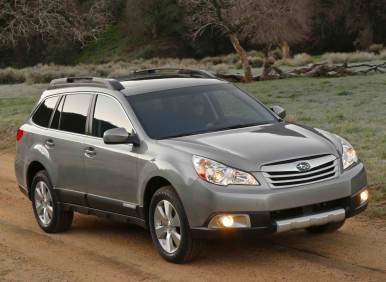 Best AWD Crossovers for 2012: Suzuki SX4 Crossover
Starting at just $16,999, the Suzuki SX4 Crossover—as distinguished from the Suzuki SX4 Sportback—is by far the most affordable of our best AWD crossovers for 2012. But that MSRP does include air conditioning and, more to the point, the automaker's three-mode, intelligent all-wheel-drive technology, enhanced by 4-wheel Active Limited-Slip Traction Control. It's a system that allows drivers to switch between front-drive only for optimum fuel economy, automatic AWD that kicks in when it detects wheel slippage, and full-time all-wheel-drive for optimum traction.
Further setting the SX4 Crossover apart from its Sportback sibling is a unique suspension that provides enhanced ground clearance, along with a model-exclusive body kit for a more rugged appearance.
Also, while the Suzuki is the smallest of our leading all-wheel-drive crossovers for 2012, the subcompact-sized vehicle has a five-door hatchback body style and rear seats that both fold flat and shift forward. As a result, the SX4 Crossover can swallow up to 54 cubic feet of cargo.
Finally, the SX4's powertrain makes a relatively healthy 150 hp and 140 lb.-ft. of torque from its 2.0-liter I4, and, mated to a standard six-speed manual transmission, the engine enables EPA marks of 22 mpg city/30 mpg highway/25 mpg combined.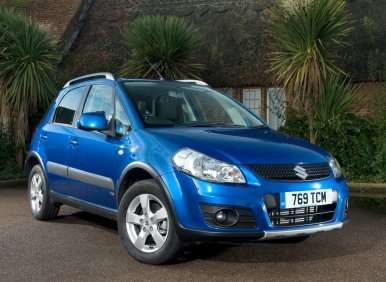 Best AWD Crossovers for 2012: Audi allroad
For a notably premium take on the best AWD crossovers of 2012, we've got the new Audi allroad. Now, some folks may dismiss the car as nothing more than a buffed-up Audi A4 Avant, but even if that is the case, it's not like the A4 station wagon was a losing proposition. And the allroad adds Audi's quattro AWD system as a standard feature, too, while offering up to 27.6 or 50.5 cubic feet of cargo capacity, depending on seat position.
First introduced more than three decades ago, quattro has remained one of the most sophisticated all-wheel-drive setups in the industry, backed by Audi's commitment to continuous progress. A case in point: The allroad's quattro system boasts a new crown-gear differential that allows for a wider range of torque distribution and more in-depth integration with the vehicle's electronic control features.
As regards the allroad itself, it solidifies its standing as one of the best AWD crossovers of 2012 with standard amenities like a concert-level audio system with 10 speakers, a multi-function steering wheel, automatic climate control, front fog lights, LED turn signals, aluminum roof rails, and an allroad-only body kit with contrast-colored cladding, stainless-steel underbody protection, and side-sill inserts. The car's price of admission ($39,600) also includes a 2.0-liter turbocharged I4 engine with Audi's acclaimed FSI direct-injection technology. The tale of the tape: 211 hp, 258 lb.-ft. of torque, a 0-60 time of 6.5 seconds, and EPA marks of 20/27/23.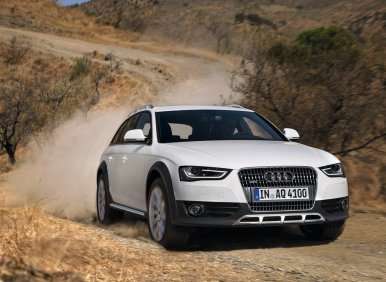 Best AWD Crossovers for 2012: Acura ZDX
Acura recently announced it would celebrate the final year of the Acura ZDX by adding a host of upgrades for the 2013 model year, and we'll celebrate by adding the vehicle to our list of best all-wheel-drive crossovers for 2012.
The key here: Acura's SH-AWD (Super Handling All-Wheel Drive) technology. This performance-oriented AWD system not only splits torque to front and rear wheels based on driving conditions, but it also can adjust power distribution between the two back wheels individually. As a result, up to 70 percent of the ZDX's 270 lb.-ft. of torque can be sent solely to the outside rear wheel for improved cornering; as an added benefit, SH-AWD can increase the speed of that wheel to help reduce understeer and further improve corner-carving capabilities.
The 2013 ZDX—slated to go on sale October 19 with an MSRP of $50,920—also welcomes a restyled grille and bumpers, new appearance choices in the cockpit, and a higher level of standard goodies that now will include lane-departure and front-collision alert systems, a 435-watt 10-speaker sound system, Bluetooth HandsFreeLink, navigation with an eight-inch display screen, heated/ventilated front seats, and a multiple-view rearview camera.
The ZDX also offers the kind of capacious cargo capacity expected in one of the best AWD crossovers of 2012, providing 27.5 cubic feet of space with its rear seats up and 57.3 cubic feet when they're folded down.