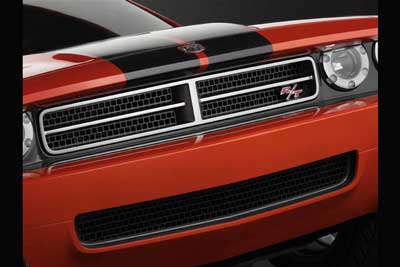 One of the hottest new concepts at the 2006 North American International Auto Show in Detroit was this Orange Pearl-colored Dodge Challenger Concept, with styling based on the original pony-car icon from 1970. In the Dodge Challenger Concept, DaimlerChrysler's design team has faithfully recreated the 1970 Challenger pony car that muscled up to the brawny "big boys" of the early seventies, taking a different tack than Chevrolet has done with its retro-modern Camaro Concept. Compared to the Chevy, this Challenger Concept looks like a restored original rather than a modern muscle car.
Design
The exciting new Dodge Challenger Concept retains the original car's all-important signature line, or "thrust" line, which runs in a horizontal arch through the fender and door to its kick-up, just in front of the rear wheel. The Challenger Concept has no B-pillar, equipped instead with a small quarter window in front of the wide C-pillar.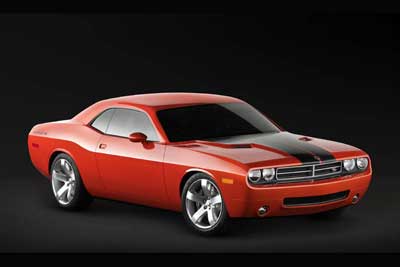 Rear Styling
The muscle-flexing Dodge Challenger Concept is equipped with an attractive and modern-day styling cue – a rear light panel illuminated by diffused neon technology. Tucked under the rear bumper are the twin-rectangular pipes of the dual exhaust.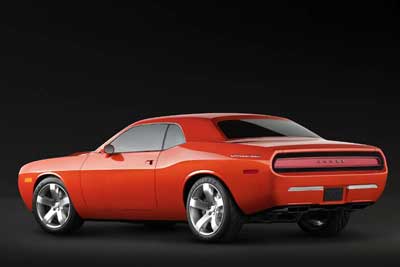 Power
The Dodge Challenger Concept is equipped with a 6.1-liter Hemi that puts out a massive 425 horsepower. This is the same engine as found in SRT-8 versions of popular Chrysler, Dodge, and Jeep models.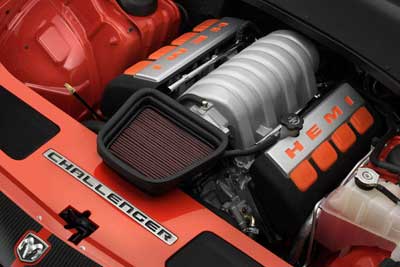 Pistol Grip Shift
Paying homage to the past is the retro pistol grip shifter that operates the Dodge Challenger Concept's six-speed manual transmission.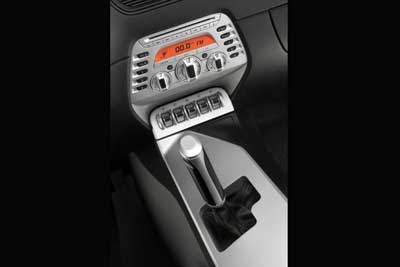 Dash Design
The Dodge Challenger Concept is a thoroughbred two-door performance coupe with a driver-oriented interior. A ribbed steering wheel sits in front of a retro instrument panel that mimics the appearance of the original 1970 Challenger. Although the concept draws its inspiration from the early 1970s model, all surfaces, materials and textures inside the Challenger Concept are contemporary.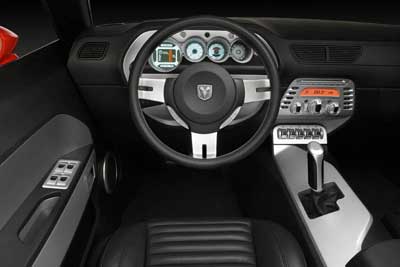 Interior
The Dodge Challenger Concept's interior is black, with silver satin accents and narrow orange bands that match the Orange Pearl exterior.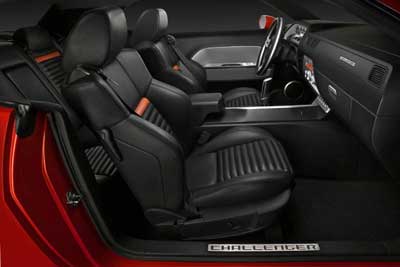 Wheels
The Dodge Challenger Concept rides on five-spoke chrome wheels that rest flush with the bodysides, with 20-inch rims in the front and 21-inch rubber in the rear.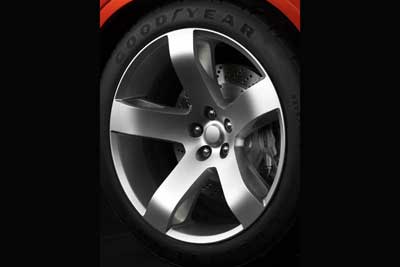 Performance Hood
The Dodge Challenger Concept has exposed black carbon fiber "stripes" on its hood, and like the original Challenger's "performance hood" design, is equipped with tie-down pins and twin diagonal scoops.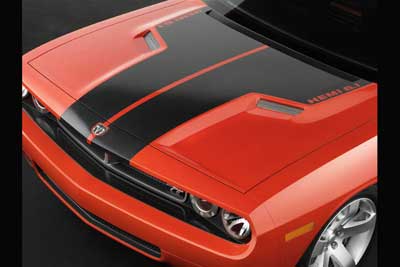 Ready to Roll
The Dodge Challenger Concept is based on the Chrysler LX platform that also serves as the basis of the Dodge Charger, Dodge Magnum and Chrysler 300, and was penned in Chrysler's West Coast Pacifica design studios. It appears to be production ready, and could hit the streets for the 2008 model year.
Photos courtesy of DaimlerChrysler