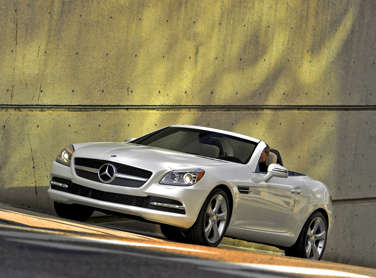 As proof that even some of the most performance-oriented cars in the world aren't immune to rising fuel economy demands, Mercedes-Benz announced today that its next-generation AMG engines will feature fuel-saving cylinder deactivation technology. In addition to pumping out more power, Mercedes-Benz says this technology will be allow the engine to deliver fuel economy similar to a four-cylinder. Along with the 2012 Mercedes-Benz SLK55 AMG, this 5.5-liter V-8 will make its official debut in September at the 2011 Frankfurt Motor Show.
Although this engine is related to the twin-turbocharged engine introduced on the S-Class and CL-Class for 2011, this new naturally aspirated and direct-injected V-8 (internally called M152) produces 415 horsepower and 398 lb-ft of torque – an improvement of 60 hp and 22 lb-ft of torque over the previous SLK55 AMG – all while delivering a 30 percent decrease in fuel consumption. When all of this horsepower isn't required, the cylinder deactivation system automatically shuts off cylinders two, three, five and eight at engine speeds between 800 rpm and 3600 rpm. Being a performance car, this system won't operate unless the driver has the transmission in "C" (Controlled Efficiency) mode. When activated, the engine output is reduced to no less than 170 lb-ft of torque according to Mercedes-Benz. While this technology is new to the AMG V-8, Mercedes already uses this technology in its Formula One cars during slow speeds such as caution laps or pit stops.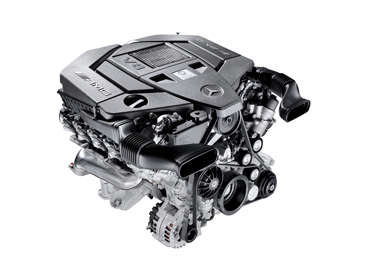 "Thanks to the innovative AMG Cylinder Management system and other high-tech components, our newly developed AMG M152 naturally aspirated eight-cylinder engine achieves the fuel economy of a four-cylinder with the muscular power delivery and emotional sound experience of a V-8. A sports car engine with technology taken from Formula 1, I am convinced that the new SLK55 AMG will meet the high expectations of all sports car fans," says Friedrich Eichler, head of powertrain development at Mercedes-AMG GmbH.
The other technology Eichler is referring to include a start/stop function. Like the cylinder deactivation, the start/stop ability is only available when the driver has selected the "C" mode, and the engine is shut off when the car comes to a stop. Mercedes-Benz says that the start/stop function does not affect the audio, air conditioning, telephone or video functions, but the engine and cabin must be at the proper temperatures and the battery must have a sufficient charge for the system to operate. Other helpful touches to improve the engine's efficiency include an all-aluminum construction that helps reduce engine weight to just 412.4 pounds, a new electronically controlled oil pump and a more efficient engine block cooling and ventilation system.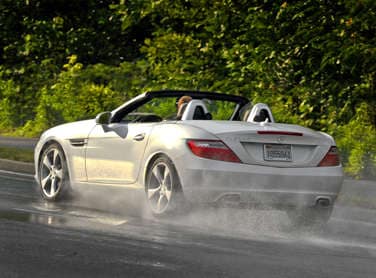 Mercedes-Benz also points out that with the SLK-Class going up against the Audi TT, BMW Z4 and Porsche Boxster, this is the only V-8-powered car in its segment. To help improve the new SLK55 AMG even further, the car will use a new AMG sport exhaust system that features exhaust flaps for each of the dual outlets that allows the car to sound normal during regular driving while belting out a more aggressive exhaust note during more spirited driving.
Final pricing and EPA fuel economy for the 2012 Mercedes-Benz SLK55 AMG likely won't be available until closer to the car's launch date which, in the United States, could be early next year.