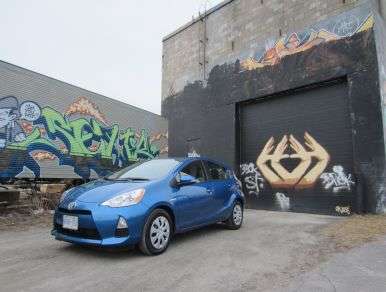 Small hatchbacks give buyers on a budget the chance to get behind the wheel of a car that offers respectable practicality despite its diminutive sizing.  Lightweight, inexpensive, and economical to operate, subcompact hatches are favored by urban dwellers seeking an easy-to-park runabout, as well as families who need a second or third car that won't take up much space in the driveway.
Toyota offers small car shoppers two distinct hatchback options for the current model year: an old stand-by, the 2013 Toyota Yaris, and a relative newcomer in the 2013 Toyota Prius c hybrid.  These cars might share the same platform, but from a pricing perspective - and philosophical bent - they have more differences than similarities.  How does these two tiny subcompacts stack up against each other in the real world?  Read on to find out how their sibling rivalry shakes out in daily use.
2013 Toyota Prius c vs. 2013 Toyota Yaris Hatchback: Pricing and Trim Levels
The 2013 Toyota Yaris hatchback represents the least expensive model in the entire Toyota family of cars.  The three-door body style starts at an MSRP of $14,370 and comes in two trim levels (L and LE), while the five-door begins at an MSRP of $15,395 and adds an SE version to the list of available models.  The level of standard equipment is stark for the Yaris L, showing as power door locks, air conditioning, 15-inch steel wheels, a CD player, Bluetooth connectivity, and a trip computer.  The most luxurious version of the Yaris - the SE - tops out at an MSRP of $16,480 and ups the ante to include 16-inch rims, a stiffer suspension system and sportier exterior styling, cruise control, power windows, and nicer cloth seats.
The 2013 Toyota Prius c is considerably more expensive than the Yaris, asking buyers for a minimum of $19,080 to slip behind the wheel.  Like it's larger Prius cousins, the Prius c comes in One, Two, Three, and Four trim levels, and opting for the nicest version of the five-door hatch will set you back $23,360.  Although the pricing is orders of magnitude higher than that of the Yaris (with roughly a 25 percent premium between the two respective five-doors) the amount of additional standard gear that comes with the Prius c One adds up to automatic climate control, an LCD screen, and power windows.  The same 15-inch steel wheels, cloth seats, and basic audio system are still present and accounted for.  The Prius c Four - costing $7,000 more than the top-tier Yaris - is better turned-out, thanks to the inclusion of a navigation system, the Entune multimedia system, upgraded interior trim, heated seats, and imitation leather upholstery.  You're still paying more for 16-inch alloy wheels on the Four, however, if your want to ride on something nicer than the steelie stockers.
Winner: The 2013 Toyota Yaris is clearly the winner when it comes to price.  Sure, the base Prius c is nicer inside, but it's not 25 percent nicer, and it's certainly not in keeping with the level of equipment offered by other hatchbacks in the $20k range.  Although the Prius c Four is more competitively outfitted, by the time one is spending $23,000 on a subcompact hatchback it's time to take a look at other, more comfortable and more practical options available in that range.  Subcompacts are about value, and Yaris pricing reflects that while Prius c pricing does not.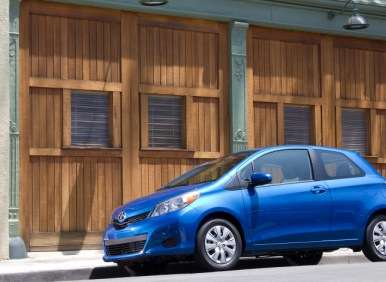 2013 Toyota Prius c vs. 2013 Toyota Yaris Hatchback: Styling
The 2013 Toyota Prius c doesn't look all that much like a hybrid.  In fact, if one missed the hybrid badging on its front fenders there would be little to distinguish its modest proportions, conservative front fascia, and friendly liftgate and tail light treatment from vehicles like the Mazda Mazda2, or other, slightly older hatchback designs.  The little car doesn't draw attention to itself, nor does it alienate potential buyers with its looks - it simply occupies space in an inoffensive manner,
The 2013 Toyota Yaris is perhaps more extroverted in its appearance, but whether one is looking at the three-door or the five-door it's clear that this is a vehicle with practicality, and not style, as its first priority.  Unsurprisingly, given that they spring from the same family of engineers and designers, the Yaris is in many ways the spitting image of the Prius c from several angles, offering more of a sporty profile and rear three-quarter view in certain trims.
Winner:  It's a draw.  Who can choose between the average looks of the Toyota Prius c and the understated appearance of the Toyota Yaris?  Both are basic transportation wrapped in a pleasing, unpretentious package.  The interiors of the cars are both fashioned in a similar vein, with straightforward presentation of all of the necessary gauges, displays, and switches.  A slight edge must be given, however, to the nicer cloth seats of the Prius c.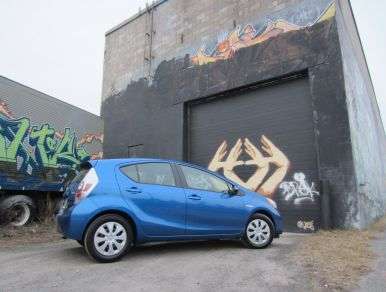 2013 Toyota Prius c vs. 2013 Toyota Yaris Hatchback: Comfort, Cargo, And Features
Neither the 2013 Toyota Prius c nor the 2013 Toyota Yaris are intended to serve as feature-laden, comfortable cruisers.  Rather, both vehicles are aimed at buyers who need the bare minimum of equipment to get by on their daily drive, with a few additional features reserved for those willing to pay a bit more for a cushier hatchback experience.
The Yaris is an exercise in form over function, with no real upscale items on its equipment list other than Bluetooth and a CD player.  The Prius c makes more of an effort to introduce more modern conveniences, and its trick LCD screen (replete with eco-info) and the availability of a navigation system instantly vault it ahead of the Yaris in terms of content.  It would be a mistake to call the Prius c Four trim luxurious, but it does set a higher standard than the Yaris SE.  I did enjoy the fact that all versions of the Prius c do away with the too-cute dash shifter found in the standard Prius and the Prius v and instead offer a floor-mounted stick for their automatic transmissions.
The rear seat of either car is designed to be enjoyed on a limited basis, with the Yaris edging ahead of the Prius c when it comes to leg room and overall comfort.  Cargo-wise, the Yaris features a tall load floor but a decent amount of overall space with the rear row folded forward, while the Prius c actually provides a couple more cubic feet of storage space than the Yaris with the back seats in place.
Winner: The 2013 Toyota Prius c feels more modern on the inside, and it can be had with a greater range of equipment than the Toyota Yaris.  Throw in a slightly larger cargo compartment, and the Prius c easily takes this category.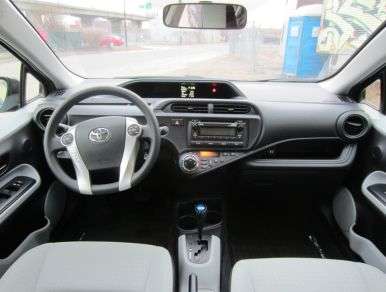 2013 Toyota Prius c vs. 2013 Toyota Yaris Hatchback: Engines and Fuel Economy
The 2013 Toyota Yaris is outfitted with a 106 horsepower, 1.5-liter four-cylinder engine.  Capable of producing 103 lb-ft of torque, this unit can be matched with either a five-speed manual or a four-speed automatic transmission, and it turns in fuel mileage of 30-mpg in city driving and 38-mpg on the highway- numbers I was able to match in daily driving.
The 2013 Toyota Prius c also features a 1.5-liter, four-cylinder engine, but one that is aided and abetted by two electric motors in a hybrid setup that delivers a total of 99 horsepower.  A continuously-variable automatic transmission is the only gearbox available with the Prius, and fuel mileage is listed at an excellent 53-mpg in stop and go driving and 46-mpg on the highway.  In fact, it's the most-efficient non-plug-in available in America.  I saw 40-mpg combined during my time with the Prius c, which is still impressive.
Winner: Similar power and better fuel economy propels the 2013 Toyota Prius c ahead of the Toyota Yaris in this area of the comparison test.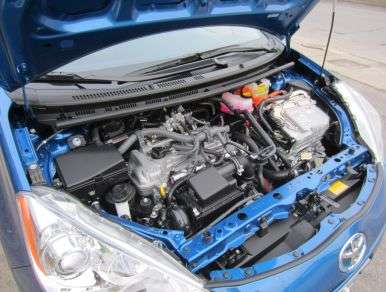 2013 Toyota Prius c vs. 2013 Toyota Yaris Hatchback: Driving Impressions
Very few affordable hybrid cars could be called fun to drive, but it's important to consider that the mission of statement of these vehicles isn't to entertain those behind the wheel, but rather to provide exceptional fuel efficiency.  The 2013 Toyota Prius c is a hatchback that has been cast in this particular mold, providing adequate power in highway and city driving but offering a numbness in the steering and handling department that speaks to its status as the ultimate appliance for fuel miser fans.  Despite its lack of driver engagement, I can think of no reason to counsel against it as a daily driver, as it checks off all of the required attributes that a subcompact shopper would be searching for when seeking an errand runner.
The 2013 Toyota Yaris hatchback, on the other hand, is not nearly as milquetoast as its appearance might suggest when thrown into a corner.  It is certainly no sports car - and only high end models offer four-wheel disc brakes - but the Yaris rewards drivers willing to push things a little bit farther than they may have thought possible thanks to a suspension system that does a good job of balancing capability with comfort on rougher roads.  The small four-cylinder engine revs more willingly than it does when found as a component of the Prius c's hybrid system, and if the four-speed automatic transmission can be avoided the Yaris feels fun and thrifty at the same time.
Winner: The 2013 Toyota Yaris is simply more enjoyable to drive than the slow-and-steady Prius c, giving it the win in this category.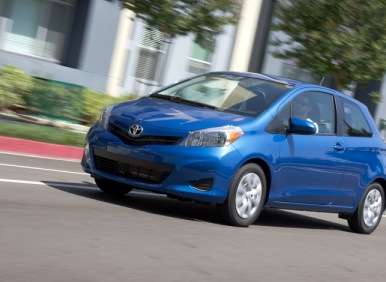 2013 Toyota Prius c vs. 2013 Toyota Yaris Hatchback: Safety
The 2013 Toyota Prius c is equipped with front disc and rear drum anti-lock brakes, electronic stability control and traction control, seat-mounted side airbags, dual forward airbags, side curtain airbags, and a driver's knee airbag.  Unfortunately, one can't turn off the traction control system, which led to me getting stuck in my driveway after a foot of snow was dropped suddenly one afternoon.  The Prius c simply cut the power as soon as the wheels began to spin, which trapped me until much shoveling could free the car - a problem I had with only one other automobile all winter long.
The 2013 Toyota Yaris offers an essentially identical set of safety features, although it is possible to acquire rear disc brakes with the SE trim level.  Both cars also received 'Good' ratings in crash tests performed by the Insurance Institute for Highway Safety.
Winner: Another tie - which is no surprise given that the cars are both built on the same subcompact platform.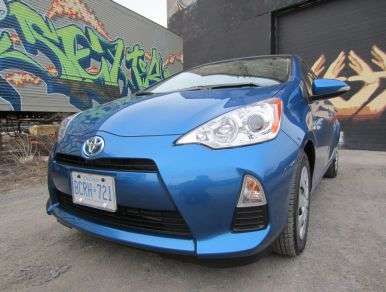 2013 Toyota Prius c vs. 2013 Toyota Yaris Hatchback: Final Thoughts
2013 Toyota Prius c vs. 2013 Toyota Yaris Hatchback: Final Thoughts
Based on the category wins in this comparison, it would appear that the 2013 Toyota Prius c and the 2013 Toyota Yaris hatchback are locked in a dead heat when it comes to their respective charms.  The Prius c is without a doubt the most efficient of the two automobiles, and it also offers a much more modern list of equipment when it comes to comfort and convenience.  Similar in size inside and out, the Yaris edges ahead in being fun to drive, as well as when it comes to price.
It's that final segment victory - pricing - that emerges as the most important aspect of the Yaris / Prius c comparison.  Yes, the hybrid demolishes the Yaris when it comes to fuel economy, but from a value perspective the additional sticker shock of achieving such a lofty combined EPA number is such that it would take many, many years to make up the difference in MSRP at the fuel pump.  Even more of an issue is that fact that pricing the base Prius c at $19,000 puts it in competition with some very nice subcompact and even compact automobiles, in effect forcing prospective buyers to evaluate it on its thrifty drivetrain alone.  Fiscally, the Yaris makes far more sense than the Prius c, but the strength of Toyota's branding strategy will continue to pull buyers towards the more expensive hatchback.