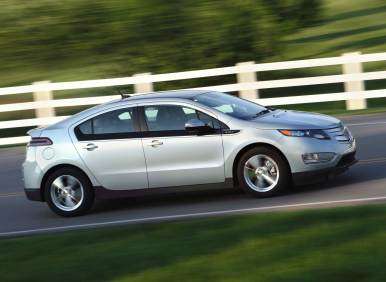 The increasing momentum for the Chevy Volt—which has now set three monthly sales records in a row—has GM increasingly optimistic about the future of plug-in vehicles. The company's senior vice president of Global Product Development, Mary Barra, recently told the media that: "I want to state clearly, here and now, that a major focus of GM's electrification strategy will center on the plug. … Traditional hybrid technology is important, of course. But we think plug-in technology will play an increasingly important role in the years to come, and that's where a significant part of our focus will be."
Barra was speaking to the GM Electrification Experience in San Francisco, where select members of the press gathered this month to learn about the General's plans for future high-efficiency vehicles like the Chevy Spark EV—slated to debut at the coming Los Angeles Auto Show and go on sale in the summer of 2013.
Other highlights from Barra's speech include:
"The unique propulsion technology pioneered in the Volt—the same technology that will be featured in the Cadillac ELR—will be a core piece of our electrification strategy going forward."
"Our plan calls for producing up to 500,000 vehicles annually with some form of electrification globally by 2017."
"Our commitment to eAssist is unwavering. In fact, our future portfolio calls for eAssist to be on hundreds of thousands of GM vehicles annually by 2017."
In addition, the automaker will look to further enhance the benefits of its electrified powertrains, as well as boost fuel efficiency in more traditional vehicles, through a concerted effort to reduce weight across its vehicle lineup. Here, the model will be the all-new Cadillac ATS sport sedan that's the lightest vehicle in its segment.
"The result is a car that is both strong and lightweight… both quick and fuel-efficient," according to Barra. "And that's the kind of focus you'll be seeing from us in this area in the months and years to come."
GM Electrified: A Look at the Lineup
Between the Chevy Volt and the current crop of eAssisted GM vehicles, the automaker has sold roughly 45,000 electrified vehicles through the first 10 months of the year. And while that total is less than the number of Ford F-150's sold in October alone, it does happen to be on the rise, thanks to a lineup that includes:
Chevy Volt—The 2013 model will benefit from an increased all-electric driving range of 38 miles, as well as an EPA line of 35 mpg city/40 mpg highway/37 mpg combined when running on gasoline. Following an all-time monthly sales record in October, the current Volt has delivered 19,309 units through the first 10 months of the year, and is ahead of last year's pace during that time by 265.9 percent.
Chevy Malibu Eco—The high-efficiency Malibu gets its advantage from GM's eAssist technology, which allows the car to capture energy with regenerative braking, store it in a compact battery pack, and feed it back into the powertrain in certain driving scenarios. The results include an EPA line of 25/37/29 and year-to-date sales of 14,242 units in its first full year on the market.
Buick LaCrosse—The eAssist pioneer is on a hot streak of its own, thanks to another 978 October sales that represented a jump of more than 229 percent; through October, Buick has delivered 10,467 eAssist LaCrosse models for an increase north of 3,400 percent (in its initial full year on sale). The full-size luxury sedan rings up EPA grades of 25/36/29.
Buick Regal—With the same fuel-economy scores as the LaCrosse, the electrified Regal pitched in with 287 sales last month, while delivering 2,172 units total during its relatively short time in the marketplace.