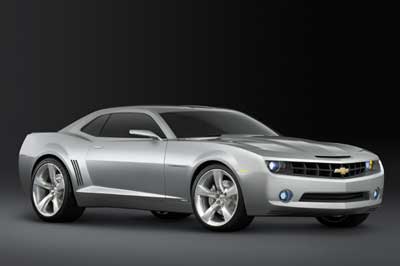 Retro design, when it's done right, leaves an unmistakable impression of a beloved icon with a simple glance, instantly conjuring memories of simpler, often happier, times. With automobiles, retro design is a fountain of youth rendered in sheetmetal and horsepower, a chance to own brand new what we coveted decades ago, but with the benefit of modern engineering and safety advancements.
Camaro Returns
The Chevrolet Camaro Concept, which debuted at the 2006 North American International Auto Show in Detroit, is retro done right. A mere glance brings the late 1960s flooding back, but with details that clearly speak the design vocabulary of the 21st century.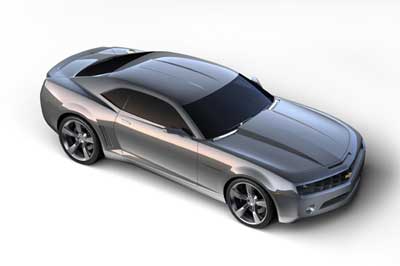 67-69 Original
Those 1967-69 first-generation Chevrolet Camaros took the country by storm and kicked off a so-called "pony car war" that lasted until the fourth-generation Camaro bit the dust shortly after the turn of the century. Chevy sold hundreds of thousands of Camaros in each of the last three years of the Sixties, took them racing and won two Trans-Am titles, and gave the Ford Mustang a run for its money on the track and in the showroom.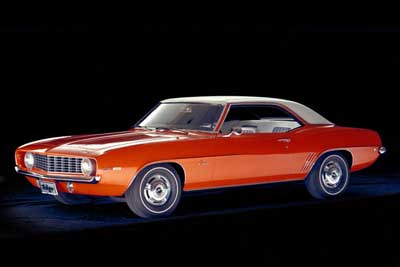 Late 60s Again
It is the iconic late 1960s Camaro that Chevrolet looked to for inspiration while designing the Chevy Camaro Concept.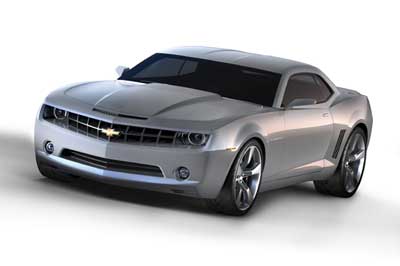 Build It Bob!
Performance and value are Camaro hallmarks, and while this automobile is strictly a concept for now because GM hasn't decided whether to build it, the company's global product guru, Bob Lutz, admitted that "astonishing value" was a goal in creating the Camaro Concept.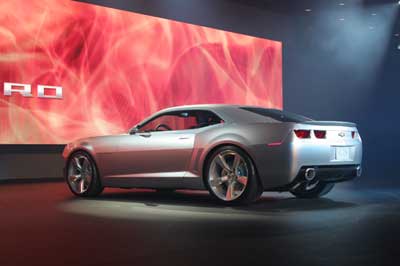 Corvette V8
Under the Chevrolet Camaro Concept's long hood, which is shaped to mimic the old cowl-induction hood of Chevys past, is a Corvette-sourced 6.0-liter V8 engine making 400 horsepower. It's hooked to a six-speed manual transmission that drives the rear wheels, and includes Active Fuel Management technology to shut down four of the motor's eight cylinders when cruising on the highway. Chevrolet says that this car could get as much as 30 miles per gallon on the open road.
Suspension
Unlike the Ford Mustang – even the Shelby GT500 – the Chevrolet Camaro Concept gets a four-wheel independent suspension, MacPherson struts in front with a multilink rear setup, equipped with progressive rate coil springs and gas shocks.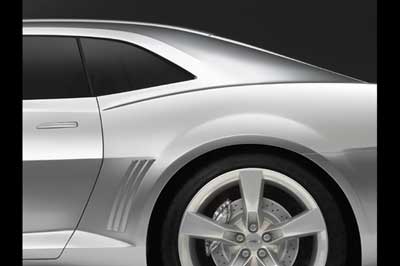 Wheels
Massive 21-inch front wheels and 22-inch rear rims front ventilated 14-inch discs with four-piston calipers. The cast aluminum wheels are a sharp-edged five-spoke design with a bright silver finish, and wear 275/30 tires in front and 305/30 rubber in back.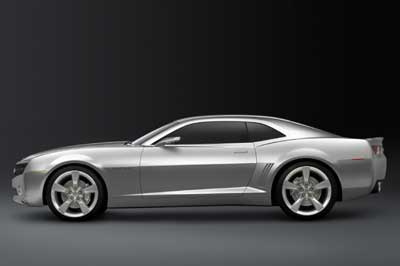 Interior
Anyone familiar with the original Camaro will find themselves right at home in this concept vehicle, thanks to deeply hooded twin gauges residing in squared-off binnacles and viewed through a three-spoke steering wheel. Instrumentation is an exercise in minimalism, and the Camaro Concept's dominant color is black. Silver and orange accents add visual interest without making the cabin gaudy.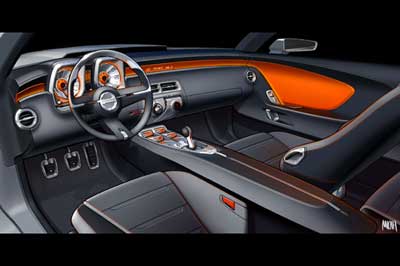 Seats
The Chevy Camaro Concept has room inside for four, but like that first-generation car after which it's patterned, the small back seats are best used only for short trips.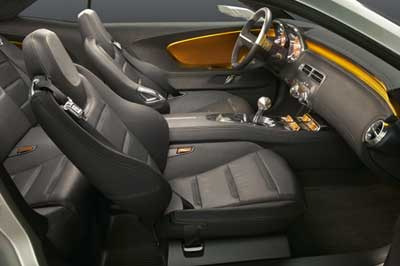 Design
Thanks to its triangular rear quarter windows, broad creased shoulders, Coke-bottle waistline, and hooded headlamps, this Chevy concept car is instantly recognizable as a first-generation Camaro.