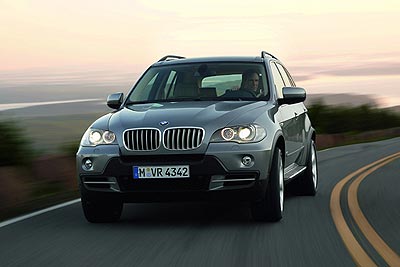 BMW X5: Preview Cadillac can build one bigger, Audi can sell one cheaper, and Porsche can make one more powerful. But to some buyers who demand all the attributes of a large luxury SUV, none of that matters if it comes without a BMW badge. For them, that leaves the X5, bigger and more versatile brother to models like the Z4 roadster and the M3 coupe. The X5 is available for 2007 with optional third-row seating, a navigation system offering real-time traffic information, enhanced powertrains that push the X5 to 60 mph in as little as 6.4 seconds, all wrapped in a similar yet freshened package. Due to hit the lots in November, the 2007 BMW X5 will be offered in two variants: the 3.0si, priced at $46,595, and the 4.8i, which starts at $55,195 (prices include destination charges). The 315-horsepower 4.4-liter V8 has not been carried over from 2006.
Why it matters
Why does the updated 2007 BMW X5 matter? Competition. Regardless of whether you're a manufacturer peddling bargain-priced Kias or luxurious Bimmers, your targeted consumer is invariably barraged with newer, flashier, more attractive alternatives from an increasing number of competitors. Since first being introduced to the U.S. market for the 2000 model year, the BMW X5 has seen its list of competitors grow with models like the Audi Q7, Cadillac SRX, Infiniti FX, Mercedes-Benz GL-Class, and others, making the aging Bavarian Motor Works SUV look dated in comparison. For 2007, BMW aims to reestablish the X5 as a stand-out player in its class with a freshened appearance, tweaked hardware and additional features.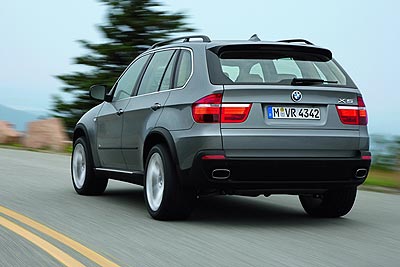 What's under the hood
Base versions of 2007 BMW X5, dubbed 3.0si, draw power from a 3.0-liter inline six-cylinder engine with Valvetronic valve timing, with a total output of 260 horsepower at 6,600 rpm and 225 lb.-ft. of torque at 2,750 rpm. A sprint to 60 mph is estimated to require 7.8 seconds. The remaining X5 trim, the 4.8i, uses a 4.8-liter V8 pushing 350 horsepower at 6,300 rpm and a very respectable 350 lb.-ft. of twist at 3,400 rpm. BMW claims a 0-60 mph time of 6.4 seconds for the V8 model, as well as ULEV II emissions compliance. A Steptronic manually-interactive automatic transmission is standard on all 2007 BMW X5s, now offering six speeds rather than five, and according to BMW, much quicker shifts. Gear changes are electronic, actuated by a simple click forward or back of a small lever. Buyers of this updated example of BMW's largest SUV will also enjoy and benefits from the brand's xDrive full-time all-wheel-drive system, one that operates with a 40-percent front/60-percent rear power distribution until slippage occurs, at which point power is immediately reassigned to bias the wheels with the best grip. This technology also allows engine power to be doled out to appropriately counteract over or understeer during those lively runs through the canyon. Helping to limit such occasions is a double-wishbone front suspension coupled with a rear independent setup consisting, in part, of four control arms and soft front swing mounts. Variable-assist rack-and-pinion steering is designed to deliver the 2007 BMW X5 driver plenty of response, with even more dialed in during aggressive driving, such as when slicing through corners at a good clip. New for 2007 are standard 255/55 run-flat tires wrapped around 18-inch alloy wheels. Larger 19s and 20s can be ordered, though the 19s are paired with all-season rubber, whereas the 20s carry on with the run-flat theme. Regardless of what tire and wheel setup is chosen, a standard tire pressure monitor promises to raise the alert if air pressure falls out of spec.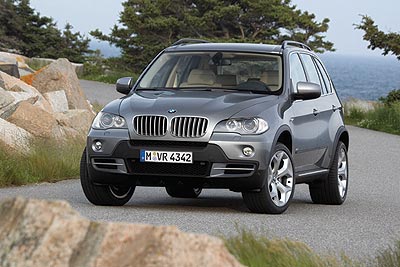 What's inside
Thanks, at least in part, to an extra 7.4 inches in length and 2.4 inches in width, the 2007 BMW X5 is available in both five- and seven-passenger configurations. Available for the first time in the X5, an optional hideaway third-row bench seat provides space for two children or small adults who gain access by moving the second row seats forward and hoisting themselves in with grab handles on the C-pillars. When ordered sans rear bench, the 2007 BMW X5 provides 75.2 cubic feet of cargo space, of which 3.15 cubic feet is below the floor where the folded third-row would rest. Throughout its cabin, the X5 offers the understated and precise design that buyers expect from BMW, not to mention the use of premium materials. Models wearing the 3.0si badge may be fitted with standard leatherette upholstery or optional Nevada or Napa genuine leather; the 4.8i is expected to be decked out in standard leather. A 205-watt sound system, complete with dual front subwoofers, a CD/MP3 player and auxiliary iPod jack, promises to fill the X5 with your favorite music. Options are plentiful, including the love-it-or-hate-it iDrive system, ventilated seats, the third-row bench, a heads-up driver's display, a navigation system with Real Time Traffic Information (RTTI), a rear parking camera, a rear entertainment system, and a 600-watt sound system with available Sirius satellite radio service. Enhancements tied to the X5's underpinnings and exterior include the optional wheel packages, a Sport Package with Active Roll Stabilization and Electronic Damping Control (fun-seeking weekend drivers will want to seriously consider that one), a panoramic sunroof, and BMW's Active Steering technology.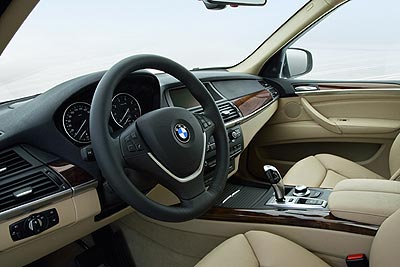 What BMW says
To say that BMW is proud of the updated 2007 X5 would be an understatement, given comments such as this: "Innovative technology, a premium and luxurious ambience, powerful elegance in body design and superb driving dynamics make the new BMW X5 a genuine exception in its segment. The new model continues the tradition of its predecessor, the world's first Sports Activity Vehicle, which set the foundation for a brand new class of vehicles."And of the 2007 BMW X5 buyer, company officials suggest that "The new BMW X5 meets all the demands and requirements of the discerning motorist who, through choice of his or her vehicle, wishes to express his personal and independent lifestyle and at the same time enjoy a new driving experience is a new dimension."
Photos courtesy of BMW