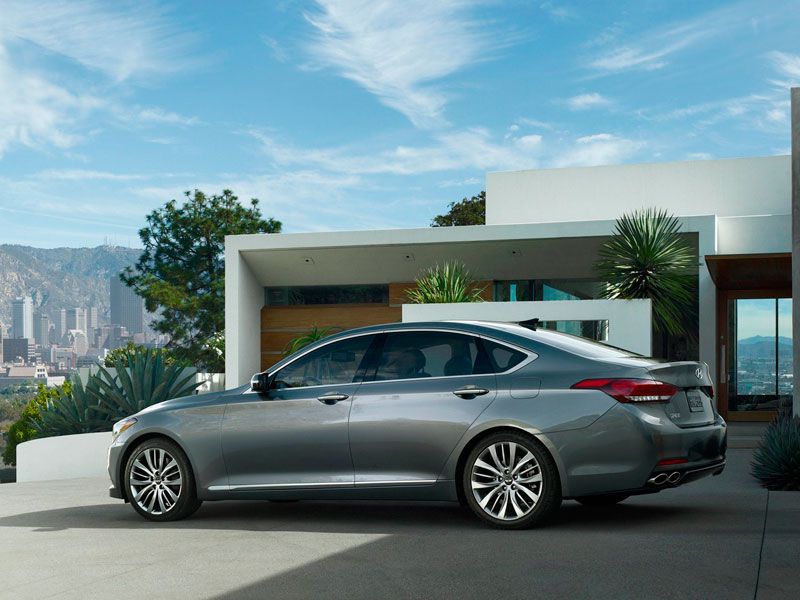 2016 Hyundai Genesis ・ Photo by Hyundai
When you're shopping for a new luxury car, it helps to put price aside, at least to some extent. Because, as you know, it's not going to be cheap. However, luxury cars are distinguished by newer and better-quality features along with their higher-performance engines, which makes it easier to swallow the higher prices. In other words, it's possible to buy a high-end car and still get a really good deal.
For the sake of simplicity, we'll be discussing Autobytel editorial expert's favorite best value luxury cars in order of their entry-level MSRPs, with the caveat that base models aren't always indicative of best overall value, and that the cars highlighted here fall into several different size classes.
2016 Acura TLX — MSRP $31,695
The 2016 Acura TLX is a midsize sedan that seats five passengers, and it's a great stepping stone to start thinking about buying one of the best value luxury cars on the market. The TLX is a fairly new design, and was introduced to replace not one, but two of Acura's older models—so in other words, Acura had to make sure this luxury car was a winner. Considering its low entry price, the TLX is distinguished by some decidedly upscale features, such as high-tech LED lighting and powerful yet efficient engine options. The Acura TLX offers strong yet comfortable handling, to balance the priorities of driver and passengers, and is loaded with standard features and equipment.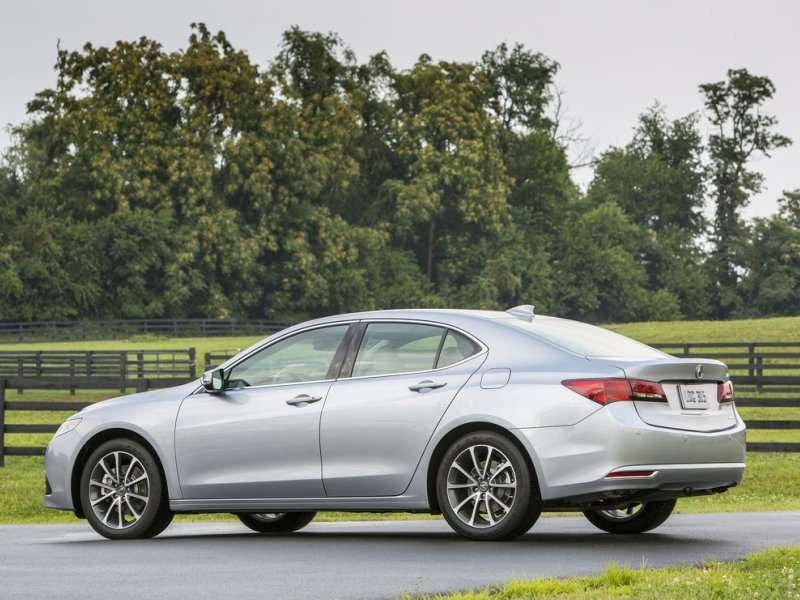 Photo by Acura
2016 BMW 3 Series — MSRP $33,150
Buyers who get a little bored with the usual offerings for the best value luxury cars should take a look at the stylish and diverse 2016 BMW 3 Series. Although the 3 Series' most prominent configuration is a fairly basic sedan, it's also available in the Gran Turismo (GT) hatchback as well as a sporty station wagon. Granted, these bodystyles are more expensive than the sedan, which does affect the value somewhat, but it's nice to know those options are there, and they may be well worth the upcharge for some customers. Every 3 Series vehicle accommodates five passengers, who are likely to be just as pleased as the driver, thanks to BMW's combination of comfort and sportiness.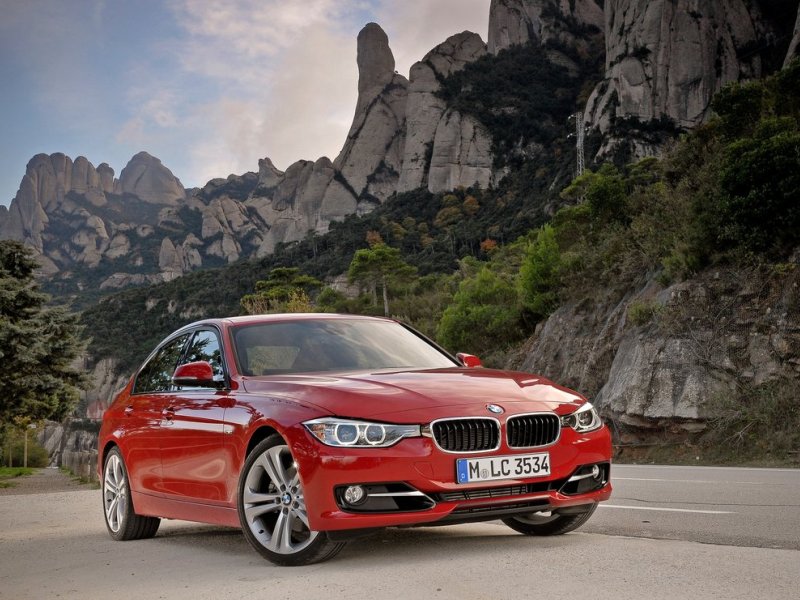 Photo by BMW
2016 Audi A4 — MSRP $35,900
Though the Audi A4 isn't the brand's smallest or least expensive option, this small sedan slots in just above the compact A3, and it's popular with entry-level luxury shoppers as well as people who are new to the brand. The A4 is offered with just one engine in 2016—this is something of a departure from years past, but it greatly simplifies matters, and this 220-horsepower, 2.0-liter, turbocharged 4-cylinder is likely to satisfy shoppers who want one of the best value luxury cars available; it's also fun to drive and offers higher-than-average fuel economy. The quoted MSRP unfortunately doesn't include Audi's quattro all-wheel drive system, but the upcharge is well worth it.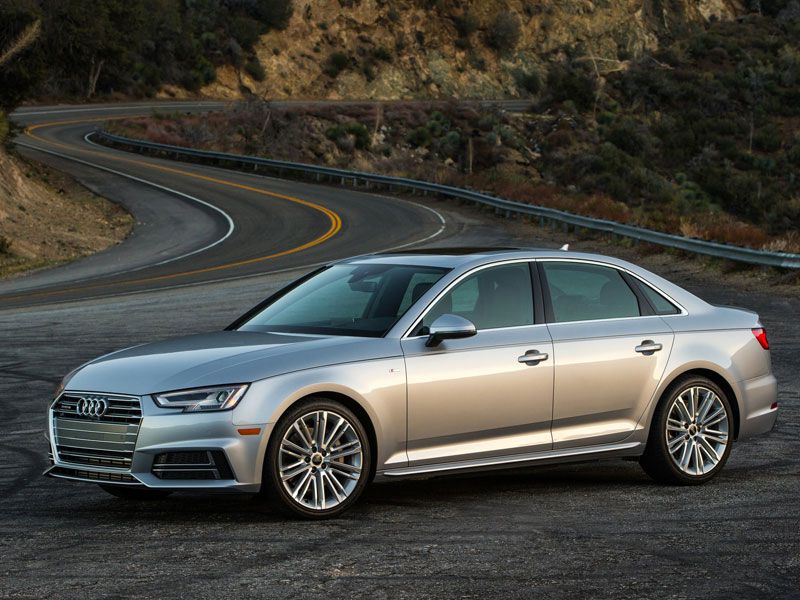 Photo by Audi
2016 Lexus IS — MSRP $37,325
The compact Lexus IS is one of the brand's older models, and also one of its best value luxury vehicles. Compared to the other vehicles on this list, the Lexus IS is less sporty, but that's fine; there are plenty of shoppers in the luxury category who prefer a comfortable ride to a firm one. The IS is a good choice for potential buyers who regularly host adult passengers in the backseat, since it provides adequate legroom and headroom, and the trunk is also a good size compared to other cars in the class. The interior design is handsome and classic, and is finished in really nice materials. Several engine choices are available with the 2016 Lexus IS.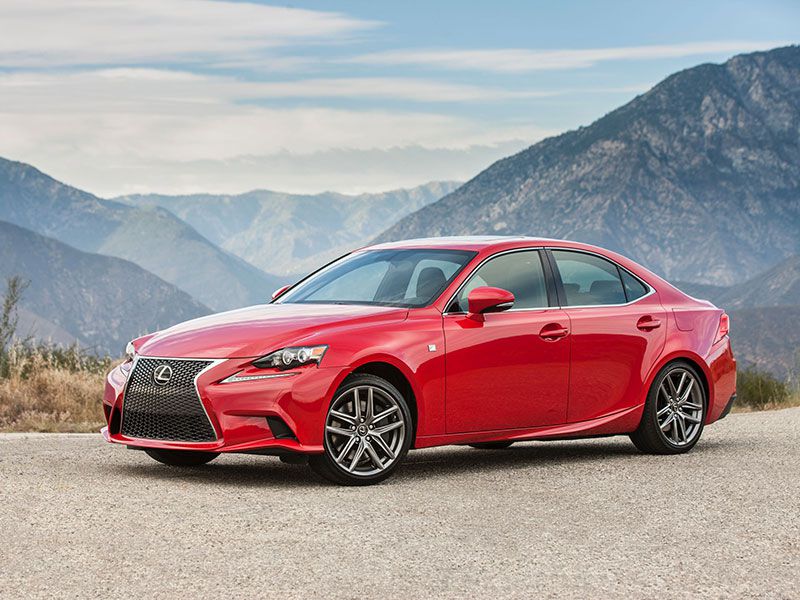 Photo by Lexus
2016 Hyundai Genesis — MSRP $38,750
Even a decade ago, few people could have imagined that Hyundai would be making luxury cars, but it's true. And, since Hyundai was in a position to abandon pretense, the Genesis turned out to be really good, impressing even some of the most skeptical critics. That's why the 2016 Hyundai Genesis earns a spot on our list of the best value luxury cars—it delivers what many shoppers are seeking in a midsize sedan, without fretting about brand recognition or jacking up the price. For the price quoted above, buyers get a competitive 311-horsepower, 3.8-liter V6; a 420-horsepower 5.0-liter V8 is available. The Genesis has solid handling, but prioritizes comfort, and does it well.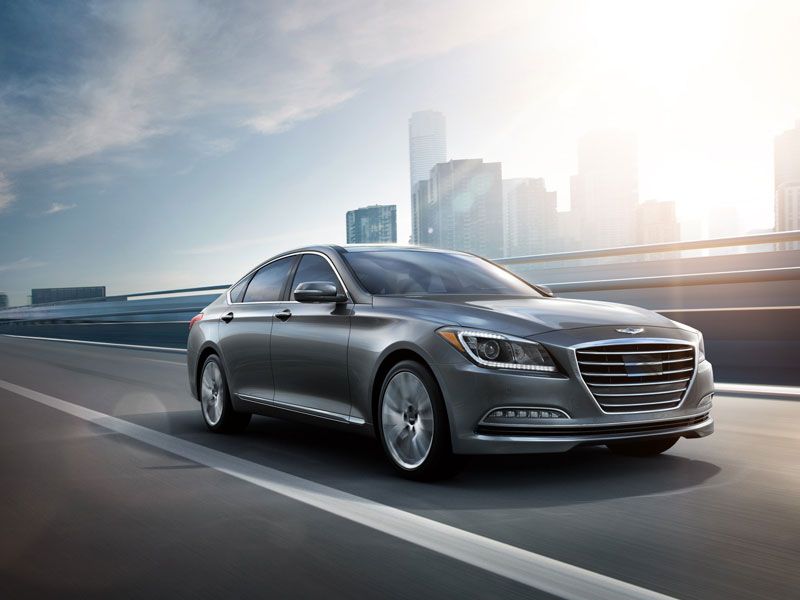 Photo by Hyundai
2016 Mercedes-Benz C-Class — $38,950
The 2016 Mercedes C-Class, offered as a 5-passenger sedan or a 4-passenger coupe, is another of the best value luxury vehicles to offer a little variety in terms of bodystyle. The C-Class also has a big engine lineup, with a bunch of high-powered and efficient turbocharged options. A plug-in hybrid is expected later this year, and although it'll be efficient, it probably won't be cheap. The Mercedes C-Class isn't the most comfortable of our favorite high value luxury cars; the coupe, in particular, suffers from a cramped backseat. However, if owning a Mercedes-Benz is on your bucket list, the C-Class is a relatively affordable way to accomplish that goal.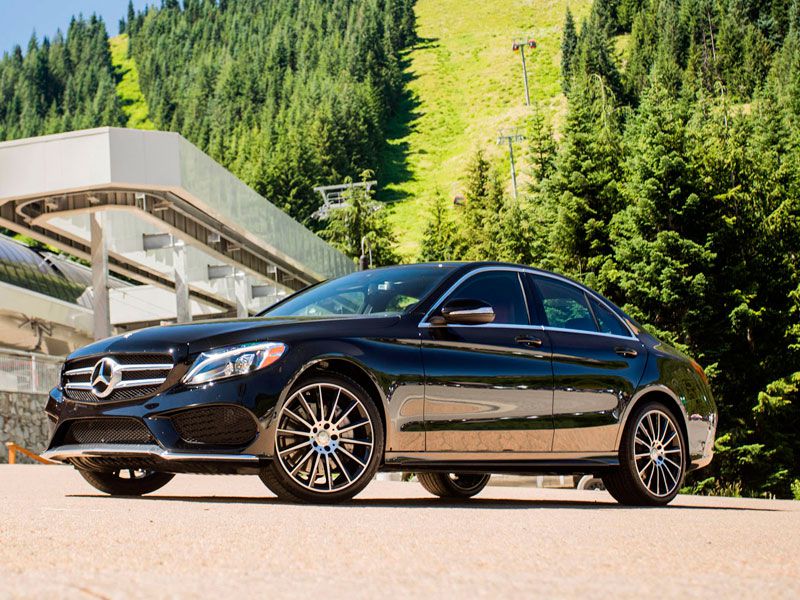 Photo by Mercedes-Benz
2016 Cadillac CTS — MSRP $45,560
It seems like domestic vehicles are underrepresented on our list of the best value luxury cars, but Cadillac is one Detroit-based manufacturer who's figured it out, and the CTS was designed especially to stand out in this segment. At our cited price point, the 2016 Cadillac CTS comes equipped with a turbocharged, 2.0-liter 4-cylinder engine that puts down 268 horsepower and 295 lb.-ft of torque, and it's available with rear-wheel or all-wheel drive. More engines are available; the 6.2-liter V8 might be especially tempting to buyers with deeper pockets. The 2016 Cadillac CTS has had some new features added since last year, further improving the value of this stylish midsize sedan.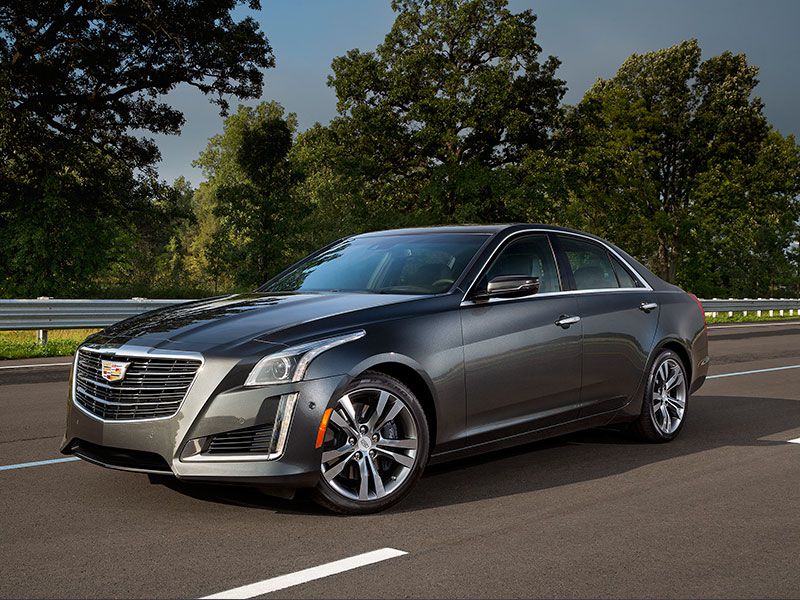 Photo by General Motors
2016 Kia K900 — MSRP $49,000
Anyone who was surprised by the Hyundai Genesis must have been, frankly, shocked by the Kia K900. This large luxury sedan has a considerably higher starting asking price than that of its corporate sibling, and it was hard to see how Kia had a strong enough reputation to back it up. And, to be fair, this best value luxury car does fall short in some ways. It's offered with the same engine lineup as the Genesis (which isn't necessarily a bad thing) and its handling isn't particularly agile or focused. However, the Kia K900 is comfortable to drive, even on long trips, and offers a positively cavernous cabin, with fit and finish that encroach on the Germans' territory.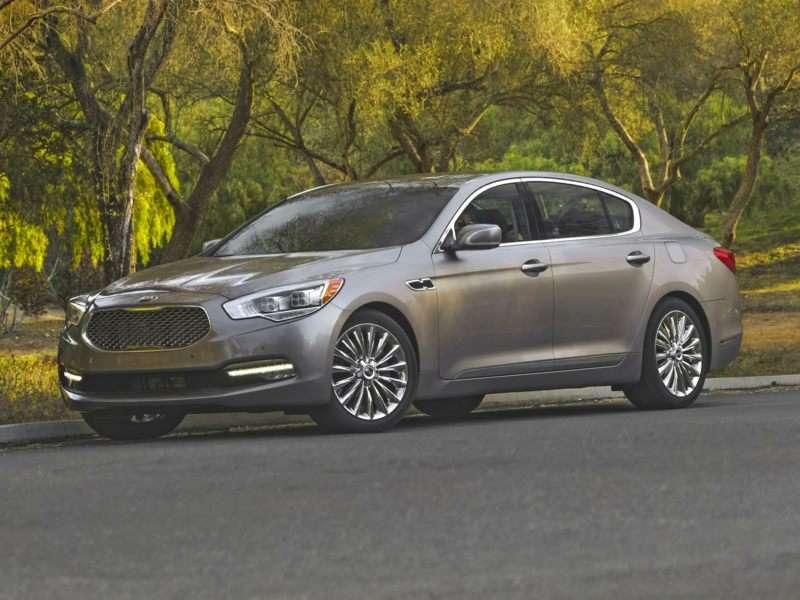 Photo by Kia
2016 Mercedes-Benz E-Class — MSRP $52,650
The 2016 Mercedes-Benz E-Class is another option for people looking for a best value luxury car but who want something a little different. The midsize E-Class is offered in a coupe, station wagon, and convertible alongside the typical 4-door. The convertible and coupe seat four passengers and the larger options seat five. As is typical with Mercedes' high-volume models, the E-Class is offered with a ton of different drivetrains, providing everything from a basic driving experience to an extremely sporty one. The E-Class' price is a little steep for our objectives, we admit, but it's a nice vehicle, and it's loaded with standard features that increase its value for the money.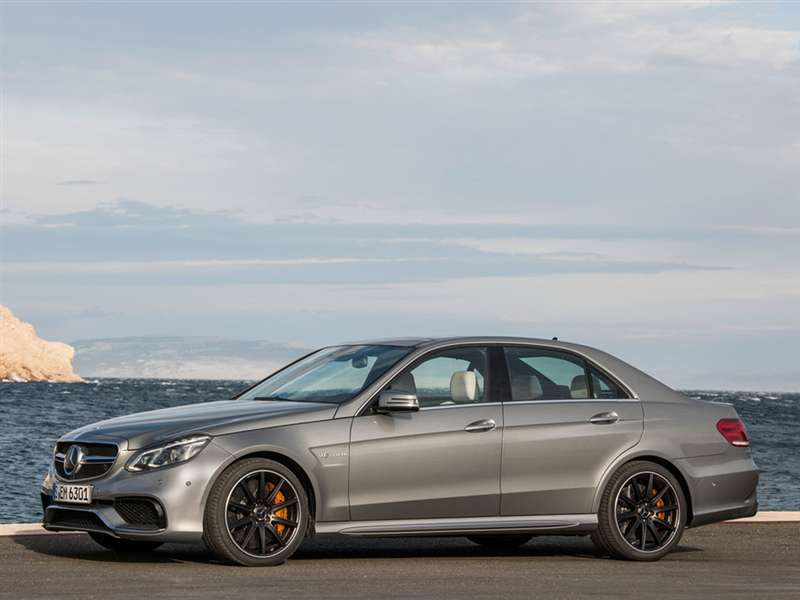 Photo by Mercedes-Benz
2016 Cadillac CT6 — MSRP $53,495
Cadillac makes another appearance on our list of the best value luxury vehicles with the most expensive base model we're discussing, the 2016 Cadillac CT6. The CT6 is a large luxury sedan that's all new for the 2016 model year, thus giving some insight into the brand's plans for moving forward. The base model churns out 265 horsepower from its turbocharged 2.0-liter 4-cylinder engine, and the vehicle's lightweight aluminum design also contributes to its strong acceleration. Two other drivetrain options, including the brand's new twin-turbo V6 setup, provide more power. This new Cadillac also boasts a quiet and spacious cabin that's trimmed in real wood and features very comfortable seating and tons of standard features.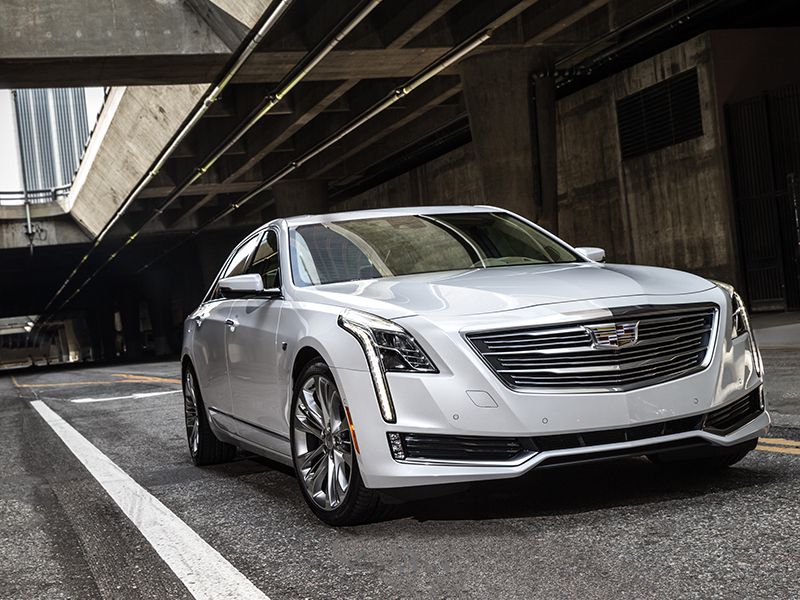 Photo by General Motors