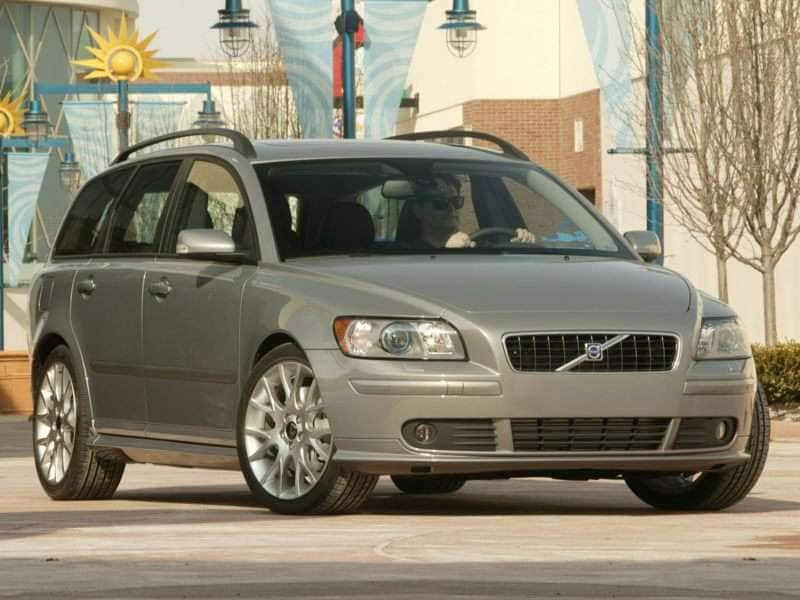 2005 volvo v50
Station wagons have had to endure near extinction due to the buying whims of the general public over the past 20 years. The one-two punch of minivans in the 1980s and sport-utility vehicles in the 1990's almost wiped wagons out of the market entirely, decimating the domestic crop and seeing even Toyota and Honda remove their wagons from North American showrooms. However, offerings from Subaru and a number of European sport wagons continued to trickle onto the market. When minivans themselves faced extinction at the hands of crossover SUV's in the mid-2000s, many buyers realized that these vehicles represented an alternative to the fuel guzzling of SUV's and the mind-numbing driving experience of minivans, prompting a gradual resurgence in their popularity.
A delicate balance exists between these three different classes of family transportation. While minivans may offer superior interior volume and crossovers usually provide the option of at least vestigial off-road utility, station wagons triumph over both with their excellent road manners, comfortable ride and sedan-like fuel mileage. With modern advancements in chassis design and drivetrain placement, wagon interiors are often much larger on the inside than their exterior dimensions might suggest, and all-wheel drive systems have become common options, helping to level the playing field.
While wagons may have once had a stodgy image, a compromise between passenger capacity and performance, the current crop of people movers are much sportier, trading in their wood paneling for sleek, aerodynamic styling and in some cases even manual transmissions. They are also much safer, with multiple air bags, electronic driver's aids and features such as anti-lock brakes and built-in child seats. Fuel economy is excellent, thanks to the use of lightweight materials and engine technologies that can get more horsepower out of smaller displacement blocks.
There are a number of distinctive flavors of wagon available on the market today. Compact wagons which resemble extended hatchbacks are a popular option from brands such as Toyota, Scion and Honda, while European manufacturers like Audi and BMW tend to base their vehicles on their sport sedans, giving their wagons a performance-oriented feel. Subaru and Volvo, who never stopped believing in the potential of their wagons have been refining their offerings for generations, and some domestic manufacturers have gone back to their muscle-era roots to once again produce vehicles which combine serious interior room with the rumble of a V8 under the hood.
The three wagons in this article represent a cross-section of some of the best options out there on the used market in terms of capacity, performance and quality.
2005 - 2007 Volvo V50
The smallest, and newest wagon available from Volvo, the V50 is the latest in a line of solid people movers from the Swedish company whose 240 wagon defined an automotive generation. The V50 is built on the same platform as the Mazda3, and features all of the standard safety equipment that Volvo has become known for: side impact and side curtain airbags, seatbelt pre-tensioners, traction control and anti-lock brakes which use managed brake force distribution to ensure quick and controlled stops.
The V50's compact exterior hides a significant degree of interior space. 27 cubic feet of cargo room is available behind the rear seats, and when all but the driver's seat is folded down that number expands to an incredible 62 cubic feet. These numbers make it competitive with several larger crossovers. The vehicle's seating room is excellent, and the Volvo benefits from dash controls for the heating system and stereo that are quite attractive and easy to use.
The Volvo V50 is linked to the S60 sedan in the sense that they share a similar drivetrain. The car can be equipped with either a 170 horsepower, 2.4-liter five-cylinder engine or a 2.5-liter turbocharged five-cylinder which churns out 218 horsepower and 236 lb-ft of torque. When equipped with a six-speed manual transmission and all-wheel drive, the T5 turbocharged V50 is a blast to drive, whether it is filled to the brim with children, camping gear or a load of groceries.
For buyers looking to step out of the ordinary and pick up a used wagon that has a sports sedan flavor, the 2005-2007 Volvo V50 is an excellent choice. With good fuel economy, a firm suspension and excellent cargo room packed into a tight little package, the V50 is capable of hanging in there with much more expensive German options.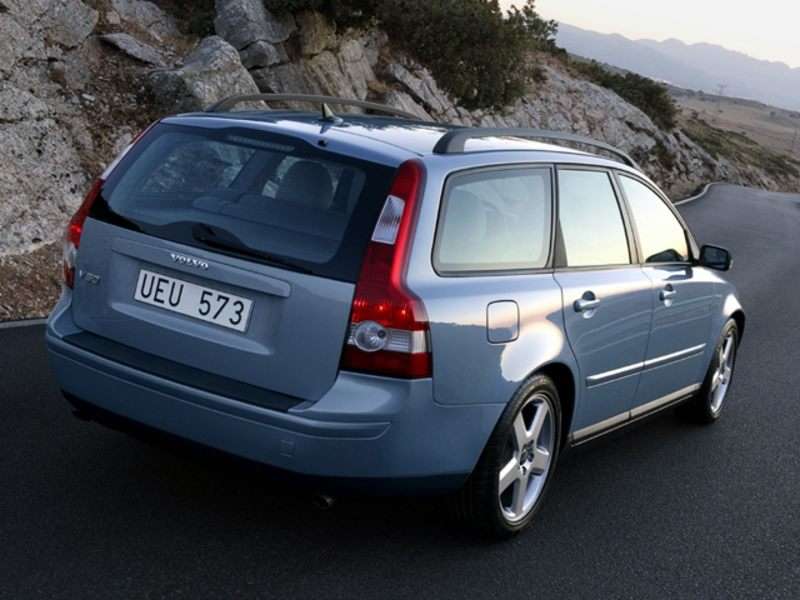 2005 - 2007 Subaru Legacy
Since it first came onto the scene in 1989, the Subaru Legacy has proven to be a popular choice amongst those shopping for a mid-size wagon. Subaru has consistently offered wagons alongside their sedans, and they have remained dedicated to positioning their all-wheel drive platforms as an alternative to sport-utility vehicles. One of the primary reasons for selecting a Subaru wagon over any other is the excellent stability and traction provided by this all-wheel drive system. Given that wagons are so often asked to carry precious cargo in the form of children and loved ones, this added safety feature is quite valuable, especially to those who live in northern climates.
The Legacy wagon was re-designed in 2005 in order to take advantage of some of the most advanced power plants ever to make it inside a production Subaru. The Legacy was initially offered with a 2.5-liter, 168 horsepower four-cylinder engine that makes use of what Subaru calls Active Valve Control, their version of variable-valve timing. Buyers can also upgrade to the Legacy GT which adds a turbocharger and bumps power up to 250 horses. Each engine can be matched with a five-speed manual transmission, and a Sportshift automatic is also available. In 2007, a 3.0-liter V-6 making the same power as the turbo four-cylinder was added to the line
The Legacy's reserved exterior good looks give way to a passenger compartment which is noticeably improved over the previous generation of vehicle, with higher quality materials used in the dash and door panels. Subaru has positioned the Legacy as being a step up over what buyers would normally expect in this class of vehicle in terms of equipment and fit and finish, and the effort is appreciated. The cargo area of the wagon is generous and rear passenger room is good.
The 2005-2007 Legacy wagon is one of the most solid, year-round forms of family transportation that can be found on the used car market.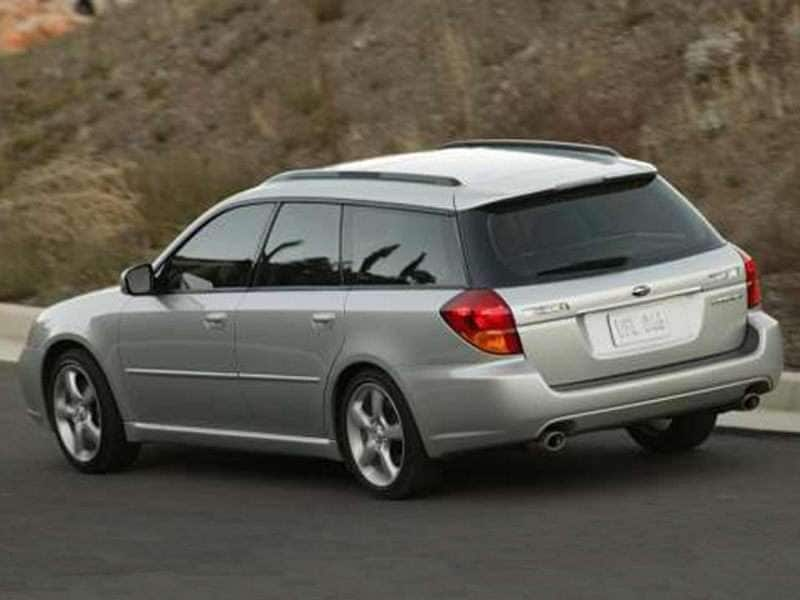 2005-2007 Dodge Magnum
The full-size Dodge Magnum might at first seem like a throwback: a domestic wagon with a broad, aggressive front end and muscular flanks, available with tire-scorching V-8 power. However, upon closer inspection the Magnum turns out to be a far more carefully thought out vehicle than other wagons to have come out of Detroit. Built on the same platform as the award-winning Chrysler 300, the Magnum eschews the long overhangs and boat-like handling of its ancestors and instead offers all of the space of a full-size with none of the traditional drawbacks.
There are 71 cubic feet of cargo space waiting to be used inside the Magnum once the rear seats have been folded down. Even with the seats up, the Magnum provides a low loading floor that is easy to fill with all manner of gear, and practical storage bins and compartments are scattered throughout the interior. Rear passengers enjoy almost as much space as those in the front seats, and all seats are comfortable and supportive.
Underneath the hood, the range of power and efficiency offered by the Dodge Magnum helps to set it apart from other wagons. The base model is equipped with a 2.7-liter V-6 that makes 190 horsepower and gets 21 miles per gallon in town and 28 on the highway. Also on the options list are a 250 horsepower, 3.5-liter V-6 and a fire-breathing 340 horsepower Hemi V-8. Not only does the Hemi provide extraordinary performance, but cylinder de-activation technology allows the V-8-equipped Magnum to average 24 miles per gallon in highway driving. The wagon is also available with all-wheel drive.
With so much power, space and genre-busting good looks, the Dodge Magnum is one of the most attractive full-size wagons on the used market. It is difficult to find a wagon with a similar level of performance for the same price as this glittering example from the Chrysler corporation.