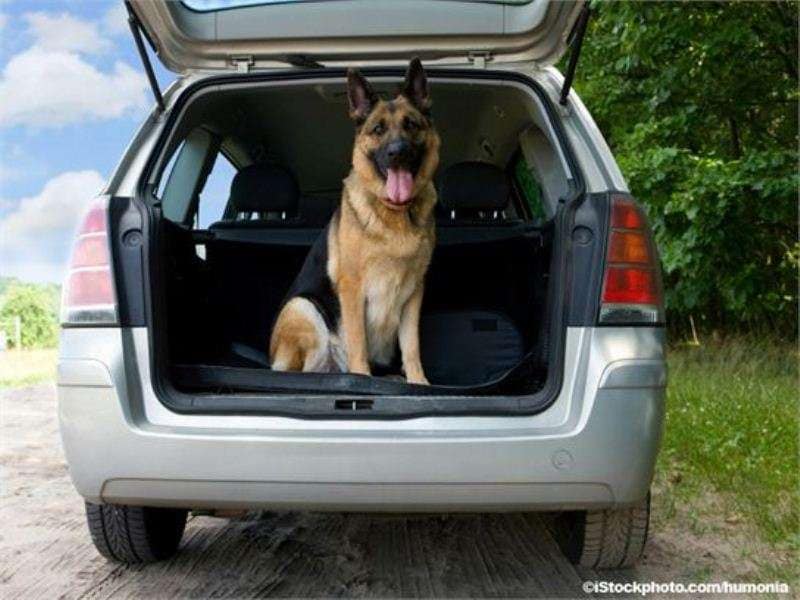 As families hit the road for summer vacation or just weekends away, many of them are taking their dogs along with them. That's why we turned to our friends at DogCars.com, the automotive and travel site for dog-lovers, to come up with a list of top canine carriers. The site's automotive review team focuses on the vehicle's attributes from the viewpoint of a dog owner and rates each vehicle by numbers of paws on a 1-5 scale.
Seats that fold flat or are easily removable. Plenty of usable cargo space relative to the size of the vehicle. Wide, square backs, with as little rear slope as possible, to make the most of the cargo area. Door and window locks, so a dog can't accidentally unlock a door or roll down a window. All-wheel or four-wheel drive and high ground clearance is preferred.
Co-written by: Dr. Marty Becker Photos: Respective manufacturers
Page 2
Proving that good things do come in small packages, the newly redesigned Toyota Matrix is a dynamic DogCar in a compact, pup-pleasing profile. Sharing many of the same mechanics as the Toyota Corolla, the Matrix comes in three versions: a base level front-wheel-drive, small four-cylinder model, an all-wheel-drive with larger engine and a sporty version. Cargo volume is more than adequate for its size while fuel mileage is economical. $20,400 20/26 61.5 cubic feet
Full review at Dogcars.com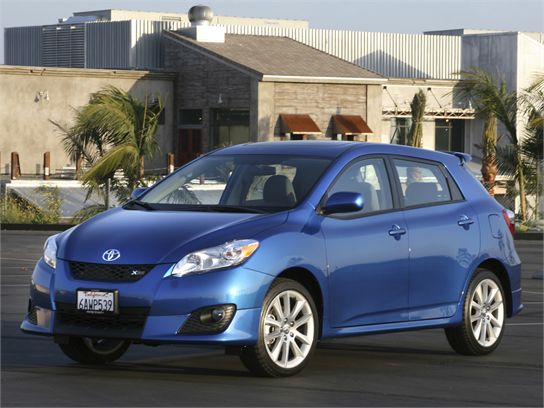 Page 2
Ford's terrific triplets — the Escape, Mercury Mariner and Mazda Tribute – offer on and off-road versatility, with moderate fuel mileage and fold-flat seats for canine crates. While they may look different on the outside, their breeding and heritage is the same.
$28,825 20/28 66.3 cubic feet
Full review at Dogcars.com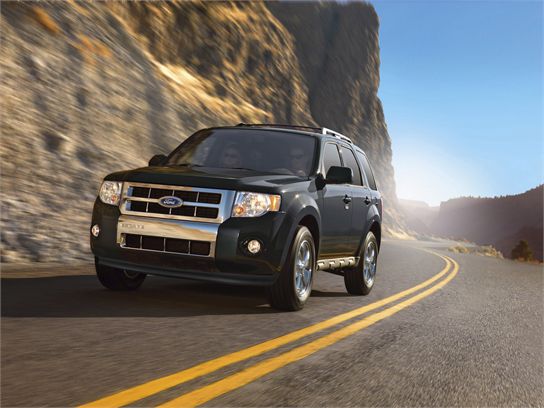 Page 2
Mitsubishi has gained quite a bit of a following among dog lovers with its versatile and stylish Outlander SUV. Its Cargo space is deceptively roomy and well-shaped, without the sloping rear that ruins it on many other SUVs. The seats flip forward to open it all up, and the bottom of the rear gate flips down, giving dogs a good landing pad when entering. $29,000 18/23 72.6 cubic feet
Full review at Dogcars.com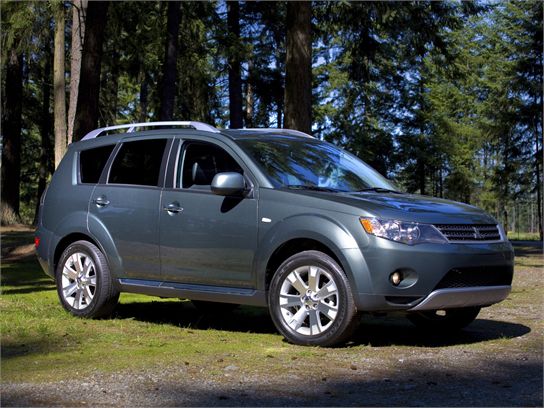 Page 2
The Element is an exceptional DogCar, but it gets even better in 2010 with the addition of a special dog-friendly model that includes a raise dog bed and a hideaway ramp in the rear. The Element has clamshell rear doors with glass that opens up for ventilation and the tailgate flipping down to make a great seat. The rear Cargo area is easy to clean after being marred by muddy paws
$23,110 22/27 77.1 cubic feet
Full review at Dogcars.com

Page 2
In the crowded midsize SUV market, this Pilot flies above the rest, each with its own dog-friendly qualities. The Honda Pilot was been redesigned for '09 and got even better, with a squared off rear to better handle large dog crates. 33,595 17/23 87 cubic feet
Full review at Dogcars.com

Page 2
Suzuki's XL7 is a rugged rig that features fold-flat second and third row seats for flexibility when securing crates and carrying Cargo. As one reader suggested, the XL7 can handle multiple dogs. "I love mine, it fits two border collies and a Jack Russell and agility equipment wonderfully!" $22,899 18/24 95 cubic feet
Full review at Dogcars.com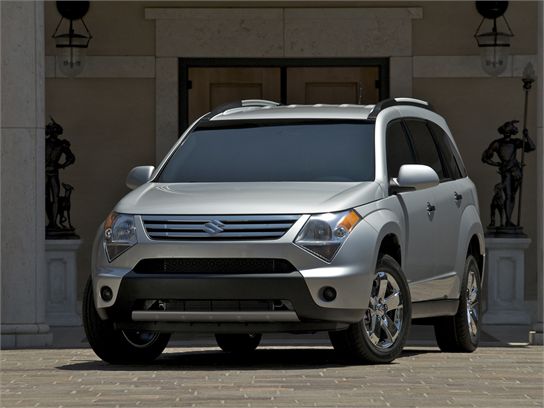 Page 2
The Hyundai Santa Fe features a sporty design that adds style and remarkable handling to its list of canine capabilities at a great value for an SUV. The rear Cargo area is squared off to make headroom for the optional third row seats, making great for small and medium-sized dog crates and barriers. And the Santa Fe's second row climate controls help keep your pups cozy without roasting the driver too. $21,690 21/26 79.3 cubic feet
Full review at Dogcars.com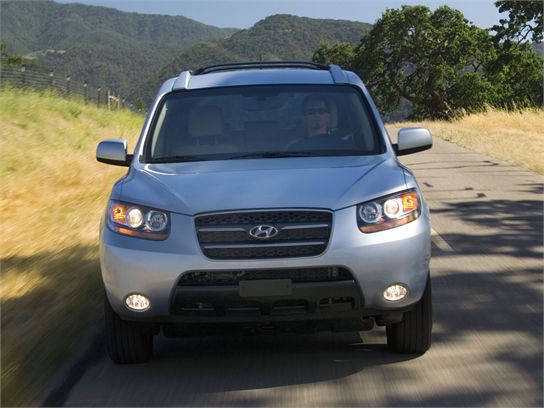 Page 2
Toyota designed the Venza to be dedicated to the safety needs of our four-legged friends. Resembling a pregnant dachshund (minus the tail), the Venza is a wagon-like SUV that satisfies the DogCar requirement for ease of accessibility with a low ground clearance, yet doesn't give up much in its off-road ability because it features all-wheel-drive and the seats fold flat and firm enough to provide plenty of room for canine Cargo. $27,800 19/26 70.1 cubic feet
Full review at Dogcars.com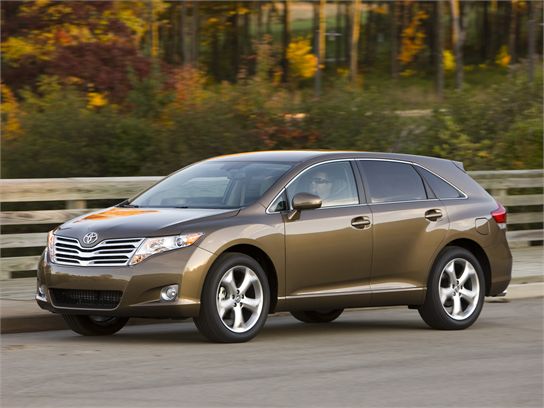 Page 2
The newly redesigned Subaru Forester is a great ride for four-legged family members who love to frequent snow and mud on a regular basis. Toss in the leather interior and a turbo-powered engine, and you are assured of a fun ride as well. The rear seats fold flat neatly and easily and the Forester is tall enough to take a single large dog crate. $25,995 20/27 64.5 cubic feet
Full review at Dogcars.com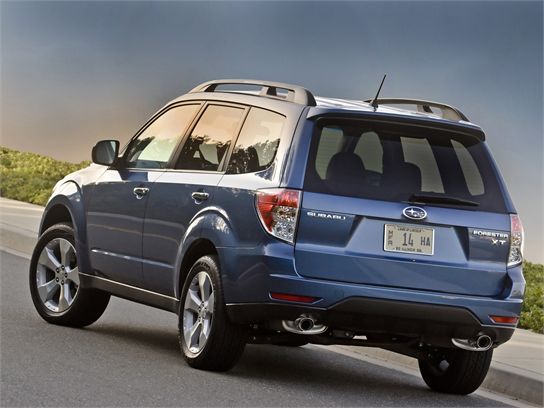 Page 2
The Volvo XC70 is comfortable, stylish, fairly economical and a bunch of fun to drive. Plus, it easily handles all dog mobile demands for space and utility. This is more than puppy love, it's the real deal. $44,065 15/22 72.1 cubic feet
Full review at Dogcars.com