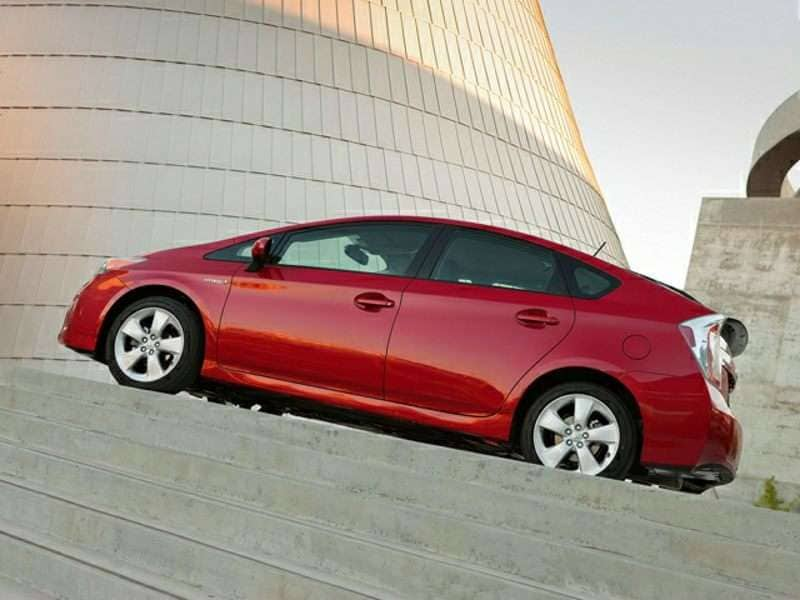 The vast majority of the passenger cars available in the United States feature a front-wheel drive layout. Front-wheel drive is the drivetrain design of choice for a variety of reasons: it helps with packaging (no driveshaft means greater interior room), it allows for shorter hoods (due to transversely mounted engines), and it provides greater efficiencies due to reduced parasitic drag. Most buyers don't really put too much stock into which wheels drive a car as long as the vehicle in question offers great fuel economy, plenty of interior room, and a comfortable driving experience. That being said, to illustrate just how prevalent front-wheel drive has become in the industry, we've put together a look at the best front-wheel drive cars currently available. These ten models aren't a comprehensive list of front-wheel drive front-runners, but they represent some of the most appealing vehicles in their respective classes.
1) 2015 Toyota Avalon
The 2015 Toyota Avalon is the Japanese brand's pitch to make an often-overlooked full-size sedan appealing to a younger demographic. The large Toyota Avalon recently adopted more aggressive styling, while not completely abandoning the dignity that has been a hallmark of previous generations of the car. The Avalon is positioned as a comfortable, semi-premium option for those not interested in shelling out mega-bucks for a European competitor, and it comes with a host of updated features, including a fresh suite of active safety gear. Under the hood, buyers can choose between either a 3.5-liter V-6 good for 268 horsepower, or a hybrid setup composed of a 2.5-liter, four-cylinder engine and single electric motor that together deliver 200 horses and 40 mpg in combined fuel mileage.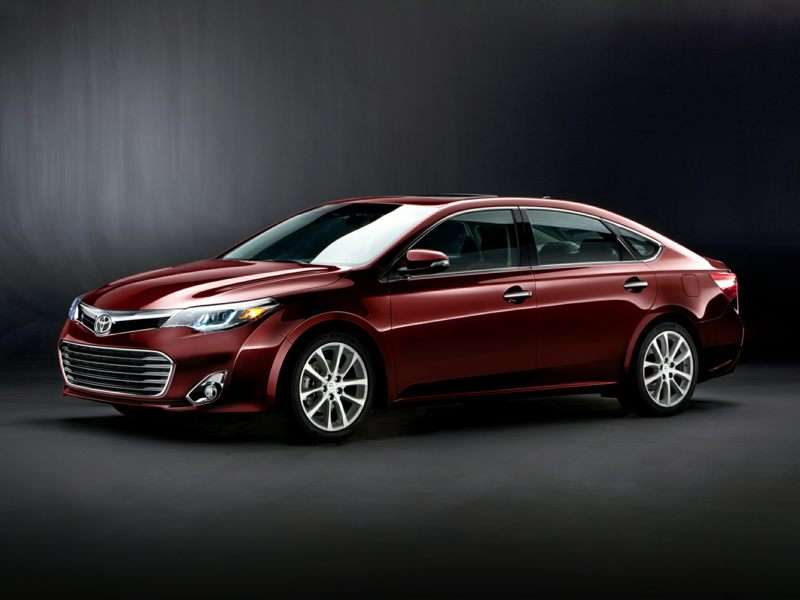 2) 2015 Volkswagen Passat
The 2015 Volkswagen Passat is a mid-size sedan that is available in a surprising array of different editions and drivetrain options. The family-oriented Volkswagen Passat is initially offered with a turbocharged 1.8-liter, four-cylinder engine that is good for 170 horsepower, but drivers can choose to upgrade to a 3.6-liter V-6 engine that comes with 280 ponies and 258 lb-ft of torque.  Somewhere in the middle is VW's ultra-efficient 2.0-liter turbodiesel four-cylinder engine that develops 150 horsepower and 236 lb-ft of torque on its way to fuel mileage figures of 30 mpg city and 42 mpg on the highway. The Passat is notable for being available with a six-speed manual transmission in both base trim and diesel editions, with a six-speed automatic and a six-speed dual-clutch automated manual also in the cards for the sedan.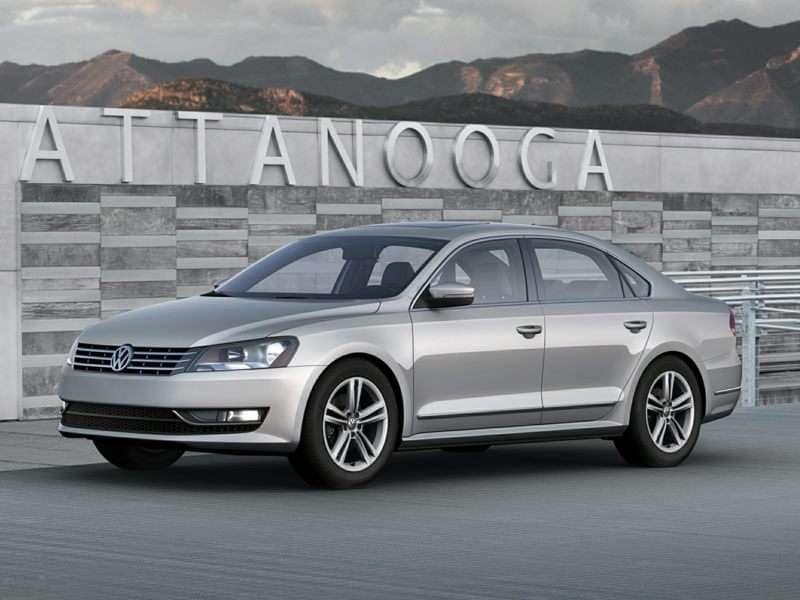 3) 2015 Ford Fusion
The 2015 Ford Fusion has earned a reputation as both a competent family cruiser and an affordable fashion plate. Dramatic looks aside, the Ford Fusion also abandons V-6 engines in order to go with a lineup composed entirely of four-cylinder gasoline and hybrid models. Most versions of the Fusion feature a 175-horsepower, 2.5-liter mill, but a turbocharged 2.0-liter four-cylinder EcoBoost unit provides 231 horses and 270 lb-ft of torque. Both versions of the Fusion return well over 30 mpg in highway driving, and are paired to a six-speed automatic transmission.
Photo by Ford
4) 2015 Chevrolet Cruze
The 2015 Chevrolet Cruze packages excellent efficiency in an comely compact sedan package, making the Bowtie-wearing brand competitive in the entry-level sphere for the first time in decades. The base 1.8-liter, four-cylinder motor provided with the Cruze generates the same horsepower (138) as the 1.4-liter four-cylinder also available with the car, but the latter returns better fuel mileage (up to 42 mpg highway) and more torque (148 lb-ft) thanks to the magic of turbocharging. For the 2015 model year, Chevy's treated the Cruze to an exterior refresh.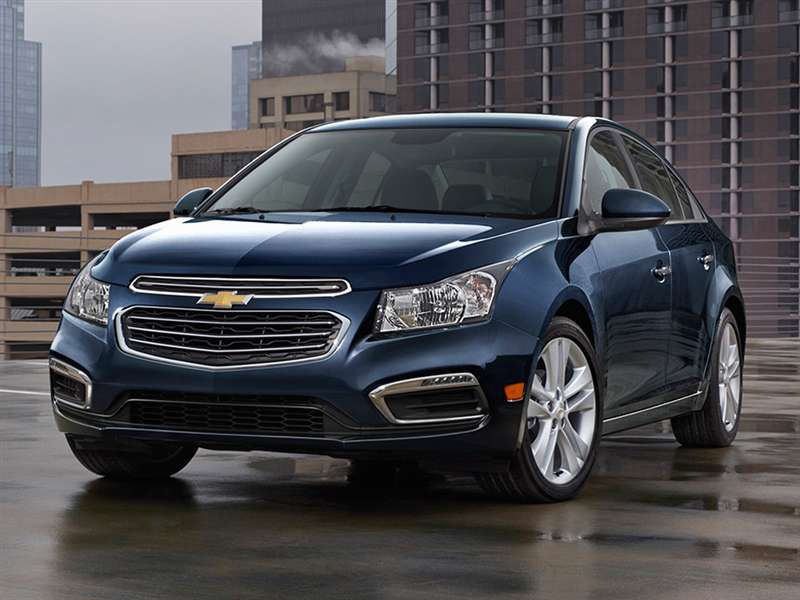 5) 2015 Hyundai Sonata
Redesigned for 2015, the Hyundai Sonata has attracted significant attention in the mid-size front wheel drive car segment thanks to its high-value bundling of features and standard equipment into an inexpensive range of trim levels. The Hyundai Sonata is also exciting to look at, which is an important factor in the family sedan market where style is increasingly emphasized. The Sonata delivers 178 horsepower (1.6-liter turbocharged four-cylinder), 185 horsepower (2.4-liter four-cylinder) or 245 horsepower (2.0-liter turbocharged four-cylinder) depending on which version of the car is selected. A six-speed automatic transmission is paired with the higher horsepower options, and the 178-horsepower Eco model gets a seven-speed automated manual.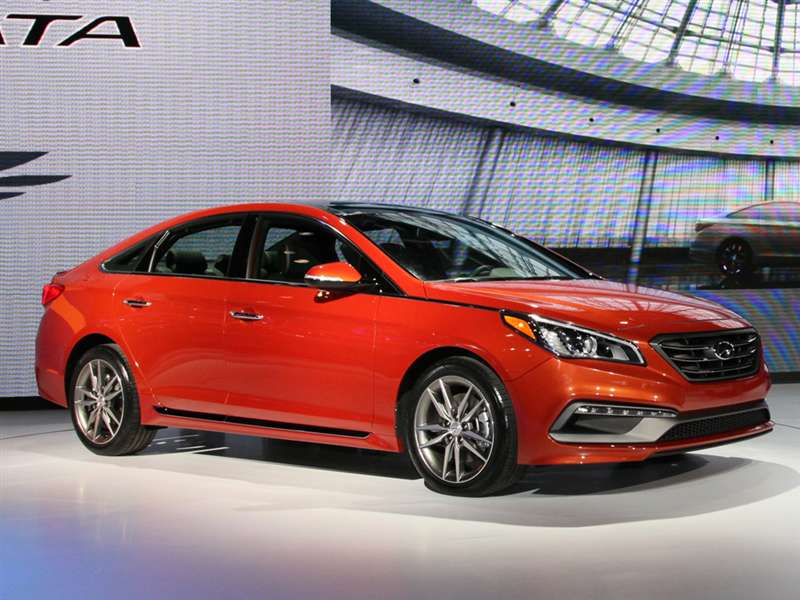 6) 2015 Toyota Camry
The 2015 Toyota Camry is up against stiff competition when compared against the modern crop of mid-size family sedans, including several of the models listed in this article. This is one of the main reasons as to why the Toyota Camry was refreshed for 2015 in order to remain at the top of the food chain in terms of North American auto sales. The Camry's strength lies in its ability to please the widest possible demographic of buyers: young and old, couples with kids and singles, men and women all love the Toyota's inoffensive looks, comfortable, spacious interior, and excellent fuel economy. Four-cylinder and V-6 power (with the latter offering 268 ponies) and the availability of a hybrid model also gives potential Camry buyers a good selection of drivetrains to choose from.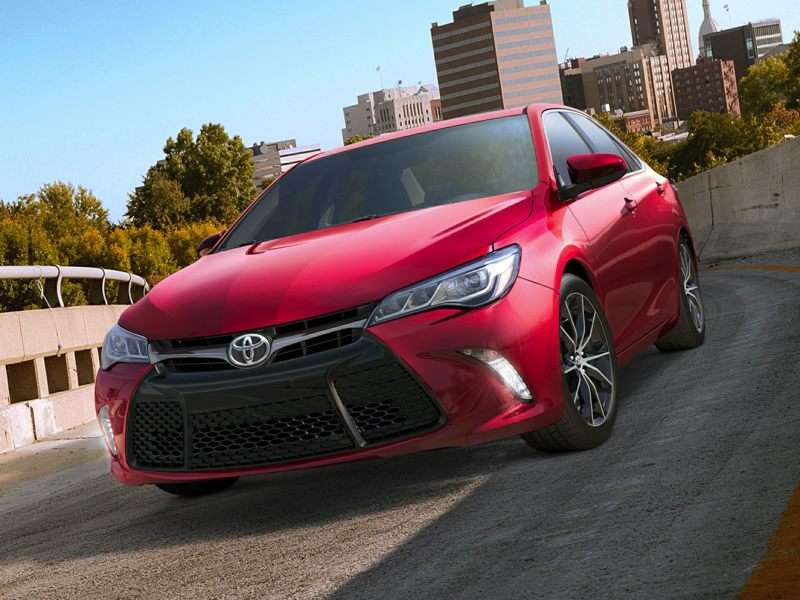 7) 2015 Nissan Altima
The 2015 Nissan Altima is hot on the heels of its number one rival, the Toyota Camry. The Nissan Altima used to be known for its sportier handling, but it now rides on a plusher chassis in order to further build credibility amongst comfort-seeking drivers. The Altima is enormous inside, and it can be had with an impressively-advanced continuously variable automatic transmission that allows the car to return 38 mpg in city driving when ordered with its 2.5-liter, 182-horsepower four-cylinder base engine. Even its 270-horsepower, 3.5-liter V-6 provides reasonably frugal mileage of 32 mpg during highway cruising thanks to the CVT magic.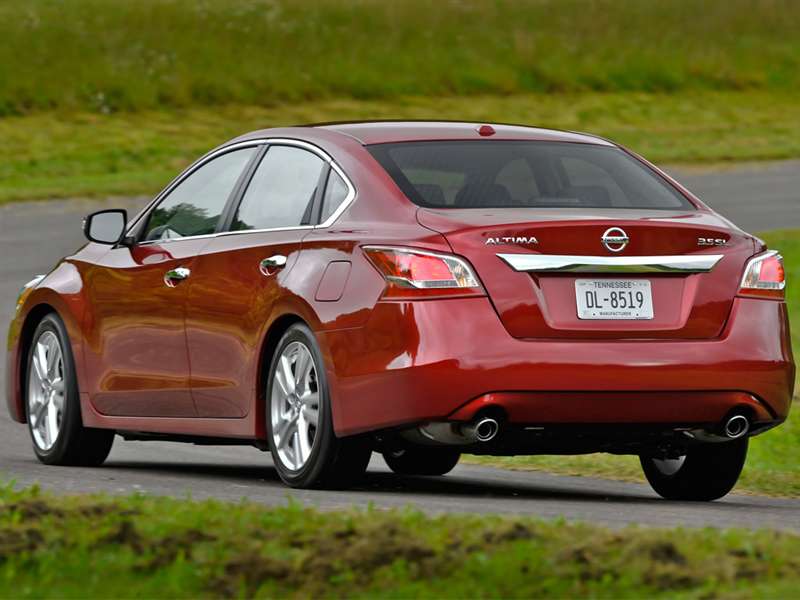 8) 2015 Volkswagen GTI
The 2015 Volkswagen GTI is perhaps the best-handling front wheel drive car currently on the market. The compact hatchback can be had in both two- and four-door editions, and it delivers a connected ride with plenty of steering feedback and a suspension system that keeps the car pointed in the right direction without rattling one's molars out of their sockets in the process. The GTI's only available engine is a 2.0-liter, four-cylinder that delivers 210 horsepower (or 220 with the optional performance package) and 258 lb-ft of torque thanks to the efforts of a turbocharger, and it can be paired with either a traditional six-speed automatic transmission or a lightning-quick dual-clutch automated manual gearbox.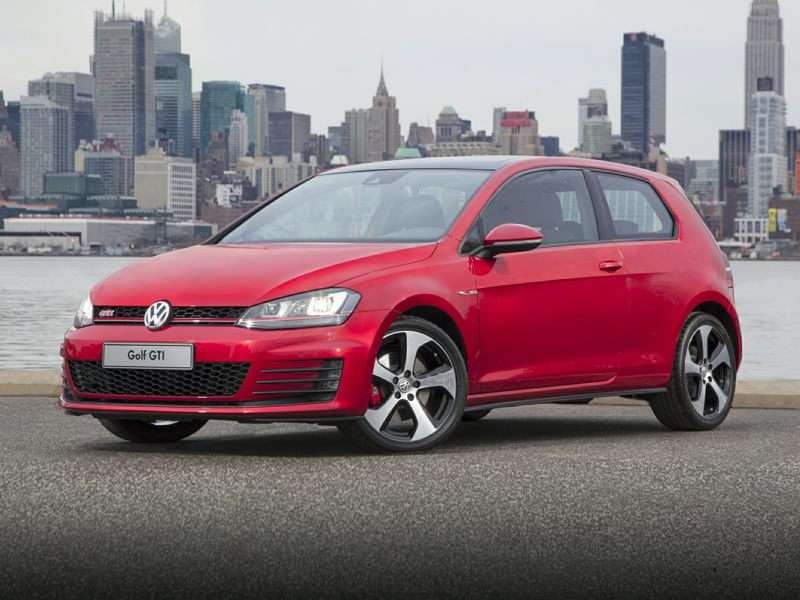 9) 2015 Lexus ES
The 2015 Lexus ES is a luxury car that doesn't make pretensions to sporty handling, but instead delivers an exceptionally quiet interior, a cornucopia of premium features, and a compliant chassis that aims to insulate riders from the outside world. The ES is also a decent driver, whether it be on a longer trip or a short commute, and its modern styling gives it a visual edge missing on past models. The Lexus can be had in Hybrid trim or with a 268-horsepower, 3.5-liter V-6 lurking between the front fenders.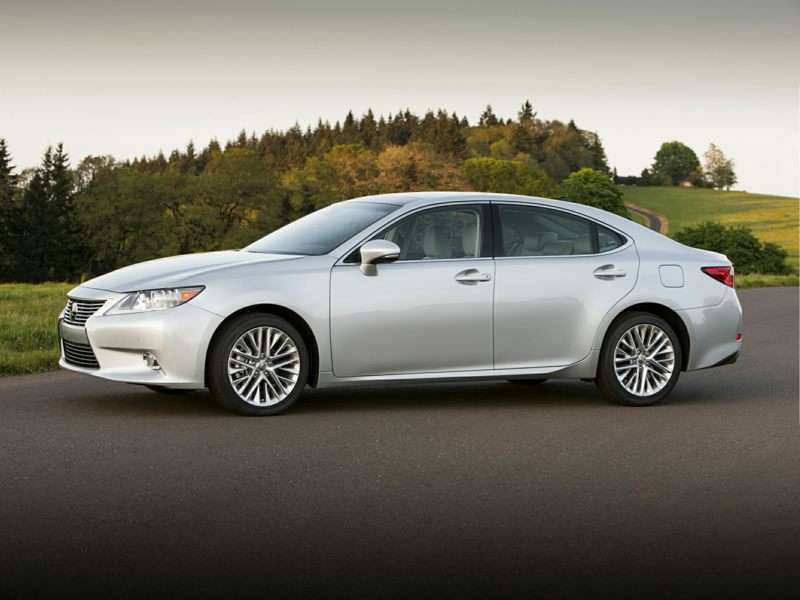 10) 2015 Toyota Prius
The 2015 Toyota Prius is the latest edition of the iconic hybrid hatchback that taught Americans how to fall in love with a battery-powered car. Making use of the latest Hybrid Synergy Drive system from Toyota, the Toyota Prius offers 134 horsepower from its 1.8-liter, four-cylinder gasoline engine and team of two electric motors. Fuel mileage for the hatchback shows as 51 mpg around town and 48 mpg highway, but beyond its exceptional fuel efficiency, the Prius is now available with a raft of high end gear that allows buyers to deck it out to near-luxury levels in terms of features and equipment.