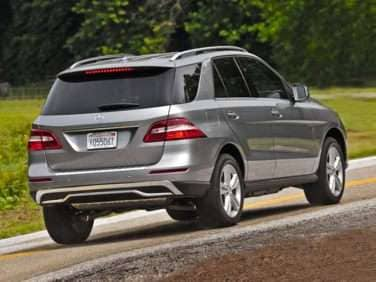 Wealthy people know that one of the ways to remain rich is to live well within your means, and to retain as much liquidity for investing as you can. Some relax such self-imposed constraints when it comes to spending money on a home, a vacation, a meal, or consumer goods such as a new sport-utility vehicle, accepting that swapping cash for a more enjoyable life is a worthwhile trade-off. But that doesn't mean one ought to spend unnecessarily in the process.
Take luxury SUVs, for example. Consumers shopping this class of vehicle can choose from a wide range of models spanning from compact crossovers to huge 8-passenger behemoths. As with any vehicle purchase, luxury SUV buyers frequently pick a model that meets their lifestyle requirements. Often, however, they do not.
We're not naïve enough to think that luxury SUV buyers would go broke over the estimated $4,650 cost of annually filling a Mercedes-Benz G550's tank, so the reason consumers might seek guidance about the best MPG luxury SUVs for 2012 must be a different one, perhaps an altruistic one associated with the environment, or maybe a personal one reflecting a desire to visit as few gas stations as possible along the road of life.
Whatever the reason, Autobytel is here to help. We've done the research for you, and we can tell you that the best way to combine luxury and fuel efficiency in a high MPG luxury SUV for 2012 is to buy a Lexus RX 450h. It stands head-and-shoulders above the rest of the pack on any list of best MPG luxury sport utility vehicles for 2012, able to get up to 30 mpg in combined driving.
If you're not crazy about the Lexus, the next five contestants are all tied at 22 mpg in combined driving. On the pages that follow, we'll talk about the best MPG luxury SUV of 2012, and list the five runners-up in alphabetical order.
Best MPG Luxury SUVs for 2012: Lexus RX 450h
The numbers don't lie. If you're looking for the best MPG luxury SUV of 2012, this is it: the Lexus RX 450h. Rated to get 30 mpg in combined driving with front-wheel drive or 29 mpg with the optional all-wheel-drive system, the Lexus is capable of passing more gas pumps than any other luxury SUV in terms of miles traveled per gallon.
Don't construe these fuel economy ratings to mean that the Lexus RX 450h is a slow, underpowered SUV. On the contrary, the RX 450h is equipped with a 3.5-liter V6 engine and electric assist motors powered by a nickel-metal hydride battery pack to generate 295 horsepower – more than any other Lexus RX.
One way Lexus buyers can spend extra money on the RX 450h is to visit the options menu. Though well equipped in standard format, leather seats are included as part of the optional Premium Package, which also provides upgrades such as a power sunroof and a power tailgate. Comfort, Luxury, and Navigation option packages are also available, as well as a Mark Levinson audio system, a rear-seat entertainment system, intelligent cruise control with a Pre-Collision System, Intuitive Park Assist, and more.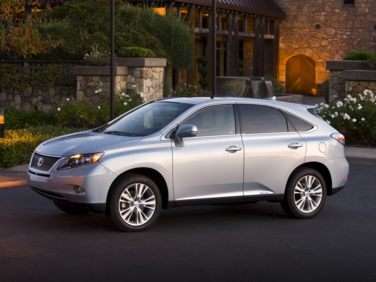 Best MPG Luxury SUVs for 2012: Audi Q5 2.0T
We understand. As popular as the Lexus RX is, it might not be quite to your personal tastes. If fuel economy is what you seek, one of the best MPG luxury SUV alternatives to the Lexus is this, the 2012 Audi Q5 2.0T.
Equipped with a turbocharged, 2.0-liter four-cylinder engine, the Q5 2.0T makes 211 horsepower and is rated to return 22 mpg in combined driving. The more important story with this powerplant, however, is torque. With 258 pound-feet of torque starting at just 1,500 rpm, you can better understand how the Q5 proves entertaining to drive in addition to being one of the best MPG sport utility vehicles of 2012. Plus, this Audi is all-weather capable thanks to its standard Quattro all-wheel drive.
Audi Q5 2.0T buyers can choose between Premium and Premium Plus trim levels. Triple-zone automatic climate control and leather-wrapped 12-way power front seats are standard, and the latter can be upgraded to a premium cut of hide. Additional extras include a Bang & Olufsen audio system, a panoramic sunroof, a power tailgate, a navigation system, a set of 19-inch aluminum wheels, and more.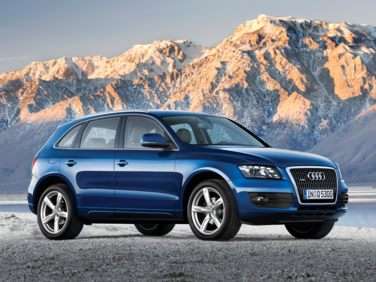 Best MPG Luxury SUVs for 2012: BMW X5 xDrive35d
The 2012 BMW X5 xDrive35d is a midsize luxury SUV equipped with all-wheel drive and a 3.0-liter, six-cylinder turbo-diesel engine. Like the much smaller and less powerful Audi, the BMW X5 xDrive35d gets 22 mpg in combined driving. Unlike the Audi, the X5 seats up to seven passengers while doing so. And that makes it the only three-row SUV on our list of high MPG luxury SUVs for 2012.
The X5 xDrive35d's 3.0-liter turbo-diesel generates 265 horsepower. Again, the key metric here is torque, 425 pound-feet of the stuff between 1,750 and 2,250 rpm. That's enough to get the X5's hefty 5,192 pounds to 60 mph in less than seven seconds.
Leather, 10-way power heated front seats, a panoramic sunroof, and free maintenance for the first four years or 50,000 miles of ownership are included as standard equipment. Option packages add features such as a premium sound system, upgraded leather, ventilated front seats, a massaging driver's seat, a navigation system, four-zone climate control, a rear-seat entertainment system, and more.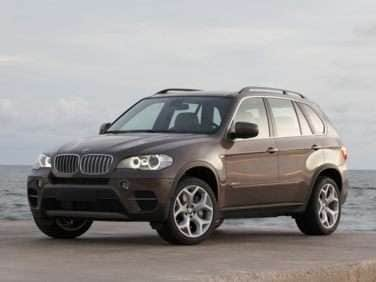 Best MPG Luxury SUVs for 2012: Lincoln MKX
If you're willing to forego all-wheel drive, the Lincoln MKX makes the list of the best MPG luxury SUVs for 2012. The MKX is an oft-overlooked luxury crossover, and we think the problem is related to the fact that its basis upon the Ford Edge isn't easily masked. Nevertheless, the relatively rare Lincoln MKX is a good choice for luxury SUV buyers seeking to drive something different from what's parked in everyone else's driveway.
The MKX features a 3.7-liter V6 engine generating 305 horsepower, making it the most of any SUV on this list. Oh, and check this out: the six-speed automatic transmission includes paddle shifters.
The Lincoln's options list isn't very long, which means most features are standard. If you want to spend extra money, the Premium Package provides a number of convenience and safety items as well as upgraded Bridge of Weir leather, heated rear seats, and a heated steering wheel. Otherwise, the only significant options are a panoramic sunroof, a navigation system, a THX II Certified audio system, and Adaptive Cruise Control with collision warning and brake support.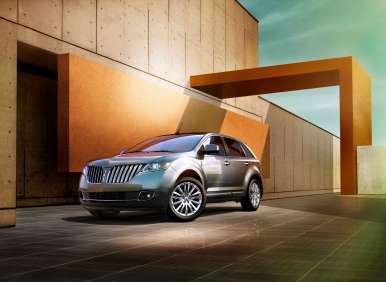 Best MPG Luxury SUVs for 2012: Mercedes-Benz ML350 BlueTec 4Matic
For 2012, Mercedes-Benz redesigned the M-Class, and rolled out a revamped ML350 BlueTec 4Matic equipped with more powerful turbo-diesel V6 engine than before, bolted to a new seven-speed automatic transmission. Despite the power upgrade, however, the ML350 BlueTec remains one of the best MPG luxury SUVs for 2012, returning 22 mpg in combined driving.
The new 3.0-liter turbo-diesel V6 generates 240 horsepower, which is not very impressive on the surface. As with the BMW X5, the key specification for the Benz is its 455 pound-feet of stump-pulling torque peaking between 1,600 and 2,400 rpm.
As a luxury SUV, the Mercedes M-Class is nicely equipped right out of the box. Unless you want real leather, that is. For that, you've got to upgrade. Additional options include a navigation system, a premium sound system, a panoramic sunroof, a rear-seat entertainment system, and a long list of safety and convenience features that can rapidly inflate the ML350 BlueTec's price tag.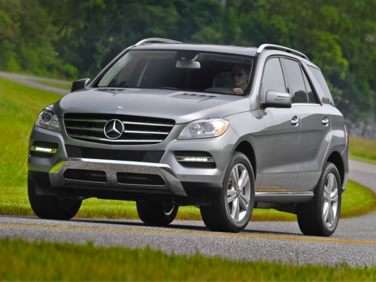 Best MPG Luxury SUVs for 2012: Volkswagen Touareg TDI
We thought twice about including the Volkswagen Touareg TDI on this list. After all, VW isn't a luxury brand. However, the Touareg certainly is a luxury SUV, one that shares its underlying engineering with the Porsche Cayenne. Unlike the Cayenne, however, the VW Touareg TDI Clean Diesel qualifies for our list of the best MPG luxury SUVs for 2012, thanks to its fuel economy rating of 22 mpg in combined driving.
Here's why: it has a 3.0-liter turbo-diesel V6 making 225 horsepower and an impressive 406 pound-feet of torque between 1,750 and 2,250 rpm, making this version of the Touareg feel particularly powerful when accelerating or driving around town. Volkswagen's 4Motion four-wheel drive and an eight-speed automatic transmission are standard, and Volkswagen claims that the TDI has a highway driving range of greater than 725 miles.
As for meeting the luxury portion of the standard, it's true that aside from a free maintenance program for the first three years or 36,000 miles of ownership, the standard Sport model isn't very well equipped. Moving up to the appropriately named Lux model, however, supplies real wood interior trim, leather seats, 12-way power front seats, and a panoramic sunroof. The Executive model takes equipment levels a step further with keyless entry and ignition, a heated steering wheel, heated front and rear seats, and a 620-watt Dynaudio premium sound system.