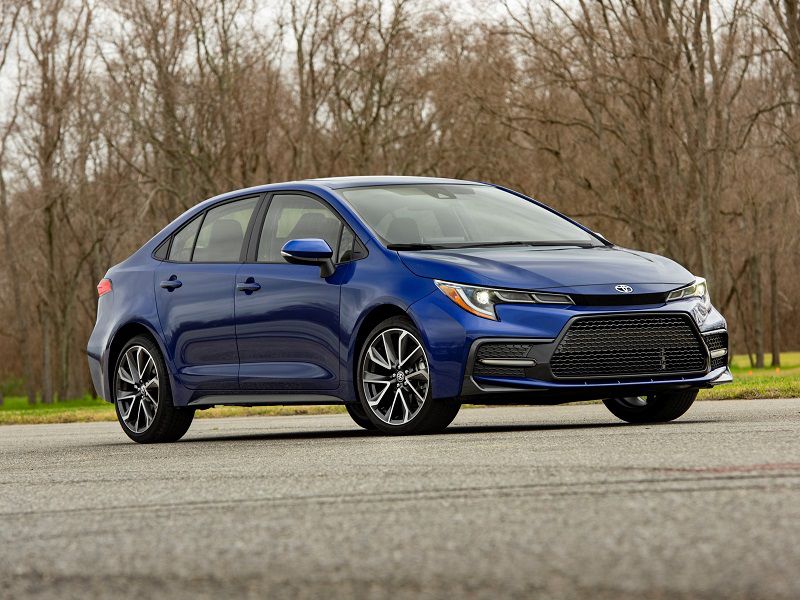 2020 Toyota Corolla sedan ・ Photo by Toyota
Sedans aren't as popular as they once were, so your choices are more limited today than they were just a few years ago. Some automakers are eliminating sedans altogether to focus on crossovers, SUVs, and trucks... but not Toyota. It still has a good selection of sedans to choose from with something for every buyer.
There are gas, hybrid, plug-in hybrid, and even hydrogen fuel cell sedans from Toyota. Here's a look at the full Toyota sedan lineup so you can choose the best one for you.
2021 Toyota Avalon
The Toyota Avalon is the flagship of the Toyota sedan lineup. This year's big news is the addition of available all-wheel drive, making it a great choice for those who live in colder climates. It's available in seven trims with either a V6 or 4-cylinder engine. This upscale sedan has a well-equipped interior at every trim level. It also gets good fuel economy with an EPA-estimated 22 mpg in the city and 23 mpg on the highway in select trims.
There are also three Avalon Hybrid trims from which to choose. These increase fuel economy estimates up to 43 mpg in the city and 44 mpg on the highway. The 2021 Toyota Avalon is priced from $35,975 to $43,400.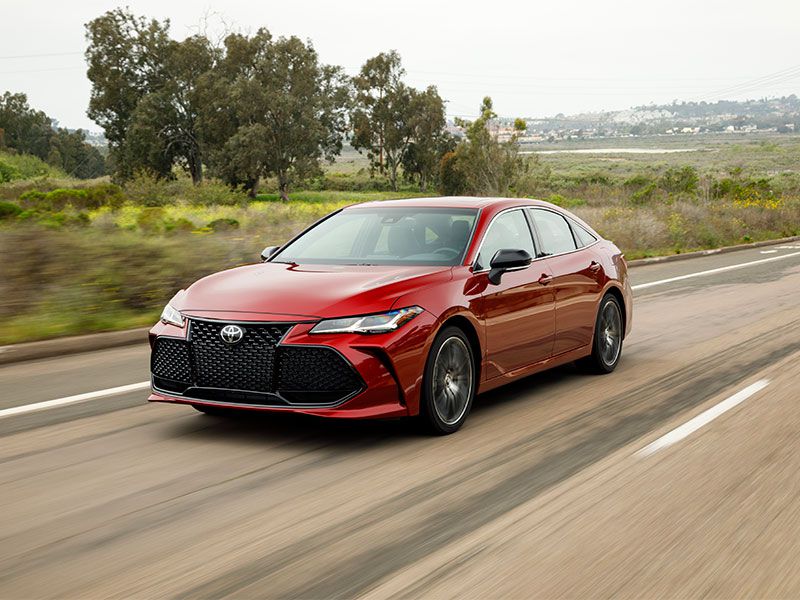 Photo by Toyota
2021 Toyota Camry
The Toyota Camry has a spacious interior and a wide range of trims, so it's easy to find the features you want at an affordable price. You can choose between a 2.5-liter 4-cylinder with 203 horsepower or a 3.5-liter V6 with 301 horsepower. Standard safety features include pre-collision system with pedestrian detection, lane departure alert with steering assist, and lane tracing assist. There's also a choice of front-wheel or all-wheel drive.
Fuel economy figures are good with up to 28 mpg in the city and 39 mpg on the highway with the 2.5-liter. There's also the Camry Hybrid, which gets up to 51 mpg in the city and 53 mpg on the highway. Pricing for the 2021 Toyota Camry ranges from $24,970 to $35,545.
Photo by Toyota
2022 Toyota Corolla
The Toyota Corolla is a compact sedan that sits just below the Camry. It has ample standard safety features and a range of eight trims. There are two engine options and two transmissions, including a 6-speed manual, which is something that's increasingly hard to find. Despite being a smaller sedan, the Corolla has plenty of room for five adults. It also has a spacious trunk with 13.1-cubic feet for cargo.
The Corolla gets good fuel economy with up to 31 mpg in the city and 40 mpg on the highway, or you can go with the Corolla Hybrid. It gets 53 mpg in the city and 52 mpg on the highway. Pricing for the Corolla ranges from $20,025 to $26,310.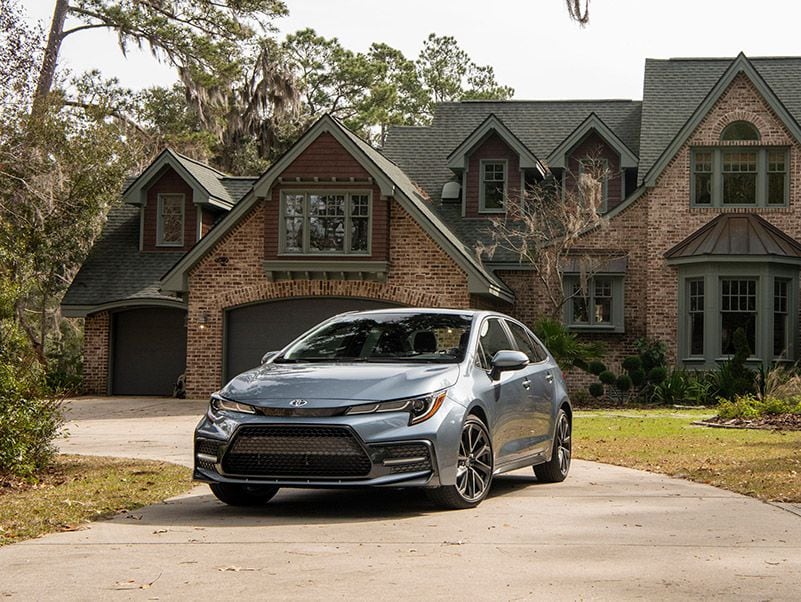 Photo by Toyota
2021 Toyota Prius
The Toyota Prius is one of the most recognizable names in hybrids. This five-door liftback has room for five people and has great cargo versatility. Its liftback design accommodates large and bulky items that won't fit in sedans with a traditional trunk. There's 27.4 cubic feet behind the rear seats or 50.7 cubic feet with the rear seats folded. In addition, the Prius is available with all-wheel drive.
It's hard to beat the Prius for fuel economy. It gets up to an EPA-estimated 58 mpg in the city and 53 mpg on the highway making it a great choice for commuters. Pricing for the Prius ranges from $24,525 to $32,650.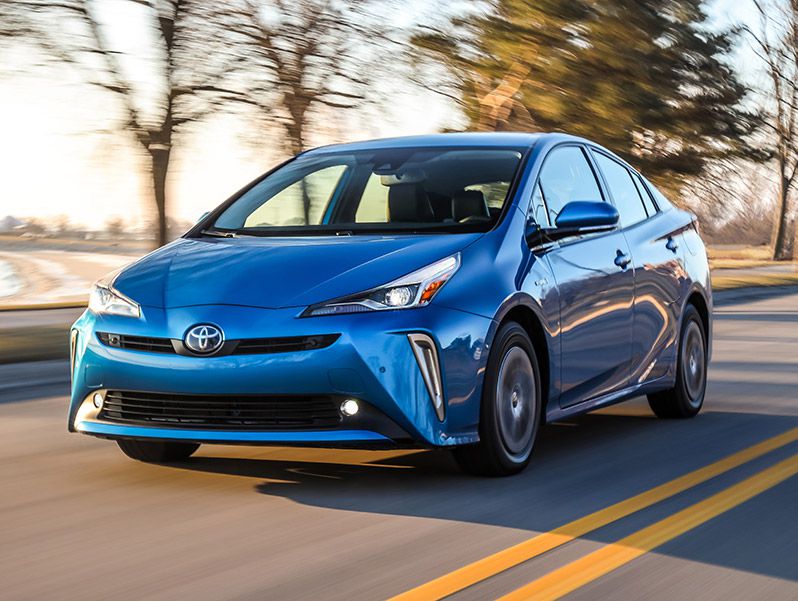 Photo by Toyota
2022 Toyota Prius Prime
The Prius Prime expanded the Prius lineup to include a plug-in hybrid option. It offers the same liftback flexibility of the Prius but with only 19.8 cubic feet behind the rear seats. Available in three trims, the Prius Prime has a 640-mile range that includes 25 miles of all-electric driving when fully charged. At a standard 120-volt outlet, fully charging the Prius Prime takes 5.5 hours. Plug-in to a 240-volt and that time drops to about two hours.
The EPA estimates that the Prius Prime will get 133 mpge combined gas and electric fuel economy. Pricing ranges from $28,220 to $34,000.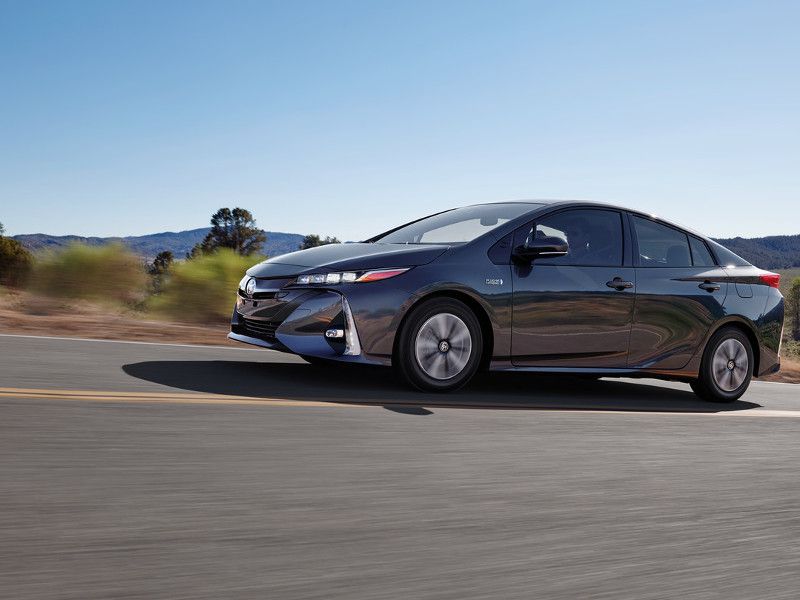 Photo by Toyota
2021 Toyota Mirai
The final sedan on our list is the Toyota Mirai, which is all-new for the 2021 model year. This hydrogen fuel cell vehicle has a range of up to 402 miles. It also comes with up to $15,000 of hydrogen fuel when purchased or leased. The Mirai is a luxurious sedan available in just two trims, both with standard power front seats, dual-zone automatic climate control, premium 12-speaker JBL audio system, and 12.3-inch infotainment touchscreen.
The Mirai has quite a limited availability, so you won't find it nationwide. Currently, it's only sold in California and Hawaii. Pricing for the 2021 Toyota Mirai ranges from $49,500 to $66,000.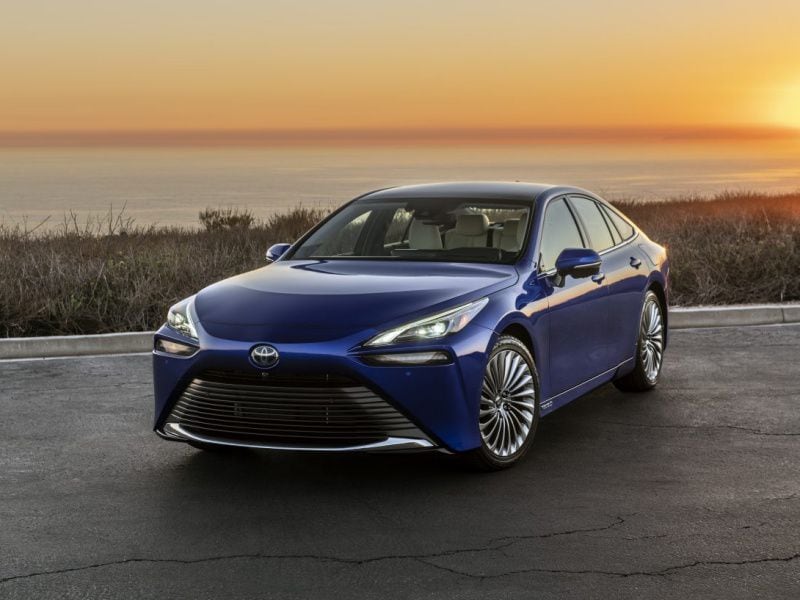 Photo by Toyota