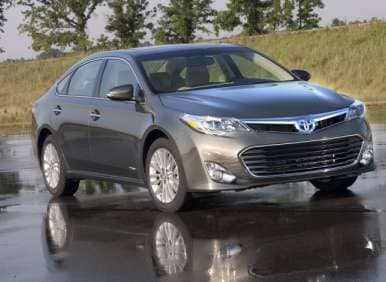 The country's top seller of hybrids is adding another green arrow to its quiver: the 2013 Toyota Avalon. Along with a full-on redesign, Toyota's full-size near-luxury sedan will offer a Hybrid Synergy Drive projected to deliver EPA marks of 40 mpg city/39 mpg highway/40 mpg combined. Of course, that's in addition to a standard V6 that will deliver 31 mpg highway and 0-60 times of under 7 seconds.
The party line from Toyota: "The new Avalon features a stunning design, improved dynamic performance, a greater degree of refinement, and a highly spacious, comfortable interior experience with an abundance of outstanding convenience technologies."
2013 Toyota Avalon: Sorting the Sixes
The standard setup on the new 2013 Toyota Avalon starts with the same proven 3.5-liter V6 engine found in the 2012 model, delivering 268 hp and 248 lb.-ft. of torque. And while it doesn't deliver cutting-edge technologies like direct injection or continuously variable valve timing, engineers were able to squeeze out some worthwhile improvements in fuel economy from its transmission. First, they added a lock-up control feature that keeps the engine spinning at an efficient speed during takeoff, and then they cooked up a transmission-fluid warmer that keeps said fluid at its optimum operating temperature. Thanks to upgrades like these—and a changed final drive-gear ratio—the Avalon jumps from last year's EPA line of 19 mpg city/28 mpg highway/23 mpg combined up to 21 mpg city/31 mpg highway/25 mpg combined for the new model year.
That will give the Avalon the best fuel-efficiency in its class, and compares to the following top rivals with their standard V6 powertrains:
Ford Taurus—19 mpg city/29 mpg highway/23 mpg combined
Hyundai Azera—20 mpg city/29 mpg highway/23 mpg combined
Nissan Maxima—19 mpg city/26 mpg highway/22 mpg combined
Chrysler 300—18 mpg city/27 mpg highway/21 mpg combined
Notably, drivers will also be able to custom-tailor the Avalon for their own preferred mix of fuel-economy and driving dynamics by using the car's multi-mode drive technology, offering "ECO," "NORMAL" and "SPORT" driving modes.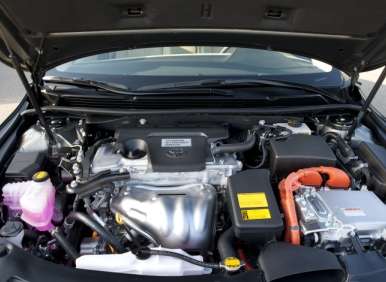 2013 Toyota Avalon: Full-size Fuel Economy
The re-energized full-size sedan segment has begun building steady marketplace momentum in recent months, with a chief reason for this being the increased attention it's received from automakers. Companies have launched a number of new entries here, and some sort of premium green powertrain has become de rigueur for most credible competitors. And that's where the Avalon Hybrid makes its mark. As the only full hybrid in its class, the Toyota is far and away the most efficient choice overall, with EPA grades that are projected to reach 40 mpg city/39 mpg highway/40 mpg combined.
 As for the Avalon's chief rivals, the Buick LaCrosse can reach 25 mpg city/36 mpg highway/29 mpg combined with its eAssist mild hybrid system, and the Chrysler offers an eight-speed automatic transmission that lifts the 300 to 19 mpg city/31 mpg highway/23 mpg combined. Ford also recently announced the 2013 Ford Taurus would boast an available 2.0-liter EcoBoost I4 that makes it "the class leader in large sedan city and highway fuel economy." However, although the Blue Ovaldid release a 32-mpg highway figure, neither the company nor the EPA itself has gone to the trouble of revealing the other numbers at the time this story was written.
Pricing and other details of the 2013 Toyota Avalon and 2013 Toyota Avalon Hybrid will be released in the near future.