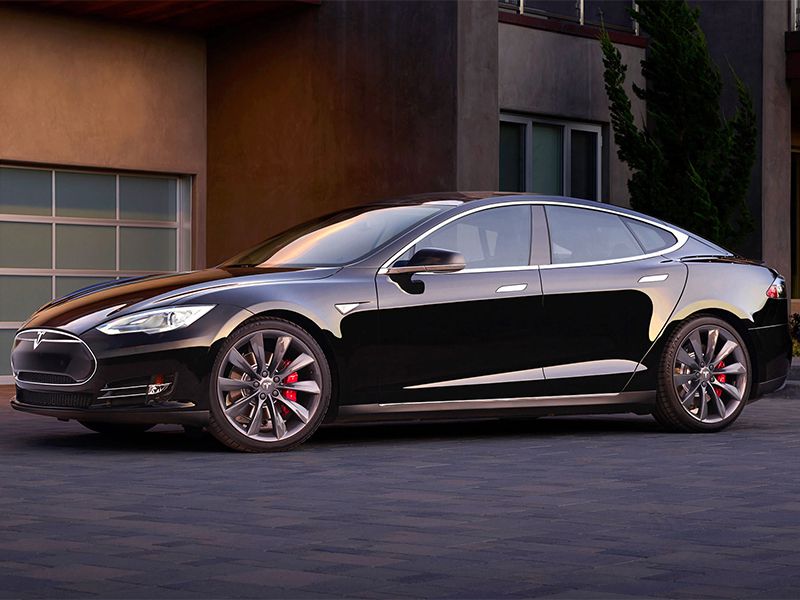 2016 Tesla Model S hero ・ Photo by Tesla
Soon there will be more than 9 electric luxury cars. Jaguar and Aston Martin are just two high-end manufacturers looking to cool relations with the gasoline pump. But that may not be until the end of this decade. In the meantime, a buyer's choice is more limited. So it's not a bad idea to widen the search from purely electric and include some plug-in hybrids. Don't forget that even though these eco-friendly luxury cars require a significant initial outlay, there are federal and state incentives to offset the cost, along with the joy of either never having to buy gasoline again, or at least spending appreciably less. Solo use of the car pool lane might also be a possibility.
2017 Audi A3 Sportback E-tron
This luxury compact hatchback receives some updates for 2017. As well as some styling tweaks, the standard equipment list now includes extra safety features like forward collision mitigation, while rear cross-traffic alert and Audi's excellent Virtual Cockpit configurable instrument cluster become available. The E-tron part refers to the plug-in hybrid drivetrain, which can cover 16 miles in pure electric vehicle mode. The lithium-ion battery takes 2.5 hours to recharge when connected to a 240-volt supply. There's also the option of saving battery power for later in the journey, plus a "glide" mode for long downhill stretches. Although the car world is usually super-competitive, the 2017 Audi A3 Sportback E-tron is in its own little niche.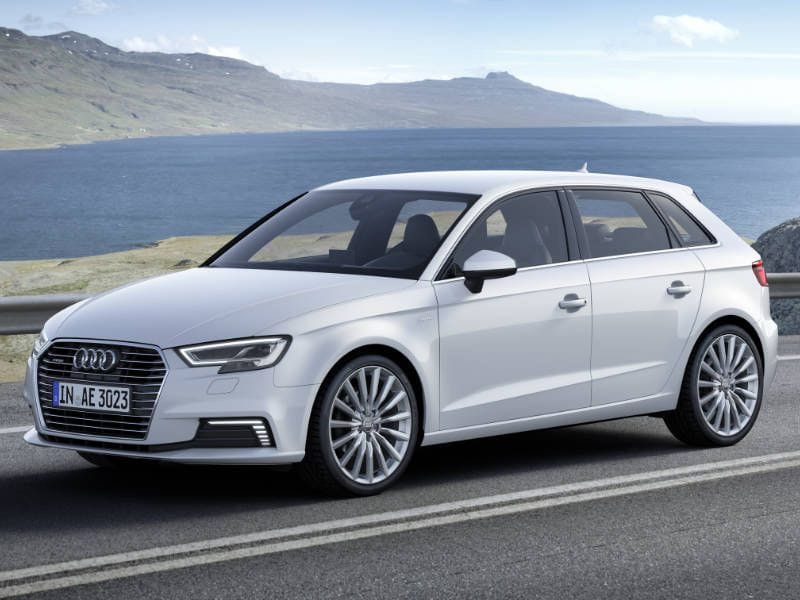 Photo by Audi
2017 BMW i3
An update for the 2017 model year brings a new 94 amp/hour battery, increasing the range to 114 miles. A fast charger completes its task in just four hours. The i3 also offers a range-extended version using a small combustion engine (basically a BMW motorcycle unit) as an onboard generator. Although it comes from a luxury marque, the 2017 BMW i3 isn't exactly plush. Instead, it uses sustainable materials for the cabin (like bamboo wood trim) and less common materials in its unconventional construction (aluminum and carbon fiber). But it still exhibits some enjoyable BMW-like driving manners and an undeniable class. The cabin is also exceptionally roomy for a compact car and the elevated driving position will find plenty of fans.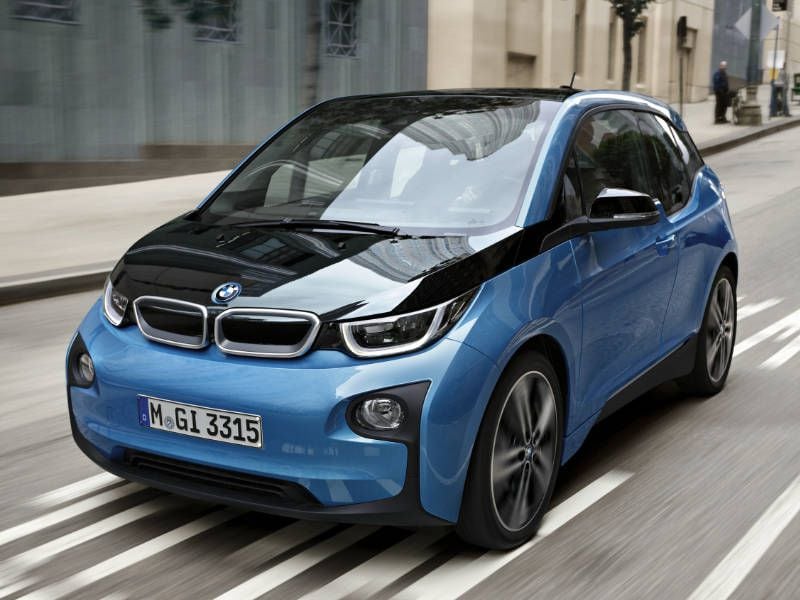 Photo by BMW
2017 Cadillac CT6 Plug-In
The 2017 Cadillac CT6 is the American luxury brand's newest flagship sedan, so it offers plenty of cutting-edge car tech. The Plug-In also comes with, unsurprisingly, plug-in hybrid hardware. Although it has two electric motors as well as a turbocharged 2.0-liter/4-cylinder combustion engine, only the rear wheels are driven. Cadillac says this CT6 has an electric-only range of 31 miles, while combined fuel consumption works out to the equivalent of 62 mpg. With a 240-volt charger, it takes 4.5 hours to re-energize the battery pack. The 2017 Cadillac CT6 PLUG-IN is also an extremely well-equipped version, with advanced features like rear cross-traffic alert, night vision, and a 360-degree camera system as standard.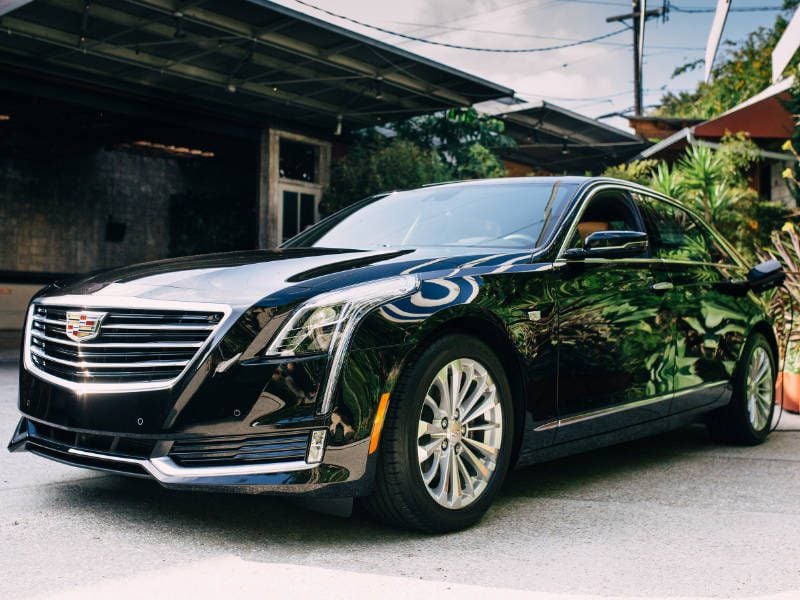 Photo by Cadillac
2017 Mercedes-Benz B250e
Like the BMW i3, the 2017 Mercedes-Benz B-Class is more of an electric car from a luxury marque than an out-and-out luxury car with battery power. But it's still pretty nice in the cabin. A roomy yet compact hatchback that rides a little higher than usual, this is the only version of the B-Class brought into the United States. As such, it feels more like an obligation to emissions regulations, or perhaps an experiment, rather than a valued part of the portfolio. And despite the battery pack coming from Tesla, it's also something of a Version 1.0 in the world of electric vehicles, with a range of only 87 miles. The fast charging will allow you to find something else to do for 3.5 hours.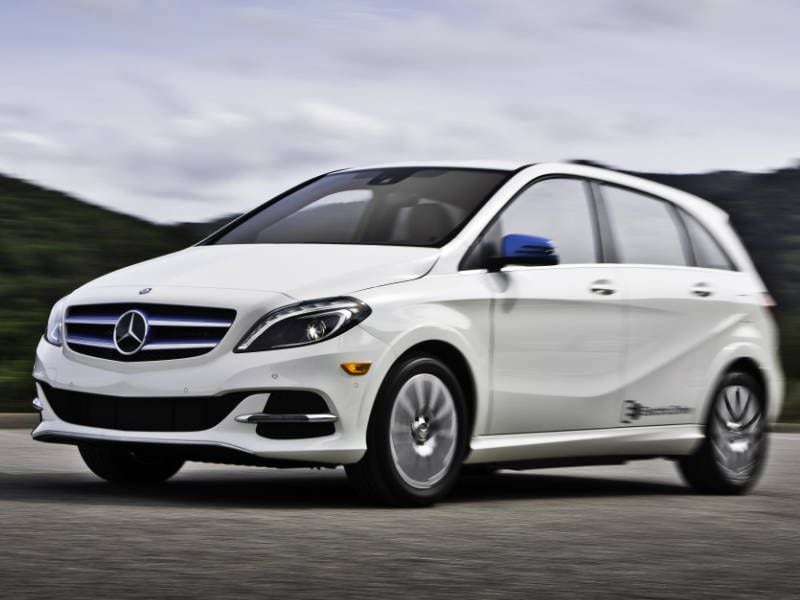 Photo by Mercedes-Benz
2018 Porsche Panamera 4 e-Hybrid
When the 2018 Panamera luxury sedan/hatchback hits the dealers (summer 2017), it will be the second year of the second generation. Coming in on this wave will be the 2018 Porsche Panamera 4 E-Hybrid. The 4 in the name indicates all-wheel drive as standard. The best part, though, is the muscular 516 lb-ft of torque that sparks the sprint from standstill to 60 mph in just 4.4 seconds. As well as an electric-only range of 31 miles, this car can hit 86 mph on lithium-ion battery power alone. When the turbocharged V6 engine kicks in, 172 mph is possible. So plug-in hybrids can also be fun. Adding to its luxury credentials, an air suspension also comes as standard equipment.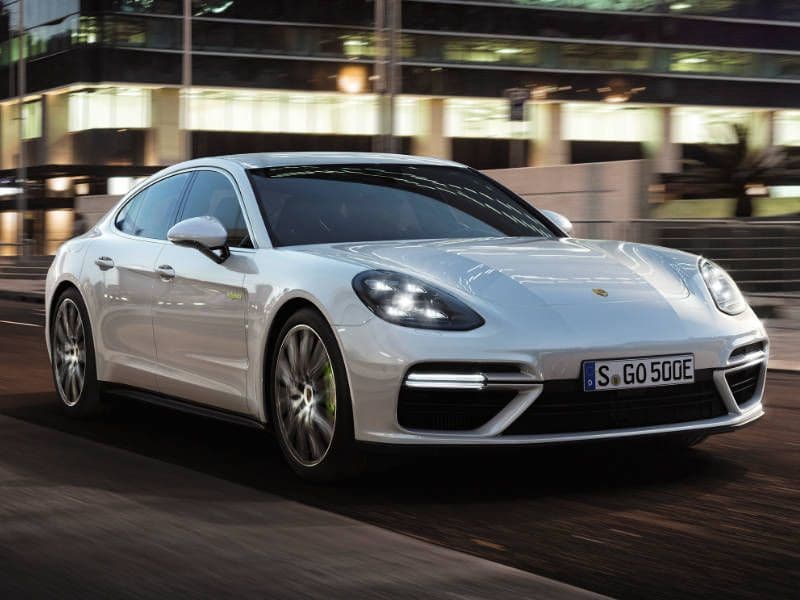 Photo by Porsche
2017 Tesla Model S
While the established car makers are still getting their electric acts together, Tesla remains the dominant creator of luxury cars powered solely by batteries. There are semi-autonomous driving features to complement the excellent acceleration, plus retracting door handles, wi-fi, a powered tailgate, medical-grade cabin air filtration, and a huge 17-inch touchscreen. Even the lowliest Model S, the 75, has a range of 265 miles, while the range-topping 2017 Tesla Model S P100D can cover more than 300 miles. Using a Tesla supercharger to fully recharge the P100D takes only 1.25 hours. Tesla also offers solar panels for homes, meaning clean sources of electricity, both for the car and the cooker.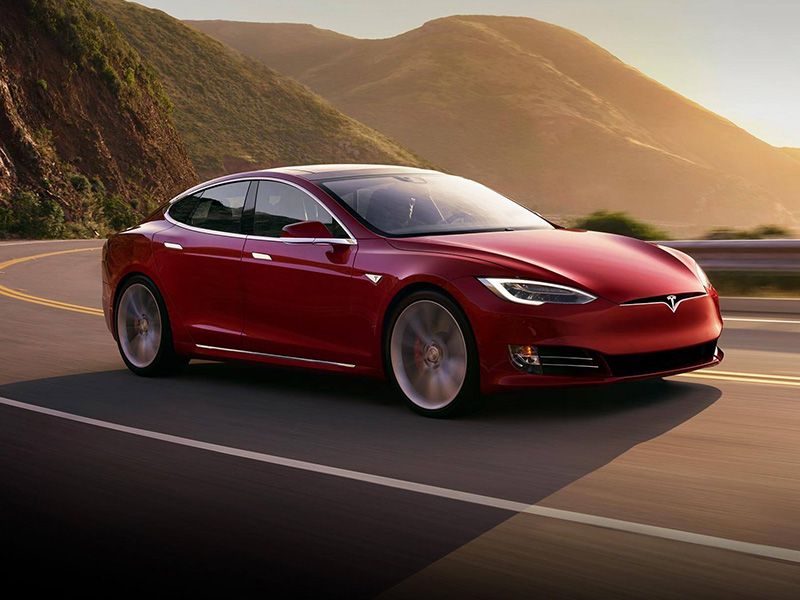 Photo by Tesla
2017 Tesla Model X
Pardon the double entry of Tesla vehicles. The 2017 Tesla Model X might also be considered a crossover instead of a car because it's roomy, with seating for up to seven, and has all-wheel drive as standard. But honestly, who would take this off-road? The P90D version can travel up to 295 miles on a fully charged battery. And it's not just about those "falcon wing" passenger doors, even if they are clever pieces of engineering. Sit in the Model X, and it's impossible not to notice the huge windshield, which brings excellent outward vision. Stowage is an important issue for family cars, and the front trunk (where the engine would go in a regular car) can take a couple of strollers.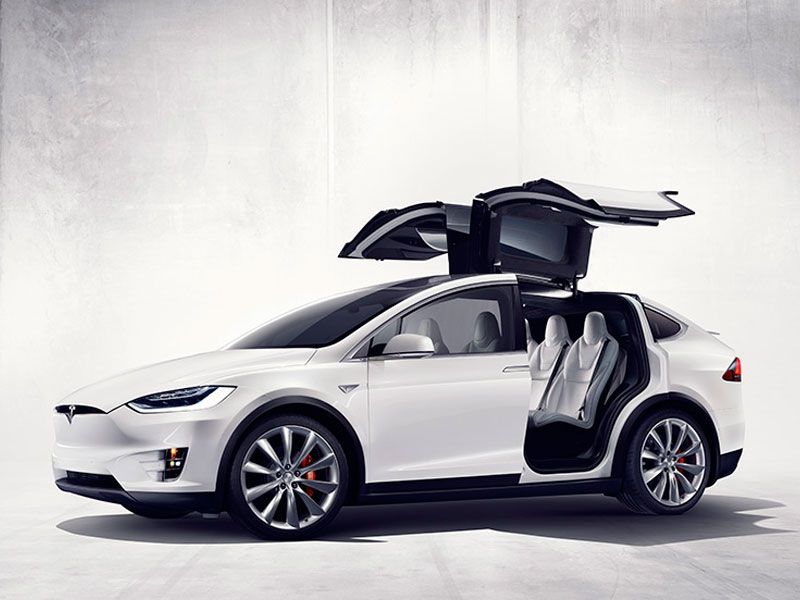 Photo by Tesla
2018 Volvo S90 T8 Twin Engine
Two things are new about the 2018 Volvo S90 luxury sedan for the new model year. It has a longer wheelbase than the 2017 version, giving the car an extra 4.5 inches of rear legroom for an impressive total of 40.5 inches. And the number of trim levels has expanded to include the T8 Twin Engine, which is Volvo's way of saying "plug-in hybrid." This setup pairs a 2.0-liter/4-cylinder engine that is both supercharged and turbocharged with an electric motor powered by a lithium-ion battery. System output is 400 hp, driving all four wheels as standard. There are no consumption figures yet, but the same drivetrain in the XC90 SUV averages out at the equivalent of 53 mpg.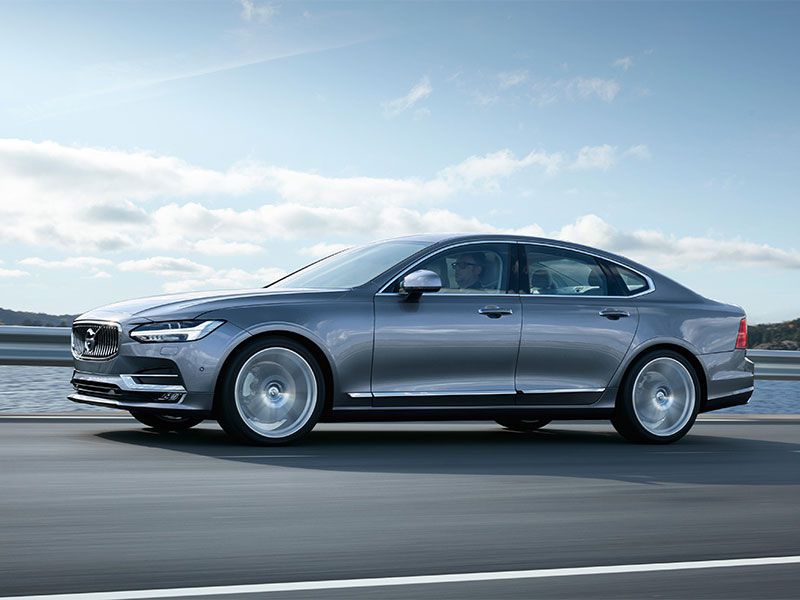 Photo by Volvo
2017 Volvo XC90 T8 Twin Engine
The Volvo XC90 T8 is the only 7-seater crossover that is also a plug-in hybrid. So far. The BMW X5, for example, has to ditch its third seating row to accommodate the extra hardware. But the XC90 large luxury crossover is based on a platform designed to accept different drivetrains. The setup includes a 2.0-liter/4-cylinder combustion engine with a supercharger and a turbocharger, plus two electric motors — one of which drives the rear axle for all-wheel drive. The EPA estimates a combined consumption of 54 MPGe (impressive for a 400-hp vehicle) and a range of 14 miles using just the lithium-ion battery pack. Recharge time is 2.5 hours using a 220-volt source.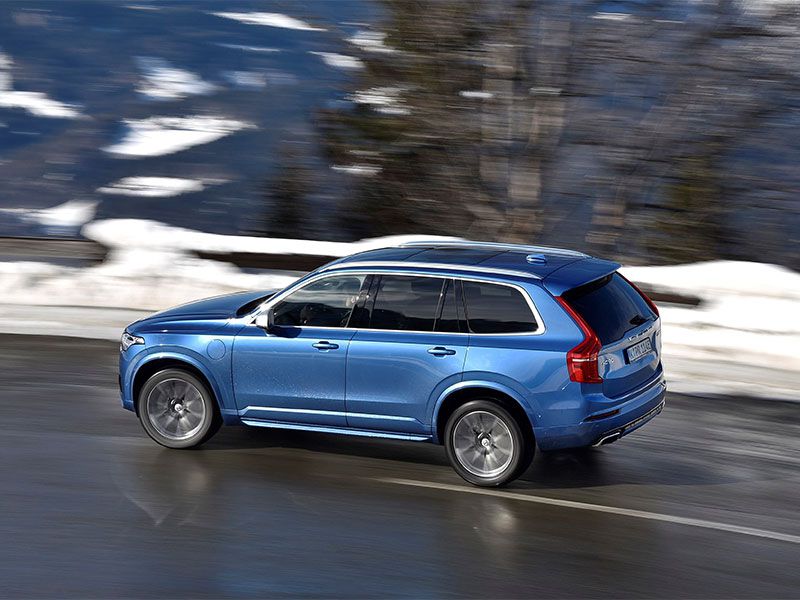 Photo by Volvo