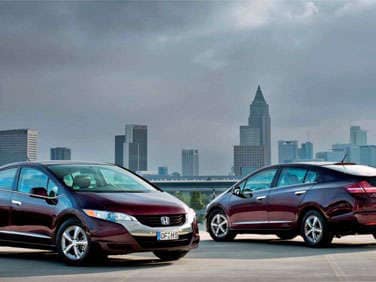 Putting together a list of the most interesting alternative fuel vehicles for 2013 includes a surprisingly diverse cast of characters.  Compacts, luxury cars, and trucks all enjoy the ability to be ordered in alternative fuel models, which are defined as vehicles that use a power source other than gasoline as their primary source of motivation.  While infrastructure issues might hold back propane and hydrogen vehicles from gaining wider acceptance, there's no doubt that what's currently out there in the alternative fuel vehicle universe is definitely intriguing.
Let's look at a mix of nine alternative fuel vehicles that will be available in 2013.
Alternative Fuel Vehicles for 2013 - 01 - 2012 Honda FCX Clarity
The 2012 Honda FCX Clarity has the distinction of being the only mass-produced hydrogen fuel cell-powered automobile currently on sale in the United States.  Offered as a lease-only option in the state of California (a price that includes both insurance and hydrogen fuel), this unique automobile produces absolutely no emissions as it generates power for its electric engine by way of breaking down the hydrogen locked in its fuel cell.  The Honda FCX Clarity can also capture braking energy and store it in a lithium-ion battery, serving as a second source of power if needed.  All told, the Clarity offers up 134 horsepower and 189 lb-ft of torque, giving the mid-size sedan respectable performance to go with its ultra-quiet operation.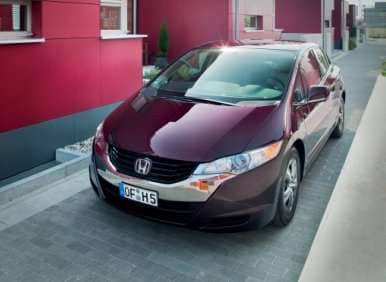 Alternative Fuel Vehicles for 2013 - 02 - 2013 Chevrolet Silverado 2500 HD Bi-Fuel
The 2013 Chevrolet Silverado 2500 HD Bi-Fuel represents a factory propane conversion of the standard Silverado drivetrain.  Additional versatility is provided by the fact that the Bi-fuel edition of the Chevrolet Silverado 2500 HD can move back and forth from propane to gasoline at the flick of a switch, which guarantees that drivers will never be left stranded without the ability to tank up.  In addition to its full factory warranty and lower emissions, the Bi-Fuel Silverado offers 360 horsepower and 380 lb-ft of torque from its 6.0-liter V-8, along with the option of four-wheel drive.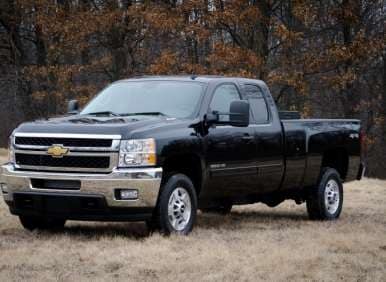 Alternative Fuel Vehicles for 2013 - 03 - 2013 Toyota RAV4 EV
The 2013 Toyota RAV4 EV is the all-electric edition of the popular compact SUV.  The Toyota Rav4 EV provides sleek styling thanks to a concentrated effort to improve the crossover's aerodynamics and lower its coefficient of drag - which at 0.30 is the most impressive in the SUV segment.  Approximately 100 miles of driving range are available with each full battery charge, and it takes about 6 hours to top up the RAV4 EV from a 240V outlet.  The vehicle maintains the same generous interior space as its gas-only sibling, and it provides up to 154 horsepower and 273 lb-ft of torque from its electric motor.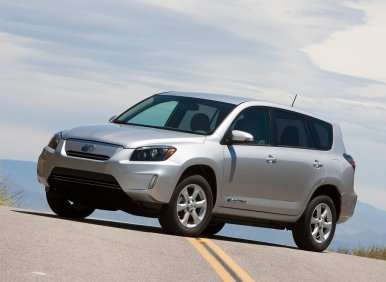 Alternative Fuel Vehicles for 2013 - 04 - 2012 Tesla Model S
The 2012 Tesla Model S is a roomy sedan that offers a luxurious take on what an electric car should be.  Thanks to the judicious attention of Tesla's engineering staff, the Tesla Model S can go an impressive 265 miles before needing to be recharged.  Driving enthusiasts will also be pleased with the Model S' ability to hit 60-mph from a standing start in just 4.4 seconds when ordered in Performance trim, a model that offers 416 horsepower and 443 lb-ft of torque.  Even base editions of the Model S provide 362 horsepower and 325 lb-ft of torque, and all versions feature the same well-balanced chassis that gives the sedan above-average handling.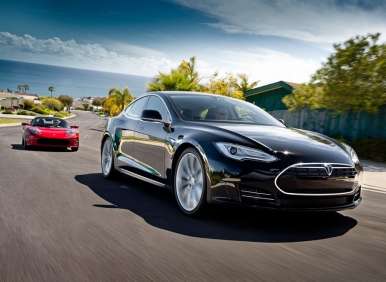 Alternative Fuel Vehicles for 2013 - 05 - 2012 Honda Civic GX
The 2012 Honda Civic GX takes a familiar package - the standard Honda Civic platform - and wraps it around a drivetrain that burns natural gas instead of gasoline.  The end result is a significant reduction in tailpipe emissions, making the Honda Civic GX one of the cleanest internal combustion automobiles in the country.  There's a slight price to pay from a power perspective, as the 1.8-liter, four-cylinder engine in the Civic GX delivers 110 ponies and 106 lb-ft of torque (compared to the 140 horsepower and 128 lb-ft found in the gas-only Civic), but for daily commuting purposes the real world difference is negligible.  A five-speed automatic transmission is paired with each and every Civic GX.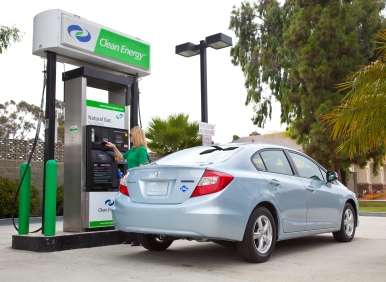 Alternative Fuel Vehicles for 2013 - 06 - 2012 Ford Focus Electric
The 2012 Ford Focus Electric greens up the popular hatchback edition of the recently redesigned compact car by way of an electric-only drivetrain that delivers 143 horsepower and a top speed of 84-mph.  Most interesting to EV fans is the fact that the Ford Focus Electric only requires four hours of 240V charging in order to provide its full range of roughly 76 miles.  This makes the Focus Electric a viable urban cruiser, as its range should cover the drive to work and any errands on the way home at the end of the day.  Like most electric cars, the Ford Focus Electric features a single speed 'transmission' that delivers power almost instantaneously.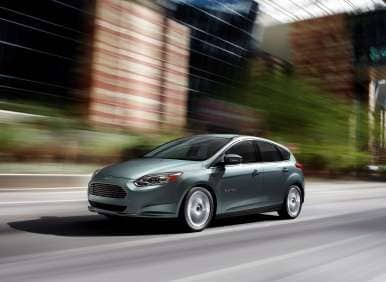 Alternative Fuel Vehicles for 2013 - 07 - 2013 Honda Fit EV
The 2013 Honda Fit EV is a riff on the same concept guiding the design of the Focus Electric: take a hatchback, rip out its gasoline-powered guts, and replace them with an electric-drive system.  Separating the subcompact Honda Fit EV from its Ford competitor is a recharge cycle that takes a full hour less than the Focus Electric, which is a boon to anyone worried about access to a charging facility away from home.  The Fit EV offers up a range of 82 miles before it must be plugged back into the wall, and its electric motor generates roughly 123 horsepower and a hefty 188 lb-ft of torque.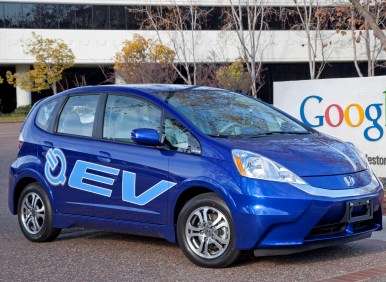 Alternative Fuel Vehicles for 2013 - 08 - 2012 Mitsubishi i-MiEV
The 2012 Mitsubishi i-MiEV is an unusual entry on a list of uncommon cars.  Drafted straight from the streets of Tokyo, where pedestrians are accustomed to seeing tiny city cars, (and drivers are comfortable buying them), the Mitsubishi i-MiEV looks almost like a prop from a futuristic sci-fi flick.  Inexpensive to purchase and even cheaper to operate, the i-MiEV is a subcompact hatchback that features a range of 62 miles and a seven hour charging window.  Horsepower is low - 66 ponies - with torque measuring at 145 lb-ft.  Despite these seemingly feeble figures, the lightweight MiEV can hold its own in modern traffic, although highway driving will require careful planning of all passing maneuvers.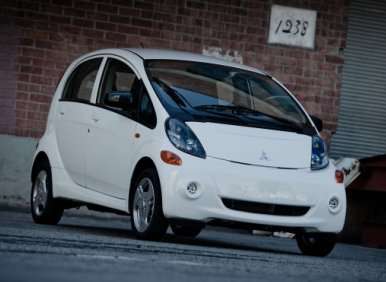 Alternative Fuel Vehicles for 2013 - 10 - 2012 Nissan Leaf
The 2012 Nissan LEAF has been positioned as the people's electric car, a compact hatchback that courts the masses with its affordability and real-world practicality.  The Nissan Leaf's battery-powered motor can be counted on to provide 107 horsepower and 207 lb-ft of torque, and it can travel up to 73 miles before needing additional juice in the form of either 120V or 240V power.  If your area has access to an electric vehicle quick charge station, then you can fill the Leaf's battery up to the 80 percent level in just 30 minutes.  A full charge is an approximately four hour commitment using the vehicle's 240V hardware.