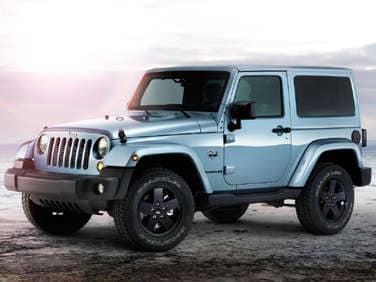 Trucks and SUVs are often advertised as jacks-of-all-trades, versatile vehicles that can easily adapt to whatever hauling task might be assigned to them. While for the most part this is an accurate depiction, there is no doubt that some pickups and sport-utility vehicles perform better in certain areas than others. When deciding which truck or SUV is right for your needs, it can sometimes be helpful to know where a particular model's strengths lie - especially if you have a very clear idea about how you will be using your new, practical automobile.
Let's take a look at eight SUVs and pickups for every occasion and see where they fit into the shifting universe of truck-specific talents.
01. Around-Town Hauling - 2011 Dodge Dakota
The 2011 Dodge Dakota occupies an interesting gray area between full-size pickups and pint-sized compact trucks. The "mid-size" Dodge Dakota offers substantial towing capacity (up to 7,250 lbs), two bed lengths (six-feet, six-inches and five-feet, four-inches) as well as three body styles (extended and crew cabs) that allow it to haul up to six passengers. All of this is accomplished using a chassis that is not quite as large as its full-size siblings, making it a more useful around-town truck for urban dwellers who aren't keen on navigating rush hour traffic or squeezing through narrow alleyways in a bigger vehicle. The Dakota also allows truck buyers to select between V-6 (219 horsepower) and V-8 (302 horsepower) drivetrains, and of course offers the option of four-wheel drive.
02. The Trail King - 2012 Jeep Wrangler
The 2012 Jeep Wrangler has been substantially improved over last year's model, with the biggest difference being the decision to include a brand new engine under the off-road chariot's hood. The Jeep Wrangler now offers a 3.6-liter Pentastar V-6 as its engine of choice, and this unit churns out 285 horsepower and 260 lb-ft of torque. Matched with either a six-speed manual transmission or a fresh five-speed automatic, the infusion of power that the V-6 provides helps the Wrangler scramble over rocks, surge through mud or blast down a dirt trail.
The Wrangler can also ordered more than one type of four-wheel drive system (all of which have been hardened to the rigors of all-terrain driving) as well as a full range of skid plates, tow hooks and a front and rear locking differential. Combined with the Wrangler's jacked-up ride height it's easy to see why the Jeep remains one of the most sought-after off-road vehicles on the market.
03. The Opulent Country Club Cruiser - The 2011 GMC Yukon Denali
The 2011 GMC Yukon Denali full-size SUV offers substantial interior room - enough to swallow as many as nine passengers across three rows of seating, or accommodate up to 109 cubic feet of cargo. However, in addition to its practicality the GMC Yukon Denali also comes with the highest level of luxury equipment available in a GMC SUV. The Denali trim adds items such as a heated steering wheel, heated leather seats and an exterior upgrade that will let everyone around you know that you aren't traveling in a run-of-the-mill SUV. Under the hood the Yukon Denali is treated to a well-tuned 6.2-liter V-8 engine (borrowed from the Cadillac Escalade) that is good for 403 horsepower and 417 lb-ft of torque. If desired, the Denali can also benefit from an all-wheel drive system that isn't offered on any other version of the Yukon.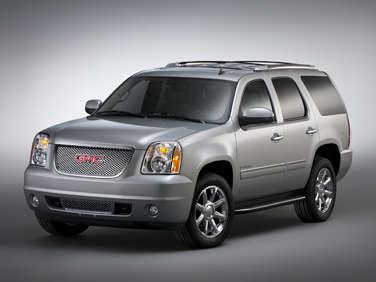 04. The Fuel Miser - 2011 Ford Escape Hybrid
The 2011 Ford Escape Hybrid does what few other SUVs are capable of doing: it offers exceptional real-world fuel mileage. The Ford Escape Hybrid's gasoline / electric drivetrain pairs a 2.5-liter, four-cylinder engine with a battery-powered motor that together offer up 177 horsepower and a fuel economy rating of 34-mpg in city driving and 31-mpg on the highway. All of this is on top of the Escape's standard five passenger seating and 66 cubic feet of total cargo space. All-wheel drive is also an option for the compact SUV, and a continuously-variable automatic transmission handles the gear shifting duties for Escape Hybrid.
05. The Full-Size Taskmaster - 2011 Ram 1500
The 2011 Ram 1500 provides big rig styling, the availability of regular, Quad and crew cab models (accommodating as many as six passengers) and a hefty 10,250 lbs of total towing capacity. Add that to the option of a long six-foot, four-inch cargo bed and there's very little that the full-size Ram 1500 can't handle. The pickup is also notable for it range of engine choices (including a V-6, a 4.7-liter V-8 and a 5.7-liter, 390 horsepower Hemi V-8) and the availability of a number of different packages and trims that can transform the Ram 1500 from a rugged hauler into a comfortable, leather-lined rolling office.
06. The Workhorse - 2011 Ford F-350 Super Duty
The 2011 Ford F-350 Super Duty line of trucks picks up the slack when it comes time to tackle a job no half-ton truck could handle. The Ford F-350 Super Duty offers one of the strongest frames available on a commercially-sold pickup, which works together with a specially-designed suspension system to give the pickup up to 21,600 lbs of towing capacity (with a fifth-wheel hitch installed).
Regular, extended and crew cab models of the F-350 allow it to handle up to six passengers and the truck can be motivated y either a 385 horsepower, 6.2-liter V-8 or a 6.7-liter turbodiesel V-8 that grinds out 400 horsepower and an astonishing 800 lb-ft of torque. Six-speed automatic transmissions are standard with the F-350, and four-wheel drive can be added as an option.
07. The Athletic Stand-Out - 2011 BMW X5
The 2011 BMW X5 is the athlete in a business suit on this list, a luxury SUV whose sleek sheet metal disguises rippling muscles and a surprisingly adept chassis that can keep up with many a sport sedan through the corners. Yes, the BMW X5 features an optional third row that can expand its seating capacity from five to seven, and yes, it can haul 75 cubic feet of gear with those same rows folded forward, but the most interesting aspect of this luxurious people mover is its fun-to-drive nature.
The X5 can be outfitted with either a turbocharged six-cylinder engine (300 horsepower) or a twin-turbo V-8 (400 horsepower) on the gasoline side, and even its turbodiesel six-cylinder engine option produces 425 lb-ft of torque. Unreasonably quick in all trims and with a road-holding ability that elevates it above many other premium SUVs, the BMW X5 is a class-leader when it comes to high performance crossovers.
08. The Behemoth - 2011 Infiniti QX56
Sometimes there's no better way to make an entrance than behind the wheel of one of the most impossible-to-ignore luxury SUVs on the planet - the 2011 Infiniti QX56. The Infiniti QX56 trades on its larger-than-life design, attracting considerable attention wherever it goes, but the eight passenger QX56 actually drives like a much smaller truck thanks to the attention paid to its handling and suspension details by Infiniti engineers. This allows owners to benefit from the eyebrow-raising chutzpah of the QX56's exterior details without being concerned that its 400 horsepower, 5.6-liter V-8 will accelerate the SUV to speeds that would threaten to sideline it at the very first corner it encounters, or risk a spilled beverage anywhere inside its leather upholstered, wood-trimmed interior.