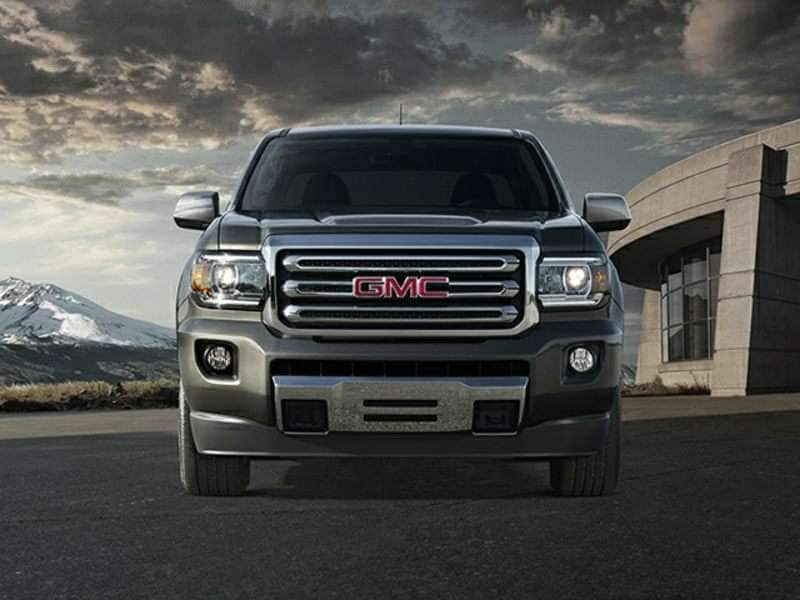 2016 GMC Canyon ・ Photo by General Motors
Pickup trucks are popular among buyers and profitable for automakers, and they don't come cheap. If you have a $30,000 budget, you'll have plenty of choices among smaller trucks, but very limited options if you want a full-size truck. We've collected every truck you can buy for $30,000 or less. We're going by MSRP (sticker) price plus destination charge; keep in mind that many trucks come with cash-back offers that will lower the price, and of course, one can get a better deal through good old-fashioned negotiation, though you mustn't forget to add tax into your budget. Let's see just how much truck you can get for under thirty grand.
2016 Nissan Frontier S King Cab: $19,190
Nissan, the company that sells the least-expensive new car (the $12,825 Versa), also sells the least-expensive new pickup truck: The Frontier, which is the only truck with a starting price under $20,000. The base model features an extended cab, a four-cylinder engine, and a manual transmission, but it will haul nearly half a ton in the bed and will tow 3,500 lbs. The V6 engine increases towing capacity to 6,100 lbs or better, and fits easily into our $30k budget—in fact, with $30,000 to spend, you can get a mid-level Frontier SV 4x4 with a crew cab, V6 engine, and automatic transmission. If you want something a little more stylish, the snazzy-looking Frontier Desert Runner, which includes a V6 engine, Bilstein shocks, and unique 16-inch alloy wheels with all-terrain tires, lists for well under $27,000.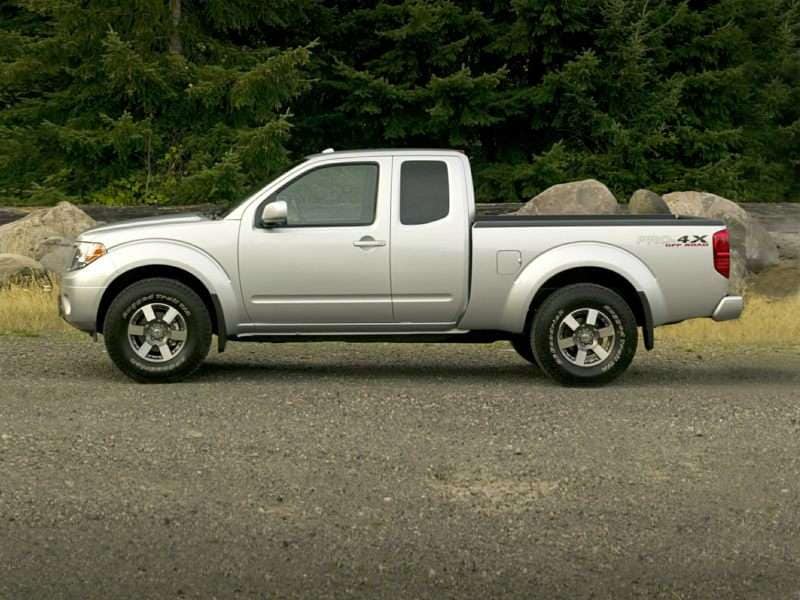 Photo by Nissan
2016 Chevrolet Colorado Base Extended Cab Long Box RWD: $20,995
Chevy's entry-level mid-sizer is a fairly basic truck with a four-cylinder engine, manual transmission, and an extended cab. With $30,000 to spend, you can get a mid-level LT model with either a four-door crew cab or a V6 engine (but not both), or you can opt for the top-of-the-line Z71 model with a four-cylinder engine. If you want the long-bed crew cab model (a good choice for towing due to its longer wheelbase) or four-wheel drive, you'll have to stick to the WT trim level; the good news is that you'll have V6 power, which is standard on the long-wheelbase model and optional (and within our $30,000 budget) on four-wheel drive Colorados.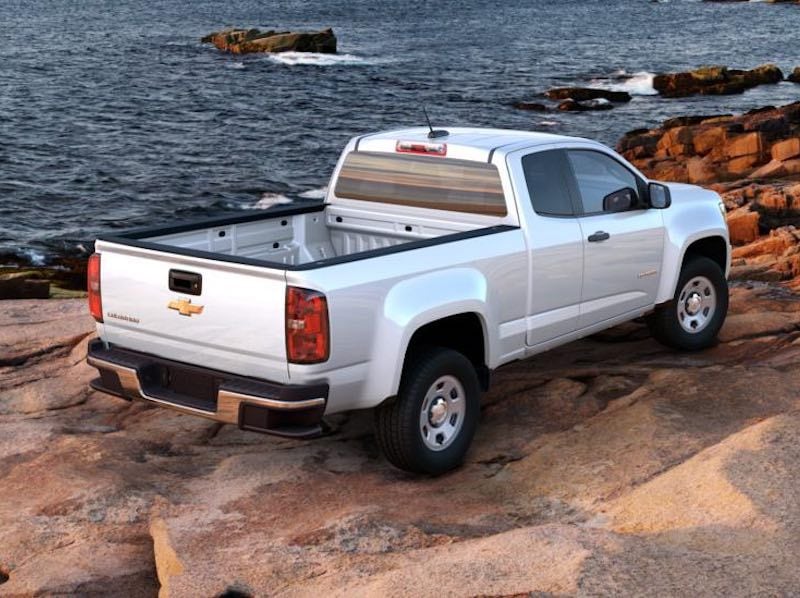 Photo by Chevrolet
2016 GMC Canyon SL 2WD Extended Cab Long Box RWD: $21,880
The GMC Canyon is basically the same truck as the Chevrolet Colorado; along with the GMC nameplate, opting for the Canyon gets you standard alloy wheels (as opposed to the unadorned steelies on low-end Chevy Colorados) and slightly nicer trim inside and out. As with the Colorado, 4x4 and crew cab models duck under the $30,000 barrier, but only in the lower trim levels. If you're looking for a better-equipped truck, you can stretch to the mid-level Canyon SLE with an extended cab and rear wheel drive and still stay under $30k.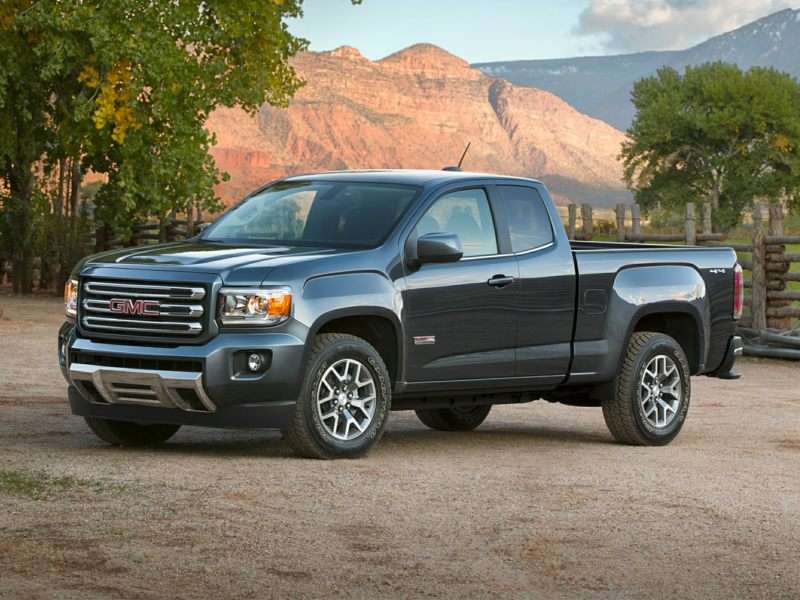 Photo by General Motors
2016 Toyota Tacoma SR 4x2 Access Cab: $24,200
The Toyota Tacoma is the best-selling small pickup truck in the US, no doubt because of its well-deserved reputation for rugged construction, high quality, and general indestructibility. The basic Tacoma SR extended-cab model with rear-wheel drive lists for well under $25,000, and that price includes an automatic transmission. $30,000 buys you a lot of Toyota: The nicer SR5 trim level, crew cab, V6 engine and four-wheel drive all fit neatly within our budget. In fact, a $30,000 price ceiling only denies you access to V6-powered 4x4s, the off-road-ready TRD models, and the top-of-the-line Limited trim.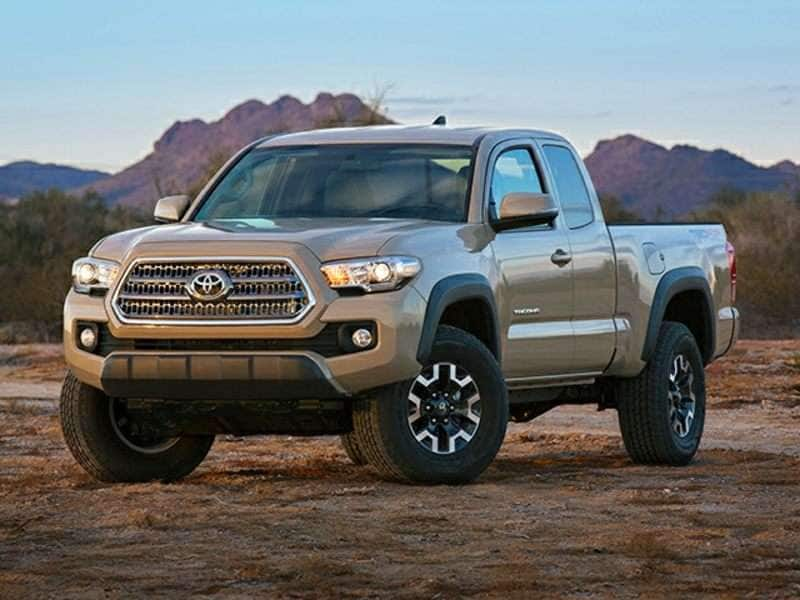 2016 RAM 1500 Tradesman V8 RWD: $26,650
The RAM 1500 is the least-expensive full-size pickup you can buy, and while most trucks offer their smallest engine in their least-expensive models, a RAM 1500 Tradesman with the optional V8 engine is actually less expensive than one with a V6. That's because Tradesman trucks with the V8 get a 6-speed automatic transmission instead of the newer 8-speed fitted to the V6. (Keep in mind that if you put a lot of miles on your truck, the more fuel-efficient V6/8-speed combo may save you money in the long run.) That's the good news; the bad news is that $30,000 limits you to the regular (single-row) cab rear-wheel drive model, though you can choose either a short or long bed. Four-wheel drive or an extended cab put us just over our budget. If you want something less industrial than the Tradesman, check out the 1500 Express, which comes with alloy wheels, a body-color grille, and the V6 engine/8-speed automatic combo for $28,720.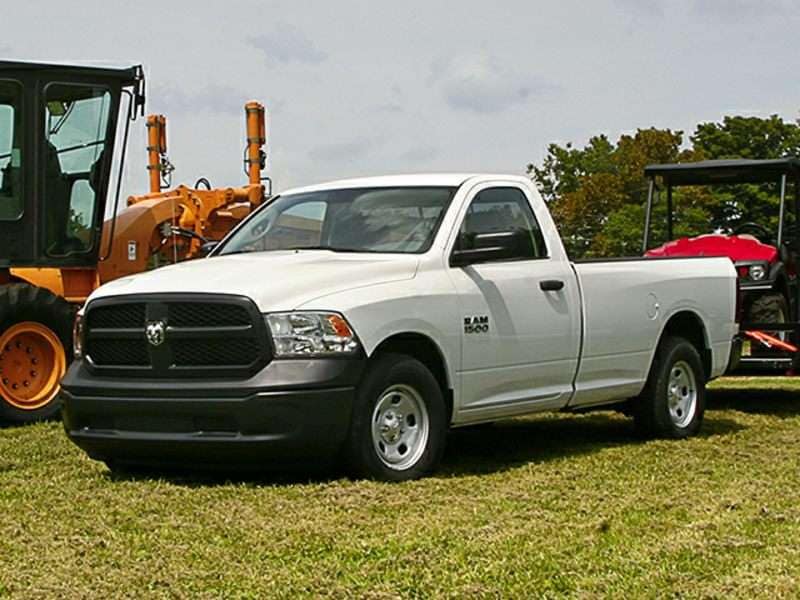 Photo by Ram Trucks
2016 Ford F-150 XL Regular Cab Short Box, $27,625
If you prefer Fords, you'll find the story is much the same as with the RAM 1500: Thirty grand limits you to the entry-level XL trim with a single-row cab and rear-wheel drive. The F-150 's aluminum body lowers the truck's weight, which Ford says increases its towing and hauling capacities, though the entry-level truck actually hauls and tows slightly less than the Chevrolet Silverado and GMC Sierra. You can opt for an extended bed for $300 more, or you can get the 2.7-liter EcoBoost V6 for $28,420. The twin-turbocharged EcoBoost V6 is supposed to be more fuel efficient than the basic 3.5-liter V6, though real-world fuel economy varies based on how you use the truck—higher loads and higher speeds may negate the fuel-saving effects of a small turbocharged engine. If you want a good ol' fashioned V8, you can get your F-150 so equipped for just over $29k, but four-wheel drive, extended cabs, and nicer trim levels are all budget busters in Ford land. (Exact configuration not pictured.)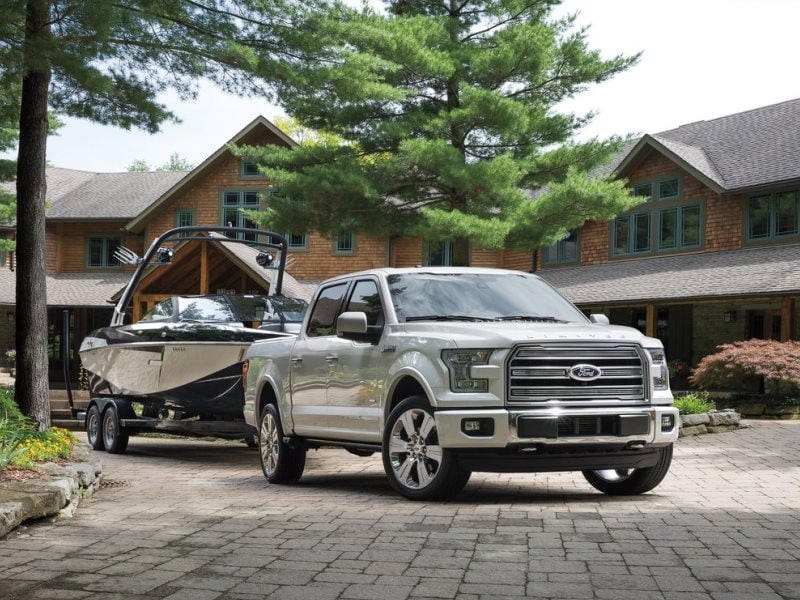 2016 Chevrolet Silverado 1500 WT Regular Cab Short Box: $28,290
Chevrolet prices their full-size trucks right above their domestic competition (but below Toyota), which limits choices for those trying to spend less than $30,000. But if you need raw capability, the base-model Silverado tows and hauls more than entry-level trucks from Ford and RAM. Said base model is a single-cab truck with a V6 engine and rear-wheel drive in entry-level WT trim, though you can select a long-wheelbase model with a bigger bed and stay within budget. Thirty grand will get you a V8-powered truck provided you stick with the short box, and you'll be able to out-tow the least expensive V8 powered RAM 1500 and 2.7 EcoBoost-equipped Ford F-150. But opting for more equipment—an extended cab, a 4x4, or a higher trim level—is going to push the price past $30,000.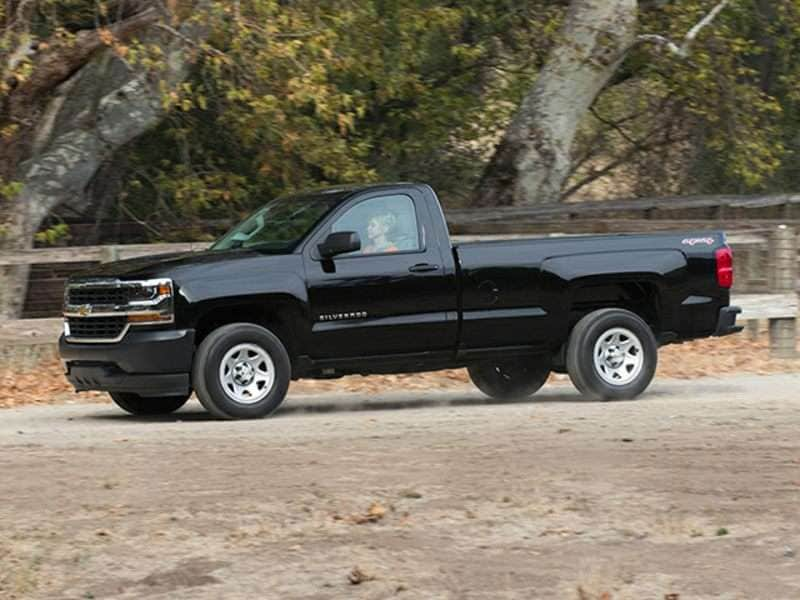 Photo by General Motors
2016 GMC Sierra 1500 Base Regular Cab Short Box: $28,910
As with the Chevrolet Colorado and GMC Canyon, differences between the half-ton Chevy Silverado and GMC Sierra pickups are minimal—GMC is supposed to be a more upscale brand, so their trucks get alloy wheels and slightly higher price tags. Unfortunately, this limits choices for budget buyers: You can get the base truck with rear-wheel drive, a regular cab, and your choice of short or long beds. But the Sierra's slightly higher price means that the addition of a V8 engine puts us well out of our budget. If you want a bigger cab, four-wheel drive, or extra comfort and convenience features, you can expect the list price of the truck to rise well above our $30,000 cap.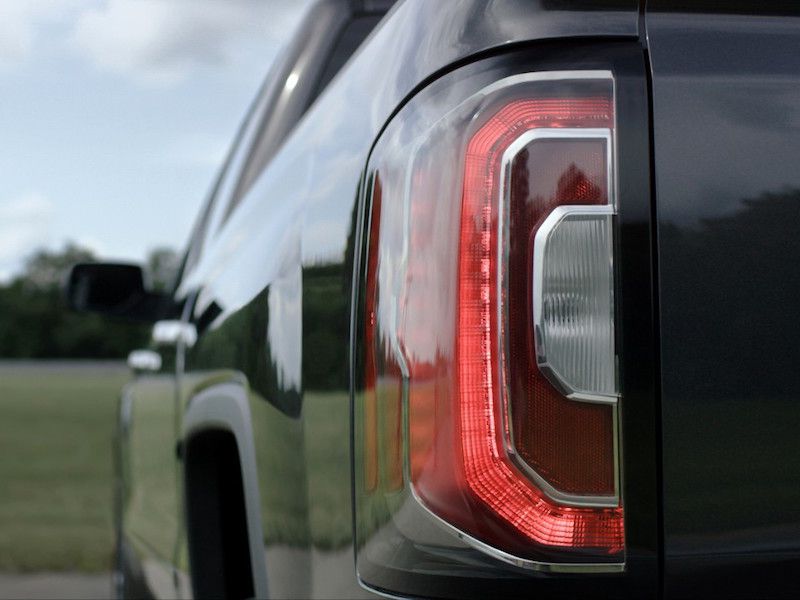 Photo by GMC Media