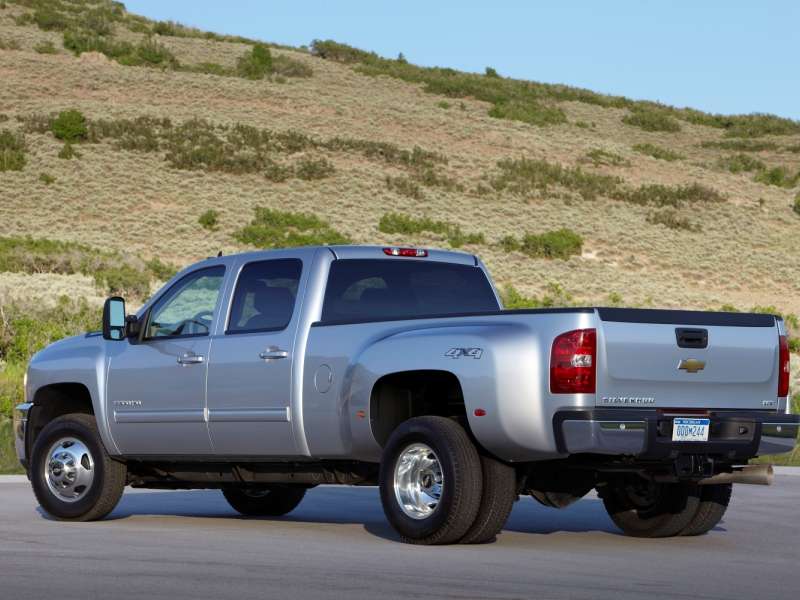 Trucks aren't getting any smaller, especially in the full-size segment, but the biggest trucks out there still tower above their more humble siblings when it comes to height, weight, and sheer size.  Although they might be based on similar platforms, these special edition trucks typically pour on the heavy duty suspension parts and lane-popping sheet metal until they clearly stand head and shoulders above the rest of the pack.  While many of the biggest trucks out there are aimed at commercial buyers, there are also a number of other interesting pickups that stand tall for folks who want to take their vehicle exploring past the capabilities of most modern rigs.
Let's take a quick look at 8 of the biggest trucks money can buy.
9 Biggest Trucks - 01 - 2014 Ford F-450 Super Duty
The 2014 Ford F-450 Super Duty is the biggest version of the popular F-Series pickup available before moving over to the even-larger chassis cab versions of the truck.  The Ford F-450 features dual rear wheels in order to optimally spread out a trailer's load, which translates into a startling 24,700 lbs of total towing capacity.  The huge horizontal body work of the F-450 also serves to intimidate any load you might want to haul into submission as well, be it people (up to five inside its four-door crew cab design) or bricks (with 5,880 lbs possible in the truck's eight-foot cargo bed).  The only engine available with the Ford F-450 Super Duty is a 6.7-liter turbodiesel V-8 that pushes out 400 horsepower and 800 lb-ft of torque, and four-wheel drive is available as an option.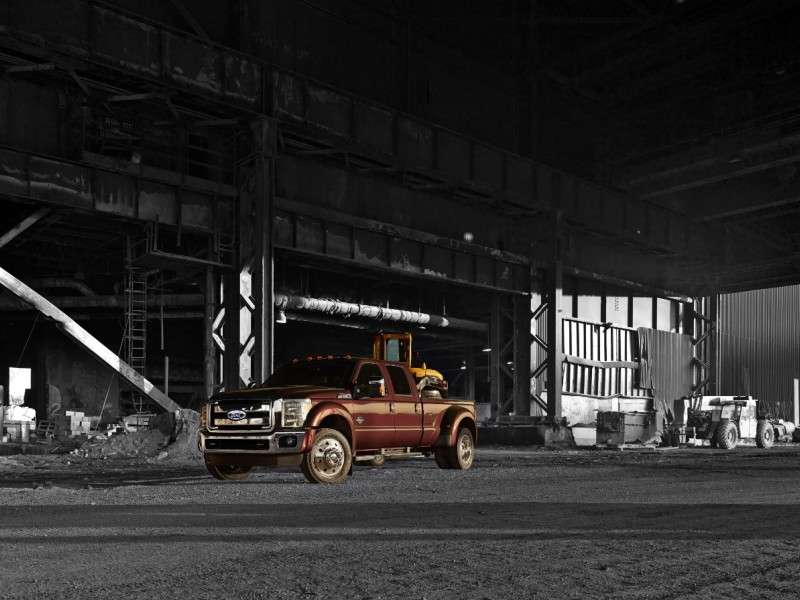 9 Biggest Trucks - 02 - 2014 Ram 3500 Mega Cab
The 2014 RAM 3500 Mega Cab is another big full-size truck that comes standard with a dual rear wheel setup.  The Ram 3500 Mega Cab's front bench allows for six adults to fill its spacious cabin, while a six-foot, four-inch bed handles up to 6,100 lbs of cargo.  Of course, towing is the 3500 Mega Cab's real strength:  this monster is rated to pull in the neighborhood of 30,000 lbs via its fifth wheel hitch when the truck's 385 horsepower, 6.7-liter Cummins turbodiesel six-cylinder engine is installed under the hood (where is also produces 850 lb-ft of torque)  The Ram 3500 can additionally be outfitted with a 383 horsepower, 5.7-liter V-8, along with optional four-wheel drive.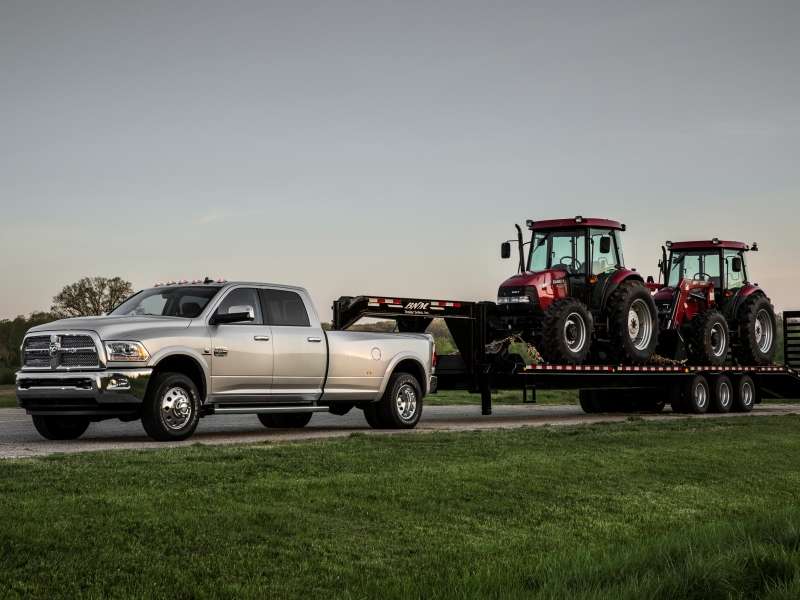 9 Biggest Trucks - 03 - 2014 GMC Sierra 3500HD Denali
The 2014 GMC Sierra 3500HD Denali makes our list of biggest trucks with a twist.  Sure, the GMC Sierra 3500HD Denali is powerful (a 6.0-liter V-8 that generates 350 horsepower and 380 lb-ft is standard, but a 6.6-liter Duramax turbodiesel V-8 good for 397 horsepower and 785 lb-ft of torque is also available), as well as capable (a tow rating of 22,600 lbs as well as 6,144 of carrying capacity in the cargo bed).  More to the point, however, the four-door crew cab Sierra 3500HD Denali is luxurious, boasting unique exterior styling, heated and cooled leather seats, a heated leather steering wheel, an available navigation system, and high end wood trim throughout the cabin.  Four-wheel drive can of course be specified with the 3500HD Denali.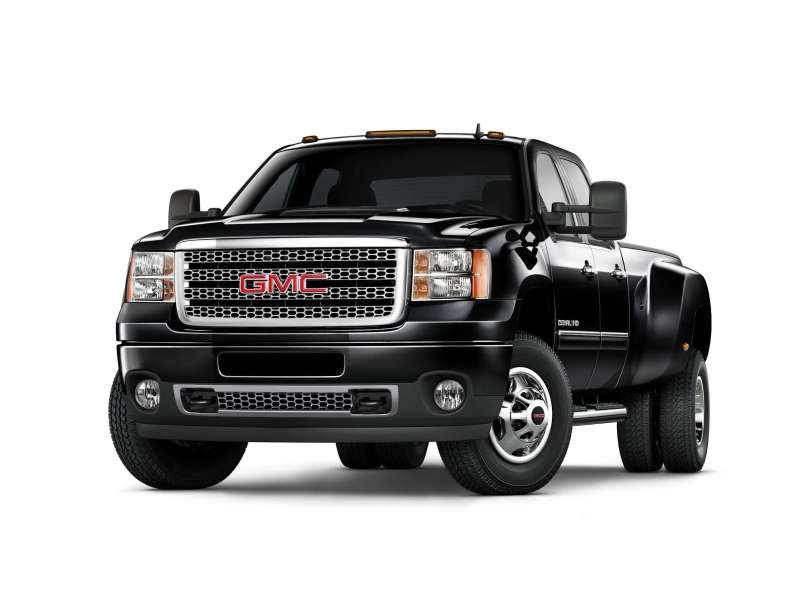 9 Biggest Trucks - 04 - 2014 Toyota Tundra TRD Off-Road
The 2014 Toyota Tundra TRD Off-Road might not have the same towing might as the heavy-duty trucks listed above, but it still comes through with about 10,000 of trailer capacity, which is quite generous.  Even more interesting is the Toyota Tundra TRD Off-Road's jacked-up suspension system, which doesn't just elevate the ride height of the redesigned full-size pickup but also adds the ruggedness required for this monster to tackle anything the trail might through its way.  Ordered in CrewMax form, the four-door Tundra TRD Off-Road (and its five-foot, five-inch box) can take as many as six passengers anywhere they want to go, thanks to the inclusion of knobby tires, skid plates, tow hooks, and of course an available low-range four-wheel drive system.  You'll want to spec the Tundra's 5.7-liter V-8 with the TRD Off-Road package, as it produces a hefty 381 horses and 401 lb-ft of twist.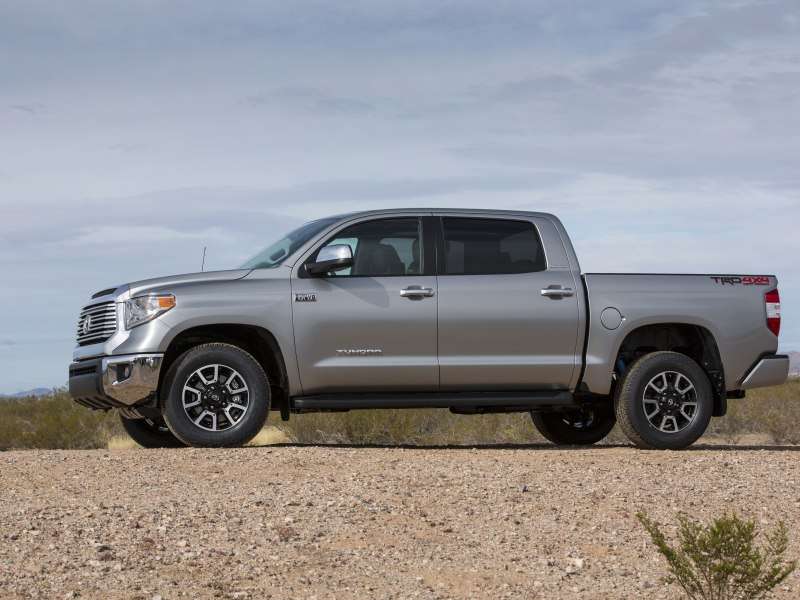 9 Biggest Trucks - 05 - 2014 Nissan Titan PRO-4X
Not to be outdone when the going gets rough is the 2014 Nissan Titan PRO-4X.  Although long in the tooth compared to its much more recent competitors, the Nissan Titan PRO-4X will still get the job done - and look massive while doing it.  The PRO-4X package adds unique styling and trim to the Titan's sheet metal, and it also provides Rancho shock absorbers, a higher rated battery, a more aggressive gear ratio, a locking rear differential, off-road tires, 18-inch rims, skid plates, and of course requires the selection of four-wheel drive as an option.  Crew cab models are available (although you have to stick with the Nissan's five-foot, seven-inch cargo bed if you go down that four-door route), and a 5.6-liter V-8 that generates 317 horsepower and 385 lb-ft of torque is the only engine offered with the truck.
9 Biggest Trucks - 06 - 2014 Chevrolet Silverado 3500HD
The 2014 Chevrolet Silverado 3500HD is in many ways the twin of the GMC Sierra 3500HD - minus, of course, the Denali luxury.  This doesn't really matter on our list of the biggest trucks, because everything else about the heavy duty Chevrolet Silverado 3500HD pushes all of the right buttons: its hydroformed, fully-boxed frame gives it the capacity to tow as much as 23,100 lbs, its crew cab body style provides six passenger seating, and its eight foot box comes in a dual rear wheel configuration.  Impressive, too, is the 3500HD's available 6.6-liter V-8 turbodiesel engine, which provides 397 horsepower and 765 lb-ft of torque, in either two-wheel or four-wheel drive configurations.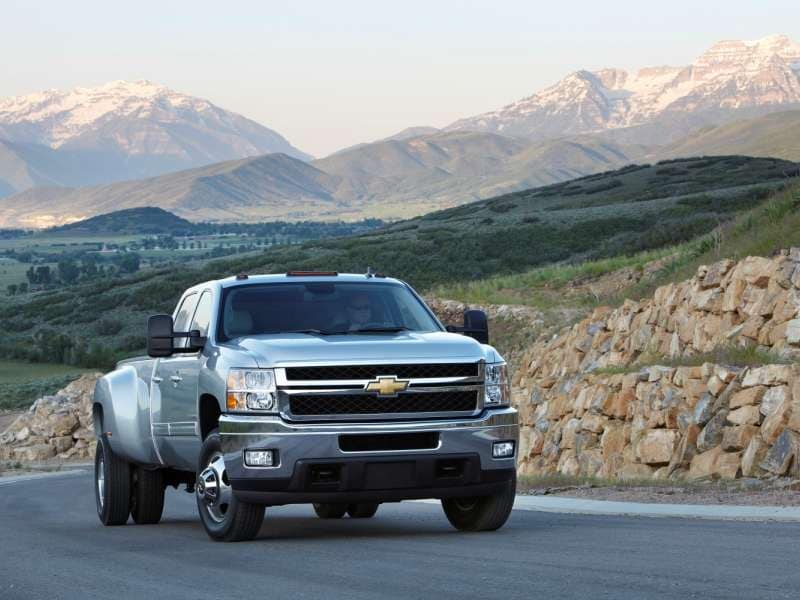 9 Biggest Trucks - 07 - 2014 Ford SVT Raptor
The 2014 Ford SVT Raptor might be based on the popular F-150, but it takes things to a new extreme when it comes to making a big truck even bigger.  The Ford SVT Raptor features a wider track than the standard version of the pickup, a wheel-push that enables it to provide better stability at high speeds.  It also rides on 17-inch rims wrapped in enormous off-road tires, a suspension system that has been designed to take dune-jumping punishment, a special four-wheel drive system, and either a regular or extended-cab body that features its own unique look (especially up front with its mammoth grille).  The SVT Raptor comes exclusively with a 6.2-liter V-8 engine that grinds out 411 horsepower and 434 lb-ft of torque.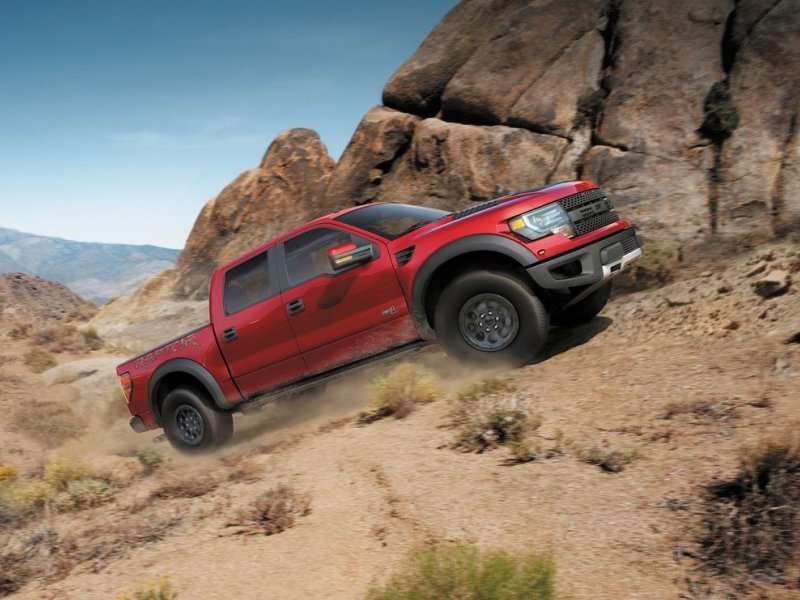 9 Biggest Trucks - 08 - 2014 Ram 2500 HD Power Wagon
The 2014 RAM 2500 HD Power Wagon is another extreme take on what an off-road pickup should have to offer.  Like several other of the biggest trucks on this list, the Ram 2500 HD Power Wagon is based on a heavy duty platform, but it's one that has been pushed further into the go-anywhere camp by way of its unique front suspension system, rear coil springs, and a locking differential.  Also offered with the Power Wagon are a four-wheel drive system and a new 6.4-liter V-8 that generates 410 horsepower and 429 lb-ft of torque.  The four-door pickup is one of the biggest off-road rigs sitting in showrooms today, and its one that also offers a respectable 11,300 lbs of towing capacity.