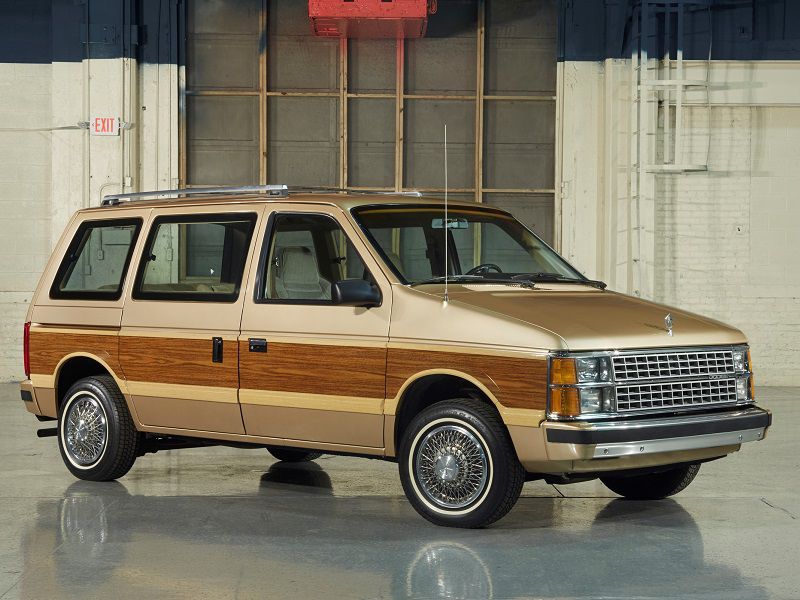 1984 Dodge Caravan Wood Panel Gold Front Quarter
They may not be as cool as other kinds of vehicles, but the best used minivans can provide a long list of benefits. Of course, it all starts in the cabin. Minivans offer more space for both passengers and cargo than even three-row SUVs. Minivans can also be pretty comfortable, with heated leather seating, second-row captain's chairs, and high-end infotainment systems for both front- and rear-seat passengers. In terms of safety technologies, many of the more recent choices are available with modern-day driver-assistance measures.
On the other hand, there aren't that many pre-owned minivan brands to choose from. We give top billing to past models from the six current minivan names, then round out our selections with two models you may have forgotten about.
2015 Honda Odyssey
The 2015 Honda Odyssey was the top-rated minivan in the 2018 J.D. Power Vehicle Dependability Study (which looks at vehicle reliability after three years on the road). You can also depend on the 2015 Odyssey for an IIHS Top Safety Pick rating plus standard features like a rearview camera, dual-zone air conditioning, and a spacious, highly versatile cabin. In fact, with all seats folded or removed, the Odyssey can fit nearly 150 cubic feet of cargo.
Honda serves up a wide variety of helpful options, too. Among them are an integrated vacuum system, a wide-screen rear-seat entertainment system, tri-zone automatic climate control, a forward-collision warning, a lane-departure warning, and a power tailgate.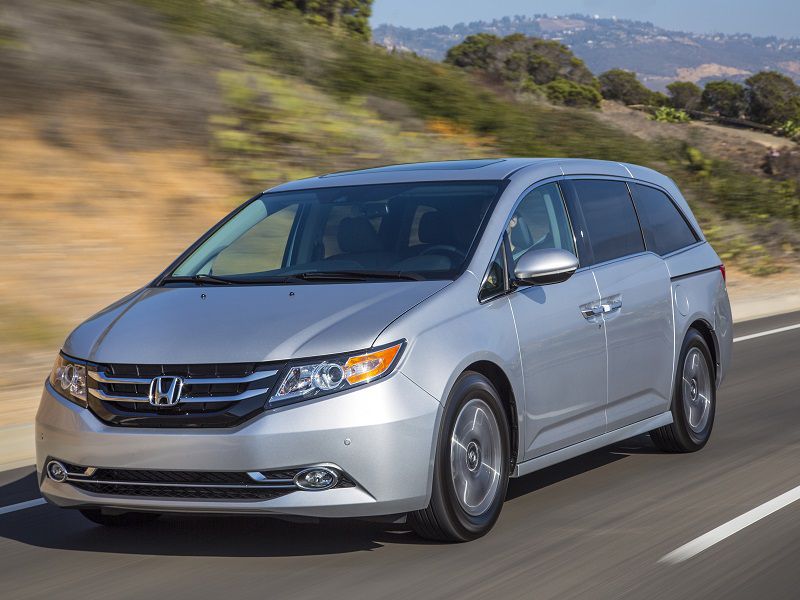 2015 Toyota Sienna
It turns out that 2015 was a pretty good year for used minivans. As another example, the 2015 Toyota Sienna was the first van to offer the company's Driver Easy Speak system. With this technology, you can use the Sienna's voice-recognition microphone to talk to rear-seat passengers through the audio system's back speakers.
The 2015 Sienna also gained a new standard infotainment system highlighted by a rearview camera, a 6.1-inch touchscreen, and Bluetooth for handsfree calling and audio streaming. For driver-assistance highlights, Toyota's popular "Swagger Wagon" can deliver a forward-collision warning, automatic emergency braking, a blind-spot monitoring system, and a Top Safety Pick+ award from the IIHS. Prefer all-wheel drive? The Sienna is the only mainstream minivan with that option.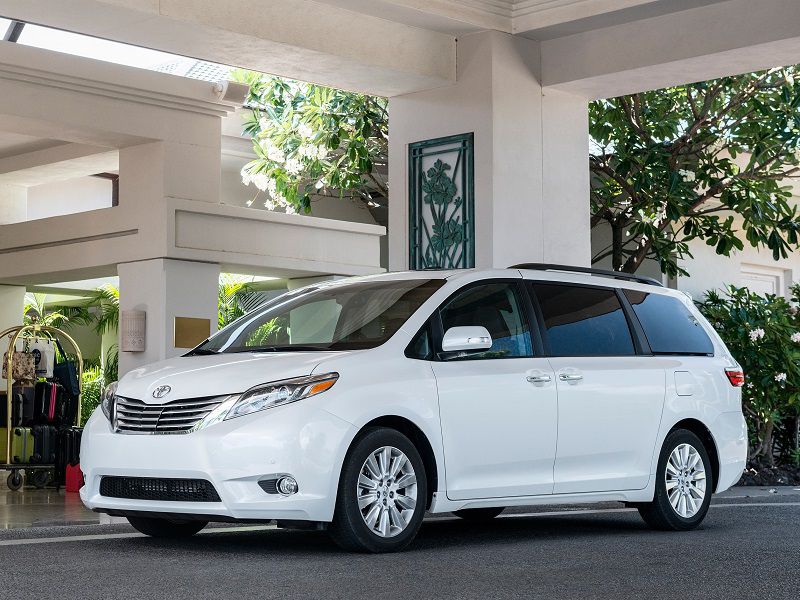 2016 Kia Sedona
Because some people don't like to buy a vehicle in its first model year, our list of the best used minivans includes the 2016 Kia Sedona. Introduced as a brand-new model the previous year, the 2016 Sedona has all the same advantages as the 2015 model — but it then benefits from a second-year of production expertise.
The Sedona is also an IIHS Top Safety Pick for 2016 and comes with its share of unexpected features. For instance, the optional second-row "First Class" lounge seating is complemented by retractable leg rests and high-comfort headrests. Additional luxury options for the 2016 Sedona include heated and ventilated front seats, a heated steering wheel, and Nappa leather surfaces. Standard content ranges from a rearview camera to 17-inch aluminum-alloy wheels.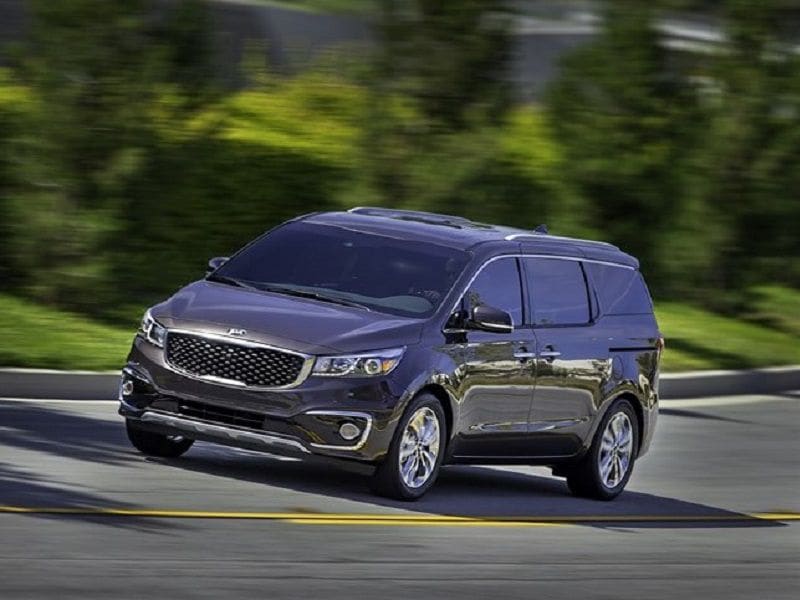 2015 Chrysler Town & Country
The 2015 Chrysler Town & Country has an interesting distinction. In the 2018 J.D. Power Vehicle Dependability Study — which evaluates products from the 2015 model year — the Town & Country earned a second-place finish in the minivan segment. And it did the same thing in the 2017, 2016, and 2015 studies, putting together an enviable track record for reliability.
The 2015 model builds on that foundation with standard equipment such as a rearview camera and "Stow 'n Go" seating. With that system, it's impressively simple to fold the second- and third-row seats into hidden compartments in the floor. Also impressive are the luxury-style options for the 2015 Town & Country, like heated leather seats and a Blu-Ray rear-seat entertainment system with HDMI gaming inputs.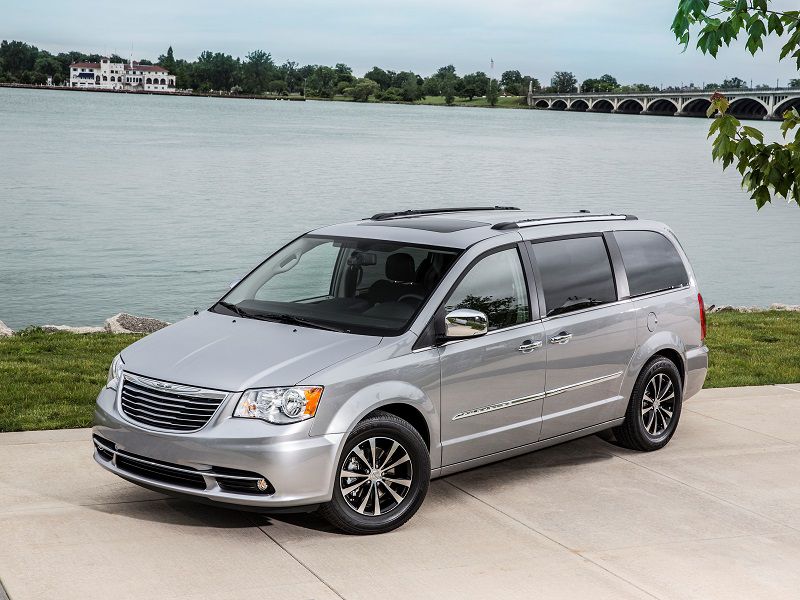 2016 Dodge Grand Caravan
One of the best used minivans for basic transportation is the 2016 Dodge Grand Caravan. That means the entry model doesn't have a lot of extra standard content. What it does have is an adaptable, cargo-friendly interior with 33 cubic feet of storage behind the third row of seats. Moreover, Stow 'n Go functionality means the seats can be folded beneath the floor with ease. When you fold both rows, the Grand Caravan provides a cargo capacity of 143.8 cubic feet. For comparison, the 2016 Dodge Durango three-row SUV has a maximum cargo capacity of 84.5 cubic feet.
Next, if you do want high-end features, the Grand Caravan offers a blind-spot monitor, heated leather seats, a Blu-Ray/DVD rear-seat entertainment system, and more.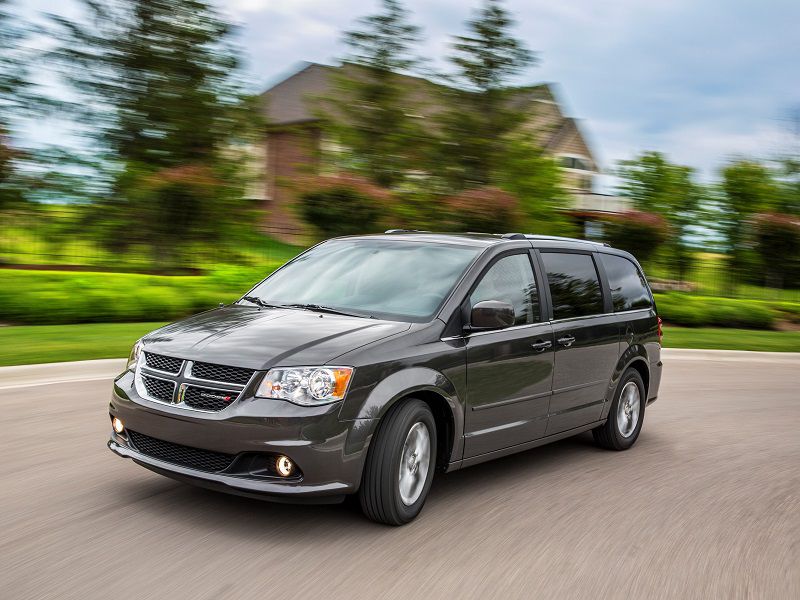 2017 Chrysler Pacifica
The Chrysler Pacifica was all-new last year, and models are just entering the used-car marketplace right now. But while they're only available in relatively short supply, these pre-owned Pacificas are long on benefits.
Perhaps the most notable is the Chrysler's optional plug-in hybrid powertrain. When that technology is on board, the Pacifica is the only minivan — new or used — that is EPA-certified for a 33-mile driving range on electricity alone. The Pacifica's powerful V6 engine takes over after that so you can drive another 535 miles on a single tank of gas. However, since that V6 also gets hybrid help, the Pacifica earns the same 32 mpg combined rating as a 2018 Toyota Corolla compact car. The Pacifica earns an IIHS Top Safety Pick+ rating, too.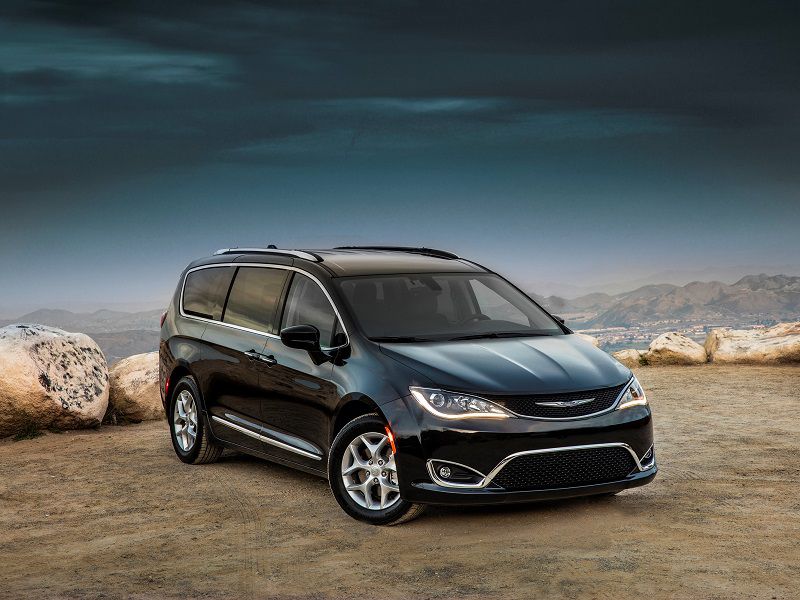 2016 Nissan Quest
Though we're singling out the 2016 Nissan Quest, since the model went unchanged from 2015 through 2017, examples from any of those years are worth a look. They're certainly good-looking themselves, at least when compared to most rivals. Outside, the Quest shows an aggressive grille with sculpted fog-light pockets, crisp character lines and a stylish "floating" roof with blacked-out rear pillars.
The Quest also has a modern appearance in the cabin, along with up-to-date technologies like a surround-view camera system with moving-object detection. As a bonus, the Quest is the only mainstream minivan from 2016 with an EPA rating as high as 20 mpg in city driving. As a warning, the Quest also has noticeably less total cargo space than its most direct competitors.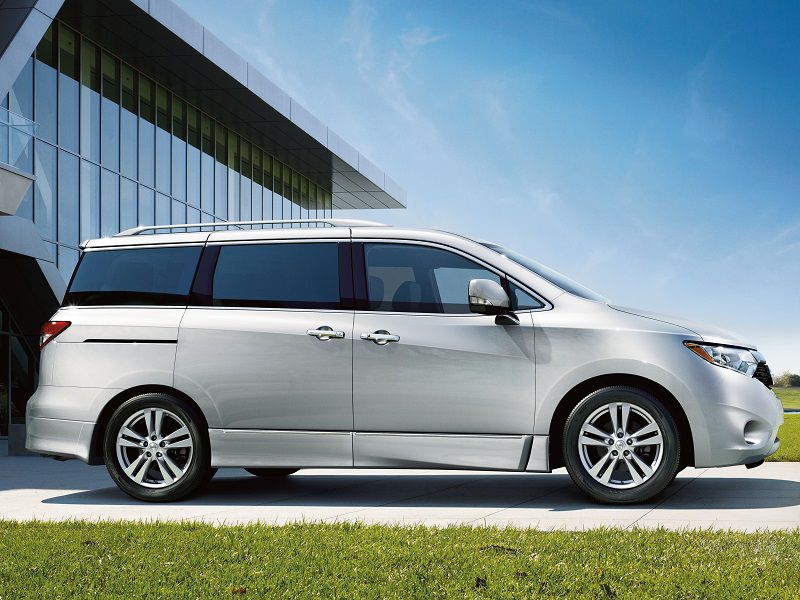 Photo by Nissan
2015 Mazda Mazda5
The 2015 Mazda Mazda5 stands out from other minivans, because it's only 180.5 inches long, which is the size of a typical compact sedan. Inside, too, the Mazda5 is anything but typical. It delivers 2+2+2 seating with nearly 3 more inches of third-row legroom than a 2015 Toyota Highlander SUV. Fold down the Mazda5's third row, and the mini-minivan can swallow 44.4 cubic feet of gear.
As for the second row, separate captain's chairs are standard and allow easy access to the 50/50 third-row bench. The vehicle's nimble dimensions — and the same engineering expertise that goes into the Mazda MX-5 Miata — also make the Mazda5 relatively fun to drive.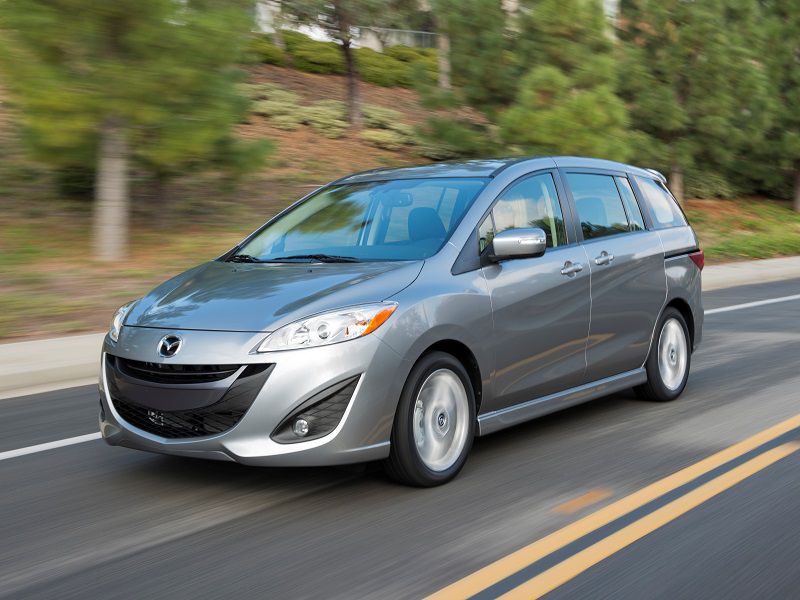 Photo by Mazda