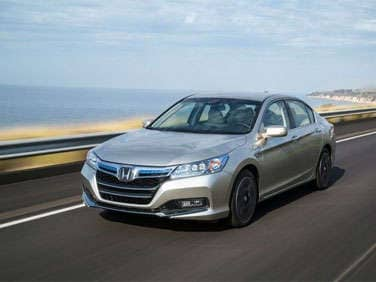 There are some who feel that plug in hybrid cars just might be the future of the industry.  With the ability to charge their batteries via either the gasoline engines under their hoods or a simple a wall outlet, these vehicles offer the flexibility that many electric car fans are looking for while also reducing the 'range anxiety' associated with running out of juice miles from the nearest extension cord. 
Plug in hybrid cars in 2013 come in a variety of different shapes and sizes, so we've put together this quick primer on the leading models that are currently available.  Let's take a look at the seven top plug in hybrid cars for 2013.
Plug In Hybrid Cars For 2013 - 01 - 2013 Ford C-Max Energi
The 2013 Ford C-Max Energi is an all-new addition to Ford's North American fleet.  This compact hatchback is based on the European C-Max people mover, and it offers five passenger seating as well as 43.4 cubic feet of total cargo space behind the front two positions.  The Ford C-Max Energi comes with a suspension that has been tuned to offer a more lively ride than other hybrids in its class, and it pairs a 2.0-liter, four-cylinder engine with an electric motor in order to generate 188 horsepower.  Thanks to plug in hybrid magic, the C-Max Energi returns fuel mileage of 47-mpg in city driving and 47-mpg on the highway.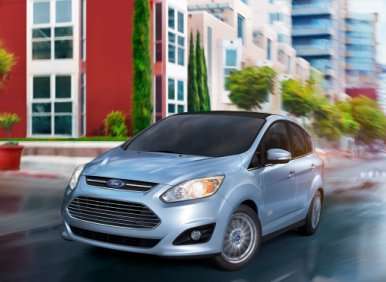 Plug In Hybrid Cars For 2013 - 02 - 2013 Toyota Prius Plug-In Hybrid
The 2013 Toyota Prius Plug-in Hybrid is the next step in the ground-breaking hybrid's evolution.  A bigger, lithium-ion battery pack is the most important component in the Toyota Prius Plug-In Hybrid, as it offers a more efficient way to store electricity.  The vehicle, which can recharge its battery pack in as little as 1.5 hours, can travel 15 miles on pure electric power and returns 51-mpg in stop and go driving and 49-mpg during highway cruising.  This is achieved without fundamentally altering the standard Prius' 134 horsepower 1.8-liter, four-cylinder engine and tandem electric motor hybrid system.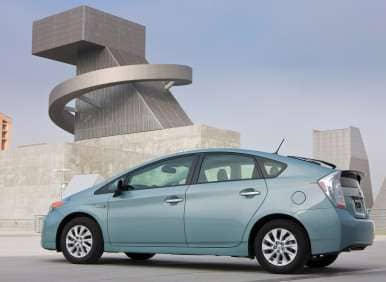 Plug In Hybrid Cars For 2013 - 03 - 2014 Honda Accord Plug-In Hybrid
The 2014 Honda Accord Plug-In Hybrid is another new entry into the corded hybrid derby, taking Honda's recently redesigned mid-size platform and giving it some serious eco-cred.  Set to go on sale early next year, the Honda Accord Plug-In Hybrid offers 13 miles of electric-only range from a hybrid system that looks like it will offer 47-mpg in stop and go driving and 46-mpg on the highway.  Although Honda, which unveiled more information about the Accord Plug-In Hybrid at the 2012 Los Angeles Auto Show, has been mum about drivetrain and power details, a 2.0-liter four-cylinder and a pair of electric motors are the most likely under-hood suspects.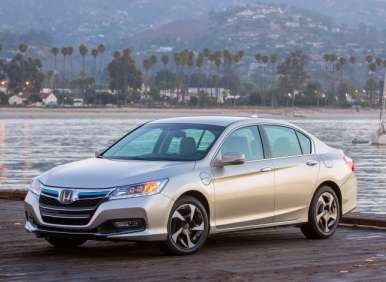 Plug In Hybrid Cars For 2013 - 04 - 2013 Ford Fusion Energi
The 2013 Ford Fusion Energi is another important part of the green salvo that Ford is firing at U.S. customers.  The Ford Fusion Energi rides on the same platform as the brand new gas-only Fusion sedan, but it introduces a new plug-in hybrid drivetrain that has never before been seen powering the model.  The vehicle's electric motor is fueled by a lithium-ion battery pack, and it also features a 2.0-liter four-cylinder gas engine.  Together, total output is estimated to be roughly 188 horsepower (matching the C-Max Energi with its identical hybrid design) and the vehicle will be able to travel on battery power alone for up to 20 miles.  Final fuel mileage figures have yet to be released for the Fusion Energi.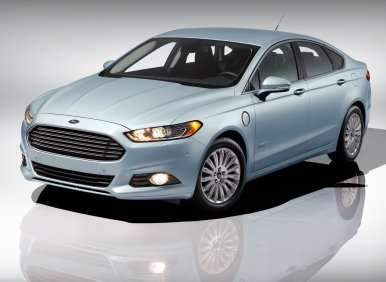 Plug In Hybrid Cars For 2013 - 05 - 2013 Chevrolet Volt
The 2013 Chevrolet Volt needs almost no introduction in the world of plug-in hybrid cars, as it was one of the first production vehicles to pioneer the technology.  The Chevrolet Volt is designed to travel up to 50 miles using only electric power, which makes it the range king in its segment.  Its 149 horsepower electric motor is augmented by a 1.4-liter gasoline engine, and together they return 35-mpg city and 40-mpg highway.  Most buyers will be picking up the Volt for its unique battery power performance and won't be all that frustrated by its less-than-stunning mpg ratings.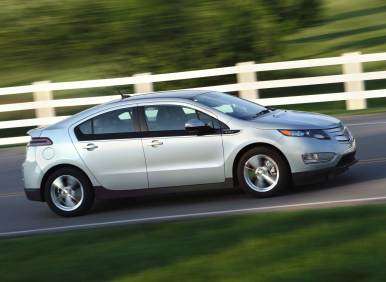 Plug In Hybrid Cars For 2013 - 06 - 2014 Mitsubishi Outlander PHEV
The 2014 Mitsubishi Outlander PHEV is a surprise plug-in hybrid SUV from an automaker that has previously marketed the electric-only Mitsubishi i-MiEV.  With a 34 mile electric-only range, the Mitsubishi Outlander PHEV is an impressive offering from the Japanese company and one that makes use of a pair of electric motors that can also run in a parallel hybrid mode.  Altogether, the system (which additionally features a 2.0-liter, four-cylinder motor and Super All-Wheel Control all-wheel drive) provides a top speed of over 100 miles per hour, with full horsepower ratings and fuel efficiency stats to follow once the vehicle is closer to its on-sale date.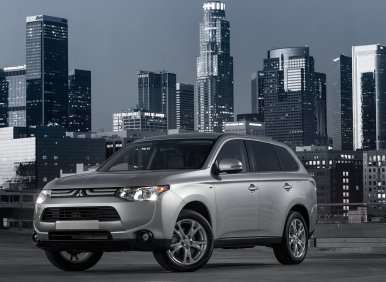 Plug In Hybrid Cars For 2013 - 07 - 2013 Fisker Karma
The 2013 Fisker Karma is a full-on luxury plug in electric vehicle.  The four-door sedan combines sleek styling with a healthy dose of both premium features and performance to create a very unique personality in the world of hybrid transportation.  403 horsepower are generated by a team of two electric motors working together with a 2.0-liter, turbocharged four-cylinder gasoline engine.  All-electric propulsion is available for 32 miles, and the Fisker Karma's fuel economy rating checks in at 20-mpg city and 21-mpg highway.  Keep it on the battery alone, and the Karma is a relatively green automobile.  Dip into its available gas power, however, and you'll find yourself enjoying its acceleration more than its frugality.