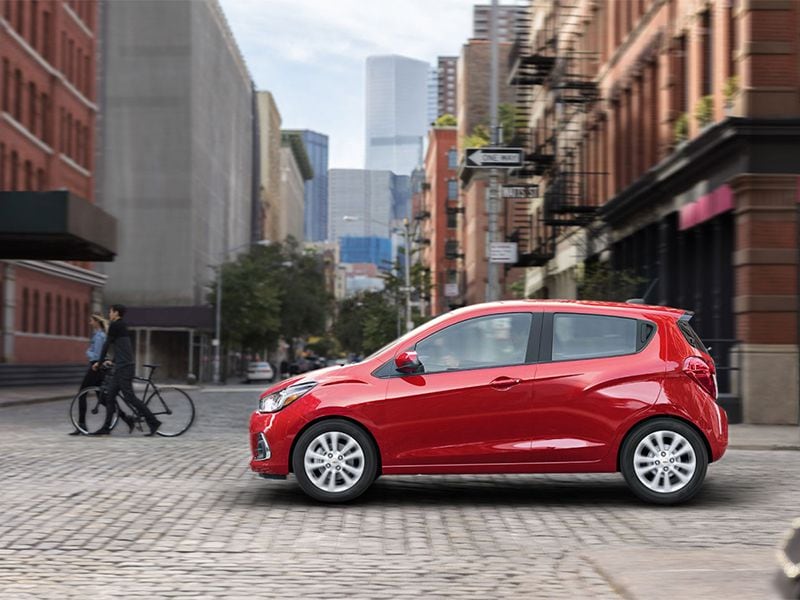 2017 Chevrolet Spark profile in city ・ Photo by Chevrolet
Cars priced under $15,000 are a vanishing breed—that's why, instead of the usual 10 cars, this list features just five. Though you might expect only to find the dregs of the automotive world on this list, the truth is that there are a couple of real gems—cars that prove that you don't have to spend anywhere near the average new-car transaction price (around $34,000 as of this writing) to get a decent car. Bear in mind that the low-end models of some cars can be extraordinarily difficult to find; dealers may order one or two so they can advertise a low price and try to upsell buyers to something better. Shopping for a bargain-basement model is never easy, and you may well be able to negotiate a comparable price on a car that the dealer has in stock. Note that we've added the mandatory destination fee to our pricing (hence the reason why the numbers are higher than what the automakers advertise). Without further ado, here are America's cheapest new cars, listed in order from most to least expensive.
5. Kia Rio LX, $15,015
Technically, the Kia Rio blows our spending cap by fifteen bucks, but we figure even the most budget-minded buyer would consider this a $15,000 car (and besides, it should be easy to negotiate a price under $15k.) Over the past few years, we've come to really appreciate Kia's sense of style: Ex-Audi designer Peter Schreyer oversees Kia design, and their smooth exteriors and handsome, well-finished interiors show a definite resemblance to that vaunted German luxury brand. Schreyer's touch extends even to Kia's cheapest car, the Rio: The clean lines look good in basic colors like white, black, red and silver, which is convenient, as those are the only colors in which the entry-level Rio LX is sold. The interior is modern and comfortable, and much more nicely finished than most of the other cars on this list. Bear in mind, however, that if you buy a $15,000 Rio LX, you will be cranking down your own windows, locking your own doors, and shifting your own gears. The Rio LX gets air conditioning as standard, but not much else. Conveniences like power windows and remote keyless entry are offered as an $800 option package, but it's only available in conjunction with a $1,230 automatic transmission. Those options take the Rio well above our $15,000 budget.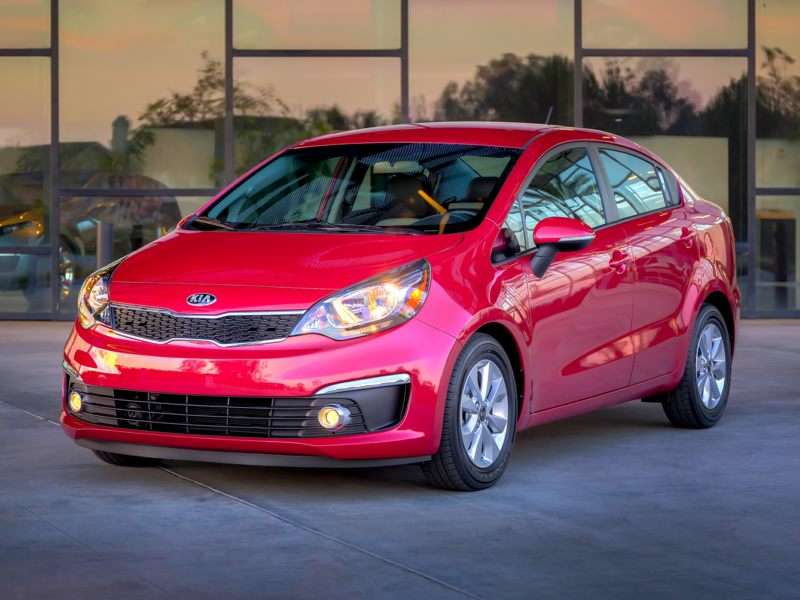 4. Ford Fiesta S, $14,535
For those who think that budget cars are, by definition, boring cars, we present the Ford Fiesta. Designed primarily for Europe, the Fiesta's stand-out traits are its energetic engine and lively chassis. Take it out on a curvy road, and it will feel as if the Fiesta is enjoying the drive as much as you are. We think the hatchback looks better than the sedan, and while some automakers charge significantly more for a 5-door, the Fiesta hatch is priced just $300 above the 4-door, so it fits neatly into our $15,000 budget. The hatch is arguably more practical, though neither version of the Fiesta is a great passenger hauler; back seat space is tighter than most of the Fiesta's cheap-car rivals, making this a less-than-optimal choice for budget buyers who have (or are thinking of starting) a family. A $15,000 budget limits us to the basic S model with a manual transmission. The spec is pretty mean: The Fiesta S gets air conditioning and power door locks as standard, but buyers will still need to crank down their windows the old-fashioned way, and the color palette is limited to black, white or silver. The SE model gets more expected features, but at $15,765 it busts our budget—as does an automatic transmission, which adds $1,095 to the price.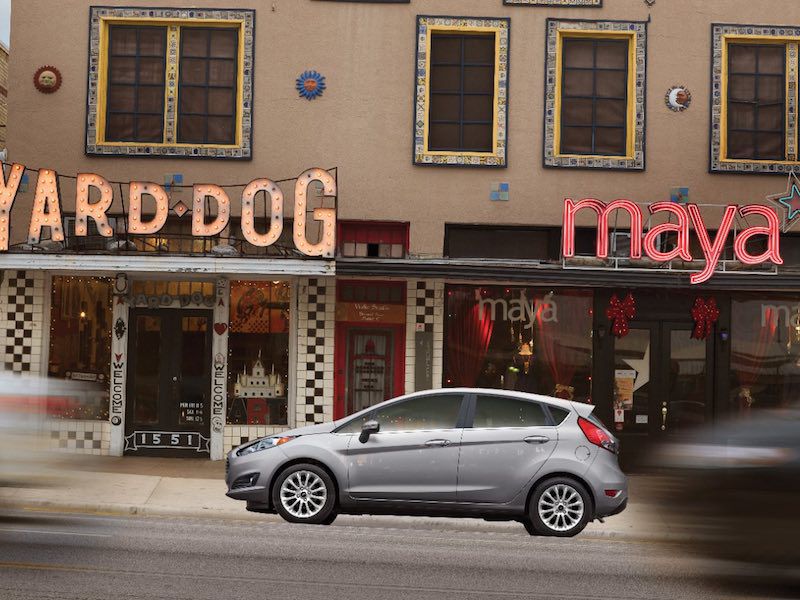 Photo by Ford Media
3. Chevrolet Spark LS, $13,875
Chevrolet redesigned its cute-and-cuddly Spark last year, giving their smallest and least-expensive car a more mature look and feel. We miss the old Spark's cheeky styling, but truth be told it always felt like a teenager's car. The new Spark is a grown-up, with more sophisticated styling and an interior that is less gimmicky but still good-looking. We like the way the Spark drives: Its 1.4-liter engine provides a nice balance between power and fuel economy, and the Spark rides more quietly and absorbs bumps better than most of its budget-priced rivals. That's a surprise given the fact that the Spark is the smallest car on this list; length-wise it's six inches shorter than the Mitsubishi Mirage hatchback, and yet it it's not afflicted by the choppy ride characteristics found in most tiny cars. And its small size means that you can squeeze it into impossibly small parking spaces. Downsides? The Spark has a cramped back seat, and it's really not suitable for transporting more than two people, except in a pinch. The inexpensive LS model is pretty sparsely equipped, though it does get air conditioning and an Apple CarPlay/Android Auto-capable stereo, and you can add an automatic transmission and still stay (just) under our $15,000 budget.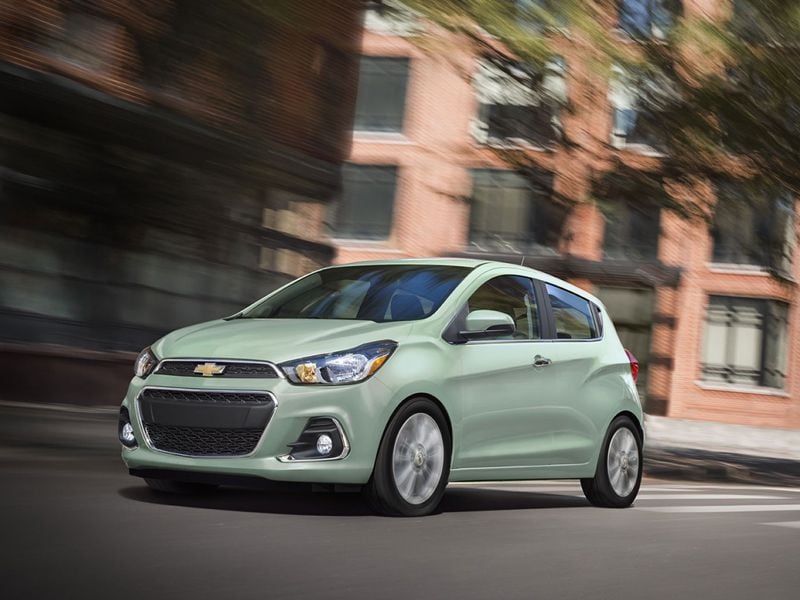 Photo by General Motors
2. Mitsubishi Mirage ES, $13,830
The Mirage is probably the most-maligned car on the market, but it's really not as bad as its press would indicate. Yes, its tiny 3-cylinder engine is noisy and excruciatingly slow, but it also delivers outstanding fuel economy (at least in hatchback form with an automatic transmission). True, it doesn't handle as well as its rivals, and can be especially annoying to drive on open highways, where its imprecise steering causes it to wander like a distracted puppy. But the entry-level Mirage ES is better equipped than any of the other cars on this list, including the more expensive ones. Standard equipment includes power windows, locks and mirrors, a display stereo with Apple CarPlay and Android Auto, and not just air conditioning, but automatic climate control—all standard. Not bad for the second-cheapest car on our list! A CVT automatic transmission—which we recommend for its better acceleration and fuel economy—brings the price to $15,030, a tad over our budget but close enough for government work. Mitsubishi introduced a sedan version of the Mirage called the G4 for the 2017 model year; we tested it and were impressed by its roomy back seat, which offers more comfort and legroom than our class favorite, the Nissan Versa. (In fact, the Mirage G4 has nearly as much legroom as the Honda Civic, which sets the standard for the larger compact class.) The basic G4 lists for $14,830, so it just fits into our budget, though you'll have to forgo an automatic transmission to stay under $15k.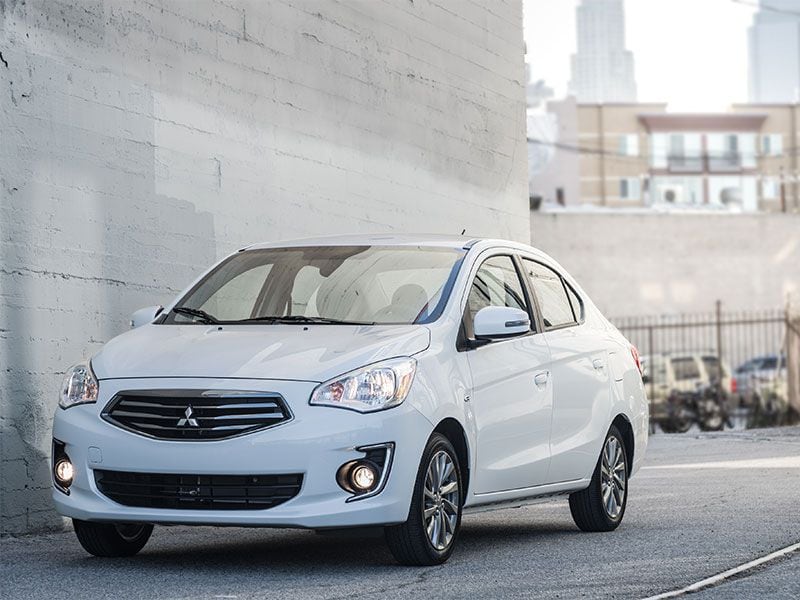 Photo by Mitsubishi
1. Nissan Versa Sedan, $12,855
The least-expensive car on this list also happens to be our favorite: Not only is it inexpensive, but the Versa sedan is an excellent family car with a roomy back seat and spacious trunk both, of which rival midsize cars that cost twice as much. And it's a Nissan, which means that if you follow the maintenance schedule and don't crash it, chances are it will last until the oceans turn to yoghurt and the sun falls out of the sky. The Versa S model is pretty basic; it comes with air conditioning and a Bluetooth stereo, but not much else. With a $15k budget, you can can step up to the $14,995 S Plus model, which adds cruise control and a CVT automatic transmission. (Nissan offers an old-tech 4-speed automatic as an option on the S model, but we advise you to skip it—the CVT offers far superior acceleration and fuel economy, plus it delivers a smoother ride.) The Versa is a bit homely-looking, but it drives well, returns good fuel economy (provided you avoid that 4-speed automatic), and offers plenty of room for growing families.