Europe today... and with luck (and a ton of cash), your driveway tomorrow!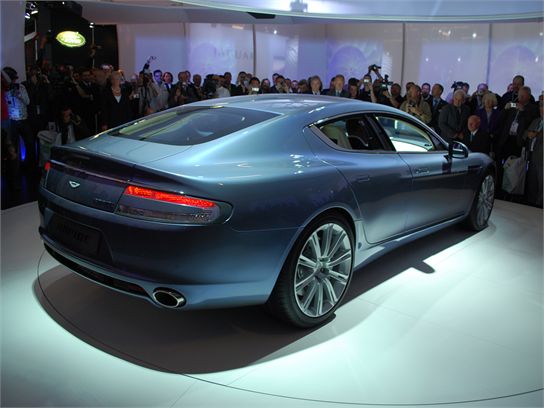 Guten Tag!
This year the Frankfurt Auto Show features an impressive 82 world premieres, including more supercars than a Dubai grocery store parking lot, lots of forward-looking electric vehicles, and concept cars that capture the imagination like a rocket ship toy in the hands of a 3-year old. Rather than tantalize you with vehicles destined only for European customers (this is the Frankfurt Auto Show after all), we've concentrated the gallery on debuts of vehicles that will actually make their way to America (except for the concepts, those are shipped back to Mars on Tuesday). Enjoy these 21 Must See Debuts from the 2009 Frankfurt Auto Show.
Page 2
Aston-Martin showed what it calls "the world's most elegant four-door sports car," the new Rapide. Built on an extended version of the aluminum architecture underpinning other Astons, the Rapide offers seating for four and a useful rear hatch. The four "swan wing" doors open at a slight upward angle, permitting access to individual sport seats. Motivation comes from Aston's hand-assembled 470-horsepower 6.0-liter V12 backed by a six-speed automatic transmission. Aston quotes a top speed of 188 mph. The Rapide goes on sale in early 2010 with pricing over $200,000.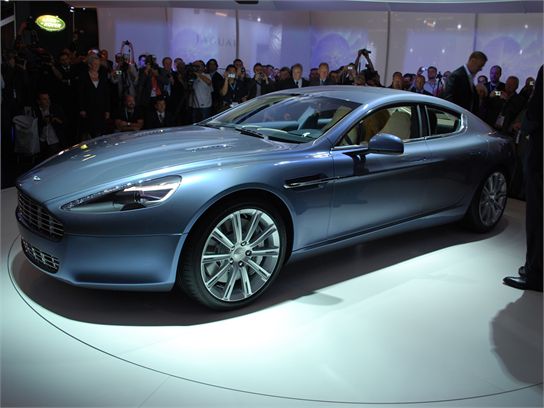 Page 2
While certainly admired in the U.S., some have found the Audi R8's unique aluminum "side blades" a bit awkward. At Frankfurt, Audi showed what the R8 looks like without them, and without a top, too. Due for European production in the first quarter of 2010, the R8 Spyder 5.2 FSI quattro features a power soft top, a vented cowl extending behind each seat, and carbon fiber bodywork for select parts. Powered by Audi's 525-horsepower 5.2-liter V10, the R8 Spyder can rocket to 62 mph in 4.1 seconds and top out at 192 mph. No U.S. on sale date has been announced, but it's coming and probably with the "base" 425-horsepower 4.2-liter V8 as well.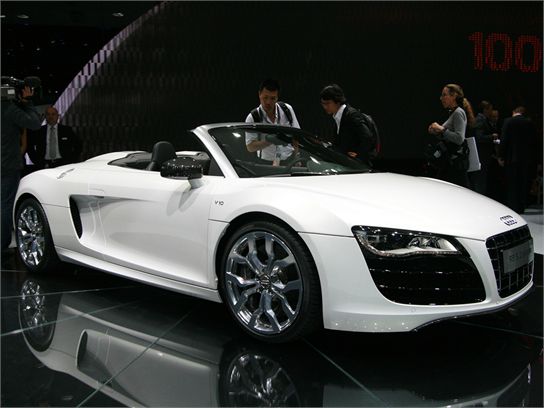 Page 2
Audi unveiled a second R8 at Frankfurt, this one a flight-of-fancy concept vehicle. The e-tron is an all-electric vehicle with four motors, two on each axle to deliver quattro all-wheel-drive performance and a 154 mile range. Audi says the e-tron can hit 60 mph in 4.8 seconds thanks to 313 horsepower and 3319.03 lb-ft of torque (electric motors have their max torque at 0 rpm). Car fans will most likely focus on the styling, which looks like it was done by Norelco. The e-tron is purely a testbed for electric vehicle technology, which Audi says is a long way away.
Page 2
Is it a car or a crossover? We call it a crossover with some SUV traits. BMW introduced the production version of the 2010 Series Gran Turismo, a unique sedan/hatchback. The 5 GT features a "bi-modal" trunk that can open like a trunk or a hatchback, a seating position raised two inches, and a bulkhead behind the rear seats to seal off the trunk. The GT is longer than a regular 5 Series, riding on the 7 Series' 120-inch wheelbase. It will initially come to the States this November as a 550i model with a 400-horsepower 4.4-liter V8. All-wheel drive and six-cylinder models are planned later.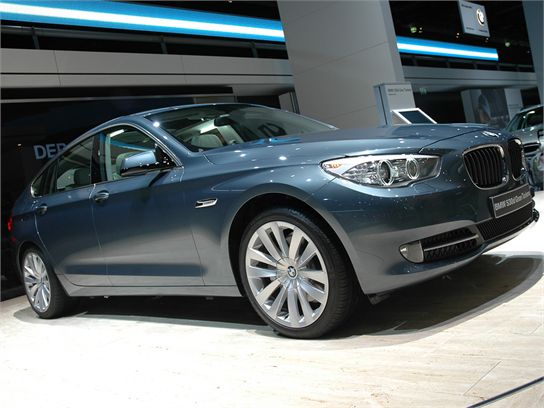 Page 2
BMW took the wraps off two hybrid vehicles, the X6 and 7 Series ActiveHybrids. Both use BMW's twin-turbocharged 4.4-liter V8, but the X6 is a full hybrid with two electric motors and the 7 is a mild hybrid with one. The 2011 X6 ActiveHybrid uses the two-mode hybrid system already in use by GM. Total output is 485 horsepower, the vehicle can run on electric power alone up to 37 mph, and fuel economy is improved by 20 percent. The 2011 ActiveHybrid 7, which is offered with the standard or long wheelbase, puts out 465 horsepower, its electric motor only aids acceleration, and fuel economy is up 15 percent. The X6 will be available this December and the 7 is due by April.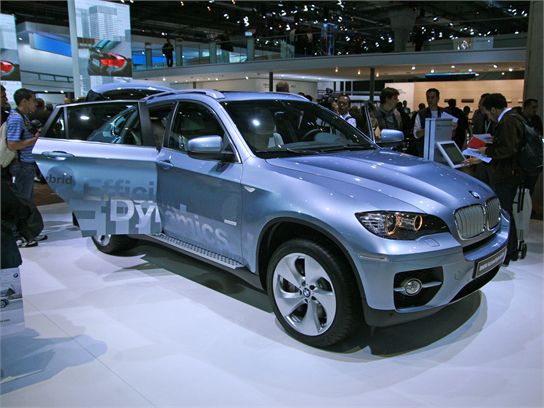 Page 2
BMW revealed a possible greener future for the supercar, the Vision EfficientDynamics Concept. A 2+2 coupe that uses a plug-in hybrid powertrain, the Vision has gullwing-style doors and flowing, aerodynamic bodywork. The Vision's three-cylinder turbodiesel engine is aided by two electric motors, one on each axle to balance weight and provide all-wheel drive. Total output is 356 horsepower and 590 lb-ft of torque, and the range is 431 miles with 31 miles of electric-only operation. Zero to 62 mph arrives in 4.8 seconds and the top speed is 155 mph. A production version is unlikely, but the powertrain and lightweight principles could show up in a high-performance sports car.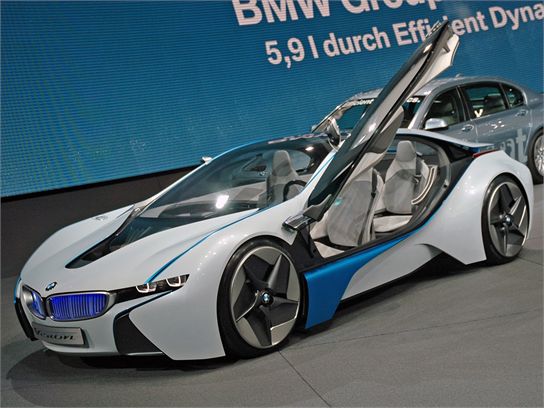 Page 2
BMW showed the production version of its third SUV (or fourth, depending on what you call the X6). The compact 2011 X1 will accommodate five passengers and fit below the X3 in size and price. When it goes on sale in early 2011 in the States, it will come as one model called xDrive28i. All-wheel drive will be standard and the lone engine will be a 3.0-liter straight six making 258 horsepower. Zero to 60 will take 6.8 seconds. More engines may follow, including a diesel option, and BMW may make a rear-drive model available as well.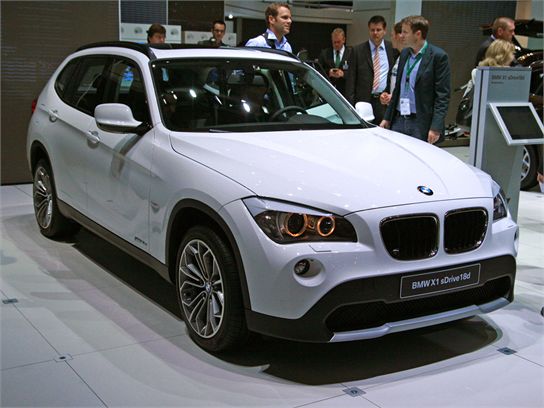 Page 2
Ferrari unveiled the successor to the F430, the 458 Italia. The mid-engine 458 features an aluminum chassis and an all-new body by Pininfarina. The heart of the 458, and the origin of the name, is the 4.5-liter V8 that puts out 570-horsepower. It is bolted to a new dual-clutch seven-speed automated manual transmission with steering wheel shift paddles. The steering wheel also houses many of the controls, which Ferrari says allows the driver to fully concentrate on driving and have maximum control. Performance is heart-stopping: 0-60 mph in just 3.4 seconds and a top speed of 202 mph. The 458 Italia goes on sale next year as a late 2010 model.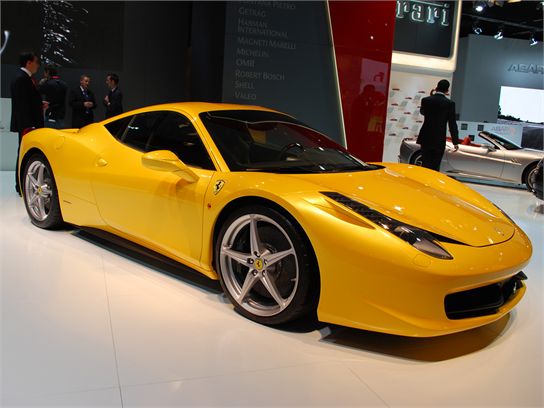 Page 2
Ford has been out of the minivan game since letting the Freestar die on the vine after the 2007 model year. At Frankfurt, the company confirmed that it will return to the minivan market with the Grand C-Max in late 2011. The Grand C-Max and its European sibling the C-Max will be the first vehicles on a new global compact architecture shared with the Ford Focus. With a lengthened wheelbase, though, the Grand C-Max will have seating for seven with a second-row center seat that can slide under either outside seat. A pair of sliding side doors will be standard but they will look like regular rear doors. Engine choices have yet to be announced, but a turbocharged four-cylinder is likely.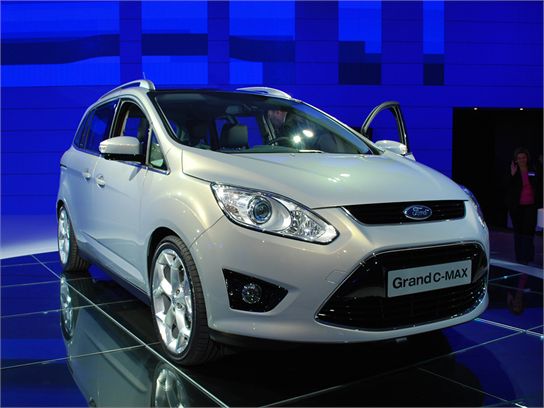 Page 2
Hyundai unveiled a new direction for its compact Tucson SUV. Instead of upright, truck-like styling, the 2010 Tucson, which may be called the Tucson ix in the U.S., looks more like a crossover. The "fluidic" styling is sleeker and Hyundai says the nose represents a new corporate face. Slightly longer and wider than the outgoing model, the 2010 Tucson will sit lower without sacrificing headroom. Two four-cylinder engines will be offered, as will front- and all-wheel drive. The 2010 Tucson ix will arrive late this year.