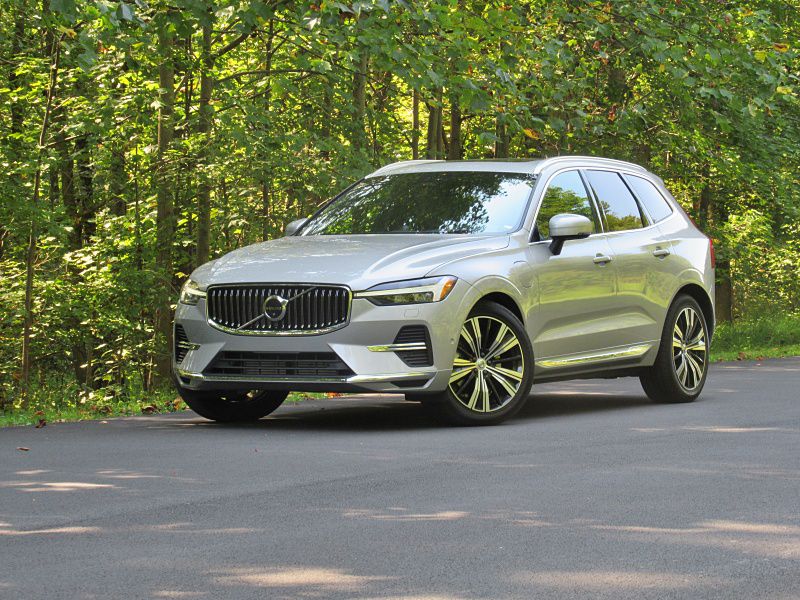 2022 Volvo XC60 Recharge ・ Photo by Brady Holt
Some luxury cars are built to wow you with incredible styling, features, performance, technology and overall excess. Others make a different promise: If you pay extra for them, they'll reward you with flawless competence. 
That's closer to the approach you'll find with the 2023 Volvo XC60, a compact luxury crossover that's priced from $43,450. Yes, you can get it with ultra-rich cabin trim, a fancy sound system, and powerful engines, but that's not the main point of this Volvo SUV. It's freshly updated last year with styling tweaks, a new infotainment system, better gas mileage, and greatly improved range on its available plug-in hybrid version. We spent a week testing the XC60 to learn more about its pros and cons. Keep reading to learn whether it's the right small luxury SUV for you.
Genteel Design
The current-generation XC60 debuted as a 2018 model, bringing this SUV into the current Volvo design language that the brand still uses today. It doesn't scream to your neighbors "I bought a brand-new luxury suv," but it's a quietly upscale design. 
In the front, the XC60 uses Volvo's "Thor's hammer" headlights: an LED spear that runs through the middle of the headlamp, then pushes out to touch the front grille. Crisp but undramatic body creases dress up the lower door panels, while the body bulges out with subtle muscularity above the rear wheel. This latter element meets the taillamps where they slide in to run up the sides of the big rear windshield. The XC60's whole body leans forward enough to give the crossover more presence, but not so much that it cuts badly into cargo space. Overall, this is a classy and attractive crossover that we think would be hard to hate. Last year's styling tweaks were subtle and included a better-decorated front bumper.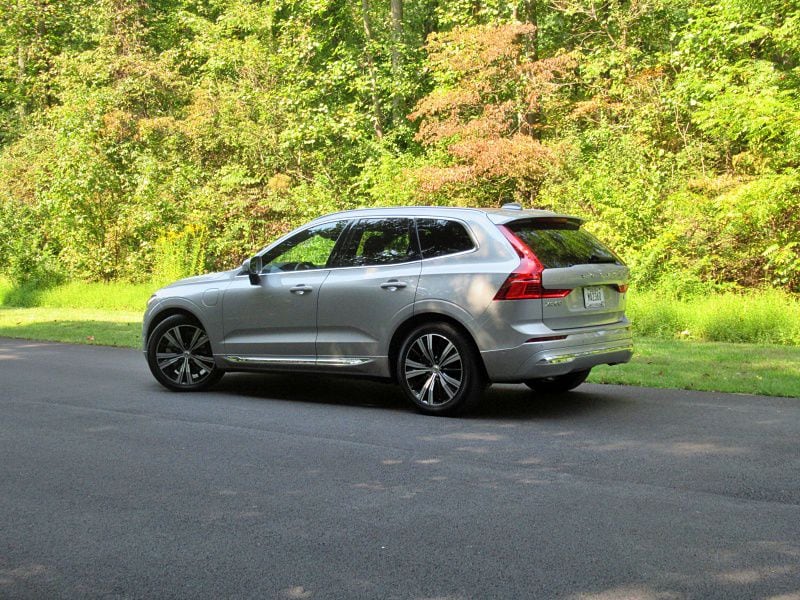 Photo by Brady Holt
Beautiful Interior
Volvo introduced its current interior design scheme back in 2016, and it hasn't gotten old. What's more, because the company uses a similar design across its entire lineup, even the compact XC60 feels like a flagship. A vertical 9-inch touchscreen stands in the middle of the dashboard, while wood or metal trim gracefully flows around it — a fetching blend of gracious luxury and modern technology. Some shiny black plastic trim is the only part of the cabin that's not aging as well, but materials otherwise look and feel rich and contemporary. 
As we mentioned, Volvo redesigned its infotainment system last year. Under a familiar skin is a customized Google interface that features the smartly predictive Google Maps system and the Google Play Store of downloadable apps. But because Volvo also designed the system with its familiar fonts and layouts, so it doesn't feel like you've merely plugged Android Auto into any old car. (The XC60 also supports Android Auto and Apple CarPlay.) While most competitors now have bigger touchscreens, Volvo also has a nicely configured digital gauge cluster that can also present a Google Maps view. A few controls could be simpler, but we're a fan of the XC60's interior overall.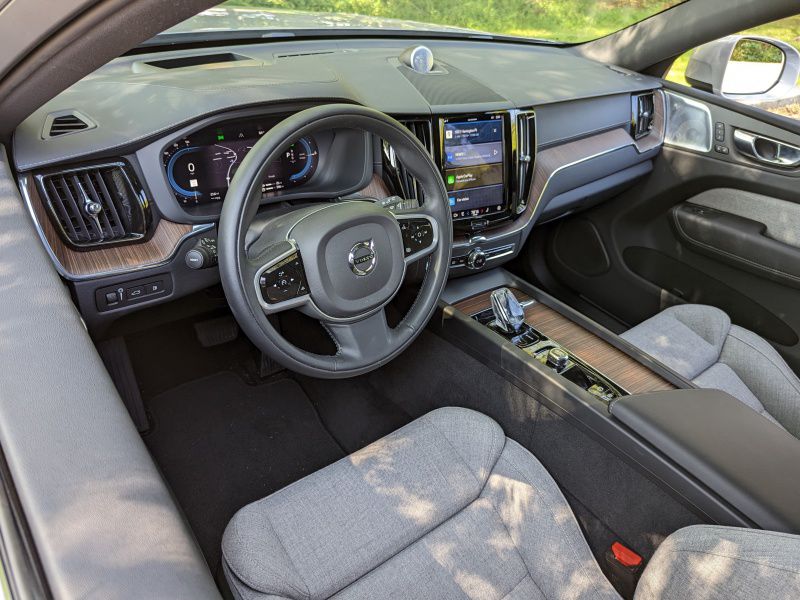 Photo by Brady Holt
Roomy and Comfortable Cabin
Compact crossovers have become the ride of choice for many families, and Volvo's reputation for safety furthers the XC60's appeal on this front. With its roomy and comfortable cabin, the XC60 is an appealing choice whether you're shuttling kids or driving solo. 
The front seats are comfortable and supportive, and our test vehicle had an unusual (and delightful) upholstery option: tailored wool, which blends authentic wool with recycled polyester for greater durability. It's attractive, breathable, and refreshingly different. If that's not to your tastes, though, traditional leatherette, genuine leather, and extra-rich Nappa leather are also on offer. The rear seat doesn't have stretch-out legroom, but adults will fit fine. Some competitors have more than the XC60's modest 22 cubic feet of cargo room behind the rear seat, but you do get an impressive 63 cubic feet with the rear seat folded down. And we were able to fit luggage for a family of four (including a stroller) behind the XC60's backseat.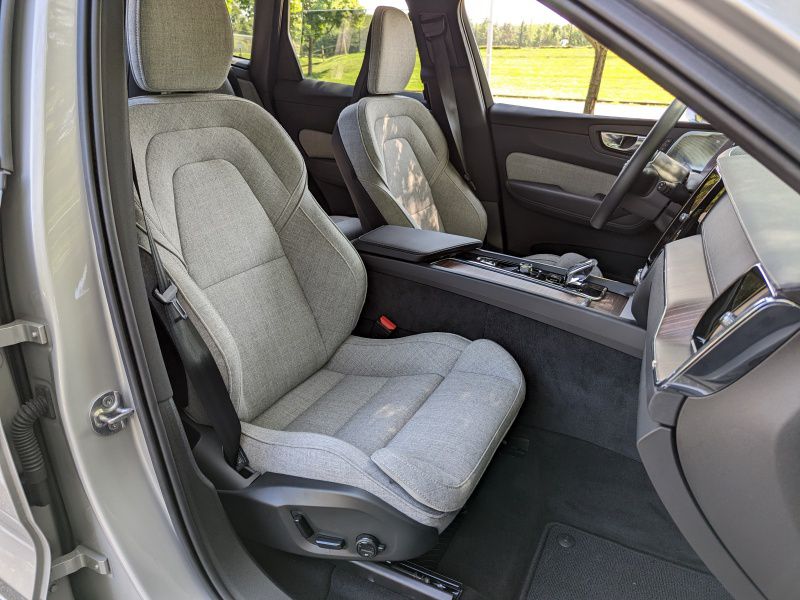 Photo by Brady Holt
Steady Driving Manners
The XC60's driving manners distinguish it clearly from mainstream-brand SUVs. This isn't a thrilling machine, but its supremely steady ride and handling provide high-end comfort and composure. An available air suspension helps even further, though as with all luxury cars, choosing oversize alloy wheels makes the ride stiffer. 
This composure pairs nicely with the XC60's capably speedy engines, which whiz this Volvo mildly but effectively up to speed. (We'll discuss the engines more on the next page.) This isn't the SUV you'd buy for exhilaration, even with the super-quick Recharge model. Thrill-seekers can hunt elsewhere. But when you're primarily focused on a vehicle that's genuinely nice, the XC60 won't disappoint. And even driving enthusiasts shouldn't hate its handling and acceleration.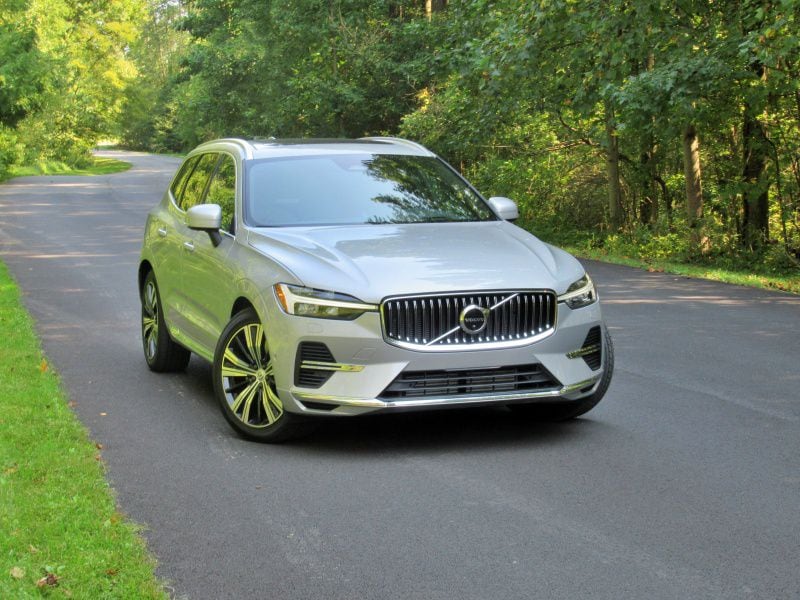 Photo by Brady Holt
Electrified Speed
The XC60 is available with a choice of three powertrains, all of which were updated last year to add or improve their electrification. Nearly every XC60 uses the base B5 powertrain, a turbocharged 2.0-liter four-cylinder engine with the newly added boost of a small electric motor. In total, it makes 247 horsepower and 258 lb-ft of torque, and it helps the XC60 zip to 60 mph in 6.6 seconds. The top "Ultimate" trim level is available with the B6 powertrain, which adds a supercharger to this same engine to achieve 295 hp, 310 lb-ft of torque, and a 0-60 run of 5.9 seconds. 
The fastest XC60 is the one with the biggest electric boost: the Recharge. While the pre-2022 XC60 plug-in hybrid added an electric motor to the turbocharged and supercharged four-cylinder, the 2023 model takes a more efficient approach. It builds off the base B5 engine, but it adds a more powerful electric motor than before. Total output is an absurd 455 hp and 523 lb-ft of torque, and 60 mph arrives in just 4.5 seconds.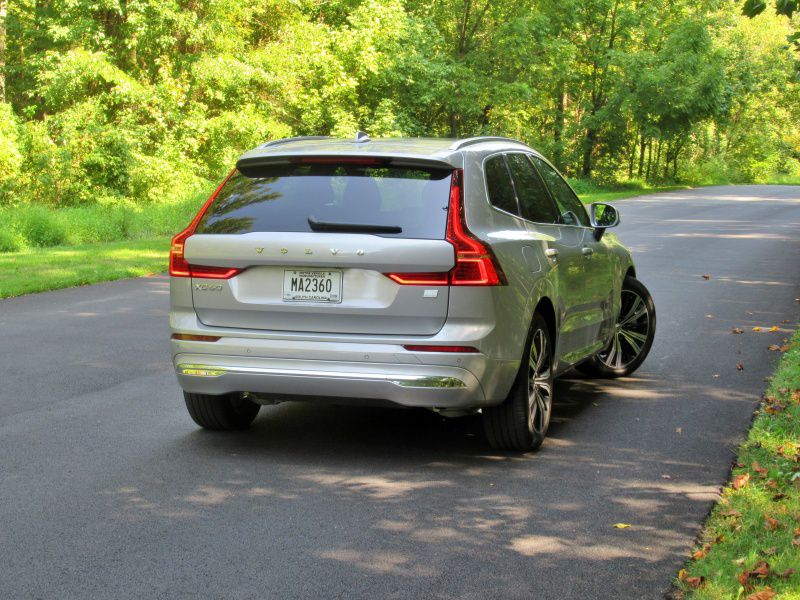 Photo by Brady Holt
Improved Efficiency
The electrified XC60 B5 and B6 are able to accelerate quickly while using a little less gasoline than their T5 and T6 predecessors. In EPA testing, the XC60 B5 manages 23 mpg in the city, 30 mpg on the highway, and 26 mpg combined with front-wheel drive, while all-wheel-drive B5s dip to 22 mpg city, 28 mpg highway, and 24 mpg combined. The B6, sold only with all-wheel drive, averages an EPA-estimated 21 mpg city, 27 mpg highway, and 24 mpg combined. These figures are about 1 mpg better than the old engines, which were already economical given their level of performance. 
The biggest difference of all is the upgraded XC60 Recharge plug-in hybrid. A bigger battery nearly doubles its all-electric range from 18 to 35 miles in EPA testing. The more powerful electric motor means you can drive faster without needing the gas engine. And dropping the supercharger boosts gas mileage from 27 mpg to 28 mpg after the range is used up. We did even better in our test, consistently topping 40 miles per charge and averaging about 32 mpg afterward.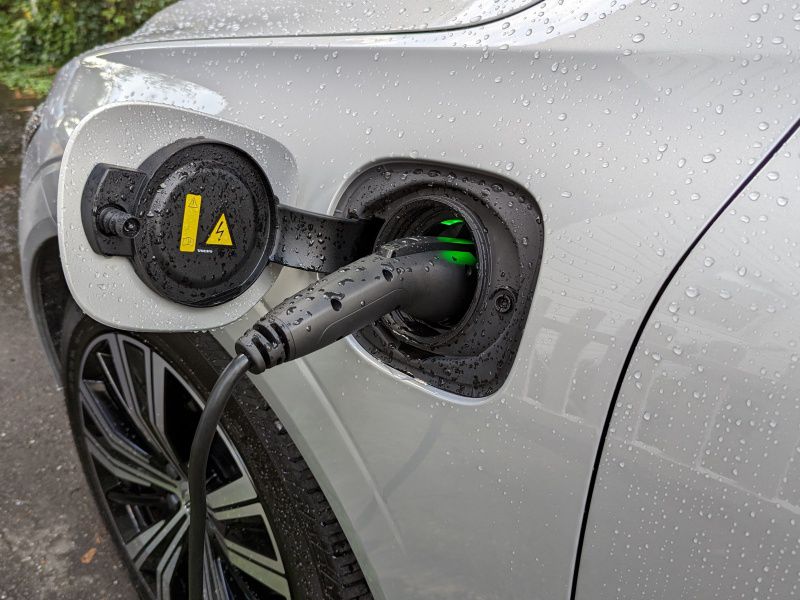 Photo by Brady Holt
Top Safety Pick+
Volvo has long been known for safety, and the XC60 lives up to this reputation. It earned the highest rating of Top Safety Pick+ from the Insurance Institute for Highway Safety, along with five out of five stars from the National Highway Traffic Safety Administration. 
Standard safety features are comprehensive as well. These include front and rear automatic emergency braking, blind-spot monitoring with a rear cross-traffic alert, and lane-keeping assistance with a lane-departure warning. And all but the base model add a surround-view parking camera and adaptive cruise control. These are similar features to what you'll find on the XC60's competitors, but Volvo has proven itself on the safety front overall.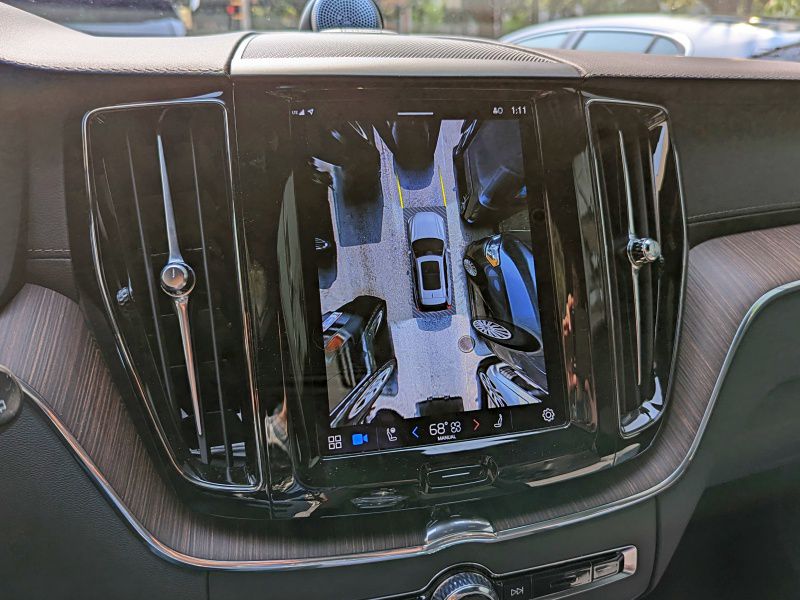 Photo by Brady Holt
XC60 vs. the Competition
This year, you need to spend at least $59,050 to get the XC60's B6 engine (paired with an opulently equipped top trim level), and the Recharge plug-in hybrid starts at $57,400 while coming closer to the base B5's standard features. Even that latter model isn't a bargain leader at $43,650, though that price does include niceties like a panoramic moonroof, memory settings for the power driver's seat, GPS navigation, and rain-sensing windshield wipers. 
The XC60's top rivals are the BMW X3 and Audi Q5. The BMW has more room and sharper handling, and the Audi has a lower-cost plug-in-hybrid option. But we find the Volvo's interior to be warmer and more welcoming. We're also fans of the fun-to-drive Genesis GV70 and the smooth Lincoln Corsair — both of which cost less than the XC60. The Corsair and the Lexus NX also have plug-in versions that are strong rivals to the XC60 Recharge; the Lexus has the longest electric range of the trio, while the Corsair costs the least. Lastly, if you aren't considering a PHEV, we'd strongly consider the subcompact Volvo XC40; it delivers much of the XC60's room, comfort, safety, and cabin ambiance, but a lower price and more spunk.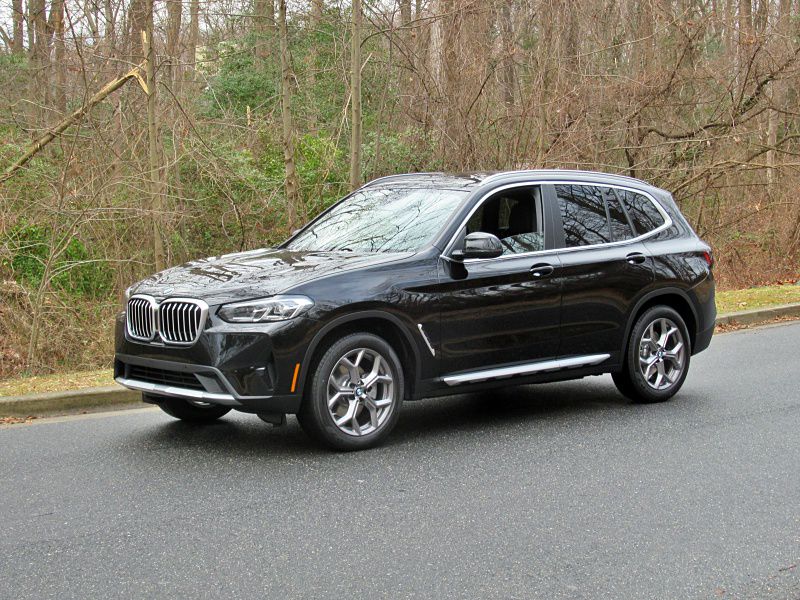 Photo by Brady Holt
Final Thoughts
Some luxury suv buyers will have no interest in paying top dollar for a Volvo, or they'll prefer something with a more extroverted design or invigorating driving experience. That's fine; there are plenty of excellent compact crossovers to meet those needs. 
But if you're looking for classy competence, gentility, and family-friendly comfort, safety, and utility, the XC60 should serve your needs well. The plug-in hybrid version offers gas-free commuting, and every engine is both peppy and fuel-efficient. And we do love that wool interior. The 2023 Volvo XC60 justifies its price tag and belongs on your compact luxury SUV shopping list.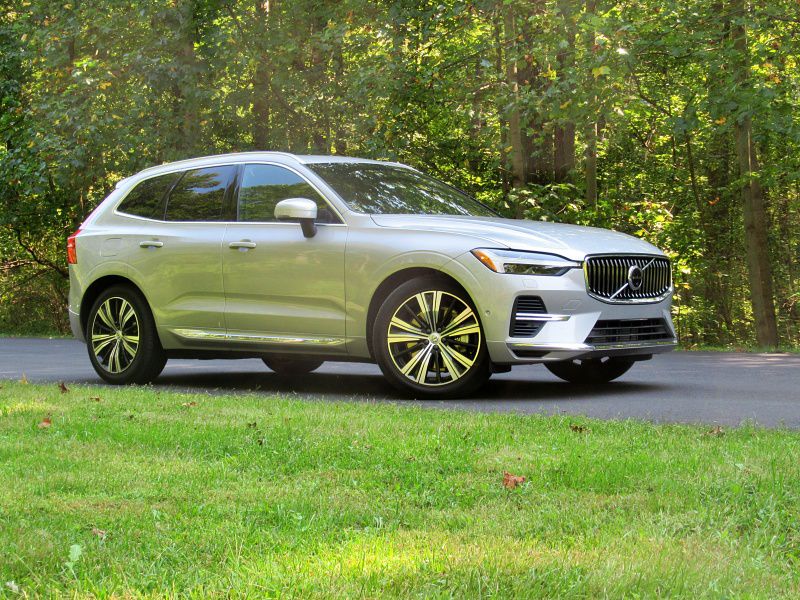 Photo by Brady Holt