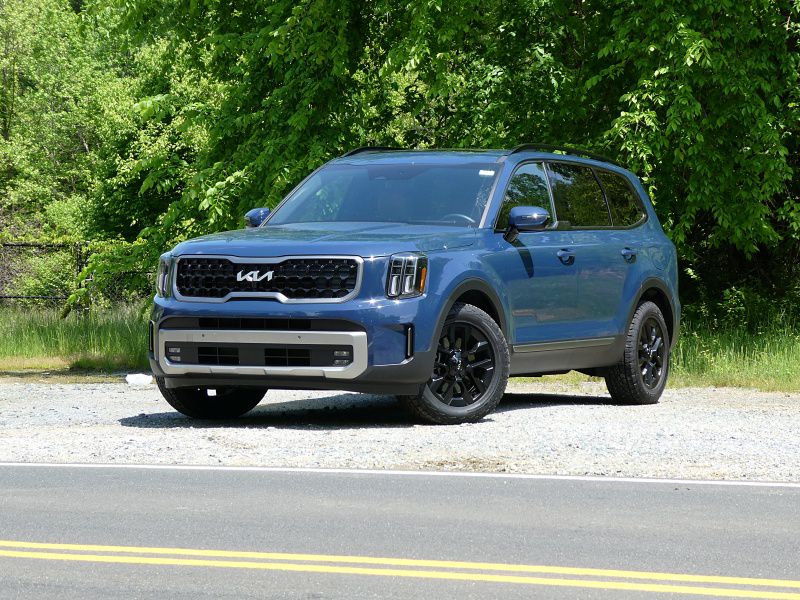 2023 Kia Telluride SX Prestige X-Pro ・ Photo by Brady Holt
When it debuted as a 2020 model, the Kia Telluride became an instant benchmark among three-row crossover SUVs. It was equal parts luxurious, family-friendly, and affordable, facing rival three-row crossovers that were lucky to hit even two of the three. 
Facing fresh competitors, the Telluride has gone through its first significant update for its fourth year on the market. The new Telluride brings revised styling, flashier interior technology, more standard features, and a broader model lineup. We just spent a week testing the newly updated 2023 Kia Telluride, which is priced from $35,890. Keep reading to learn our impressions of this SUV's pros and cons so you can determine whether it's the right big three-row crossover for you.
Freshly Updated Style
The Telluride's appeal starts with its styling. Its rounded-off-block body is a classically SUV shape in a field where many rivals are more car-like, yet it's classy more than aggressive. It's more Range Rover than ordinary family bus, yet the boxiness is also useful, not pretentious. Most trim levels come with big, dressy 20-inch wheels.
For the 2023 model year, Kia leaned toward a more off-road flavor. The bumpers, grille, and vertical headlamps are each more chiseled, with sharper, more defined, and more purposeful lines. And new X-Line and X-Pro trim levels take this emphasis further, with blacked-out trim replacing some chrome, higher roof racks, and a slightly higher ground clearance: 8.4 inches versus an already-OK 8.0 inches on other Tellurides. The X-Pro like our test vehicle adds all-terrain tires as well. (Expect to pay about $2,000 extra for an X-Line and another $1,000 for an X-Pro.) This still isn't an off-road machine like a Toyota 4Runner, either in style or in substance. But if you'd been looking for extra toughness in your Telluride — and Kia evidently thinks you were — you'll welcome these design changes.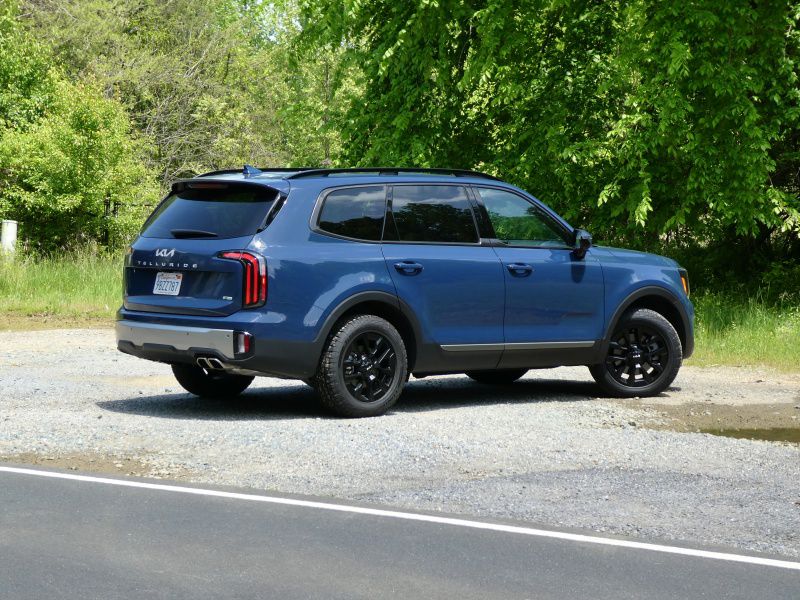 Photo by Brady Holt
Familiar Bargain Pricing
The Telluride has always offered a lot of features for the money, and that continues in 2023. The base LX model is a reasonable $35,890 with high-end features that include synthetic leather upholstery, a 12.3-inch touchscreen with GPS navigation, automatic climate control, and push-button starting. The S, $37,790, adds heated front seats, a power driver's seat, and a wireless smartphone charger. And at $41,490, the mid-level EX is almost equivalent to a fully loaded competitor with genuine leather, ventilated front seats, a standard-size sunroof, a power liftgate, and built-in rear sunshades. 
For more decadence, the SX starts at $45,690 with a 10-speaker stereo, a digital key, a panoramic sunroof, blind-spot cameras, and a surround-view parking camera. And the SX Prestige, $50,590, has Nappa leather upholstery and heated and ventilated second-row seats. We wish Kia hadn't reserved a heated steering wheel and rain-sensing windshield wipers for this top trim, though. All-wheel drive costs $2,000 extra. Our SX Prestige X-Pro test vehicle came to $55,120, which is not cheap, but it's still not bad for all the features you get. Skipping the "X" models gets you a better bargain still.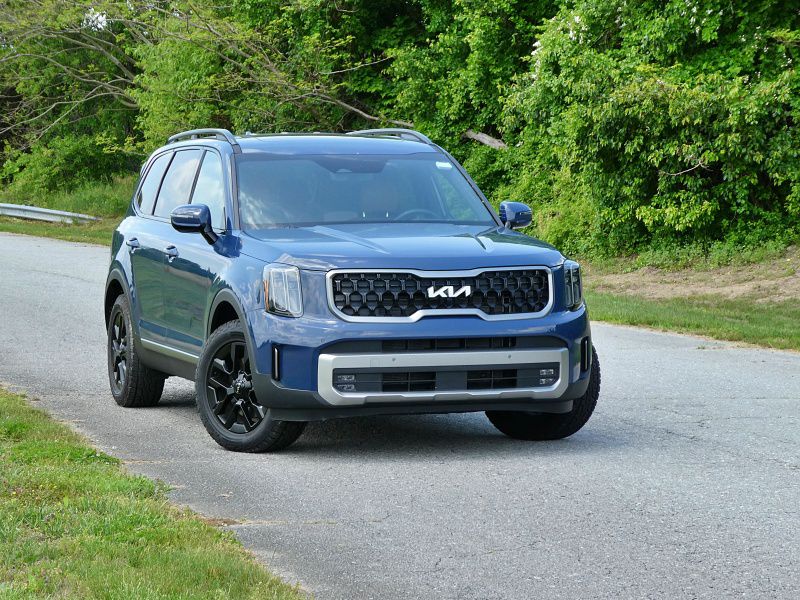 Photo by Brady Holt
Higher-Tech Interior
The Telluride's interior has impressed since its debut for its blend of elegant design, slick technology, and easy-to-use controls. The 2023 model introduces a redesigned dashboard, a bigger touchscreen, and a new customizable digital gauge cluster that connects to this touchscreen across a single panel. 
We have gotten so used to the Telluride's excellence, we're able to nitpick. What stands out most to us is any rare imperfection. The infotainment system annoyingly makes you swipe away from a largely decorative blank homescreen. The rear climate settings are fussy to adjust from the front seats. The turn signal stalk and a couple of dashboard knobs feel cheap. But overall, this is a fantastic interior for a well-priced big family car. We've been in luxury suvs that feel less upscale than this Kia.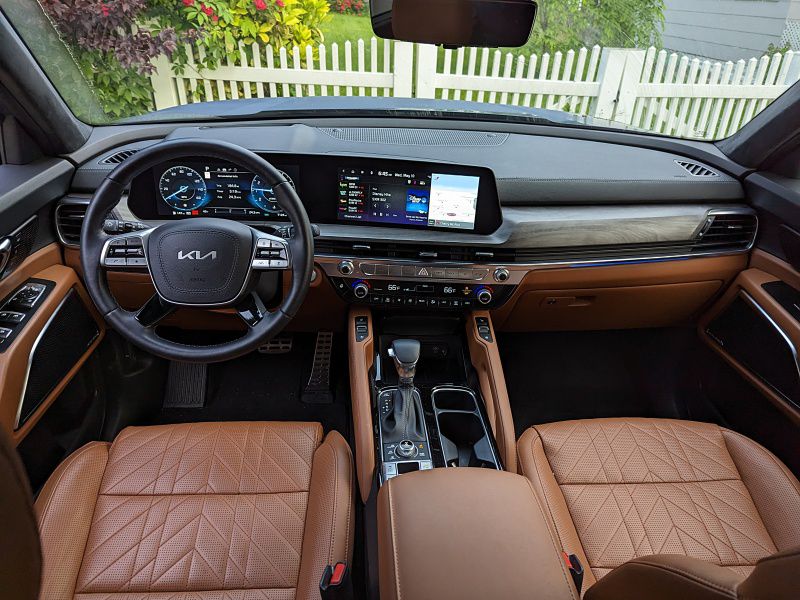 Photo by Brady Holt
Family-Friendly Space and Comfort
The Telluride's interior space benefits from Kia's clever decision to make the SUV stylishly boxy, not stylishly sleek. The result is stretch-out passenger space in the front seats and second row. And even with the fore-aft-adjustable second row all the way back, adults can fit in the third row. This isn't an exclusive perk, but if you'll use your big crossover to carry people in the far back, the Telluride will fit them inside better than most. 
Another perk is that the Telluride seats up to eight passengers, while some rivals max out at seven. Eight-passenger seating involves a three-passenger second-row bench seat, which is standard on the LX and EX models only. All other Tellurides have second-row captain's chairs with seven-seat capacity, which is also optional on the EX. At least the Kia's three-passenger third row means that no Telluride seats only six, which is the situation if you get captain's chairs in a Volkswagen Atlas, Mazda CX-9, or most luxury-branded mid-size SUVs.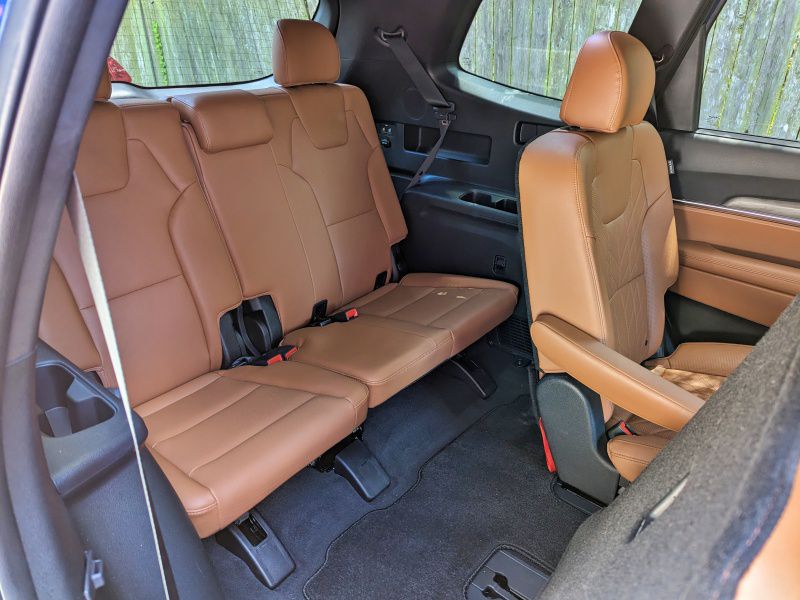 Photo by Brady Holt
Useful Cargo Capacity
Similarly, the Telluride has a useful cargo capacity that measures 21 cubic feet behind the third row, 46 cubic feet behind the second row, and 87 cubic feet behind the front seats. The rear seats fold easily and lie flat. A growing number of competitors have leapfrogged this volume, but this big Kia remains competitive among people who expect to carry a lot of stuff in their SUVs. 
This year also brought improvements for towing. The X-Line trims include a selectable Tow Mode that recalibrates the engine and transmission for pulling a trailer. And the X-Pro brings slightly more capacity, increasing from a class-standard 5,000 pounds to 5,500.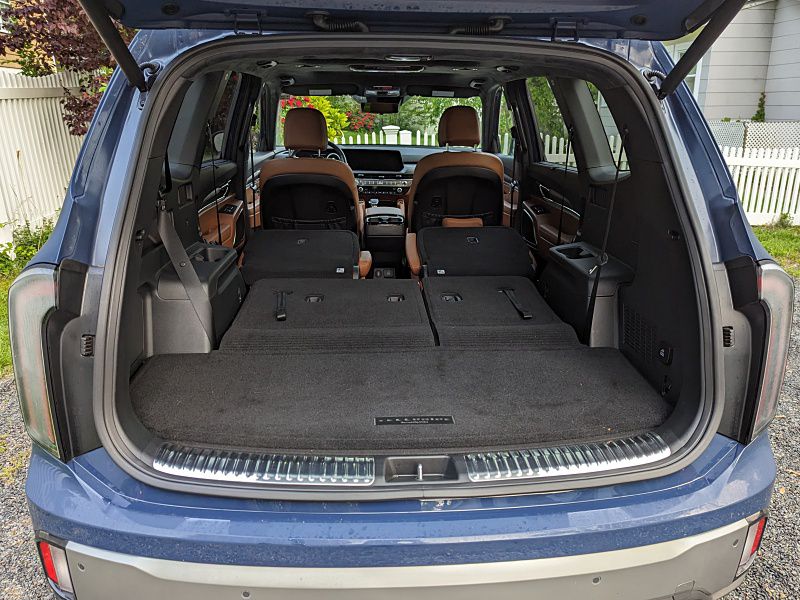 Photo by Brady Holt
Smooth and Quiet
If you like driving a minivan, you'll be happy behind the wheel of a Telluride. Some readers are likely to cringe, while others are nodding approvingly. 
Here's what we mean: The Telluride rides smoothly and quietly, is easy to drive, and accelerates effortlessly in normal conditions with its 3.8-liter V6's 291 horsepower and 262 lb-ft of torque. There isn't a lot of personality here, either in a burly-truck vibe, a sporty-performance feel, or any warts or tradeoffs. The Telluride's driving experience is all about genteel competence. And if that sounds right to you, you'll like this Kia more than many higher-end SUVs. The Kia's old-school engine (a large-displacement naturally aspirated V6 with no hybrid or electric option) isn't a fuel-sipping standout, though. The EPA records an estimated 20 mpg in the city, 26 mpg on the highway, and 23 mpg combined with front-wheel drive and 2 mpg less with all-wheel drive. Our AWD test vehicle did beat the EPA estimate to average 23 mpg in mixed driving.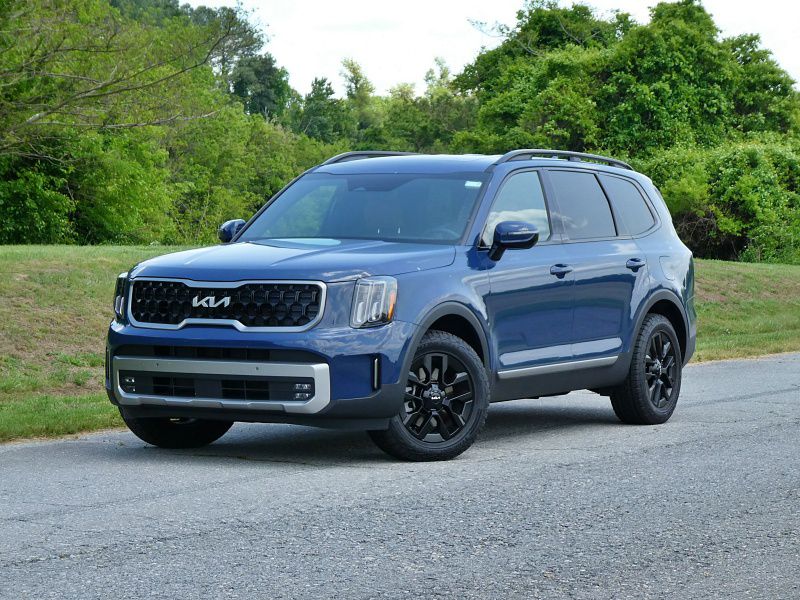 Photo by Brady Holt
Upgraded Safety
The 2023 Kia Telluride comes standard with a long list of advanced safety and driver-assistance features, including adaptive cruise control, forward automatic emergency braking, blind-spot monitoring, and a lane-departure warning with automatic steering assistance. New this year, the car can also warn drivers about or actively avoid a wider range of obstacles. And an available feature links the navigation system to the cruise control to slow down in preparation for curves. As we mentioned, upper trim levels also include a blind-spot camera mirror that activates in the gauge cluster when you signal a turn. 
Kia also upgraded the Telluride's structure and airbags this year to improve protection in side impacts, improving its performance in a tough new crash test from the Insurance Institute for Highway Safety. Last year's Telluride scored a Marginal rating in this test, the second lowest of four grades. Now, the SUV scores the highest Good in all categories, making it a Top Safety Pick+. 
Photo by Brady Holt
Advancing Competition
In the time since the Telluride's original debut, two key rivals have received full redesigns: the Nissan Pathfinder and Honda Pilot. Jeep added its first-ever three-row Grand Cherokee, and Mazda added a new three-row flagship called the CX-90. Chevrolet added more standard safety features to its Traverse. Subaru introduced a bigger infotainment screen on the Ascent. And Volkswagen is about to roll out a more fuel-efficient Atlas, while Toyota is bringing a big new Grand Highlander with an available hybrid powertrain. 
Against these competitors, the Telluride continues to boast an uncommon blend of luxury, utility, and value. This year's X-Line and X-Pro versions also face off against rivals that offer more of an off-road attitude. You can only match that mix from the Hyundai Palisade, which shares its mechanical components with the Telluride but has a more conventionally luxurious design, a larger console bin, and three years or 36,000 miles of free scheduled maintenance.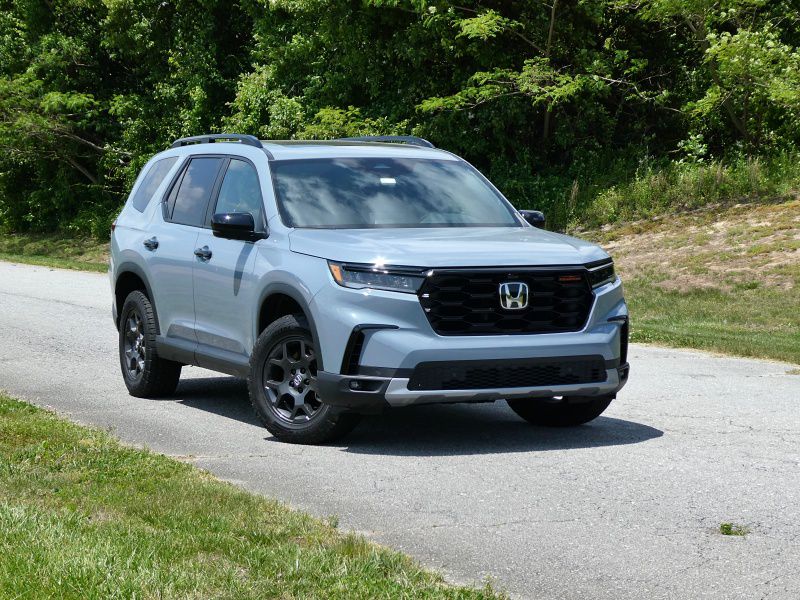 Photo by Brady Holt
Value That Doesn't Feel Budget-Grade
In addition to the "sum of its parts" qualities, the Telluride debuted as the rare family-friendly SUV that also had character. It was a stylish, luxurious SUV, not just a competent family bus. And that remains. 
The 2023 Kia Telluride isn't quite as dominant as it once was. The competition is catching up, especially if you're interested in sporty handling, great gas mileage, maximum cargo capacity, or true off-road chops. But for a roomy interior with three usable rows of seats, a quiet and relaxed ride, an elegant interior, and lots of luxury features for the money, the Telluride remains a winning choice for many folks' needs. It's a bargain whose appeal extends far beyond its price tag.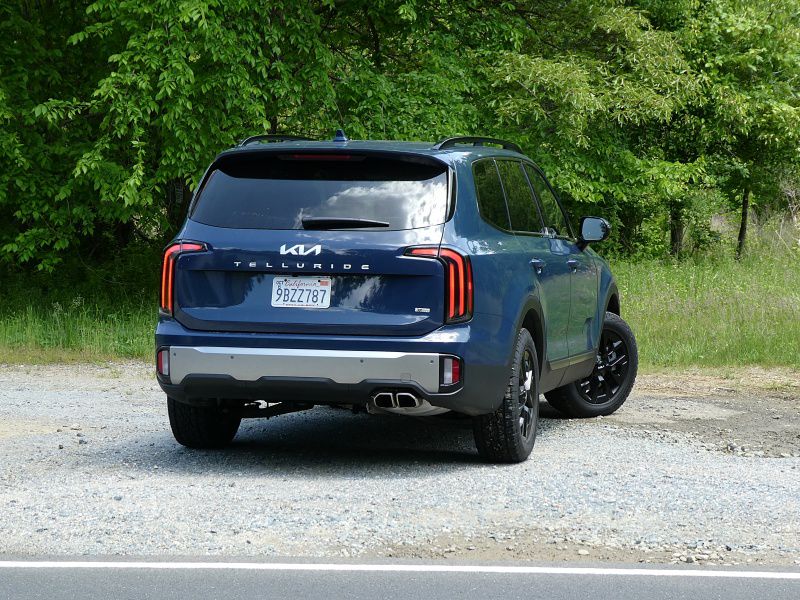 Photo by Brady Holt