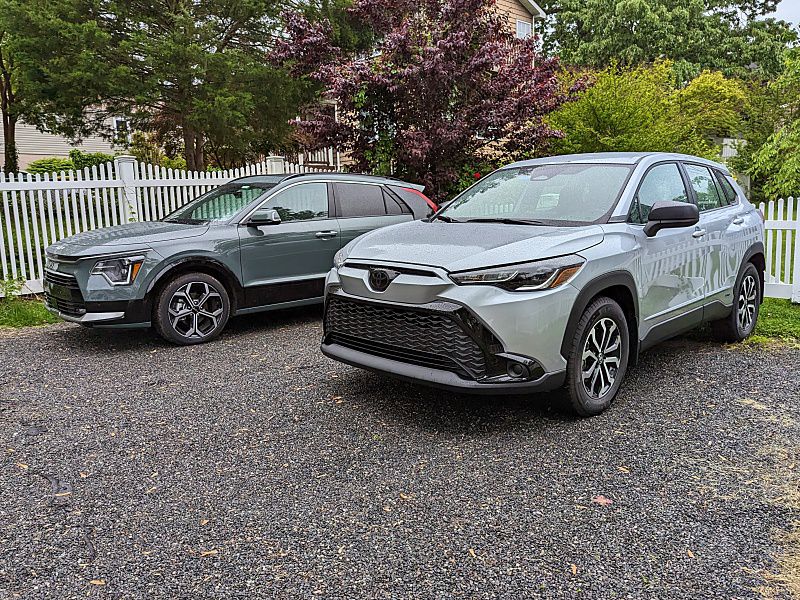 2023 Kia Niro Hybrid and Toyota Corolla Cross Hybrid ・ Photo by Brady Holt
The most famous hybrid is the Toyota Prius, a small hatchback that defined the segment with its unmistakable design and best-in-class gas mileage. But not many people are buying small hatchbacks these days. Instead, small crossover SUVs are carrying the day for their extra cargo room and higher seating positions. 
Enter the 2023 Toyota Corolla Cross Hybrid. It's an all-new gas-electric version of Toyota's subcompact crossover, like a scaled-down version of the company's best-selling RAV4 Hybrid. And it faces off against a freshly overhauled version of the Kia Niro, which has virtually owned this segment since its debut in 2017. For this review, we tested the Niro and Corolla Cross Hybrid back to back to learn about how they stack up in eight different areas. Keep reading to see our thoughts, find out our overall winner, and see which small hybrid crossover is the best choice for you. 
Pricing and Features
The Niro and Corolla Cross Hybrid have similar starting prices of $26,590 and $27,970, respectively. Both come standard with features that include an 8-inch touchscreen infotainment system, adaptive cruise control, and lane-keeping steering assistance. The Niro also adds automatic climate control and blind-spot monitoring, but the Corolla Hybrid counters with a standard feature that's a must for many SUV buyers: all-wheel drive. The Kia is sold only with front-wheel drive. 
If you're not attached to AWD, the Kia is a better deal. It not only costs less, but it's also available with several features you can't get from the Toyota: a bigger 10.25-inch touchscreen (standard on all but the base Niro), a heated steering wheel, ventilated front seats, and a memory system for the power driver's seat. However, if you like a sunroof, the Corolla Cross Hybrid offers it as an option on lower-cost models than the Niro. Overall, we'll call this category a tie. 
Tie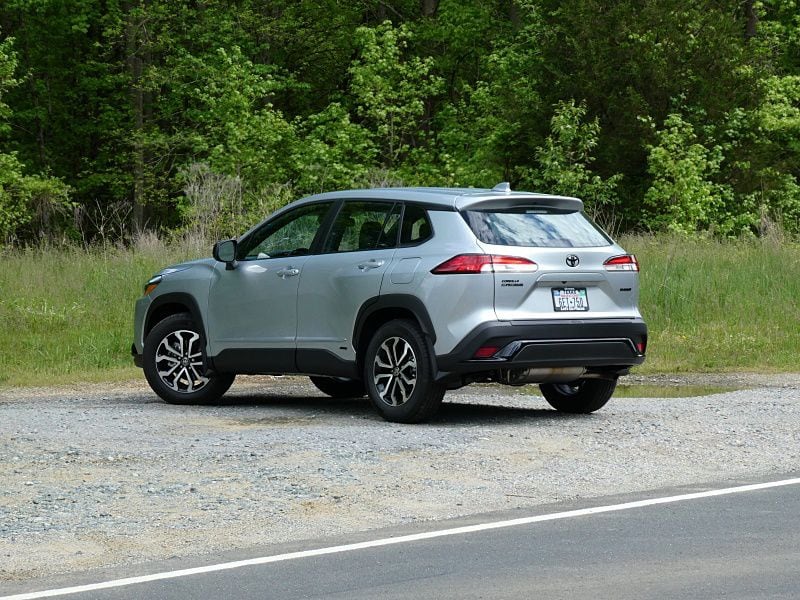 Photo by Brady Holt
Fuel Economy
The 2023 Toyota Corolla Cross Hybrid earns EPA estimates of 45 mpg in the city, 38 mpg on the highway, and 42 mpg combined. And we averaged an outstanding 47 mpg during our weeklong test. That puts the Corolla Cross Hybrid among the most fuel-efficient SUVs in the U.S. that you don't have to plug in. 
However, the 2023 Kia Niro is even more economical. Lower and lighter than the Toyota, this Kia gets 53 mpg in the city, 54 mpg on the highway, and 53 mpg combined in most trim levels and 53 mpg city, 45 mpg highway, and 49 mpg combined on Touring models with bigger wheels. Our SX Touring test vehicle beat that estimate to average 53 mpg. What's more, you can also get a Niro plug-in hybrid with up to 33 miles of all-electric range before its gasoline engine kicks in to help out, or even a fully electric model with 253 miles of range per charge. 
Kia Niro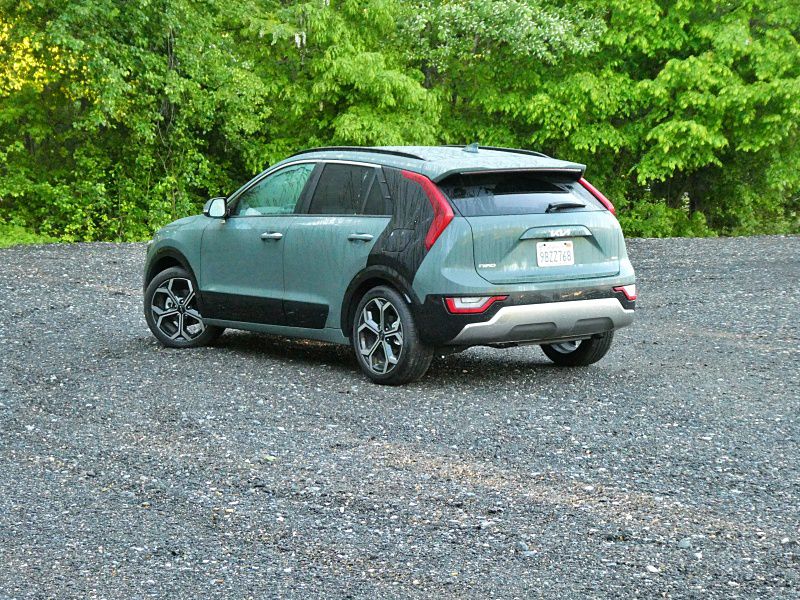 Photo by Brady Holt
Exterior Design
Unlike many subcompact crossovers, the Corolla Cross Hybrid is an upright SUV. It adopts the overall proportions and styling elements of the larger Toyota RAV4: high headlights, horizontally stretched taillights, and subtly bulging fender flares. The main difference (besides the size) is that while the latest RAV4 tries to look like an aggressive off-road-ready SUV, the Corolla Cross softens the details with rounded-off headlights, taillights, and bumpers. Corolla Cross experts will recognize the hybrid model for its lower grille, which strands the Toyota logo up by the hood. 
The Niro looks significantly smaller than the Corolla Cross Hybrid, but the dimensions are nearly identical except for height: The Toyota is 4 inches taller. The other key difference is that while the Corolla Cross Hybrid is a soft but boxy SUV, the redesigned Niro is styled to look like something from the future. A slim grille slips into the upper portion of split-level headlamps. Slim C-shaped taillights wrap around past the rear windshield. An available colored body panel stretches next to those taillights from the rear fender to the roof, creating a two-tone effect. We'll let you choose your own winner between the more conservative Toyota and the more striking Kia. 
Tie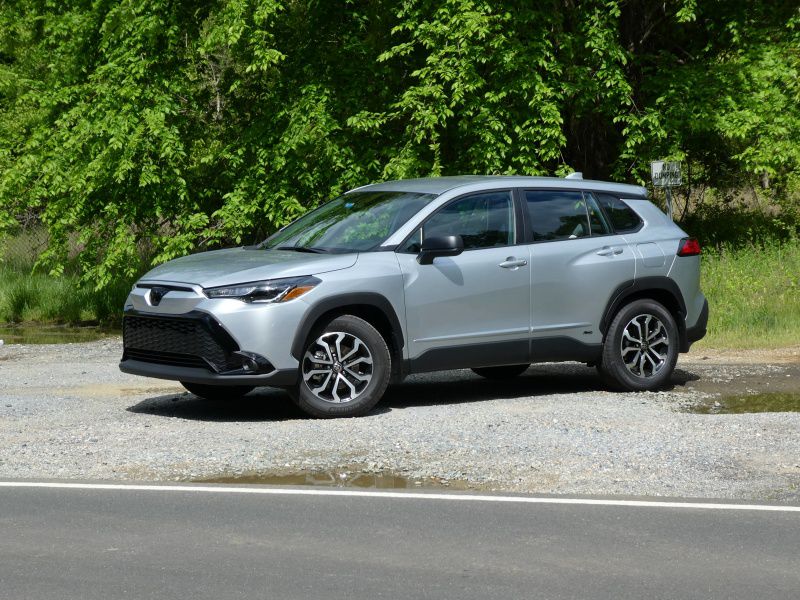 Photo by Brady Holt
Interior Design
It's a similar story inside: The Corolla Cross Hybrid is simple and friendly, while the Niro is advanced and futuristic. As we mentioned, most Niro trim levels include a 10.25-inch touchscreen, which Kia integrates with a digital gauge cluster in a spear-shaped dashboard. The cabin isn't luxuriously finished, particularly with its low-grade roofliner. But overall, this interior is solidly built and attractive enough to avoid seeming budget-basic. 
The Corolla Cross Hybrid has some nicer dashboard materials and simpler, easier-to-use controls than the Niro. That might give it the win for some folks. But we preferred the Kia's technology; the Toyota doesn't move beyond its base 8-inch touchscreen, which is also configured to show only one view at a time; the Niro's lets you view, say, radio information next to your GPS map. We were also bothered by the Corolla Cross's undamped center console bin, which slams closed if you don't guide it down gently, and its roofliner is just about the only one cheaper than the Niro's.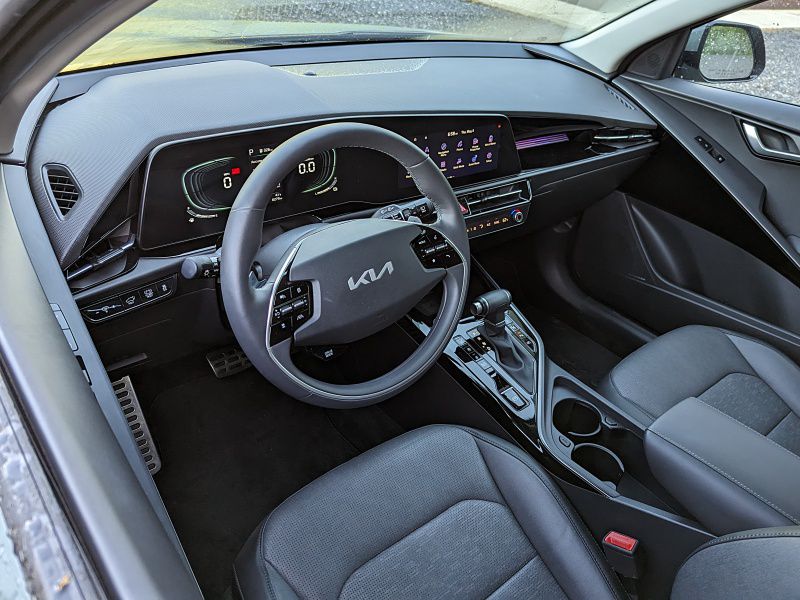 Photo by Brady Holt
Passenger Accommodations
We mentioned that the Corolla Cross Hybrid is taller than the Niro. You feel that in its higher, more SUV-like seating position. The Niro doesn't sit sedan-low, but it's somewhere between a Corolla Cross and a standard Corolla. 
Both crossovers have comfortable, well-shaped seats with plenty of room in the front and enough space for adults to fit in the back without stretching out. As we mentioned, the top-of-the-line Niro includes a few comfort amenities that you won't find on the Corolla Cross Hybrid, but we think the higher seating position is a more valuable perk for more crossover buyers. 
Toyota Corolla Cross Hybrid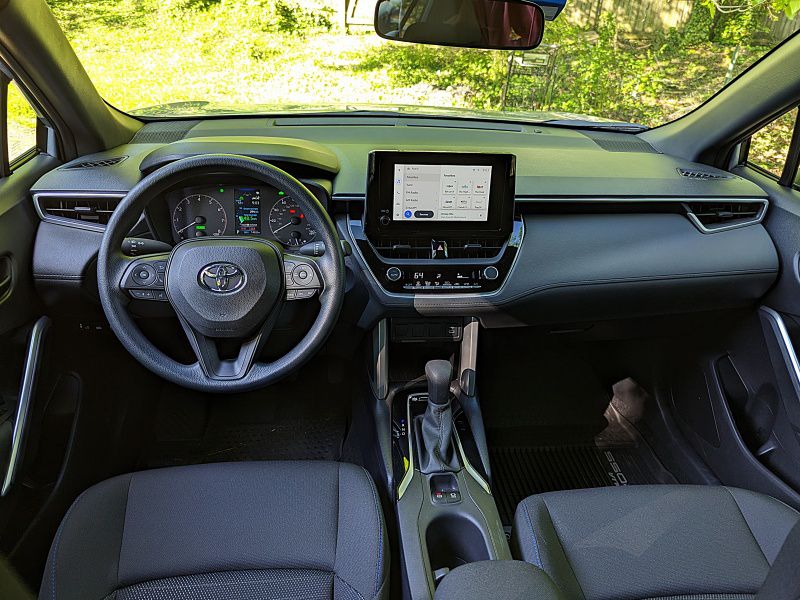 Photo by Brady Holt
Cargo Capacity
Despite its extra size, the Corolla Cross Hybrid actually has slightly less cargo space than the Niro. At 21.5 cubic feet behind the rear seat and 61.8 cubic feet with the rear seat folded, it's among the roomier subcompact crossovers. But it's about 5 cubic feet less than the gas-only Corolla Cross, with the electric battery taking up some cargo room. 
By contrast, the Niro (which was designed from the ground up as an electrified vehicle) fits 22.8 cubic feet behind the rear seat and 63.7 cubic feet with the rear seat folded down. That's not a massive cargo hold, especially before you fold down the rear seat, but the Niro is roomy and versatile for such a small and economical vehicle. We also appreciated the Kia's thoughtful cabin storage, which includes retractable cupholders you can pop out in the center console when you'd rather hold a cup or phone than have a big open space.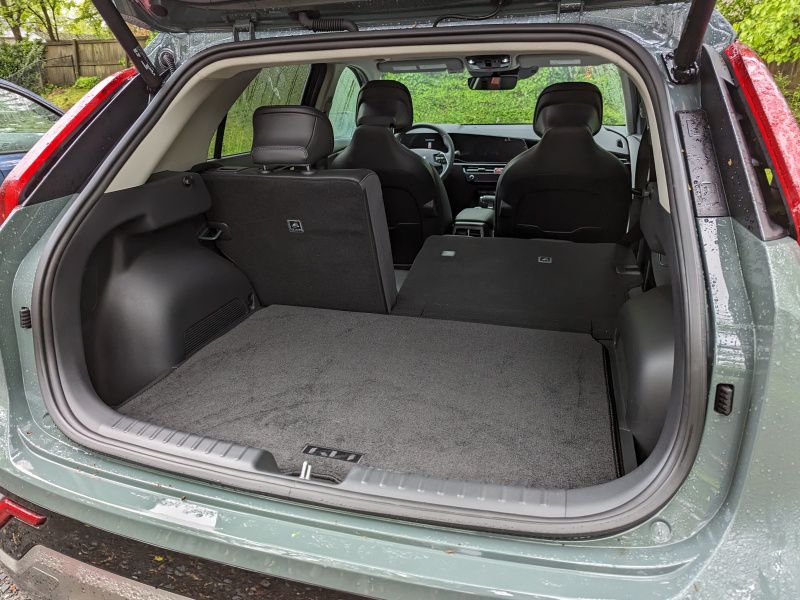 Photo by Brady Holt
Ride and Handling
The Corolla Cross rides and handles with the inoffensive competence of a Corolla sedan. (The name isn't a coincidence.) The ride gets a tad busy on the highway, but it absorbs bumps smoothly without giving up all traces of handling poise. Toyota says the hybrid has sportier suspension tuning than the gas-only Corolla Cross, but we didn't notice a difference. 
Though it's a little smaller and lighter than the Corolla Cross Hybrid, the Niro felt more substantial to us. There's less sloppy extra movement in the steering and suspension, and its lower center of gravity helps it feel more agile. The Kia's steering still doesn't deliver a great sense of what's happening on the pavement, and the ride can also get busy and noisy on the interstate, but we still prefer it over the Toyota.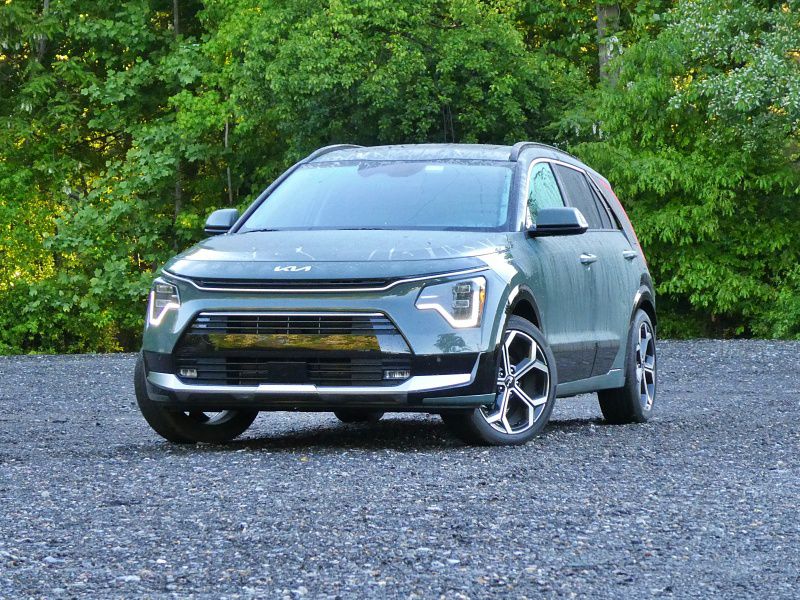 Photo by Brady Holt
Acceleration
We expected the Corolla Cross Hybrid to walk away with this category. Its pairing of a 2.0-liter four-cylinder gasoline engine with three electric motors yields 196 horsepower, excellent output for a subcompact crossover. By contrast, the Niro makes a mere 139 horsepower from its 1.6-liter gas engine plus a single electric motor. Expect the Kia to need 9 seconds to reach 60 mph while Toyota says the Corolla Cross Hybrid needs just 8 seconds. 
But when we weren't flooring the accelerator, we actually preferred the Niro. Its engine is quieter and less rough and raspy than the Toyota's in everyday conditions. And its six-speed dual-clutch automatic transmission keeps the engine from droning like the Corolla Cross's continuously variable automatic. So the Toyota wins when you're maxing out these hybrids' power, but the Kia feels and sounds less overworked in ordinary conditions. Also, the Niro's plug-in hybrid and all-electric versions do out-accelerate the Corolla Cross Hybrid. 
Tie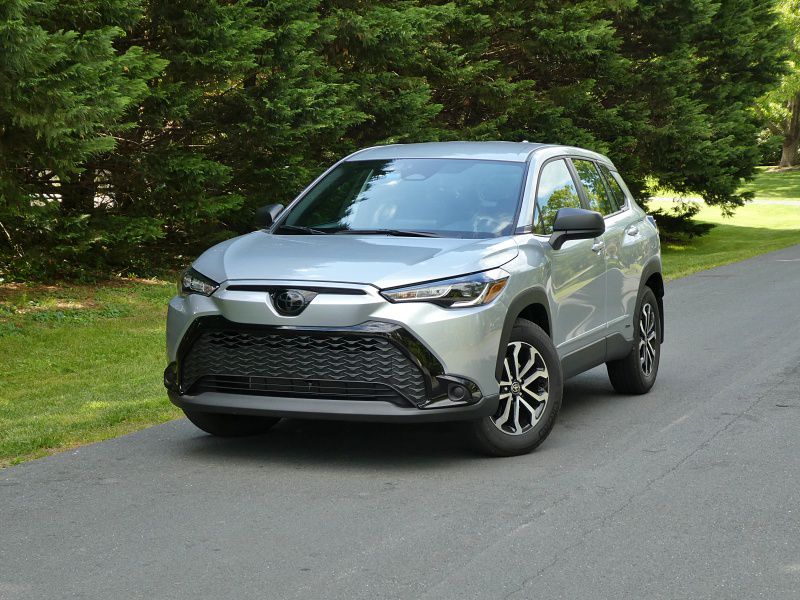 Photo by Brady Holt
Final Thoughts
For some buyers, the 2023 Toyota Corolla Cross Hybrid is the winning subcompact hybrid crossover — perhaps by default. It's the only one with any traditionally SUV-like qualities, notably a higher roof, higher seating position, and all-wheel drive. It also has quicker acceleration and simpler dashboard controls. If you like a Toyota RAV4 Hybrid but are willing to trade some space and power for a lower price point, the Corolla Cross Hybrid delivers. 
But our pick is the 2023 Kia Niro. It gets much better gas mileage while providing even more interior room and a lower price. Its little engine feels and sounds better than the Toyota's in most driving conditions, and it rides and handles. It has a higher-tech interior and slicker styling inside and out. You won't find a better blend of incredible efficiency with everyday functionality at such an affordable price. 
Kia Niro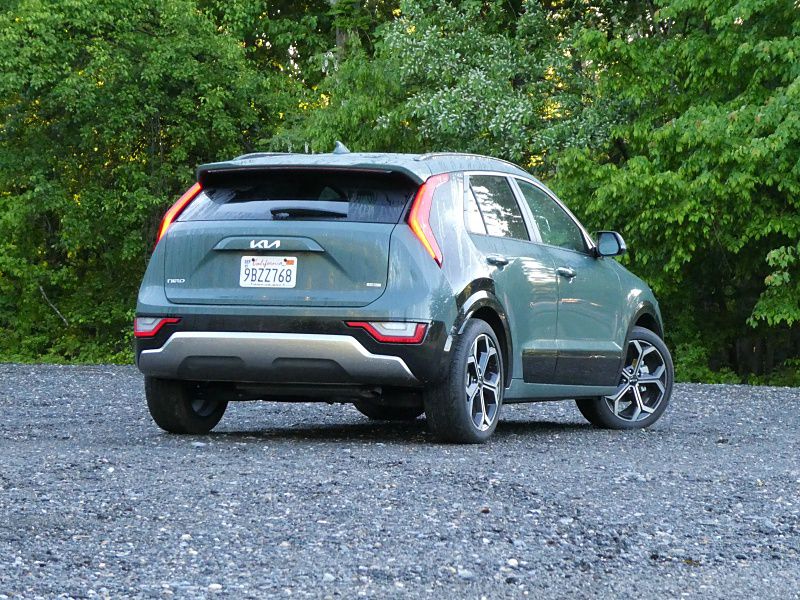 Photo by Brady Holt