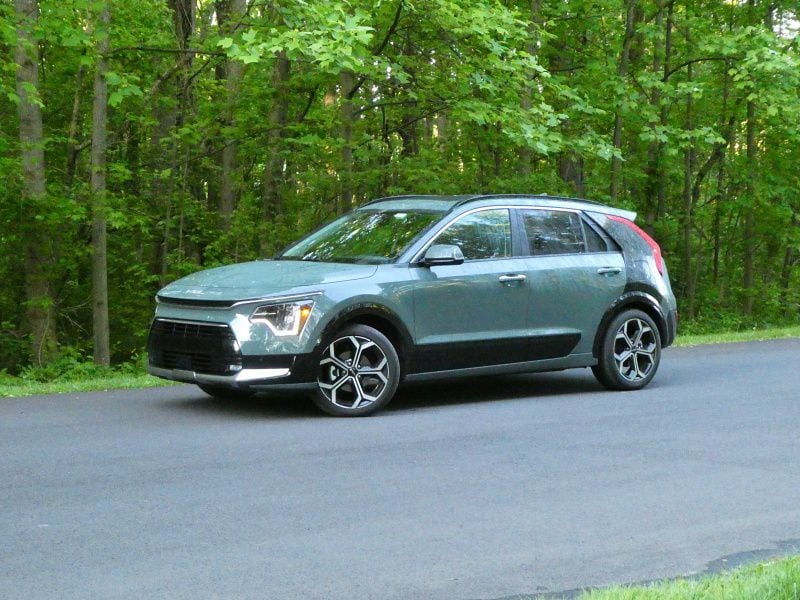 2023 Kia Niro Hybrid ・ Photo by Brady Holt
With electric cars hogging all the attention of eco-minded customers, it's easy to forget about the previously cutting-edge fuel-saving solution: the gas-electric hybrid. For less money than most EVs, you can get a hybrid that sips gasoline, can use only electricity for brief intervals, and can refuel within a couple minutes at a vast network of gas stations. 
Consider the newly redesigned 2023 Kia Niro HEV (standing for hybrid electric vehicle). This is a small crossover with a usefully roomy interior for a small family, spiffy new looks, pleasant driving manners, and EPA ratings that can top 50 mpg, all for a starting price of well below $30,000. We just spent a week testing the redesigned Niro. Keep reading to learn more about its pros and cons — and whether this hybrid subcompact crossover is the right car for you. 
Well-Equipped Below $30,000
The Niro starts at $26,590 for the base LX trim, and the next-up EX costs $29,190. That's not exactly cut-rate for a front-wheel-drive-only subcompact crossover; the similarly roomy gas-only Kia Soul costs about $4,000 less with similar equipment, and last year's Niro started at $24,690. Still, the new Niro provides a fairly long list of features for less than $30,000 (lining up well to last year's Niro when you consider extra standard features). Even the LX includes adaptive cruise control, blind-spot monitoring, and automatic climate control. And for $29,190, the EX adds a power driver's seat, heated front seats, a big 10.25-inch touchscreen with GPS navigation, and rain-sensing windshield wipers. 
The top SX model, which starts at $32,590, has attractive leatherette upholstery, a heated steering wheel, ventilated front seats, a Harmon Kardon stereo, and a power liftgate. Touring editions of the EX and SX add a few cosmetic enhancements, including 18-inch wheels instead of 16-inch wheels, along with a sunroof for $2,300 extra. Kia also sells plug-in hybrid and fully electric versions of the Niro, both costing thousands of dollars more.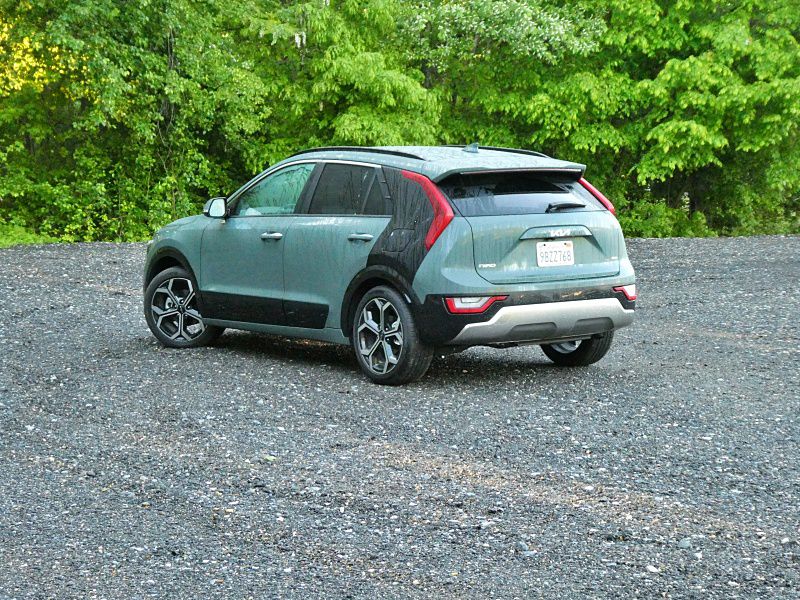 Photo by Brady Holt
Mileage Can Top 50 MPG
Americans have gotten used to hybrids over the past 20-plus years, but here's a quick refresher: They include an electric motor that can take over some of the work from the gasoline engine. This reduces the amount of gasoline the engine needs to accelerate or maintain speed. In many hybrids, including the Niro HEV, the gas engine switches off automatically in certain circumstances. The hybrid battery is recharged when the engine runs or when you press on the brakes, which recapture braking energy to turn into battery charge. 
This approach works well. Most 2023 Niros earn EPA fuel economy estimates of 53 mpg in the city, 54 mpg on the highway, and 53 mpg combined. That's about 3 to 4 mpg better than last year's Niro, and it's closer to the Toyota Prius hatchback than the Toyota Corolla Cross Hybrid crossover. And even the less economical Touring versions manage 53 mpg city, 45 mpg highway, and 49 mpg combined. We also beat EPA estimates to average about 53 mpg in mixed driving in our SX Touring test vehicle.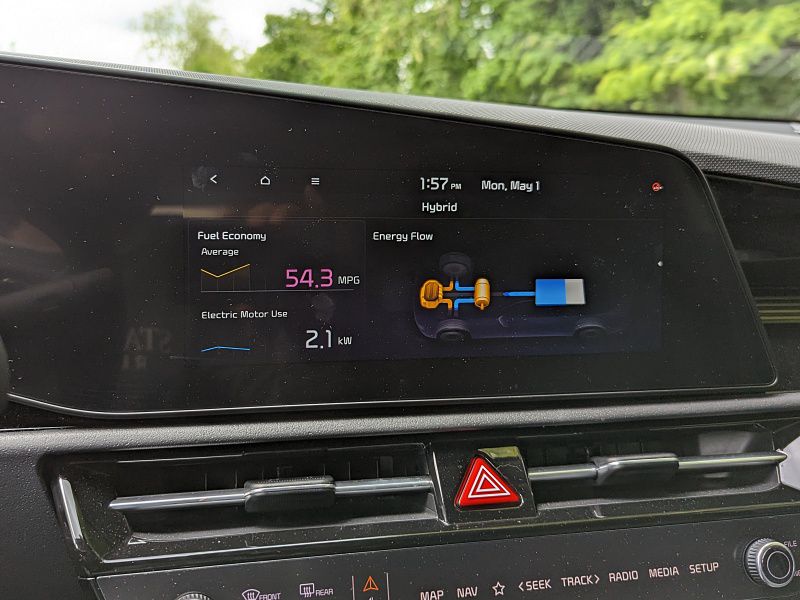 Photo by Brady Holt
Sharp New Design
The Niro used to be sleepy and simple-looking. The previous generation debuted as a 2017 model, and even then it just looked like an old, slightly taller economy car. The redesigned 2023 model brings a higher-end, more modern flavor to a similarly shaped body. 
An all-new face includes slits of running lights that merge into a slim grille above blocky, LED-trimmed headlamps. Slim C-shaped taillights wrap around past the rear windshield. An available colored body panel stretches next to those taillights from the rear fender to the roof, creating a two-tone effect. And a splash of plastic cladding on the lower doors makes the Niro look more rugged than before, even as it remains a front-wheel-drive-only tall hatchback rather than a true SUV. The new Niro is fully contemporary without being over-the-top garish. This hybrid version shares its exterior design with two other Niro versions: a plug-in hybrid and a fully electric model.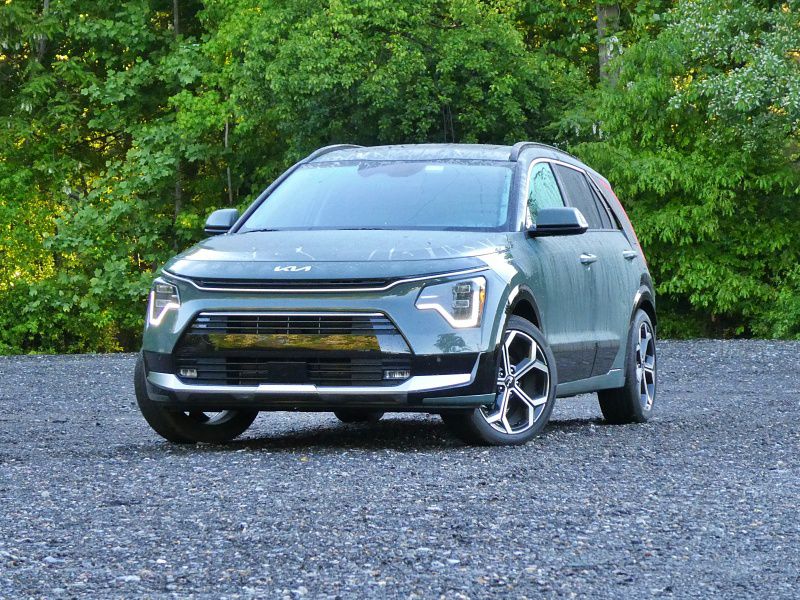 Photo by Brady Holt
With an Interior to Match It
Kia performed a similar reinvention of the Niro's interior design, taking the little hybrid from bland to modern. The new dashboard is sleek and clean without getting too austere, and we love the look and feel of the new imitation-leather upholstery. The dashboard isn't luxuriously finished, but it's solidly built and attractive enough to avoid seeming budget-basic. Similarly, the headliner looks cheap and basic, but Kia dresses up the ceiling's overall appearance with spiffy LED lights. 
The Niro's stylish new interior does come with some functional drawbacks. The audio and climate controls have touch-sensitive functions that take more concentration to tap. And they occupy the same space, so you have to tap a button to change the buttons' function. (For example, the temperature selectors become the radio's volume and tuning knobs when you swap.) Like last year, the Niro comes standard with an 8-inch infotainment touchscreen with an available 10.25-inch unit. But the latter is now standard on all but the base model, whereas last year's Niro reserved it for upper-trim models.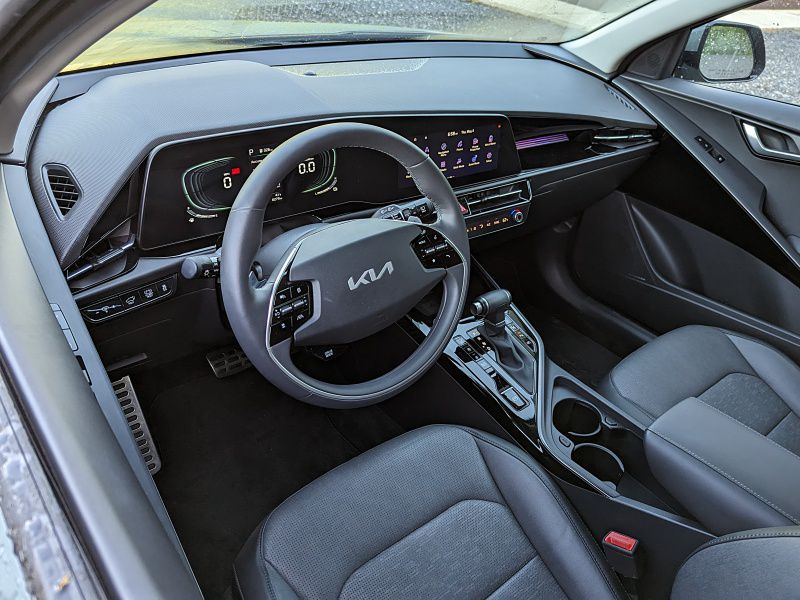 Photo by Brady Holt
It's Comfortable, Too
As a subcompact crossover, the Niro isn't a huge vehicle. Still, we found it comfortable as a small family car, with useful space for both front and rear passengers. 
The Niro's front seats are well-shaped and comfortable. Heating and 10-way power adjustability are included on all but the base LX model, and the top SX adds ventilated front seats and a heated steering wheel. You don't have a towering SUV-height seating position, but you're up higher than the typical sedan. Meanwhile, the rear seat doesn't have room for tall adults to stretch out, but they should fit without bumping their knees on the seatback. And a high cushion provides generous leg support. We also fit a rear-facing child safety seat without needing to push the front seat all the way forward, which can be a problem in some small cars.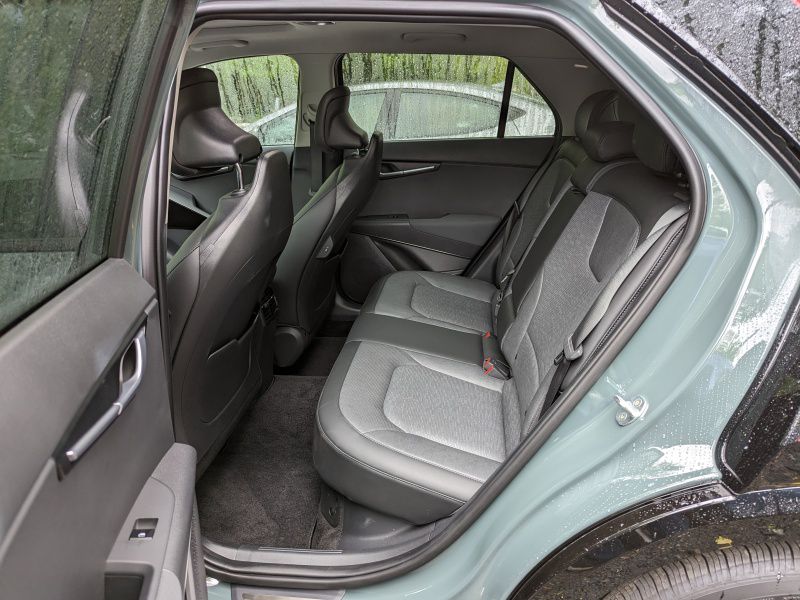 Photo by Brady Holt
Small But Useful Cargo Hold
Similar to its passenger space, the Niro's cargo capacity isn't huge, but it's reasonably generous. Kia quotes 22.8 cubic feet behind the rear seat and 63.7 cubic feet with the rear seat folded down. 
That's a fairly modest amount of luggage space when the backseat is in use, about the same as a Toyota Prius hatchback. But with the seat folded, you have a big, open, SUV-like cargo hold for bulkier items. We also appreciated the thoughtful cabin storage, which includes retractable cupholders you can pop out only when you need to plop in a drink or your phone. The Niro HEV isn't rated to tow a trailer, though. In case the slicker new styling has made you feel otherwise, this hybrid is more of a small, usefully shaped hatchback than an actual SUV.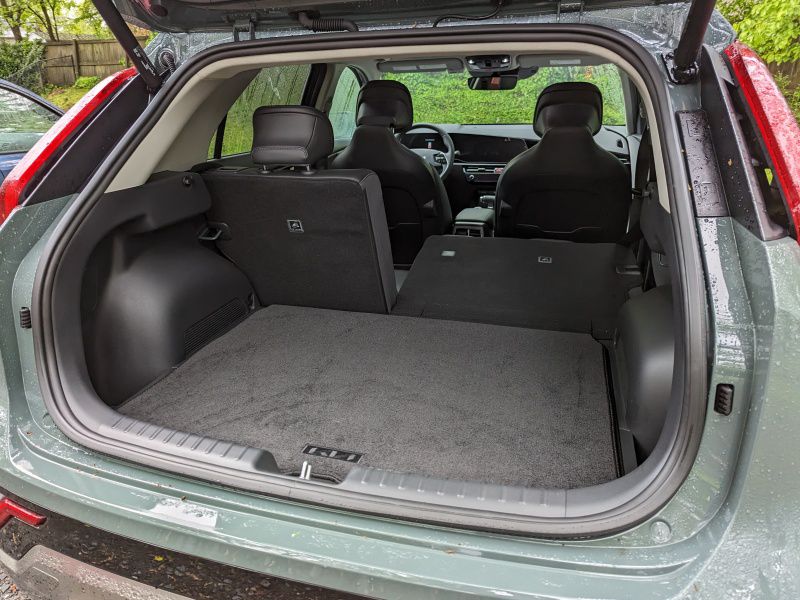 Photo by Brady Holt
Agreeable Driving Manners
Under the fresh new skin, Kia hasn't done much to the Niro hybrid's powertrain. The 1.6-liter gasoline engine pairs with an electric motor for a total output of 139 horsepower and 195 lb-ft of torque. We didn't find it sluggish, but that's with our expectations firmly in budget-car territory. In our hands, the Niro HEV accelerated smoothly and with a pleasingly gravelly growl more than the moaning drone of some small cars. We had just one time when we were left wanting: when the six-speed dual-clutch automatic transmission reacted too slowly as we floored the accelerator to squirt into a gap in traffic. 
Ride and handling are similar and also familiar: not racecar-grade, but reasonable for a small, affordable, mileage-focused crossover. The Niro is a small car that makes it easy enough to hustle along a winding road, but while the steering is nicely weighted for easy driving, it doesn't deliver a great sense of what's happening where the tire meets the pavement. And while the Niro is comfortable around town, the ride gets busier and louder on the open freeway. We liked driving the Niro overall, but it's not the reason you buy this car.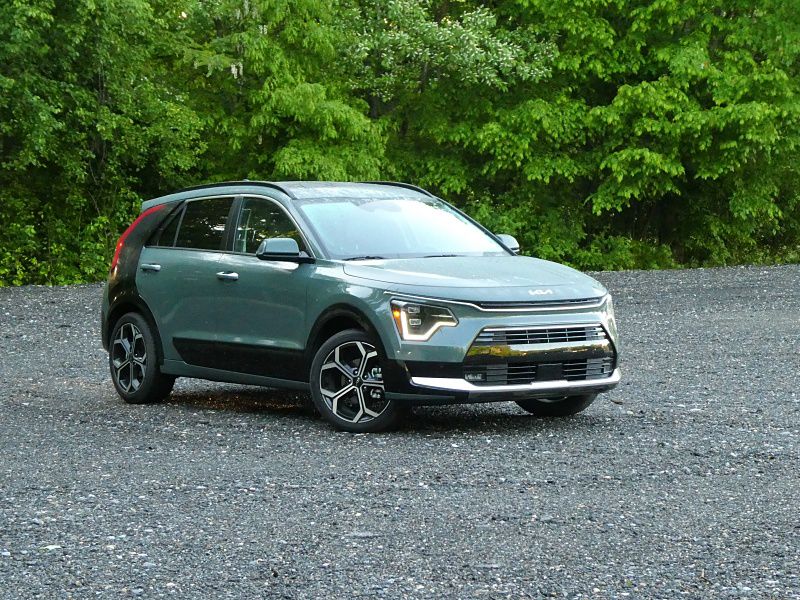 Photo by Brady Holt
Competitors to Consider
The Niro debuted in 2017 as the more functional cousin of a more aerodynamic, more economical hatchback called the Hyundai Ioniq. Now, that gap is plugged by the Hyundai Elantra Hybrid, a four-door sedan without the Niro's (or the old Ioniq's) cargo space and flexibility. But it's a winner for value and fuel economy. 
The Toyota Prius remains a key player in this segment, too. It's also freshly redesigned, with sporty new looks, speedier acceleration, and better gas mileage. But while it's still a hatchback, it's not as roomy as before, giving the Niro an edge for families and Uber drivers. Toyota's new option as a function-focused gas-electric small car is the Corolla Cross Hybrid subcompact crossover. It has a higher seating position than the Niro and has all-wheel drive, but it costs more, feels cheaper, and isn't as economical. And if you'd be doing most of your driving on the highway rather than in stop-and-go traffic or lower speeds, a hybrid's fuel savings would be more limited. We'd steer you first to the Kia Soul gas-powered subcompact crossover for incredible prices and a still-reasonable 33 to 35 mpg on the highway.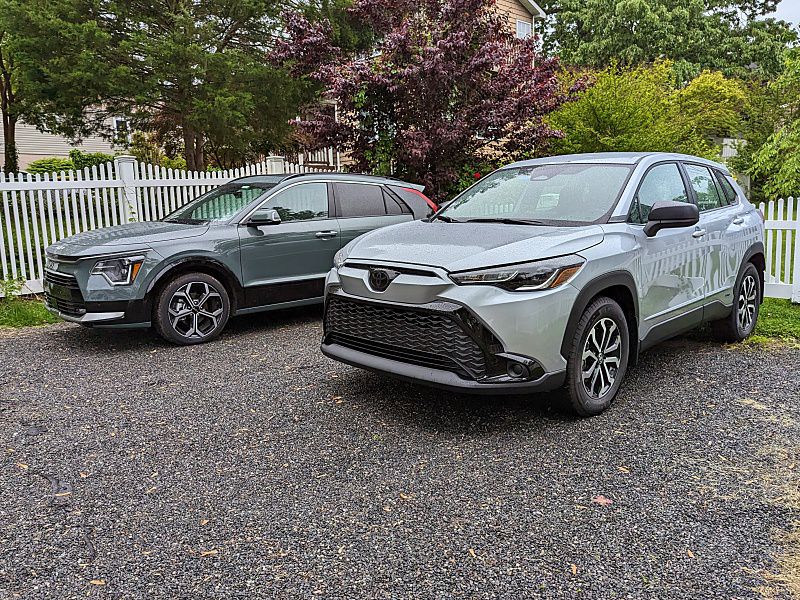 Photo by Brady Holt
Functional, Affordable Efficiency With a Dash of Style
Last year's Kia Niro was a nice little car that looked like a basic little car. Now, even with few mechanical upgrades, Kia has transformed it into something that looks and feels fresher, more sophisticated, and worth a lot more money than before. 
Leaving the Niro without an all-wheel-drive option feels like a missed opportunity (though Kia would gladly sell you a compact-size Sportage Hybrid with AWD). And it's still a small, not super fast car. But for the money, the 2023 Kia Niro HEV is a stylish and functional fuel-sipper that delivers more than the mere basics of transportation.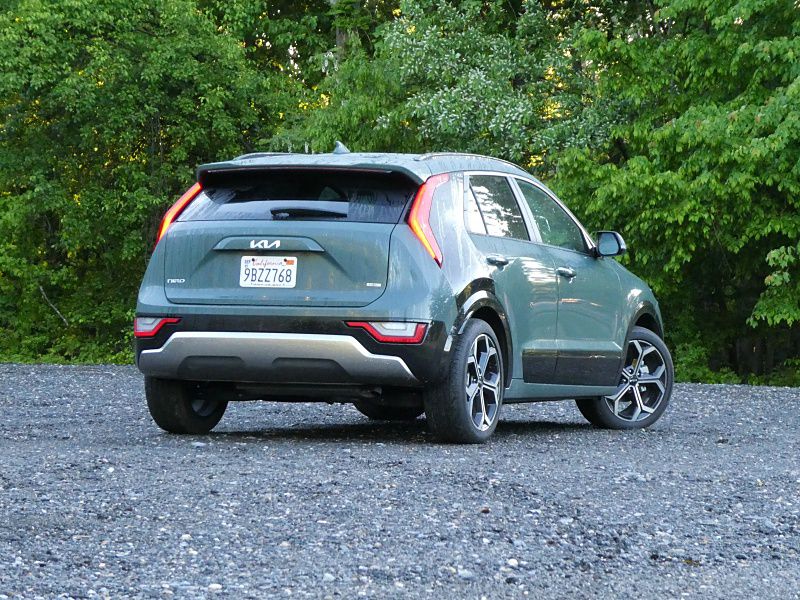 Photo by Brady Holt