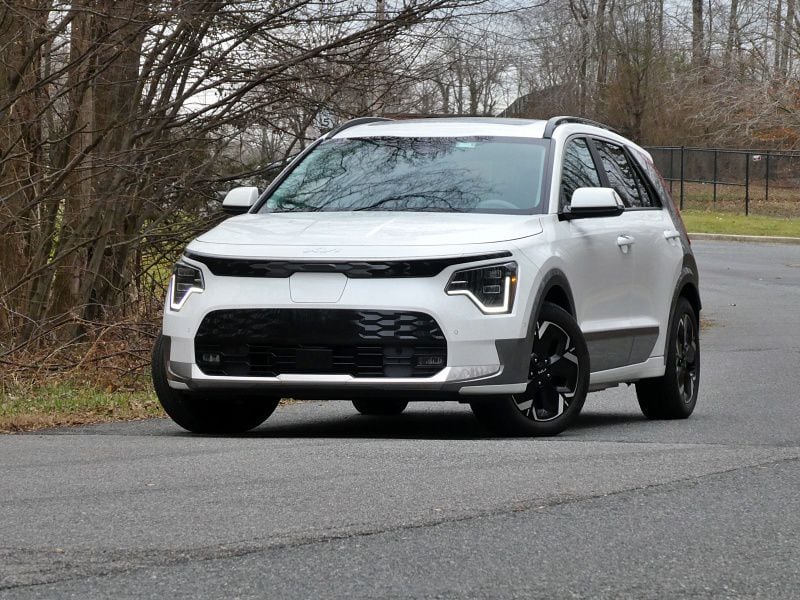 2023 Kia Niro EV ・ Photo by Brady Holt
It's hardly worth noting that $7,500 is a lot of money. That's the federal tax credit you could once claim on nearly any electric car sold in the U.S. But a federal spending overhaul abruptly axed that subsidy for many models last year, restricting it to EVs manufactured in the United States.
That's bad news for the newly redesigned 2023 Kia Niro EV, a Korean-built subcompact crossover that travels an estimated 253 miles per charge. The price tag for its well-equipped base model stands at $39,450, which was a lot more compelling when Uncle Sam was helping pay for it. We just spent a week testing the Niro EV to see how it performs at this price point. If you're interested in a small but useful electric vehicle, keep reading to learn more about the electric Niro's pros and cons to see whether it's the right EV for you. 
Brand-New Style
The first-generation Kia Niro EV debuted as a 2019 model as an electric version of the Niro hybrid that had been on sale since 2017 — and which already had unremarkable looks back then. 
The 2023 Niro EV is more likely to catch your attention. It now dresses up its face with a decorative grille (the old model had a piece of plastic where the grille would go), which slips into the upper portion of split-level headlamps. Slim C-shaped taillights wrap around past the rear windshield. An available colored body panel stretches next to those taillights from the rear fender to the roof, creating a two-tone effect. And a splash of plastic cladding on the lower doors makes the Niro look more rugged than before, even as it remains a front-wheel-drive-only tall hatchback rather than a true SUV. The overall shape is more upright than the larger Kia EV6, but the new Niro finally looks as modern as its technology. The Niro is also available as a hybrid and plug-in hybrid with minimal visual differentiation; the EV has a charging port between the headlights instead of a gasoline door on the rear fender.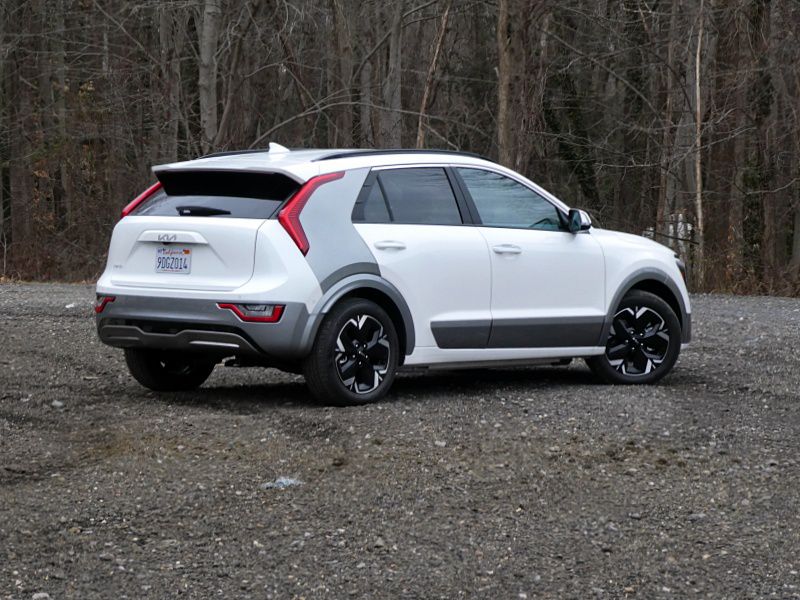 Photo by Brady Holt
Brand-New Interior
The redesigned Niro is similarly reinvented from bland to modern on the inside. The new dashboard is sleek and clean without getting too austere, and we love the look and feel of the new imitation-leather upholstery. The cabin isn't luxuriously finished, but it's solidly built. And while the headliner feels cheap, it stems from a rational decision by Kia to build it from recycled wallpaper — a fitting choice for an eco-friendly car. 
The Niro's controls did get trickier to use, with simplicity sacrificed to style. The audio and climate controls have touch-sensitive functions that take more concentration to tap. And they occupy the same space, so you have to tap a button to change the buttons' function. (For example, the radio volume and tuning knobs become the temperature selectors when you swap.) But we've dealt with worse, especially from EVs. And the standard 10.25-inch infotainment touchscreen is logically arranged. 
Photo by Brady Holt
Usefully Roomy
The Niro EV has a roomier interior than most similarly sized SUVs. The front seats are comfortable and, new this year, dramatically shaped. A 10-way power-adjustable driver's seat and heated front seats are standard, while a heated steering wheel, heated rear seats, and ventilated front seats are available. And while the backseat doesn't have stretch-out legroom, the cushion is high enough to keep adults comfortable when the front seats aren't all the way back. 
There's also a useful 22.8 cubic feet of cargo space behind the rear seat, which folds easily to open up an even more impressive 63.7 cubic feet. That's more space for your stuff than you'll find in the Niro's most similar rivals: the Chevrolet Bolt EUV and Hyundai Kona Electric.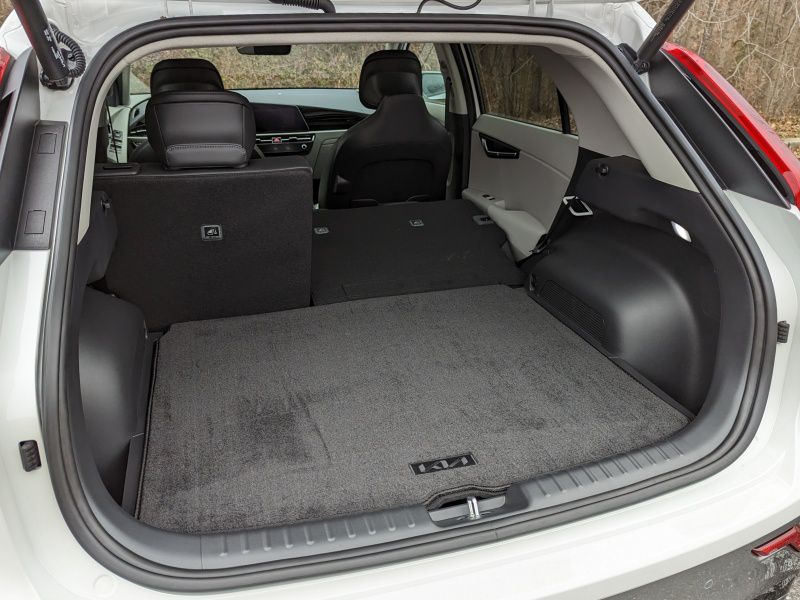 Photo by Brady Holt
253 Miles per Charge
In EPA testing, the Niro EV manages 253 miles on a full charge, which is right in line with the Bolt EUV and Kona Electric. Energy consumption is the equivalent of 126 mpg in the city, 101 MPGe on the highway, and 113 MPGe combined. Our test vehicle fell short of those estimates, with its trip computer projecting a 221-mile range. That's plenty of distance for nearly anyone's daily use, but some pricier EVs are more road-trip-ready. 
The Niro EV can add about 4 miles of range per minute from a public fast-charging station, about 35 miles of range per hour from a 240-volt car charger, and about 4 miles of range per hour from a regular 120-volt household outlet.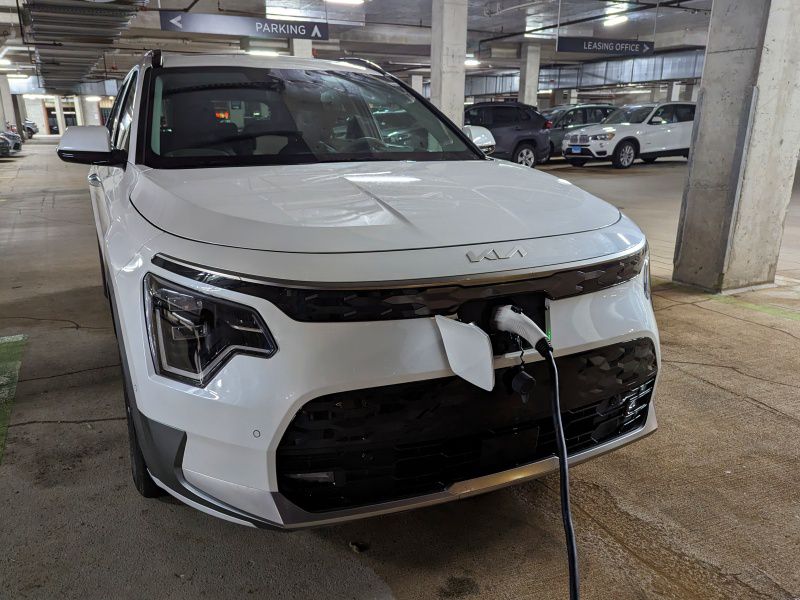 Photo by Brady Holt
Speedy and Quiet
Electric motors make peak torque right off the line, and they operate in near silence compared with a gasoline engine. That's great news for the Niro EV. It's no rocketship like a Kia EV6 or some other high-end electric cars, true. But the 201-horsepower Niro EV zips to 60 mph in 7 drama-free seconds — better than nearly any gas-powered subcompact crossover. 
And unlike a gas-powered small car (including the Niro versions that incorporate gasoline engines), the Niro EV is never going to sound labored even when you've floored the throttle. The speed is under the radar, letting you squirt your way through traffic without calling attention to your acceleration.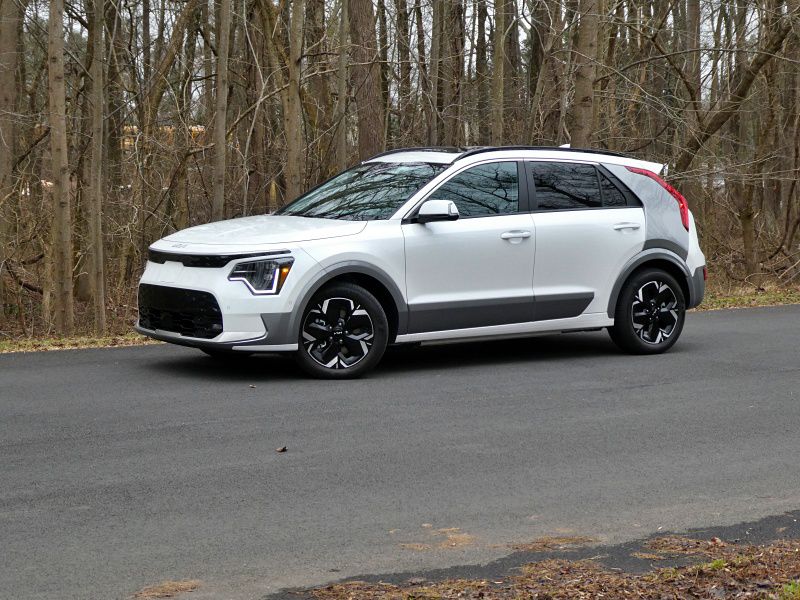 Photo by Brady Holt
Comfortable and Agile
The Niro hasn't changed much mechanically in its redesign, but that's fine. Its predecessor already had unusual stability and solidity for a subcompact vehicle, providing steady comfort and refinement along with agile handling. 
Credit the electrification process. EVs have heavy battery packs located under the passenger compartment, which adds weight (helping them feel hefty for their size) and lowers their center of gravity (improving the handling). At 3,803 pounds as tested, the Niro EV is nearly 600 pounds heavier than the weightiest Niro hybrid. It's still a small enough vehicle that these pounds provide stability rather than cumbersome ponderousness, and it's powerful enough that the weight doesn't slow it down. So the Niro EV has the polished driving manners of a larger car with the agility of a small one.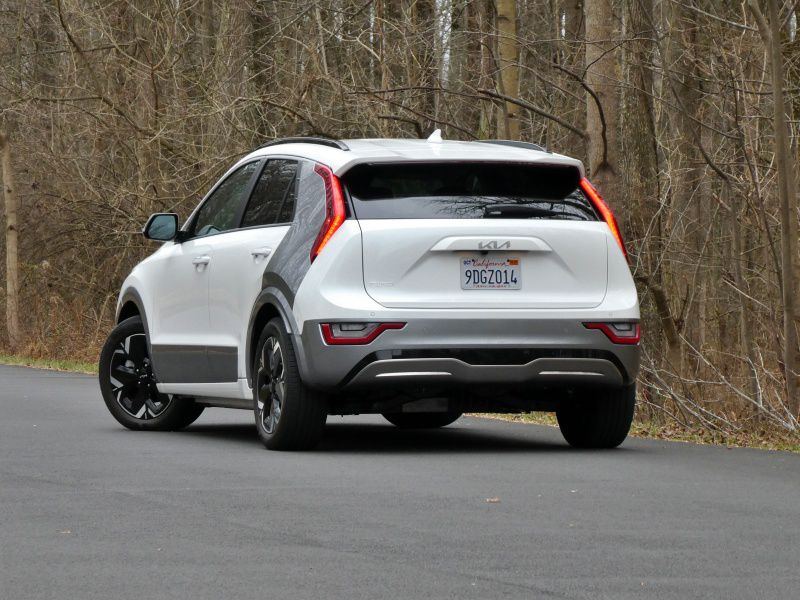 Photo by Brady Holt
But Wait, It Costs How Much?
As we mentioned, the Niro EV effectively became $7,500 more expensive overnight when it lost eligibility for federal tax incentives. At $31,950, this stylish, well-equipped, solidly built, 253-mile-range electric crossover would have been a compelling bargain to us. At $39,450 for the base Wind model, it's no bargain. And our tested Wave, the other trim level, comes to $44,450. 
The Niro EV Wind is nicely equipped, with a mix of cloth and leatherette upholstery, GPS navigation, a power liftgate, a 10-way power driver's seat; heated front seats, adaptive cruise control; forward automatic emergency braking, and rain-sensing windshield wipers, among others. The Wave has full leatherette, ventilated front seats, a heated steering wheel, a sunroof, and rear automatic emergency braking, among others. We struggle to accept the Niro at prices that can approach $50,000 with options and a $1,295 destination charge. In part, that's because key competitors cost much less. But it's also partly psychological, given that the Niro EV shares its bones with the Niro hybrid that starts at $26,490. As we'll discuss later on, this EV has a place in the electric car market.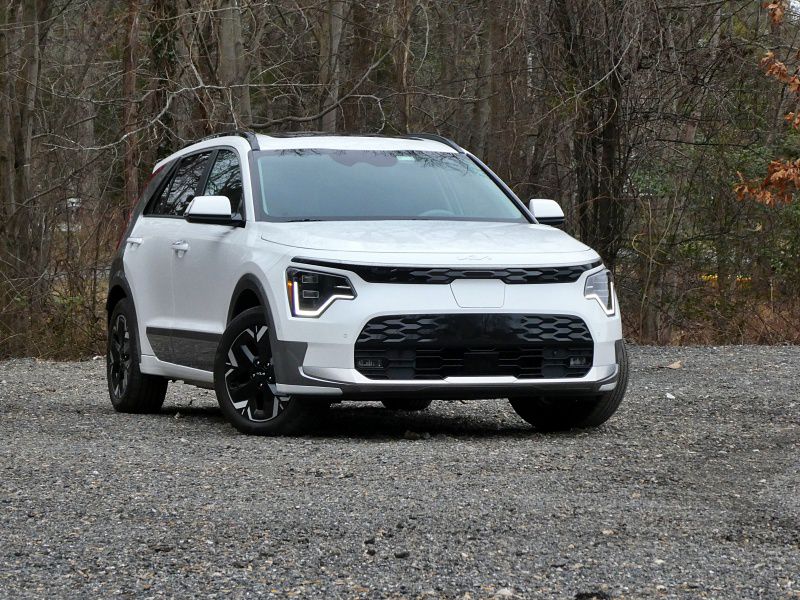 Photo by Brady Holt
Competitors' Price Cuts
It used to be a given that even small EVs were expensive. That's no longer the case after massive price cuts in recent years from General Motors and Nissan. The Chevrolet Bolt EV and Nissan LEAF hatchbacks start at just $25,600 and $28,040. And the Chevrolet Bolt EUV — a slightly bigger, slightly more upscale SUV-lite version of the Bolt hatchback that's a direct Niro EV rival — starts at $27,200. What's more, as we write in February 2023, the Chevrolets and the Nissan still qualify for a $7,500 federal tax credit. 
The Niro EV also competes against the Hyundai Kona Electric, with which it shares many mechanical components. The Kona has spunkier handling and a lower starting price ($33,350, also with no tax credit). But the price difference narrows with similar equipment, and the Kia has a lot more passenger and cargo space. Also, the Niro EV does become a bargain if you're shopping it against a larger, more expensive electric crossover like the Tesla Model Y, Hyundai Ioniq 5, Ford Mustang Mach-E, Nissan Ariya, Volkswagen ID.4, or Kia's own EV6.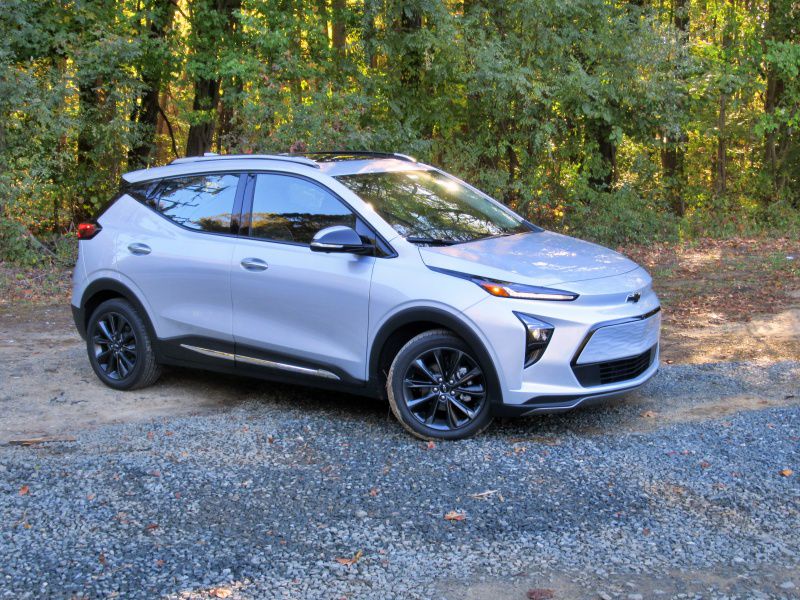 Photo by Brady Holt
Small Yet Sophisticated
The 2023 Kia Niro EV fills a unique niche in the electric-crossover space. On paper, it's absurdly overpriced versus its similarly sized cut-rate competitors. Even though it's better, it's hard to argue that it's $20,000 better. (That difference is on track to shrink in March 2023 as the tax credits change again, and might swing again after that. But even before incentives, the Nissan and Chevrolets are inexpensive cars and the Kia is not.) 
Here's where the Niro EV can make sense for some people. The Nissan LEAF and the Chevrolet Bolts feel like bargains. They can't match the Kia's interior ambiance or sophisticated ride and handling. They're electric economy cars, while the Niro has the style and poise to be more than that. We'd be more blown away if Kia had charged a more modest price premium for this advantage. But if you're looking at a bigger electric crossover for its style and refinement more than maximum roominess and the longest possible range, the Niro EV might be a more affordable way to meet your needs.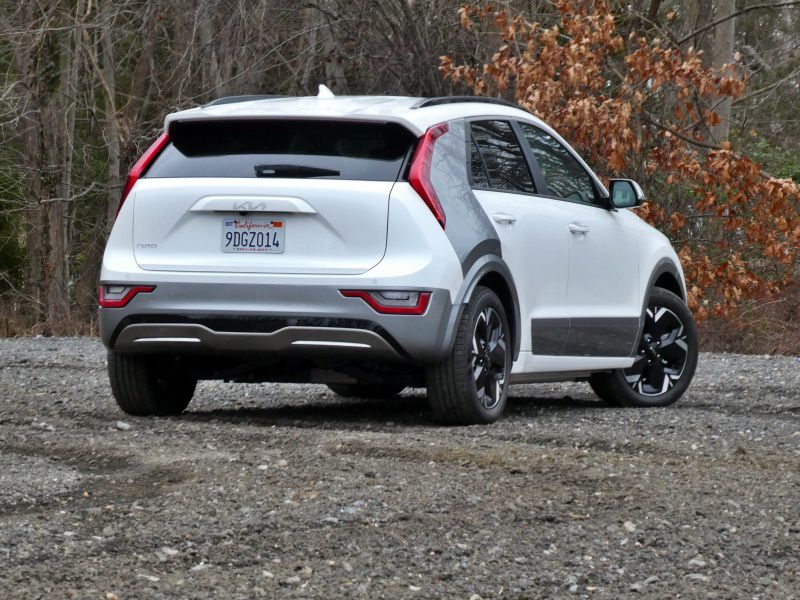 Photo by Brady Holt