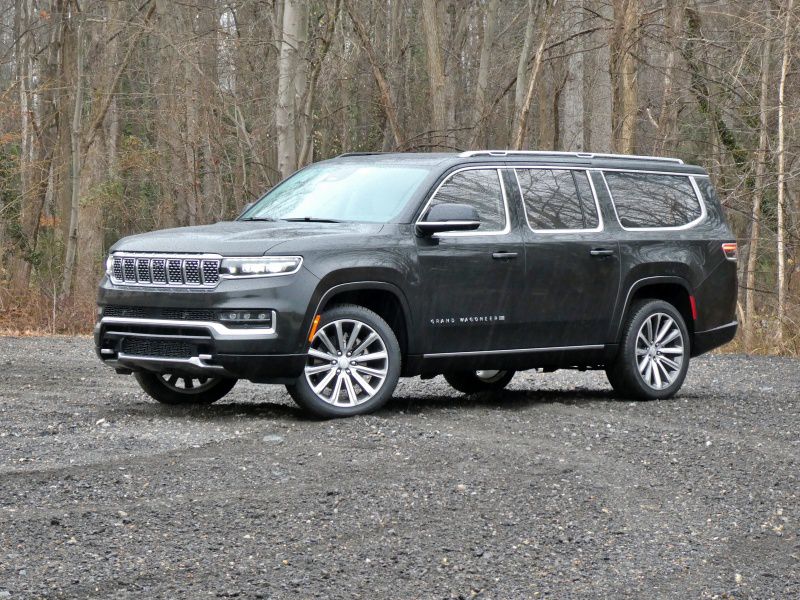 2023 Jeep Grand Wagoneer L ・ Photo by Brady Holt
If you think of Jeeps as small, utilitarian SUVs, let us present a 19-foot-long, $91,495 challenge to that notion. That's the all-new 2023 Jeep Grand Wagoneer L, which debuts with an extra-long wheelbase and a new turbocharged six-cylinder engine. 
Jeep introduced the Wagoneer and its upscale Grand Wagoneer sibling last year, both being massive three-row full-size SUVs. The brand-new L version brings extra cargo space to rival the similarly sized but less expensive Cadillac Escalade ESV and Lincoln Navigator L, along with the smaller but more expensive Land Rover Range Rover. With an inimitable road presence, a beautiful interior, and a 510-horsepower engine, the Grand Wagoneer L promises posh practicality to well-heeled customers. We just tested the Grand Wagoneer L to see how successfully it meets these needs. Keep reading to learn more about the flagship Jeep's pros and cons, and whether it could be the right full-size luxury SUV for you.
Stretch It Out
Last year's Wagoneer and Grand Wagoneer were by far the biggest Jeeps in history: 215 inches long, 84 inches wide, and 76 inches tall. The L versions are a foot longer, growing to 227 inches long. It's longer and wider than the Lincoln and Range Rover, and wider than the similarly elongated Cadillac. 
Every Grand Wagoneer looks big. Its standard-length and extra-long versions share a rounded-off box shape, with slim headlights and taillights that stretch out horizontally. In a world where many cars have aggressive slashes and hard edges, the big Jeep is smoothly rounded and not aggressive. It has a small grille (with the customary eight slats) rather than the gaping maws you'll find in some big SUVs and pickups. You'll spot the L model for its longer side windows near the back, and the way its rear passenger door misses the rear wheel well. Just keep in mind that "L" means the extended-length version of either the Wagoneer or Grand Wagoneer, while "Grand" means a luxury version with fancier trim, more available features, and a bigger engine.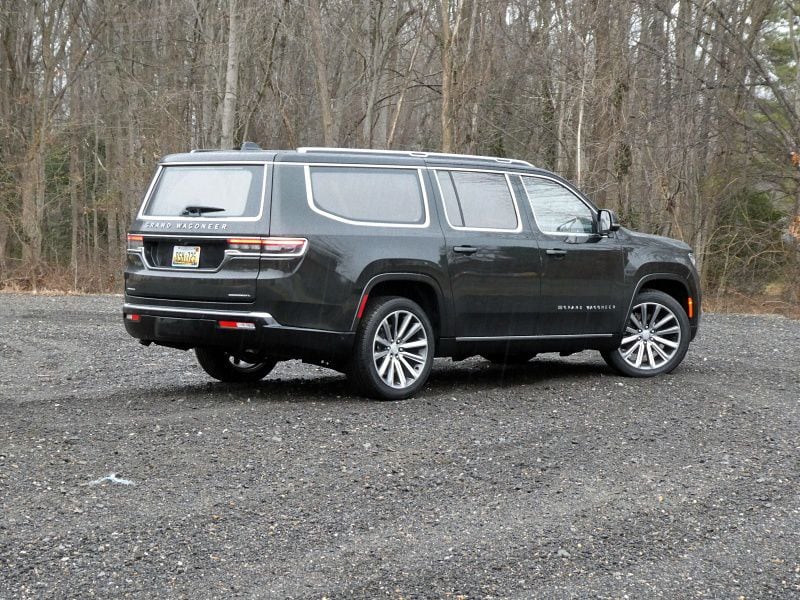 Photo by Brady Holt
An Interior That Guns for Range Rover
For generations, Range Rover has owned the market of off-road machines with ultra-sumptuous interiors. The Jeep Grand Wagoneer is gunning for that territory. Nappa leather upholstery, usually an extra-cost upgrade, is standard. Upper trim levels get Palermo or even quilted Palermo leather. The Grand Wagoneer also has nicely textured wood trim on the dash and console, plus a quartet of digital displays: a 12-inch main touchscreen, a 10.25-inch retractable touchscreen below that for fine-tuning seat controls, a 12-inch digital gauge cluster, and a 10.25-inch touchscreen for second-row passengers. You can also add a 10.25-inch secondary touchscreen for the front passenger, along with second-row screens mounted to the front seatbacks. 
We didn't find the Grand Wagoneer to quite match the Range Rover. To us, the Jeep felt stiffer and more sterile rather than richly welcoming. Furthermore, a sliding bin door on the center console moved jerkily, and the turn signal stalk is basic rough plastic. And some controls could be simpler to use. These factors don't negate the Grand Wagoneer's many strong points, but they do matter at $107,725 as tested.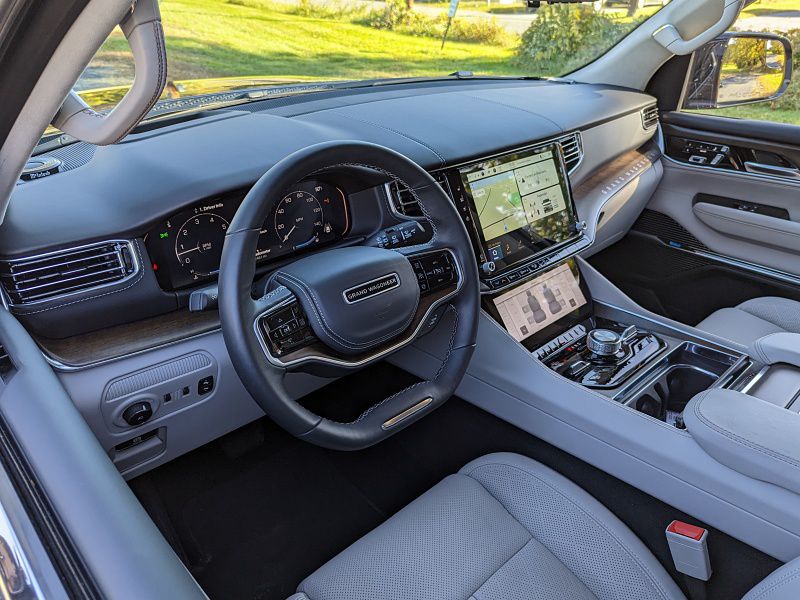 Photo by Brady Holt
Space to Spread Out
Jeep built the Grand Wagoneer L to be unapologetically massive, and it delivers. The front seats are more like regular car seats than the plus-size easy chairs we were expecting, but that's better for many tastes anyway. And the driver sits a half-mile away from the front passenger across a center console with separate armrests. 
It's the backseat passengers whose experience is more special. The accommodations remain first-class even as you move farther back. Space is ample, the seats are comfortable, and the windows are big. The second row gets standard seat heaters, with ventilation available as well. (Though only the front seats get a massage function.) Even the third row is roomier and more comfortable than many SUVs' second rows, including among big luxury models. However, if passenger space is your main focus, note that the Grand Wagoneer L has no advantage over the standard-length Grand Wagoneer. Its benefit involves cargo, which we'll come to in a moment.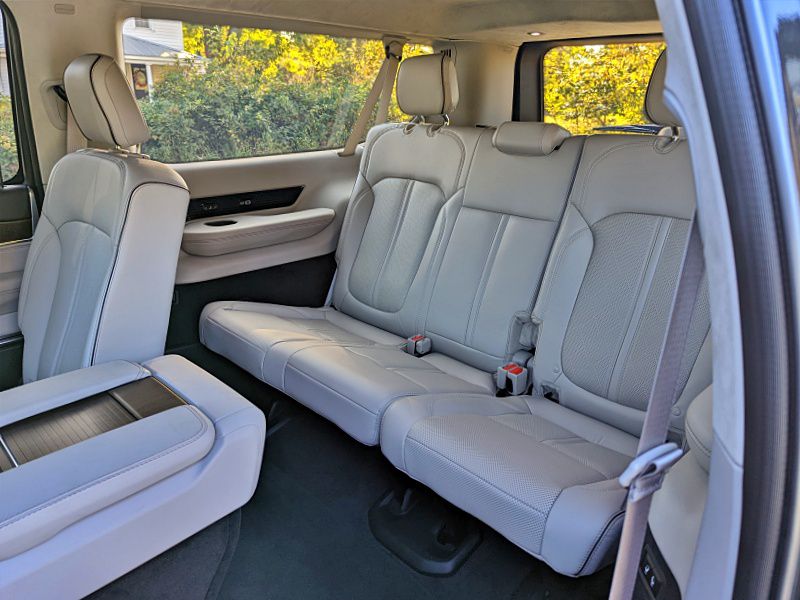 Photo by Brady Holt
Room for All Your Stuff
The Jeep Grand Wagoneer has exceptional cargo space. It's one of the few SUVs with a reasonable amount of luggage space with its third row in use: 28.4 cubic feet, which is more than you get behind the backseat of a Jeep Cherokee crossover. But when that's still not enough, the Grand Wagoneer L delivers. 
Even with the Grand Wagoneer L's third-row seat in use, this enormous SUV gives you 44.2 cubic feet of cargo space. That's nearly as much as the total cargo volume of a subcompact Jeep Renegade. The third row folds at a touch of a button to give the extended-length Jeep 88.8 cubic feet of space behind the second row. Our test vehicle's large, fixed second-row console robs some cargo space, but the grand total still comes to 112.9 cubic feet. What's more, the Grand Wagoneer L can tow up to 10,000 pounds.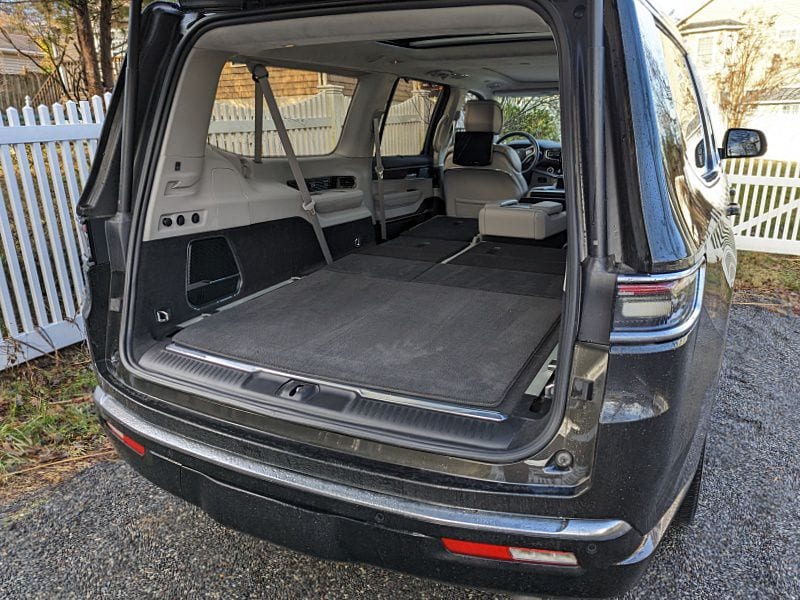 Photo by Brady Holt
Powerful New Engine
Just one year into its life, Jeep rolled out a new engine for the Grand Wagoneer that's standard on all but the base standard-length model (and on every Grand Wagoneer L). Dubbed "Hurricane," this is a 3.0-liter in-line six-cylinder that makes 510 hp and 500 lb-ft of torque. (The regular Wagoneer has a version of this engine that's tuned to produce 420 hp and 468 lb-ft of torque.) The Hurricane sounds rich and whips this jumbo SUV up to speed in a hurry, at least compared with its mainstream rivals. Jeep isn't yet fielding an alternative to an AMG Mercedes or the Cadillac Escalade V. 
A massive 510-hp SUV doesn't sound like a fuel-sipper, and the Grand Wagoneer L is indeed thirstier than most modern vehicles. The EPA estimates it returns 14 mpg in the city, 19 mpg on the highway, and 16 mpg combined with the standard four-wheel drive system. That's about 1 mpg below the standard-length Grand Wagoneer with the same engine, but 1 mpg better than that model's V8 version. These figures match the Cadillac Escalade but trail the Range Rover and Lincoln Navigator. We averaged about 15 mpg in our Grand Wagoneer L test vehicle, a bit short of the EPA estimate. 
Photo by Brady Holt
More Agile Than You'd Think
The 2023 Jeep Grand Wagoneer L is an enormous 6,700-pound SUV with a smooth, comfortable ride. If that makes you assume it handles like a barge, you're not quite correct. There's no getting around the Grand Wagoneer L's size, and it doesn't have sporty performance like a Range Rover, but it feels less ponderous than many of its rivals. It's easy to spin the two-spoke steering wheel, yet it avoids feeling disconnected from the wheels. The Grand Wagoneer L remains daunting to park or otherwise maneuver through tight spaces because of its length and width, but its 42-foot turning circle isn't bad for a big SUV.
Of course, as a Jeep, the Grand Wagoneer L has a further talent: off-roading. It comes standard with the advanced Quadra-Drive II four-wheel-drive system, which includes an electronic limited-slip differential, hill-descent control, and a choice of off-road driving modes. A height-adjustable suspension is also standard, supporting up to 10 inches of ground clearance. Most luxury suvs have minimal off-road talents, putting the Grand Wagoneer in the esteemed company of the much less roomy Range Rover and Lexus LX 600, and the much more expensive Mercedes-Benz G-Class.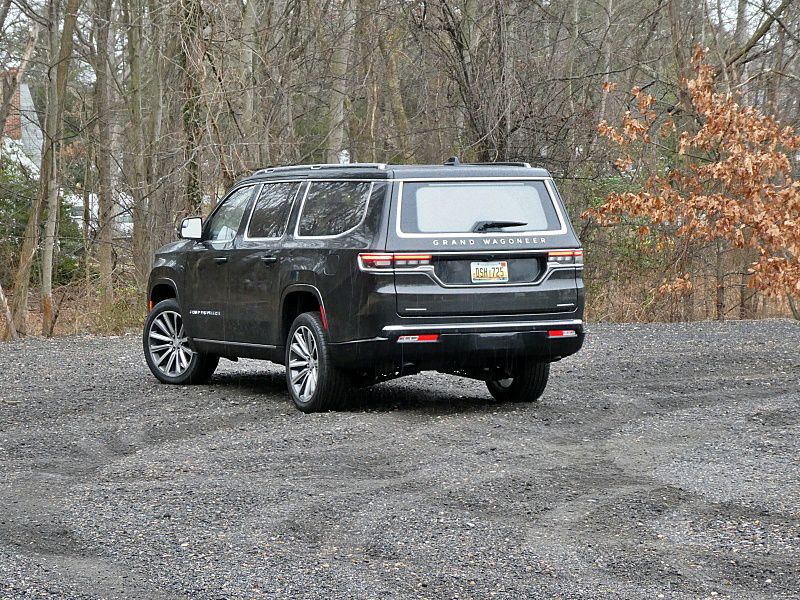 Photo by Brady Holt
High-End Features Galore
The Grand Wagoneer L is priced from $91,495 for the base model, $98,090 for the tested Series II model, and $110,995 for the top Series III. But even the base model is hardly stripped-down, coming standard with Nappa leather upholstery; heated, ventilated, and massaging front seats; a power-adjustable steering column; a tri-pane panoramic sunroof; a 19-speaker McIntosh stereo; and adaptive cruise control. That's loaded, even for a luxury suv. 
Extra-cost add-ons include the passenger-side touchscreen and additional rear screens, the even posher leather, an even more potent 23-speaker sound system, an in-car camera to check on kids in the back, night-vision cameras, a refrigerated center console bin, and ventilated second-row seats. But you don't need to visit the options list to get a decadent experience. The Grand Wagoneer L costs about $3,000 more than the equivalent standard-length Grand Wagoneer, while the Jeep Wagoneer L (itself a well-equipped high-end big SUV) is priced from $62,495.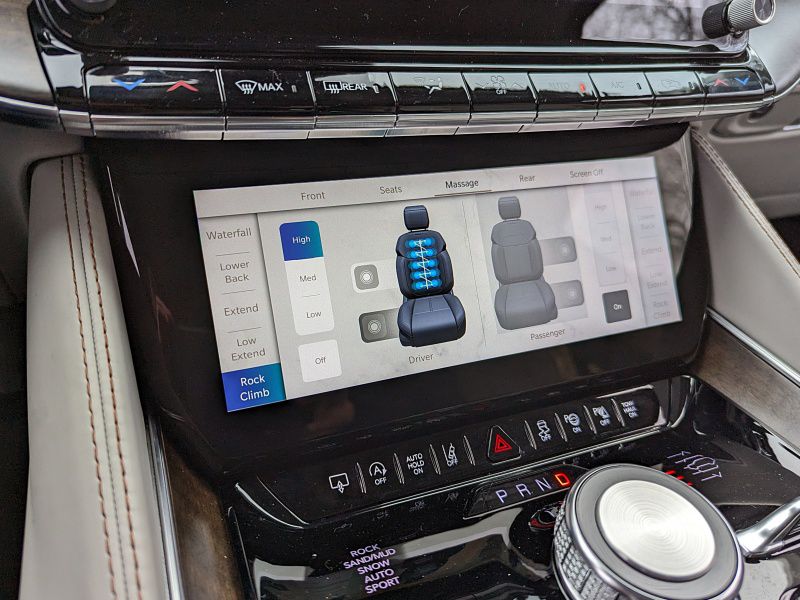 Photo by Brady Holt
Grand Wagoneer L vs. the Competition
For maximum-sized luxury suvs, the Grand Wagoneer L's direct rivals are the Cadillac Escalade ESV and Lincoln Navigator L. The big Jeep doesn't have their high-end badges or as much exterior glitz, but it gives up nothing for interior style and high-end features. We also prefer how it drives, and it has more room and more comfortable rear seating. The Escalade and Navigator start at about $10,000 less than the Grand Wagoneer, but that's largely due to fewer standard features. 
We'd also consider the Grand Wagoneer to be a rival for the smaller but still spacious Land Rover Range Rover, since both add off-road prowess to their repertoires. The latest Range Rover finally offers third-row seating, so it can put its size to work as a large family car instead of just using it for extra presence on the road. It has livelier on-road handling but much less cargo space than even the standard-length Grand Wagoneer. The Jeep also trounces the spaciousness of the Mercedes-Benz G-Class or Lexus LX 600, but they beat the Grand Wagoneer's interior appointments.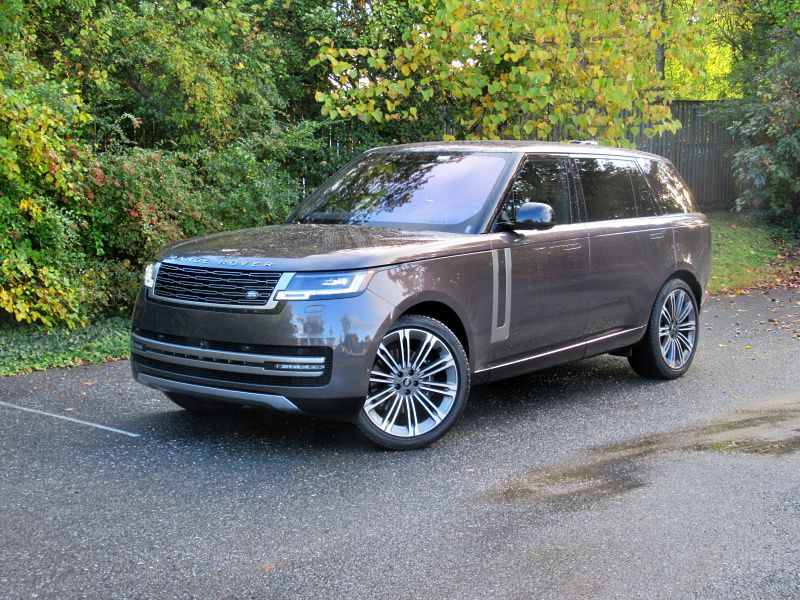 Photo by Brady Holt
When Big Isn't Big Enough
The Jeep Wagoneer is massive and luxurious. The Jeep Grand Wagoneer is equally massive and even more luxurious. And the Jeep Grand Wagoneer L takes both qualities to the absolute max. It's smooth, quiet, powerful, and packed with features. It has room for adults to spread out in all three rows, then bring a huge amount of cargo along for the ride. 
It's no bargain, despite coming from the mainstream Jeep lineup. And the interior, while beautiful to look at, isn't finished to six-figure perfection. But the regular Wagoneer is one of the best full-size SUVs, and the Grand Wagoneer L delivers more of the same qualities — as long as you're willing to pay a premium and have enough space to park it.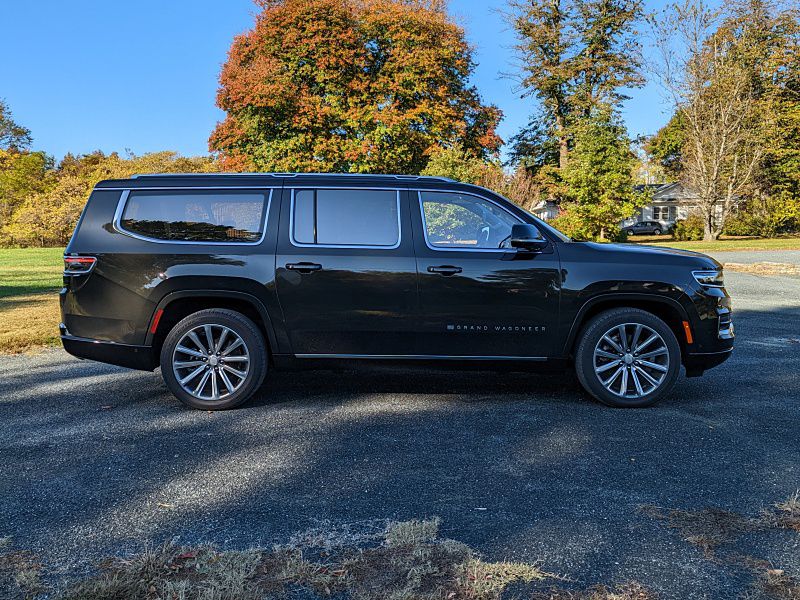 Photo by Brady Holt